Advertisements are a way of promoting the business. Ads are displayed in between the applications to deliver general messages and promotion of an item to the visitors of the app or a website. This item can be a physical entity, an application download or any other. These ads remain as an earning source for the sites, but they are annoying to the users. Most of the applications charge the users if they want the app to be ad-free. Ad blockers pull you out of these exasperating moments. Thus, you must know about these free Ad Blocker Software now!
Ad Blockers are used to stop annoying ads displayed on the websites. These ads are enraging to the website visitors, and the overall website access also turns sluggish. Not all ad blockers are satisfying. Few may not work at times, while others may slow down your browser. There are also cool adblockers like AdLock which are specially for your Android device. You must choose wisely. To help you find the best satisfying ad blockers, we have listed the best Ad Blocker software.
Top 10 Ad Blocker Software of 2018
Ad Fender helps you enhance your online browsing experience by blocking all the ads that interrupt your session. It blocks ads, malware, and online trackers. It enables you to hide your identity and browse anonymously, thereby, providing you privacy.
Your browsing speed increases by blocking the ads because the time taken to load the ad can be used to process your request. It removes any profiling cookies to give you an additional security. It supports various popular browsers like Chrome, Firefox, Microsoft Edge, Internet Explorer, Opera, etc.
Ad Muncher is a free Ad Blocker Software utility available as an open source software. It blocks in all browsers including Internet Explorer, Firefox, Opera, Google Chrome, Safari, Flock, Netscape, Maxthon and Avant Browser. It blocks any unwanted pops from disturbing your browsing experience.
It removes ads and increases the browsing speed and decreases the bandwidth spent on the website. It blocks the third-party tracking systems and protects your privacy. AdMuncher defends your system by blocking spyware or adware that may harm your system.
See also: – Adblock vs Adblock Plus. Which is better? – TechWhoop
Google Ad Blocker is a quick tool that blocks the ads on all web browsers. It does not require any prior proxy server setup to run the tool. Just a single click is sufficient to enable the Ad Blocker. It does not install any browser extensions or add-ons which are specific to a browser.
It is a portable software and does not require any components. The latest version has a renovated GUI interface and supports blocking more ads.
Ghostery is a free open source Ad Blocker Software that blocks the annoying ads and protects you from trackers. The ad blocker is available for Chrome, Firefox, Opera, Safari and Internet Explorer.
It helps you browse clean, faster and safer. Now on, you no longer have to face the annoying ads in the middle of your browsing. Feel great while navigating with the help of Ghostery. You can get your appropriate extension from the below link.
See also: – 5 Best eBook Creator Software for Windows – TechWhoop
AdBlock is a browser extension that blocks all the ads even before they are downloaded on your page. Therefore, there is no data wastage, and you can focus on your purpose in the website. You can whitelist few ads that you may find useful, and the rest are blocked by default.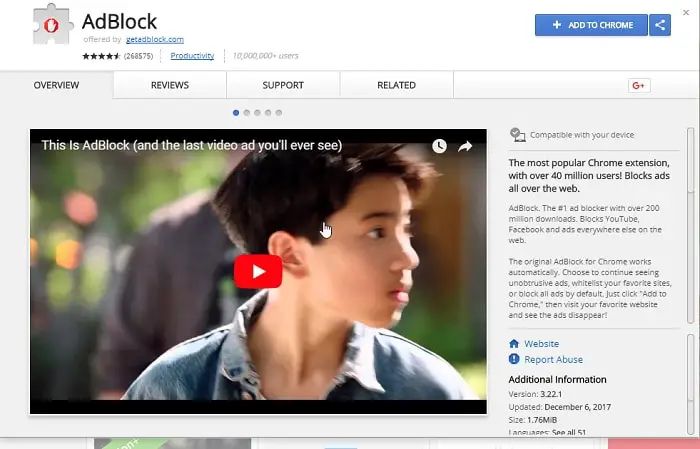 It is, even more, fun when you are using YouTube. It blocks all the ads while playing your content; you only watch what you are supposed to watch. So, extend your browser to AdBlock and ease off your lives with annoyance-free browsing.
Privoxy is a web proxy which enhances your security and overall browsing experience. It removes all the ads and other internet junk to keep you safe from the online trackers. It is a free utility with flexible configuration. The users can customise the software as per their requirement.
It supports web page filtering by replacing texts, removing banners based on size, invisible web-bugs, HTML annoyances, etc. It also de-animates GIF. Privoxy runs as a server and can serve more than one client.
See also: – 10 Best Advance Level Envelope Printing Software – TechWhoop
Universal Ad Blocker is a free all in one Ad Blocker Software to block ads. Due to excessive advertisings, we are not able to distinguish between the real and the fake links on the website.
We often click on the wrong links and get re-directed to some other irrelevant sites. To avoid this from happening, Universal Ad Blocker blocks all the advertisements and helps you find only the actual ones on the screen. It does not require any browser extensions or add-ons.
NoAds is a simple and free software with an easy user interface. It does not require much of the space in your hard-drive. It blocks all the common pop up ads that remain as interruptions while using your internet. The problem with the software is, it does not maintain any white-list to add few pop-ups to the exception lists. Occasional web surfers find no issue in using the software. Though they are many software better than NoAds, still it remains on the recommended list for its simplicity.
See also: – 5 Best Free Voice Chat Software for Windows – TechWhoop
Ticno Bancut is an easy-to-use ad blocker that supports almost all browsers. It blocks banners, ads, and other annoying tracking sites. You can add any website to the white-list if you want to view ads from that site.
It is easy to start and stop. Just a click is sufficient to enable or disable the software. It is a light-weight utility that does not even occupy 1 MB of your space.
PrivDog is a free ad blocker. By default, it blocks ads which do not belong to trusted sites. If you want to block all the ads, then you can configure it accordingly.
You can also white-list few ads so that the Ad Blocker Software does not block ads from that site. It enhances speed and provides security to the user.