Today we are going to discuss about alternatives to Hamachi. Hamachi is a popular software used by several gamers to play LAN games and businesses for remote working. A LAN (Local area network) is a network that connects various devices located within a particular area, say an office building. Hamachi is ideal for usage as it allows its users to emulate the properties of a LAN connection for various computers not belonging to a particular area. It is also highly secure and simple to use and is available for download on several operating systems. Most importantly, for gamers, it allows them to access blocked content, in particular, gaming sites. 
Hamachi offers excellent services. However, there is always a chance of it not working from time to time or giving you some trouble. Additionally, a lot of Hamachi's outstanding features are now paid for. Eventually, you are bound to look for some alternatives to Hamachi due to any of the above-listed reasons. If that's the case, then this is the blog for you.
See also: 4 Best Free VPN for Chrome to Ensure Complete Safety
Best Alternatives To Hamachi 
Here are our handpicked top 6 similar services to Hamachi-
Radmin VPN
Radmin VPN the most preferred alternatives to Hamachi on this list. It allows up to 5 device connections for free and is available for Windows operating systems. Radmin VPN is utilized by over 4 million people and promises an easy setup process for the not so tech-savvy and assures no lack in performance after continuous usage for prolonged periods.
The connection speed offered by Radmin VPN goes up to 100 Mbps, and it vouches that your connection is secure. It hands you the luxury to work remotely, i.e., you need not do any reconfigurations to your computer to gain access to the office's LAN. Additionally, it is ideal for gamers to play LAN games with no limit to the number of people playing.
Visit: Radmin VPN
NetOverNet
Another popular alternative to Hamachi is NetOverNet. NetOverNet VPN lets you connect to your respective devices so that you can access them with ease from all over the globe. Just like any other Hamachi alternative on our list, NetOverNet provides you with the feature to access files, sensitive work-related data, etc., while not being within the vicinity of the LAN.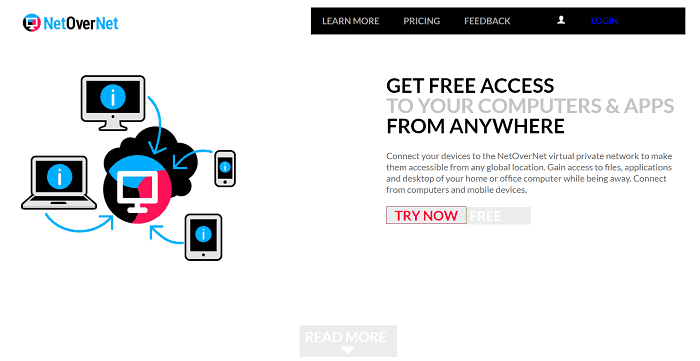 NetOverNet is available on all major operating systems, and you can gain access to your data from your mobile devices and tablets. Hence, with a stable internet connection, you can access data via a computer from anywhere in the world, allowing you to work remotely. NetOverNet provides most of its services for free usage and allows up to 3 connections for free.
Visit: NetOverNet
See also: Free VPN For Torrenting
ZeroTier One
ZeroTier One is a software that brings together the benefit of both VPN and SD-WAN to make network management easy. It is simple to set up and has scalable security with 256-bit end-to-end encryption. ZeroTier One is compatible with almost all operating systems and is simple to set up and use.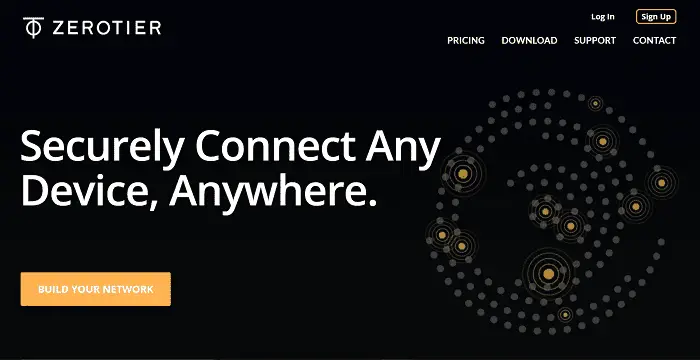 It is ideal for LAN gaming as it provides an easy user interface and doesn't require you to be well versed with technology. You can download the free version. However, for additional community support, you can purchase the paid version.
Visit: ZeroTier One
Freelan
Freelan is one of the most well-known alternatives to Hamachi on our list. The software permits you to produce your Virtual Private Network any way you like. It could be a client-server pattern, peer-to-peer pattern, and even a combination of both to allow you to enjoy the best of both designs. You can use Freelan for various things, like creating a private network for your family, gaming friends. You can even use it for secure communications. Freelan's community provides massive support in almost anything.
You'd like to do with their software and is available across all major operating systems. The only drawback with Freelan is that you need to set it up manually. However, you can find extensive details on Freelan's website's configuration process.
Visit: Freelan
Also check our article on The Ultimate VPN Test And Troubleshooting Guide Of 2023. Click here!
NeoRouter
NeoRouter provides access to your computer from any device from anywhere in the world, along with an in-built firewall to protect you from unwanted subnets. This software claims to use the same encryption as banks. Hence there is a surety that your sensitive data won't be tampered with. This program is available on operating systems like Windows, Mac OS X, Linux, etc.
It has a free and paid version, and you also get an additional 30-day free trial on the paid version. The best part is that you can use NeoRouter free for up to 256 devices. There is also a NeoRouter community to assist with any queries regarding the setup and usage of the software.
Visit: NeoRouter
See also: 7 Stores Like Hot Topic for Alternative Fashion
Parsec
The final software on our list of alternatives to Hamachi is Parsec. For all the avid games out there, Parsec has explicitly been designed for you! Through Parsec, you can run a game on one computer but play it remotely from a completely different device. It is available for download on most operating systems out there.
You can play, watch and share games with all of your friends. You have the luxury to play any multiplayer game with anyone from all over the world with almost no lag. Parsec also provides a matchmaking service that pairs you up with gamers from all over the world to play your favorite games.
Visit: Parsec
Learn how to setup a VPN connection. Click here to open the complete guide.
Conclusion
So here is our ultimate list of alternatives to Hamachi. Each of them has its unique selling point. All you need to do is get one for yourself that suits your needs and preferences!
Also Read: 4 Best Free VPN For Chrome To Ensure Complete Safety