Do you know Android puzzle games are the most downloaded games in the USA and UK? The reason is simple: they keep your mind alert and attentive, enhance decision-making, and boggle your mind with intricate trivia. So, no matter how many advanced games come and go, puzzle games are not ready to go anywhere.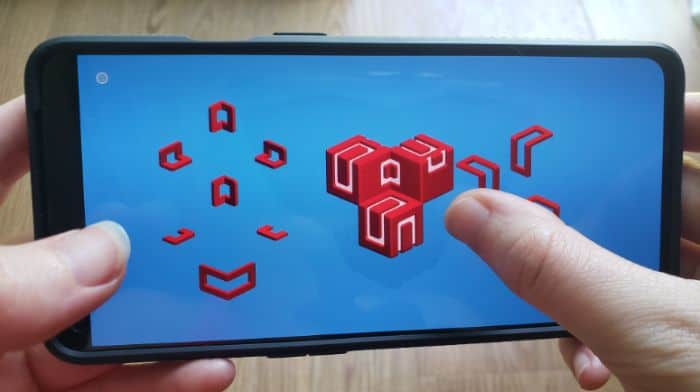 The top 10 Android puzzle games are Jigsaw Puzzle, Wordle, Crossword, Suduko, Scramble, Scrabble, Scribble, Maze, Word game, and Word wipe.
Puzzle game mania has increased with the advent of the internet, online sites, and the digitization of games. That's why you find more and more people indulging in various puzzle games. One of the biggest examples is The New York Times Wordle puzzle, launched daily with a new puzzle that attracts thousands of users who take it more seriously than breakfast. So, if you are also among those who still crave their childhood puzzle games, we can help you. 
Android Puzzle Games
Here are the top Android puzzle games you should try to recall your puzzle mania:
Jigsaw Puzzle
A jigsaw puzzle is one of the fun games that you might have played at least once. In this game, you join scattered pieces of a picture to complete it in the right order. It can be anything, landscape, animal, scenery, or anything.
Online sites offer thousands of jigsaw puzzles organized by category, and you can create your puzzles too. 
Wordle
A software engineer named Josh Wardle created Wordle for his partner. However, little did he know he was creating one of the biggest phenomenons of 2022 that took over the internet by storm. It was bought by "The New York Times" from Josh Wardle, and according to NYT, around 300,000 people were playing this game in January. It is a simple yet challenging Android Puzzle game to test your vocabulary. 
The trick is simple: you must find 5-letter words in 6 tries. It sounds simple, but let me say it's not. It might make your mind a major jerk because so many words in the dictionary are made of five letters. However, if you guess a word is wrong, but a single alphabet is present in the puzzle word, it will turn green if placed in the right place. Otherwise, it turns yellow. Every day a new puzzle emerges at midnight, so it is just a one-time chance to guess the word. If you can find the accurate word, you can share the results online with friends to slay your capabilities.
Also see: The 10 Best Story Games For Android To Install In 2022
Crossword
Remember all your fights with your brother to solve crossword puzzles in the newspaper. Yes, crosswords have been a happening puzzle game for a long time, and it is still going strong among the best Android puzzle games.
You can find it in many newspapers, like The New York Times newspaper, or online sites. You can also play different variations of crossword puzzles in Crazy Games, which are heaven for all crazy game lovers.
Sudoku
Let me admit that Sudoku was my favorite childhood puzzle game and hands down, it is one of the most difficult Android puzzle games.
It is made up of 9 boxes enclosed in a large box. The objective is to fill out each box and each horizontal and vertical line with numbers from 1 to 9 such that no number repeats in any box or line. Sounds a bit tricky? Well, it is! It has different modes, from simple to hardest, but let me give you a heads up that its simple level is also not that simple. So, be ready to shake your head to break the trick. 
Scramble
Scramble is a great puzzle game that calls for a face-off of better vocabulary holders. And when you find the meaning of the word scramble, it gives you a clear glimpse of what the game is about.
Scramble means to arrange something that is not arranged before. That's what you do in a scramble game. You make an accurate word with the unscrambled words that you can find in a lexicon. It is just like writing a leap and asking someone to make the right word out of this unscrambled word. That's an apple. So, if you find it out, you win. Simple!
Scrabble
Scrabble is one of the oldest board and Android puzzle games that gives you the pleasure of both worlds. So, if you are not done testing your vocabulary with Scramble, scrabble will surely give you a tough time.
This game is all about making words on the board with the available tiles. You can play it on your cellphone as well through different sites having amazing graphics and crazy animation that multiply the fun of playing this game on sites than physically. 
Scribble
Scribble means writing something quickly. That gives a bit of an idea about this game. It is a multiplayer game where one player draws or writes something, and other players have to guess them. It is one of the booming Android Puzzle games.
It's a great, fun game for team building that never lets the fun die in friends' get-togethers because you are together enjoying a game. When you can't decide how to break the ice, bring on this game, and you will wonder if there was ever ice in the room.
Maze
Maze games are usually considered games for kids that help them develop cognitive abilities and brain development. However, it doesn't mean youngsters can't play these Android puzzle games. The goal is to find the way out to reach from one point to another while understanding the intricacy of the maze.
Some developers create such intricate puzzle games that it becomes hard for adults too to escape from the intricate design of the puzzle. You can find such maze games on online sites that can give a relative push to your cognitive abilities.
Word Game
The Word game is another favorite childhood puzzle game about finding hidden words in a box filled with random alphabets.
It used to come in different levels. Sometimes alphabets were large, and others were so small that you feel like using a microscope. If that little happiness of finding words in random alphabets is still hidden inside you, you can play it on your Android as it is also available as an Android puzzle game. 
Word Wipe
You might not have heard of the Word Wipe game before, but it is an amazing game to begin with. You can call it the modern and refined version of word games. We have made different words on a board full of random alphabets.

If you make a difficult word, you get a higher score. But the goal is to wipe at least one line to win. It is not easy, but too addictive. Even if you fail a hundred times, you still feel like playing it more. So, don't miss it. 
FAQS
How can I save my progress in puzzle games on Android?
Puzzle games on Android usually have a built-in save or autosave feature. To ensure your progress is saved, ensure you are signed in with your Google Play Games account, if applicable, and allow the game to access storage permissions. The game will automatically save your progress as you play.
Are puzzle games on Android free to play?
Many puzzle games on Android are free to download and play. However, some games may offer in-app purchases or ads to support their development and provide additional content or features. You can check the game's description and reviews in the Google Play Store for information on its pricing model.
Can I play puzzle games with friends on Android?
Yes, there are puzzle games available on Android that offer multiplayer or social features. These games allow you to play with friends either locally or online. Look for puzzle games that mention multiplayer or social gameplay in their descriptions to find options to play and compete with your friends.
How do I uninstall puzzle games from my Android device?
To uninstall a puzzle game from your Android device, go to the Settings menu, select 'Apps' or 'Applications,' find the puzzle game from the list of installed apps, and tap on it. Then, click the 'Uninstall' button to remove the game from your device.
How can I improve my puzzle-solving skills in Android games?
To improve your puzzle-solving skills in Android games, you can practice regularly, analyze strategies used by other players, and explore different puzzle game genres and mechanics. Additionally, you can find puzzle-solving tutorials, tips, and guides available online to enhance your problem-solving abilities and enjoy more challenging puzzles.
Conclusion
Unfortunately, most people don't know much about puzzle games. Their minds are constrained to just Jigsaw Puzzle, Sudoku, Crossword games, and Maze games. However, the reality is puzzle games have a world of their own filled with many amazing puzzle games. Explore this mind-boggling world and build your cognitive abilities, decision-making, and problem-solving skills.