If you are an Apple device owner, you must have encountered a problem where you cannot unlock the iCloud activation lock. According to the latest research, 9 out of 10 Apple users face this problem. Using your Apple device without unlocking the iCloud activation lock is almost impossible. Hence, it is very crucial to deactivate the iCloud activation lock.
AnyUnlock is a secure and trustworthy software solution for unlocking your phone on your computer. It not only ensures the safety of your device during the unlocking process but also prioritizes the protection and privacy of your personal information.
But it is not that straightforward to unlock the iCloud activation lock. Today, we will take you through a fast, simple, and successful solution to bypass the iCloud activation lock with this AnyUnlock Review. Although, let's first understand what is an activation lock and why it exists.
A Brief About AnyUnlock
An activation lock or an iCloud lock is an attribute of Apple's Find My iPhone feature. This is a security feature of the iPhone for blocking access to the phone if it is lost or stolen. All Apple devices have this feature in-built. You can enable the activation lock by switching on the 'Find my iPhone' feature.
Even if the Apple device deletes remotely, the activation lock will continue to prevent anyone from accessing a device without the owner's permission. You must keep the 'find my iPhone' feature on and remember your Apple ID and password.
Although the iCloud activation lock is a reliable protection mechanism, it is a very tedious process to disable this activation lock. One needs to disable the activation lock after finding the stolen device to use it.
Brand-new Apple devices also sometimes have iCloud lock enabled. If you are the first device holder and have preserved your sales receipt, you can get the iCloud lock disabled from your nearby Apple store.
But if you have bought your Apple device second-hand, accepted it as a present, or don't have the sales receipt, you must find another way to unlock the iCloud activation lock. Another option is AnyUnlock, the fast, simple, and high success rate tool for bypassing the iCloud activation lock.
See also: 3 Easy Ways to Turn off iMessage on Macbook
AnyUnlock Review – iCloud Activation Unlocker
AnyUnlock – iCloud activation unlocker is a trusted and vital tool used to unlock the iCloud activation lock without an Apple ID and password. This tool was launched and released by iMobie Inc, Los Angeles.
The AnyUnlock – iCloud activation unlocker also provides a surprise feature for checking your Apple device's status, which stops you from buying any inconvenient device and helps you find your Apple ID and password in just a click. Read about how to approve iPhone from a PC by Clicking here!
See also: Recover Deleted Files On Mac | 5 Ways To Recover From Emptied Trash
AnyUnlock – iCloud Activation Unlocker Features
Moving on with AnyUnlock Review, we have listed a few features for you. They are as follows:
Bypass iCloud activation lock
AnyUnlock removes the iCloud activation lock easily with just a few clicks. The interesting thing is that you don't need the Apple ID and password for unlocking.
Once the lock is disabled, the users can relinquish Apple features like music, movies, games, application, podcasts, etc., on their Apple devices without worrying about their device security.
Find apple ID
There are some instances when you cannot remember your Apple ID, which links to the iCloud activation lock, and you fail to get it back by any means.
Don't worry. You can find your Apple ID with just a simple click using AnyUnlock.
iDevice verification
AnyUnlock can also be used to verify your Apple device. It checks whether the activation lock is enabled, whether it is connected to Apple ID, if any hardware is replaced, what is the battery's health, etc.
After performing the checks, AnyUnlock generates a detailed report. This report comes in handy for warning users about malware.
See also: 7 Best Free And Paid iPhone Cleaner Apps
AnyUnlock – iCloud Activation Unlocker Supported Devices
Let's move further in AnyUnlock Review. Certain Apple devices support specific features of AnyUnlock – iCloud activation unlocker. Go through the list below for knowing about the tools and their versions that support AnyUnlock:
Devices that support iCloud activation lock bypass:
iOS version:

iOS 12.3 and later excluding iOS 12.4.5 and 12.4.6.

Device Model:

iPhone 5s to iPhone X
iPad 4 to iPad 7
iPod 7 to iPod 9  

Devices that support iDevice verification:
iOS version:
Device Model:
See also: 6 Methods to Fix "iPhone Won't Charge" Problem
Side Effects Of Jailbreaking The Device
The bypassing feature of AnyUnlock – iCloud activation unlocker jailbreak the device. This jailbreaking harm the device.
Phone calls cannot be made using the SIM card anymore. Also, SIM cards cannot be used for surfing the internet using cellular data.
The 'Facetime' and 'iMessages' features will be disabled.
Logging in to a new iCloud account restrict in the account settings.
Apple devices cannot use iTunes.
See also: 5 Easy Methods to Block Unknown Calls on iPhone
WARNING
AnyUnlock is strictly for personal use. Please do not use it for illegal or commercial purposes!
Another useful unlock program of AnyUnlock is AnyUnlock – an iPhone password unlocker. We often find ourselves in a situation where we cannot remember the password of our iPhones.
As scary as the situation sounds, AnyUnlock has a solution for this. The AnyUnlock – iPhone password unlocker helps you unlock your iPhone with just a few clicks and enables you to cope with the very scary situation.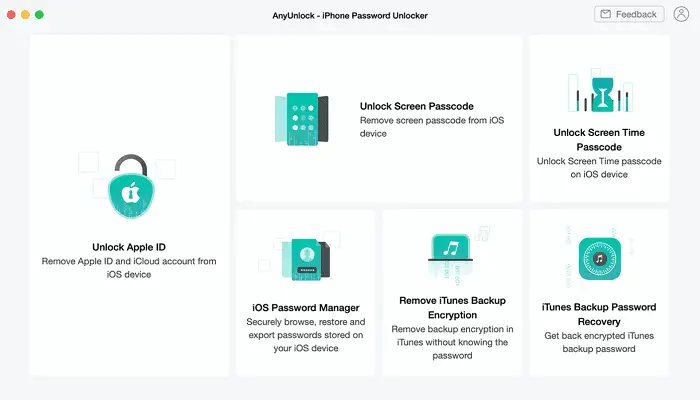 AnyUnlock has proved to be a handy and robust tool for solving the issue of unlocking the iCloud activation lock with ease. Do give this powerful tool a try, and it will work wonders. This was all for AnyUnlock Review.
See also: Complete AnyUnlock Guide
FAQs
How much does Anyunlock cost?
Anyunlock has fixed prices for different operations. It can vary with devices and the number of devices that you need to unlock. It is also helpful in opening iCloud.
Is the anyunlock app free?
Anyunlock is not a free app. It requires a certain fee per device. There is a trial period available in which you can install and use certain features free for a limited time.
Is Anyunlock software safe?
Anyunlock software has passed all the tests and is safe to use. Anyunlock help people with personal use. Using the technology for illegal purposes is strictly prohibited by the website.
Can you unlock a disabled iPhone?
We can easily unlock iPhones with the help of the free unlocker App, Anyunlock. It can be done by using the security code.
Conclusion 
We hope this article about AnyUnlock Review was helpful to you. Do leave us your feedback.
It motivates us to keep writing more such content for you. Thank you, and happy surfing. Ciao!