No one can deny the difficulties faced by those with disabilities. Whether it's a physical condition or mental disorder, it can be an overwhelming challenge to function – mess less survive – in a world with activity, sense, and movement restrictions, after all. And in this article, we'll cover some of the top apps for people with disabilities.
Fortunately, technology has made it possible for those struggling with their handicaps to keep up with everyone else. Captioning solutions and proofreading software are a few examples of technology for students with disabilities.
Various programs can break down the barriers that would otherwise keep a person with long-term mobility, sensory or intellectual impairments from achieving a more independent and comfortable life.
Top 11 Apps For People With Disabilities
Here are some of the best apps for people with disabilities:
Petralex
An app that is specifically designed for people with impaired hearing, Petralex. It is described as a program that serves as a hearing aid. It essentially acts as a personal amplifier to augment the ability of the user to hear. And it can be especially useful when it comes to social settings.
Additionally, with Apple and Android support, it's an application that you can use, regardless of what mobile device you own.
Visit: Petralex
See also: Mobile Notary Apps to Consider Using in 2023 | Top 6
Choice Works
Ideal for those in need of healthy ways to grapple with their emotions or aid in their routines, Choiceworks is an application that enables individuals to verbalize what they feel. It's beneficial for those with special needs who cannot voice out their thoughts and give general routines the importance they deserve. The sections that the app covers are feelings, waiting, feeling scale, and schedule, with each one addressing specific needs.
For example, the section for waiting is for social situations since it allows the person to normalize their actions, preventing them from interrupting conversions. On the other hand, the feeling scale enables users to determine and manage their feelings in specific environments.
Visit: Choice Works

Be My Eyes
As its name suggests, this app is primarily intended to be used by blind or visually impaired, allowing them to carefully navigate their surroundings and give them the awareness they need to understand their environment.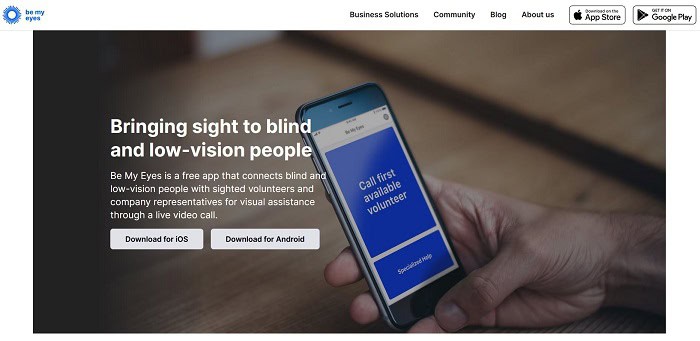 It fulfills its purpose by connecting users with volunteers from around the world who can see to be of assistance using no more than their smartphone cameras.
Visit: Be My Eyes
Wheel made
Let's face it: wheelchair accessibility for those with mobility restrictions is crucial. Fortunately, everyone else seems to be realizing the same thing. But there, the world still has a long way to go, so it's crucial to get information in advance as to the wheelchair-friendly places.
With that in mind, the app, Wheelmate, is an excellent application that marks out the brick-and-mortar establishments like cinemas, restaurants, and bars accessible for both Android and Apple users alike.
Visit: Wheelmate

Voice Deam Reader
Another application that can help people with poor eyesight and other limitations that make reading challenging is the Voice Dream Reader. At its core, it's a reading tool for the iOS and Android operating systems that provides users with many options.
Some of the features it offers include navigating via chapters, paragraphs, and sentences, bookmarking and highlighting, pronunciation dictionary, and so much more.
Visit: Voice Deam Reader

Miracle Modus
This is one of the most interesting applications available. Created by a person who has Autism, the app's purpose is to alleviate the sensory overload that people with pervasive developmental disorders can often experience through hypnotic lights, soft bells, and rainbows.
Simply put, it calms the person in situations that they may find overwhelming.
Visit: Miracle Modus

Stepping Stones
Having visual support is critical, especially for adults and children who have Autism.
To that end, Stepping Stones provides users with a simple and clean experience for people who may have developmental disabilities, auditory or attention processing limitations, anxiety, and various other learning restrictions.
Visit: Stepping Stones

Avaz
It can be a struggle for children impeded by communication challenges to engage and connect with others. However, because social dynamics play a critical role in their development, they must express themselves without limitations.
With that said, the Avaz application aims to do just that. The app enables kids with cerebral palsy, down syndrome, and Autism to exchange information with others effectively through picture-based communication.
Visit: Avaz

Auslan Key Sign Tutorial and Storytime
Auslan – short for Australian sign language – is the official way of communicating with the country's deaf community. The application is a remarkable resource that helps people with no more than their smartphones.
As an extension, the Auslan Storytime app provides children who are hard of hearing or deaf with the opportunity to have story sessions that they'll be able to understand. These applications are available for both the Android and iOS systems for free.
Visit: Auslan Key Sign Tutorial and Storytime

Medication Reminder and Pill Tracker
Being on medication is tough. Apart from the cost, it's easy to forget what to take, and the time it should be taken. And for people who are taking more than a couple of medications. The good news is that MyTherapy has created an app called Medication Reminder and Pill Tracker.
The application can help users stay on top of everything, from the medication schedule to weight. As simple as it might sound, the app can go a long way in helping you follow the recommendations of your doctor.
Visit: Medication Reminder and Pill Tracker

Voice it
Millions of children and adults suffer from speech disabilities around the world. The developers of the Voiceitt app aim to address this issue and help people speak freely and naturally.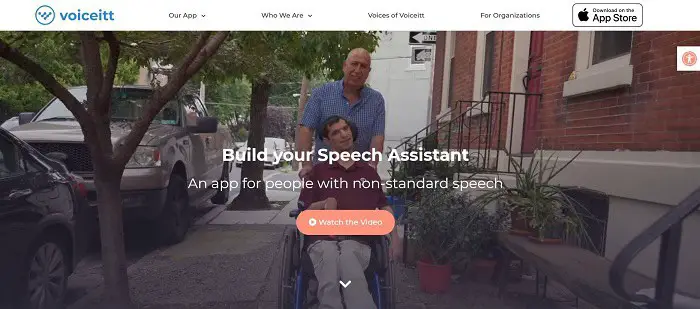 While it has yet to be released, it's an app worth looking into due to all its beneficial features.
Visit: Voiceitt
FAQs
Can apps help people with disabilities?
Of course! Many apps are available in the markets that help people with varying disabilities. These can help people with visual impairments, hearing disability, autism, etc. This is a boon to those with disabilities.
What is an app for disabled people to make friends?
Certain apps in the market help disabled people to connect with the world and make friends. Alvie is the most famous app with this intent: it connects people with similar interests and hobbies. It also helps people to initiate conversations.
Is Dating4Disabled free?
Dating4disabled is a free app that allows people with disabilities to meet and connect.
What is the disability match app?
It is an app for people with a disability above 18 years of age. It is primarily an app that allows disabled people to chat. It is a safe website as well.
Conclusion
It isn't easy to have a disability. However, it doesn't always have to be a struggle either. With these applications, those who are handicapped individuals can overcome their limitations.
As a result, they can do actions and perform activities that everyone else can. More importantly, they can be more independent than they otherwise would have been.