Article writing software is a great way to write more content, not worry about sentence structure, and improve your writing skills. It is also the perfect tool for generating new articles every day. If you aspire to be a writer, it is all possible via the best article writing software.
8 Best Article Writing Software to Use for you
WordAi
SEO Content Machine
Visit: SEO Content Machine
Article Insights
Article Forge
SpinRewriter
Article Builder
Ultra-Spun Leading Articles
WriteMonkey
But, before you get or buy any tool that claims to be the best article writing software, you must know which ones will guarantee success. You need to pick the right software to help you write and create an article.
See Also : Voice To Text Apps Top 14 Free Apps For Android (2023)
8 Best Article Writing Software to Use
To free you from hassle of finding the best article writing software, we have mentioned some of the best writing tools you should try using today.
WordAi
It's not always possible for you as a writer to write hundreds of content that will be great for your site or blog. But with software like WordAi, this is possible. The software rewrites your content, thereby giving you brand-new content.
This means you'll have new rewritten sentences and paragraphs. Also, it does support English, Italian, French, and Spanish, therefore you don't have to hire a translator to rewrite your content. With their three days free trial, you'll get to test it out before deciding on it. It is hands-down the one of the best writing apps for Windows.
Visit : WordAi
See Also: Is SEO Worth The Money?
SEO Content Machine
The SEO Content Machine is as literal and technical as its name. Like a machine, it crawls through any given keywords and displays the result in your desired language. Yes, you don't need a separate translator for your articles as this software has the mainstream languages. Moreover, it comprises other content creation tools that help in editing and posting your blog.
You can fit the articles into various templates and formats. Furthermore, this tool can help manage your workload if you have more than one website to maintain. It can produce project templates too.
However, the software is not free for an unlimited amount of time. Its basic plans start with 27$ a month, wherein you get all the tools and updates. Furthermore, there is a quarterly plan for 57$ and a yearly plan for 120$.
Article Insights
As a writer researching, one article can sometimes take you forever. You have to go through every Google search and still make your article unique. This can be cumbersome and stressful.
See Also : 9 Best Free Keylogger Software for Windows 
But fortunately, there is Article Insights that do the heavy lifting for you and even help you in keyword research, thereby making the content SEO optimized. Therefore, you'll know what keywords to use, have new content ideas, and save time from both researching and writing.
Also, if you're a student who's writing an essay and have used papers from Writepaperfor.me as a reference, article insights reference tracking feature will list all recommendations you have used. Thus, Article Insights makes the best creative writing software in use this year.
See Also: 7 Best Essay Writing Software To Use In 2023
Article Forge
With just a keyword, this tool or software can write you unique content that you can publish today. Using artificial intelligence, that health or finance article that's stressing you out can be written, and you'll receive it immediately.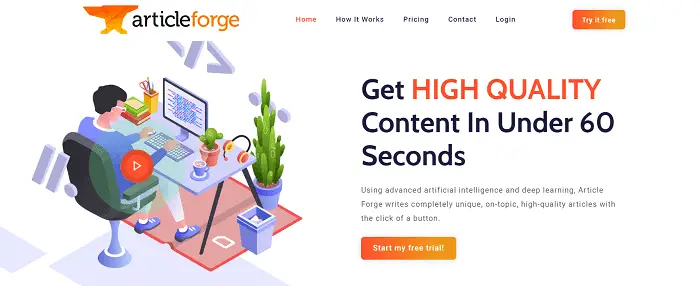 But it doesn't stop there because, with this tool, you can have videos, links, images, and even a great title automatically added to your article. This is only for the writer who wants content pretty fast.
Visit : Article Forge 
SpinRewriter
The SpinRewriter is a strong competitor among softwares mentioned here. Its simple layout and efficiency are its noted features. It offers several features to produce a unique and excellent piece of content.
With a paraphrasing feature, it easily generates the content you want, that too plagiarism-free. Moreover, it allows the spinning of bulk articles to keep your websites' work balance.
Although it offers only a 5-day free trial, it does have a 30-day refund policy. However, its trial period will be enough to convince you that it is a sure bet. In addition, this software also allows the integration of stock photos.
With more than five Spintax styles included, it is capable of generating diversifying content. Furthermore, it works on all devices and systems per the user's convenience.
Visit: SpinRewriter
Article Builder
If you are building your blog or brand and lack of content is your most significant disadvantage, don't give up because there's an online writing software to help you out here.
See Also : What is Microsoft Visio & How to Install it?
If you want articles that you can start using today on that blog, then Article Builder will be your best friend. It covers topics like real estate, investing, and fishing, to name a few. You can use it by an internet market, affiliate marketer, blogger, and writer; therefore, it won't be a surprise having more traffic by using this software or tool.
Visit : Article Builder 
Ultra-Spun Leading Articles
Ultra-Spun Leading Articles is a software that the big firms and freelancers swear by. Unlike other softwares, it is not entirely AI-based software. Instead, the articles it generates within a 1200 word-limit are written by real human beings. Thereafter, they are up in the marketplace, allowing anyone to access them using keywords. Once you've found your desired article, you can review and keep it for yourself.
Another interesting feature about this software is that it erases a particular article from its database after being bought 200 times.
Ultra-Spun Leading Articles also allows one to publish the article to your blog directly. After choosing the category, date, and kind of article, you can instantly post the article from here itself. Furthermore, the uniqueness of the article is in sanction, mostly about 90 percent! This saves a lot of time and energy of the over-worked content creators out there!
See Also: Top 16 Free Writing Software Of 2023 | Create Better Content Faster
WriteMonkey
Distractions are the most prominent pitfalls writers face daily. If you are researching or writing a review on Academhelpers.com, you might not even start because of that Twitter notification.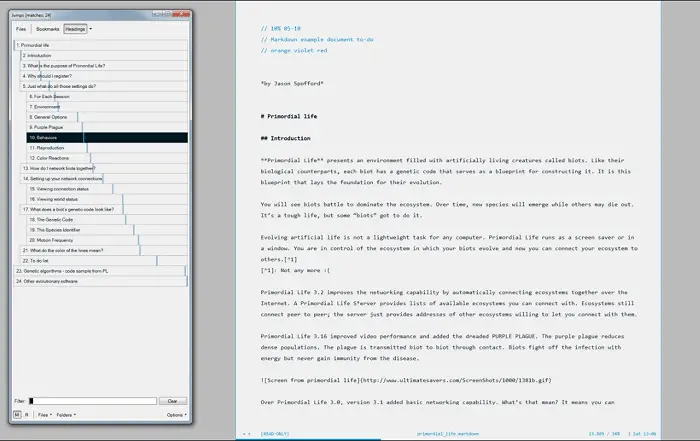 But thanks to software like WriteMonkey, you can concentrate on writing that text and get rid of every distraction. They pride themselves on "leaving you alone with your thoughts and your words". When you use it and its full screen, you'll realize that the start menu goes away. Now, you can start writing down your text, with this best writing software.
Visit : WriteMonkey 
See Also: 9 Best Online Whiteboard Tools Of 2023
FAQs
Which software is best for writing?
There are different writing software available for various purposes. For books, ProWritingAid is an excellent choice. Google Docs is the most common and helpful writing app currently being used. Novelpad and Microsoft Word are all excellent options.
What is the best article generator?
Rytr is one of the most useful AL-powered tools that you can use for the generation of marketing copies. AI writers provide unique content on any desired topic. Articoolo and Scalenut are good software you can try to make writing easier.
What is article writing software?
They are tools that generate the desired article or any write-up upon request. These are AI-powered that can generate output according to the considerations and previous searches of the consumer as well. No doubt they make our lives much better.
What do most professional writers use to write?
The most professional way to write a report or an article is to use the good old Microsoft Word. They have been used for a long time, and It helps in generating quality content with proper formatting.
Conclusion 
A writer should use every piece of tool that helps in content creation. A successful writer maximizes every resource available. Thus, these are some of the best article writing software one must try using. Even though you are not a writer, and have began your journey only a while ago, these softwares will help you to achieve your dreams.
See Also : Top 11 Grammarly Alternative Tools that You Can Use Now!
Happy Writing!