Have you ever considered a piece of an even larger jigsaw that is missing from your DNA? Learning about oneself and one's origins is now simpler than ever, thanks to the expanding availability of information. Let's look at some of the best genealogy sites. 
The best Genealogy sites are Ancestry.com, FamilySearch, MyHeritage.com, Findmypast, MyHeritage DNA, Find a Grave, Cyndi's List, Genealogy Bank, Genu, etc.
You can discover more about your ancestry and inheritable qualities via genealogy. Finding a genealogical website you can rely on to give correct info about your familial history might be challenging in the internet age and its resources.
See Also: How To Find A Person On Facebook Using A Photo | A Stepwise Guide
List of 11 Best Genealogy Sites
Listed below are the top 11 websites for newcomers to genealogy. Everyone must begin somewhere, and thanks to contemporary genealogy, you can accomplish a lot from the comfort of your home. Leave that to the professionals.
For the ideal start, use these Eleven interesting websites on the internet for beginners.
Cyndi's List
Cyndi's List comes first in the list of best genealogy sites. Cyndi Howells, a US-based website owner who enjoys researching family history, runs Cyndi's List in the U.K. and Ireland.
While the site may appear overwhelming at first sight, the tens of thousands of connections to U.K. family history websites are organized into geographical divisions, with the opportunity to search alphabetically.
This is one of the best websites for family trees. Many sections, including ones for religion, vocations, obituaries, and societies & groups, can be found within these categories.
Even though many of these connections are pretty beneficial, remember that one of the fundamental principles of genealogy is to verify any information you find online before putting it into the family tree.
Visit: Cyndi's List's official website
FamilySearch
One of the largest family background websites in the world, FamilySearch consists of millions of records collated by and for the Church of Jesus Christ of Latter-Day Saints' International Genealogical Index.
With more than 4,000 family history centers located worldwide, the website serves as the online headquarters of the biggest genealogical organization. Get to know everything with the best ancestry sites.
There is also one-on-one online assistance accessible as thousands of documents are continually being digitized and put on the website. This is an excellent place to start for novices because it has articles, research advice, and online classes.
Visit: FamilySearch's official website
FreeBMD
Use FreeBMD genealogy websites to gain unlimited access to birth, wedding, and death information from all around the nation. The initiative includes records for England and Wales with its sibling websites FreeCen and Free Reg. Volunteers continue to upload new records regularly.
The General Register Office records are searchable on the BMD website from 1837 to 1983. Although the database doesn't yet include all the years and places within this period, a search option enables you to check coverage for the period or area you want to search.
After locating the birth, marriage, or death record you're looking for, you only need to write down the reference number to get the GRO certification.
Visit: FreeBMD's official website
National Archives Discovery
With the National Archives Discovery, which provides access to 1,000 years' worth of papers stored in 2,500 archives across the U.K., you can learn which archives are located throughout the country. Almost 32 million records have descriptions, with nine million accessible online.
This is among the best genealogy sites. Census, healthcare, immigration & immigration, military, wills & probate, and court records are some of the categories. Searches can be done using a category, keyword, or repository name.
If you encounter any problems, try refreshing the page or clearing your cache. Check your internet connection or contact the website administrator for assistance if the site can't be reached.
Visit: National Archives Discovery's official website
FindMyPast
Online genealogical resource FindMyPast is in the U.K. and offers various census records, birth records, obituaries, and other information. With their user-friendly searchable database, you can locate your ancestors and delve further by sending them your DNA.
The websites for genealogy also offer a 14-day all-access ticket that allows you to browse its data without paying anything, allowing you to decide whether a subscription is worthwhile.
You may browse FindMyPast's public data throughout the 14-day free trial to get a solid idea of how the website functions. You can pay to continue your studies whenever you're ready.
The DNA test at FindMyPast costs $89, and memberships are available for as little as $10.75 each month. This is one of the best genealogy sites. 
Visit: FindMyPast official website
Atlas of Historical County Boundaries
Over the years, and occasionally repeatedly, county borders inside the U.S. have shifted. If you assume a document would be in one country, yet it's actually in another due to shifting boundaries, it might be difficult to trace your ancestors.
You may always know where to seek the genealogy data you have to conduct your study since this genealogy website provides information sharing relevant and when county borders changed.
Visit: Atlast of Historal Country Boundaries official website
BillionGraves.com
There is a sizable archive of GPS-tagged gravestone photos on this free website. You may use the database to look for the stones and details of your relatives, or you can upload photos from your smartphone and add personal details about the people who made the stones.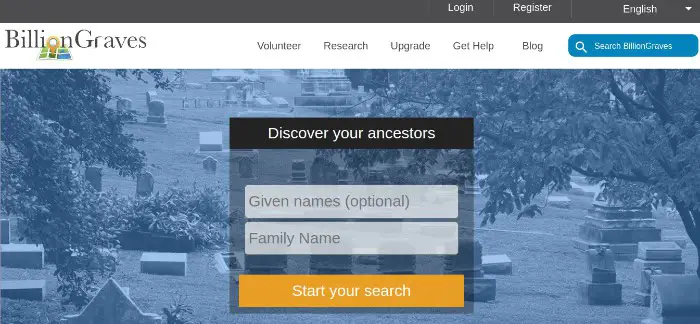 Visit: BillionGraves official website
Chronicling America
Another free website that belongs to the Library of Congress is this one. It provides a gateway to digitized historical newspapers from Washington, D.C., 25 other states, and from 1836 to 1922. Also, an index lists all currently published newspapers and their locations.
It's an excellent resource for discovering unique, intriguing facts about your ancestors because new stuff is constantly being uploaded.
Visit: Chronicling America's official website
MyHeritage
This widely marketed DNA testing business may be an excellent choice if you're seeking Genetic matches that could still reside in your ancestral home.
Testers can analyze their family trees using online resources, providing hypotheses about their potential relationships.
Visit: MyHeritage's official website
FindAGrave.com
This well-known free website resembles BillionGraves.com. It just enjoys greater brand recognition.
You may seek similar data on relatives you might need to become more familiar with as other genealogists and post gravestone images and biographical details about them.
Visit: FindAGrave's official website
US GenWeb Project
A wealth of global genealogy data may be found on this free website. Users add information to the website with sections for several nations, states, and counties. The quality of each area varies since some of the site's sections are sponsored by "caretakers" while others are not.
Yet, because it is user-generated material, you will discover many original items here that are useful to your genealogical research and that you won't find anywhere on the internet.
Visit: US GenWeb Project's website
FAQs
Which Genealogy Website Has The Best Accuracy?
You should make sure the material in genealogy is correct and current because it covers a lot of ground. HomeDNA offers the most accurate DNA analysis. Their specialized tests provide information about your DNA, and you are free to choose how you wish to go on your research after that.
Where Can I Find the Best Free Genealogy Website?
The top genealogical resource is MyHeritage. The tools for creating a family tree website are also provided on this free website, making it the most user-friendly. There are several additional costs or buyable add-ons on other websites. MyHeritage simplifies the procedure and still keeps everything reasonably priced.
Which genealogical website is the most accurate?
HomeDNA offers the most accurate DNA analysis. Their specialized tests provide information about your DNA. You are free to choose how you wish to go on your research after that.
What Privacy Issues Are Included With DNA Testing?
Examine the terms and conditions of each site if you are concerned about what will happen to your DNA after you take the test. Several disclaimers concerning the security and use of these sites will be included. HomeDNA and 23andMe will better safeguard your private details as they employ private laboratories while other firms use public ones for testing.
Conclusion
The field of genealogy is perfect for you if you've ever wondered about your origins and want to discover more about your family. Finding where your family comes from might make you feel more connected to the past and help shape your future. Several websites exist that focus on genealogy.
An improved grasp of your identity and origins, including online identity verification, comes from looking into the past and family history. We hope you liked the 11 best genealogy sites mentioned in this article.
See Also: 27 Free Job Posting Sites For Employers | Latest 2023