The bookmark is the best feature of any browser. Almost all browsers have this functionality built-in. Whenever you want to access some web page later also so that you don't have to find it again, then you should bookmark that web page. Built-in bookmark features have some functionality, but still, it can't satisfy needs of all users. Therefore we did the hard work and compiled this list for the Best Online Bookmark Managers available.
So you can use third- party bookmark managers that will organise your bookmarks. They have many other features also like auto-sync, offline view, advanced search, etc.
Therefore if you are looking best bookmark manager for you, you landed at the right place. This page has provided you 10 best bookmark managers. So you don't have to search anywhere else.
10 Best Online Bookmark Managers
Secure Bookmarks
Secure Bookmarks is a chrome bookmark manager that is a password protected system. This bookmark management tool allows you to save and manage your bookmarks.
This also enables you to set a password to your bookmarks so that only you can access it. When you want to store information safely so that others can't see it, then you can use this tool.
In this, you can also use folders to organize your bookmarks. Therefore, deserving a number one spot on our Best Online Bookmark Managers list.
When you want to store information safely so that others can't see it, then you can use this tool.
Evernote
Evernote is also a google bookmark manager. It is the most powerful bookmark management tool. Evernote is used for research bookmarks.
It can't be sued for everyday bookmarks. Here you can store a large number of bookmarks and access those bookmarks from anywhere and at any time.
Let's take an example, suppose if you want to buy a new smartphone then you can save all those sites which offer that smartphone to Evernote and access those bookmarks when you want to order that smartphone. You can save your pages as PDF also. It can be used on all browsers like Chrome, Firefox and Microsoft Edge.
Pinterest
It is one of the hippest photo sharing site. It allows you to easily save your image that you search in the search engine. To use this, first, you have to go to the Pinterest website then create an account on it. Then you just have to download the Pinterest extension and login to your account.
After that whenever you place the cursor over an image, a pin it button will appear and you can save that image by just clicking on it. You have an option to give a bookmark name to your image. It is freely available. You can share your photos on Pinterest and can see photos of other people also.
Pinboard
It is a special kind of bookmark manager that is based on social bookmarking also. It will maintain your privacy and security. Pinboard will save your bookmarks in a very secure environment where only you and authorized person can view your bookmarks.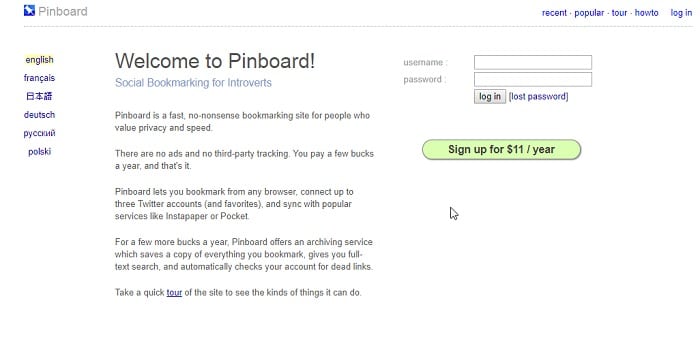 You can also synchronize bookmarks from outside websites like Twitter, Instapaper, etc. It is a lightweight tool. It is ad-free and there is no third party tracking.
Historious
It is a bookmarking site, and here you can search your bookmarks with the help of historious search engine. Its basic features are that it offers one-click saving, it allows a full-text search, you can take snapshots of your pages, you can share your bookmarks with others and many more things. Certainly a deserving spot on our list of Best Online Bookmark Managers.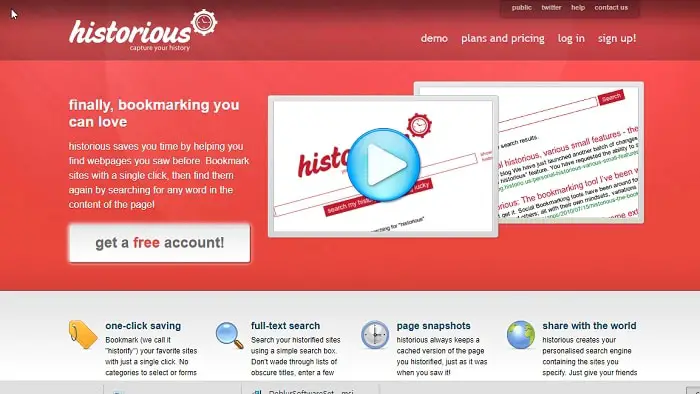 It will save your time as it will automatically show you those web pages that you searched before. You can get a free account just by clicking on the get free account button on this site.
Weave
Weave is a free firefox bookmark manager tool that is available for Mozilla Firefox browser. This will synchronize all your bookmarks, tags, browsing history and passwords across all the devices in which you are using Firefox.
Just like your PC, laptop, Mobile device, etc. All your settings are stored in the server of Mozilla Firefox so that if your away from your home and you want your bookmarks, you can easily rebuild it.
Private Bookmarks
Private Bookmarks is a bookmark extension that is available for UC browser and Google Chrome. This will allow you to manage chrome bookmarks efficiently.
Also, you can create multiple folders and add your bookmark over there. So that next time when you need it, you just have to go to that particular folder only. It will keep your bookmarks safe and secure.
Neater Bookmarks
The Neater bookmark is a bookmark extension that is available for your chrome browser. It allows you to bookmark your web pages and manage them easily.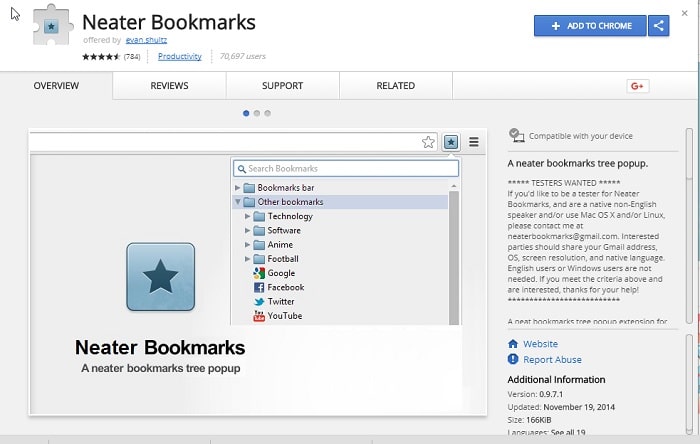 With this, you can manage your bookmark in a very efficient and compact way. With this tool, you can view your bookmarks in a tree format, not like chrome bookmark tool in which you see the bookmarks from left to right.
BookMark Ninja
Bookmark Ninja is the best bookmarks manager tool because it is cloud based bookmarking. The best part about the cloud is that you can access your bookmarks from any device and from anywhere.
This is freely available for 30 days after that you can buy its premium version if you like its services.
Owncloud Bookmarks
It is a bookmark manager chrome that can manage and organize your stuff in an easy way. This is one of the best bookmarks because it has a feature that you can't find in other managers. It will categorize your content and saved it according to different categories.
It means you don't have to browse through a long list to find your bookmark. You can create categories like music, food, study, etc.
That sums up our list of top Online Bookmark Managers and bookmark organizer. Do give each one of them a try.