The bookmark is the best feature of any browser. Almost all browsers have this functionality built in. Whenever you want to access some web page later also so that you don't have to find it again, you should bookmark it. Built-in bookmark features have some functionality, but still, they can't satisfy the needs of all users. Therefore, we worked hard and compiled this list of the Best Online Bookmark Managers available.
Best Online Bookmark Managers
Eagle & Eagle Browser Extension
Raindrop.io
Diigo
Papaly
Bookmark Ninja
Toby
Refind
Booky
So, you can use third-party bookmark managers that will organize your bookmarks. They have many other features also, like auto-sync, offline view, advanced search, etc. Therefore, if you are looking best bookmark manager for you, you landed at the right place. This page has provided you 19 best bookmark managers. So you don't have to search anywhere else.
19 Best Online Bookmark Managers
Here is our handpicked list of the 19 best online bookmark managers. I hope you all find it informative.
Elink.io
Elink.io is the latest trending online bookmark manager. It helps you save bookmarks. This site is not just a bookmark manager; it allows users to create content for your site and make newsletters. You can quickly alter content like titles and images to match your taste. Elink will enable you to save content like blogs, photos, videos, articles, etc., from all across the net. Its features like 'smart search' help you find your saved bookmarks. Check out some good essay-writing software here.
Elink.io even has a Chrome extension that free of cost. It is a veteran in saving bookmarks. It allows you to choose an image for your bookmark to identify each separately. This freeware also allows you to share your bookmarks with family or friends. Elink also has a powerful RSS Feed Reader, which can save RSS feeds as a bookmark. So, if the ads bug you on any RSS feed, save it as a bookmark and read it whenever you like without any ads.
Visit: Elink.io
Lasso
Another online bookmark managers on our list today is Lasso. Lasso is a multipurpose online bookmark manager. You can save web content, knowledgeable posts, social media posts, etc., and even manage them. The dashboard is super easy to use. It stores all your data through a cloud database.
You can share your collection with family, friends, social media, team, or customers using Lasso. It is a free website, but you must have five team members. You can even follow other people on this site. It also provides the feature to collaborate with others.
Visit: Lasso
Chrome Bookmark Manager
Don't want to go to other websites to save web pages? Just install Chrome Bookmark Manager on your Google Chrome. This is an elementary Chrome Extension that keeps web content effective. This extension is straightforward to use. Just install the extension and leave the saving of web pages to it. Chrome Bookmark Manager adapts to your Google searches and efficiently filters your desired files.
The best part about this extension is that you don't need to sign in to your Google account to use it. Google Chrome stores its bookmarks both online and offline. Each file saved is linked to a featured image for better organization of bookmarks. Also, the folders are automatically created by Google. It is also free of cost. So, what are you waiting for? Download it right away.
Visit: Chrome Bookmark Manager
Booky.io
Booky.io is considered to be the best personal online bookmark manager. Your favorite pages and frequently ventured sites are organized automatically for you. It also comes with a Chrome extension and a mobile app.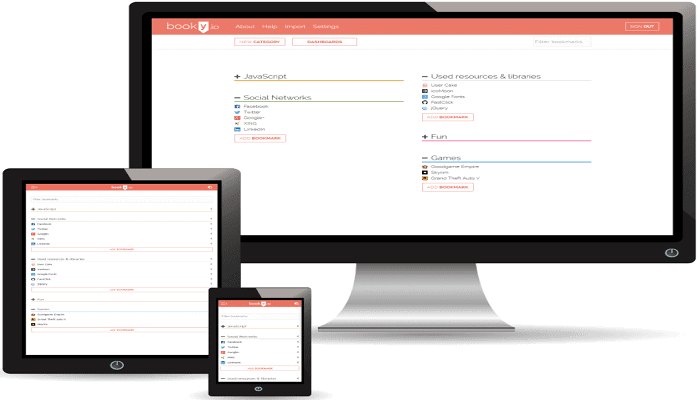 You can change the color of your folders in them. It is super-fast and easy to use. More icing on the cake; it is free to use with no ads, spam, or other distractions.
Visit: Booky.io
Dropmark
Dropmark is the most popular online bookmark manager in the business. The users are delighted with its easy-to-use interface. Users can drag and drop your files. You can preview your saved collection anytime. You can make folders to access photos, videos, gifs, etc.
One thing that everyone loves about this bookmark manager is that it slideshows the preview of your collection. It is free to use, but you can upgrade your plan for less than 5$ to access the stunning features.
Visit: Dropmark
See also: 9 Best Password Decoder Tools 
Secure Bookmarks
Secure Bookmarks is a Chrome bookmark manager that is a password-protected system. This bookmark management tool allows you to save and manage your bookmarks.
This also enables you to set a password to your bookmarks so only you can access it. You can use this tool when you want to store information safely so that others can't see it.
In this, you can also use folders to organize your bookmarks. Therefore, it deserves a number one spot on our Best Online Bookmark Managers list.
You can use this tool when you want to store information safely so that others can't see it.
Visit: Secure Bookmarks
Evernote
Evernote is also a Google bookmark manager. It is the most potent bookmark management tool. Evernote is used for research bookmarks.
It can't be sued for everyday bookmarks. Here, you can store a large number of bookmarks and access those bookmarks from anywhere and at any time.
Let's take an example; suppose you want to buy a new smartphone, then you can save all those sites that offer that smartphone to Evernote and access those bookmarks when you want to order that smartphone. You can save your pages as PDFs, also. It can be used on Chrome, Firefox, and Microsoft Edge browsers.
Visit: Evernote
Pinterest
It is one of the hippest photo-sharing sites. It allows you to easily save the image you search for in the search engine. To use this, you first visit the Pinterest website and create an account. Then, you must download the Pinterest extension and log in to your account.
After that, whenever you place the cursor over an image, a pin-it button will appear, and you can save that image by just clicking on it. You have an option to give a bookmark name to your vision. It is freely available. You can also share your photos on Pinterest and see other people's photos.
Visit: Pinterest
See Also: How to Unhide Pins on Pinterest | Hide/Unhide Easily With This Guide
Pinboard
It is a special kind of online bookmark manager based on social bookmarking. It will maintain your privacy and security. Pinboard will save your bookmarks in a secure environment where only you and an authorized person can view your bookmarks.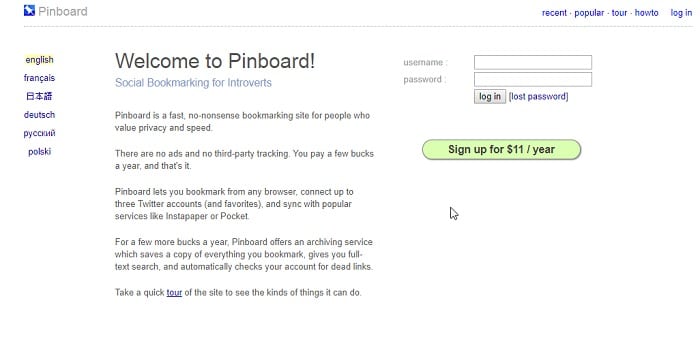 You can also synchronize bookmarks from outside websites like Twitter, Instapaper, etc. It is a lightweight tool. It is ad-free, and there is no third-party tracking. 
Historious
It is a bookmarking site, and here you can search your bookmarks with the help of a historians search engine. Its basic features are that it offers one-click saving, allows a full-text search, takes snapshots of your pages, shares your bookmarks with others, and many more. Indeed, a deserving spot on our list of Best Online Bookmark Managers.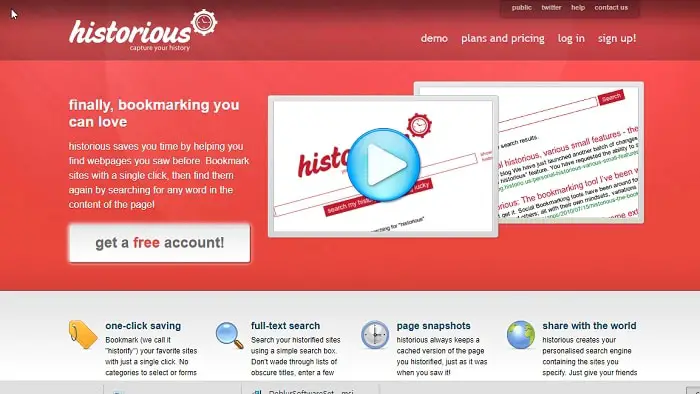 It will save you time by automatically showing you the web pages you searched. You can get a free account just by clicking this site's get free account button.
Visit: History
See also: 7 Best Free Ceaser Cipher Decoder  
Weave
Weave is a free Firefox online bookmark manager tool for Mozilla Firefox. This will synchronize all your bookmarks, tags, browsing history, and passwords across all the devices on which you are using Firefox.
Just like your PC, laptop, Mobile device, etc. All your settings are stored in the server of Mozilla Firefox so that if you're away from your home and want your bookmarks, you can quickly rebuild them.
Visit: Weave 
Private Bookmarks
Private Bookmarks is an extension available for UC browsers and Google Chrome. This will allow you to manage Chrome bookmarks efficiently.
Also, you can create multiple folders and add your bookmark over there. So that next time when you need it, you have to go to that particular folder only. It will keep your bookmarks safe and secure.
Visit: Google Chrome
Neater Bookmarks
The Neater bookmark is an extension available for your Chrome browser. It allows you to bookmark your web pages and manage them easily.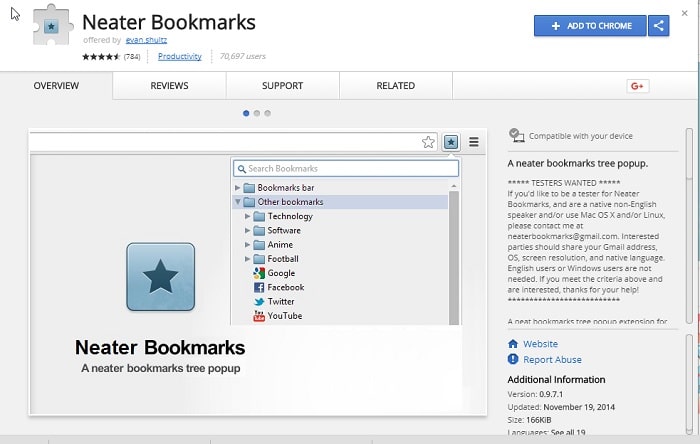 With this, you can manage your bookmark in a very efficient and compact way. This tool lets you view your bookmarks in a tree format, unlike the Chrome bookmark tool, where you see the bookmarks from left to right.
Visit: Neater bookmark
Bookmark Ninja
Bookmark Ninja is one of the best online bookmark manager tools because it is cloud-based bookmarking. The best part about the cloud is that you can access your bookmarks anywhere from any device.
This is freely available for 30 days. After that, you can buy its premium version if you like its services.
Visit: Bookmark Ninja
Owncloud Bookmarks
It is a bookmark manager Chrome that can easily manage and organize your stuff. This is one of the best bookmarks because it has a feature you can't find in other managers. It will categorize your content and save it according to different categories.
You don't have to browse a long list to find your bookmark. You can create categories like music, food, study, etc.
Visit: Owncloud
Diigo
If you are searching for the best bookmark organizer that permits you to save and file content for later use without the unnecessary use of different functions, then, at that point, you should attempt Diigo. This assistance is fundamental and can save the things you find while browsing the Internet without much of a stretch.
It even permits you to arrange your saved articles in an organized manner and add suitable labels to each piece so you can discover them later without much of a stretch. Furthermore, it likewise gives features like highlighting text for personal use, adding notes and updates, offering your research collection to others through collaboration platforms, and archiving your online resources.
Diigo offers a free plan just as three specific paid programs for those searching for additional features. The free arrangement contains ads and limits certain features, while the paid plans, specifically Standard, Professional, and Business, unlock extra and improved features.
Visit: Diigo
Google Bookmarks
Google Bookmarks is one of the best Online Bookmark Managers for Chrome, created by Google in 2005. This tool is unique to the standard bookmark manager you are acquainted with utilizing in browsers like Chrome and Firefox.
Google Bookmarks is a browser extension for Google Chrome and Mozilla Firefox. This helpful tool adds a website page to your Google Bookmark account stored on a cloud server. Bookmarklet makes adding featured website pages and notes simple and saves them straightforwardly to your Google Bookmarks cloud.
Visit: Google Bookmarks
See also: Chrome Offline Installer | Direct Download Links 2023
Pocket
In addition to serving as a bookmarking service, Pocket permits you to save things you need to revisit later. Whether you miss the benefits and elements of an undeniable bookmark service, the enhanced bookmark experience, combined with negligible tools and concentrated reading, makes Pocket one of the fastest and most straightforward bookmark arrangements.
You will get a single-click bookmarking arrangement that can download and access content offline (read or listen), add labels to make it simpler to read, feature text, and archive the saved content.
Pocket offers free plans and premium plans. The free arrangement furnishes you with essential bookmark work, ready to read or listen to the saved things. Premium membership gives you more features to control your content.
Visit: Pocket
Raindrop
Raindrop is one of the best Chrome Online Bookmark Managers with a spotless and basic interface, making bookmarks and reading enjoyable. At the point when you talk about saving content from the Internet, you can save various kinds of content, like articles, books, archives, and music. To add functionality and automatize the bookmarking process, the assistance gives its API and incorporated help for IFTTT and Zapier. Furthermore, it backs up your cloud content to ensure you don't lose access to bookmarked things.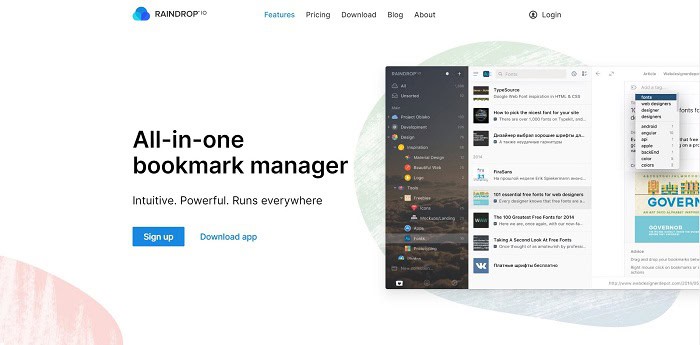 Organizing and arranging saved things can improve the experience of functions like nested collections, manual arranging, and batch preparation. Likewise, you can utilize full-text search to look for the content of your bookmarked things rapidly, making the content search more straightforward.
Raindrop is free assistance; however, its features are restricted. You can move up to the premium version if you want to control your collection. Nonetheless, if you don't have any and needn't bother with any extra features, you can use the free basic bookmarking plan.
Visit: Raindrop
FAQs
How Do I Get Rid Of The Bookmarks Sidebar On My IPAD?
Go to the book icon on the top of the iPad, where you will find an option to turn on or off the bookmark option.
How Do I Delete Google Bookmarks From My IPAD?
If you have only one book, Martin, you can swipe the bookmark to the left, and you will find a delete option there. If you have more than one bookmark, then select all the bookmarks that you need to delete and tap the delete option.
How Do I Get Rid Of Bookmarks That Won't Go Away?
Right-clicking and deleting the bookmark definitely would get rid of the bookmark.
Does Clearing Data Delete Bookmarks?
The book message and really for the website that you need to access. Therefore the website's information remains there, and you cannot clear the data to delete the bookmarks.
What are the recommended bookmark managers?
There are several recommended bookmark managers, including Raindrop.io, Bookmark Ninja, and Toby.
What is the best free bookmark manager for Firefox?
Raindrop.io is one of Firefox's best free bookmark managers due to its user-friendly interface, cross-platform support, and robust feature set.
Is Raindrop.io free?
Raindrop.io offers both free and paid plans. The free plan allows limited features and storage capacity, while the paid plans offer more extensive functionality and increased storage options.
Is Bookmark Ninja free?
Bookmark Ninja offers both free and paid plans. The free plan provides basic bookmark management features, while the paid plans offer additional features and expanded storage capacity.
What is the best bookmark manager?
Raindrop.io is often considered the best bookmark manager due to its versatile features, including the ability to save and organize bookmarks, sync across devices, and collaborate.
Conclusion
That sums up our list of top Online Bookmark Managers and bookmark organizers. Do give each one of them a try.
See also: Internet Privacy For Teens: Everything You Need To Know.