Everybody wants to live a luxurious life and own expensive things. From posh cars to amazing houses, everyone would like to own something expensive. Some people also dream of costly phones, of course, an iPhone will hit their list. Just because the price is too much does not mean that you cannot buy it. You can try out to visit the best places to purchase refurbished iPhones. Here are some of them you should consider.
See also: Top 8 Websites to Get Refurbished MacBooks
Top 8 Best Places To Buy Refurbished iPhones
There are a lot of websites and stores that sell refurbished iPhones. The only question that lies is whether they are genuine or not. If they ask for a prepayment, will you be getting the iPhone or not? That is also a dilemma. So, we have handpicked the best places to buy refurbished iPhones so that you are not scammed. Check out this article and learn everything about what reseller hosting is.
See also: What Is The Life Of Smartphone & How Can You Increase It?
Back Market
Back Market is an online marketplace for refurbished electronics goods. They offer a large selection of high-quality, professionally refurbished mobile devices, including iPhones ( ranging from the iPhone 6-13, and even the iPhone X), Androids, and tablets. Every seller they work with goes through a rigorous screening process before joining, assuring you're purchasing quality products.
What's more, Back Market also offers a 30-day money-back guarantee, a 1-year warranty, and free shipping on all of their products. It's definitely an option worth considering if you're thinking about purchasing a mobile device for a lesser amount.
See also: Best iPhone Apps to Fight Insomnia | Top 7 Picks
Apple Refurb Store
Being the creators of the iPhone, Apple has built a lot of trust in people's minds. So, Apple has come up with its platform for selling refurbished iPhones. Since you are getting it directly from the makers, you can consider it one of the best places to buy refurbished iPhones.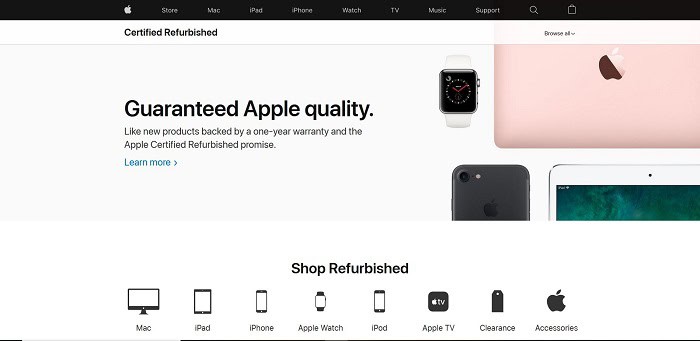 They offer a minimum of 36% discount on the MRP they are offering for the product. Plus, you do not have to be worried about the authenticity – because it is Apple.
Visit: Apple Refurb Store
See also: Top 12 Free Apple IMEI Checker Tools (Updated)
SellBroke.com
You can get a chance to not only buy but also sell broken iPhones on Sellbroke.com. So, you can first sell your old iPhone if you have one and then buy from here too!
You will get instant cash on the sale, and then you can immediately buy what you want. They have their own store, so it becomes easier to even perform an exchange.
Visit: SellBroke
Amazon Renewed
Amazon Prime users, you can make use of another alternative that falls under the list of best places to buy refurbished iPhones. It is a certified store that has been in this business for several years. They offer a one-year guarantee, and you will see that 300 million people have already been active customers here.
Most phones get delivered for free if you have Prime with you. Amazon also tries to give you the latest version of the handsets with the refurbished models. Read the description of the iPhone very carefully before you buy it. They will clearly mention if they are not providing this kind of facility to you.
Visit: Amazon Renewed
Best Buy
Another option that falls under the list of the best places to buy refurbished iPhones is Best Buy. There is a wide range of used, pre-unlocked and open iPhones. The best part is you will get a minimum warranty of 90 days if you purchase from here.
They offer a huge discount on their products, so you can choose this option if you want an affordable iPhone.
Visit: Best Buy
Gazelle
Gazelle has been in the refurbished market since 2014, and they can proudly consider themselves as one of the best places to buy refurbished iPhones. The only catch is that there is no contract and commitment included if you buy the iPhone via Gazelle.
Gazelle buys the handsets from previous users, repairs them with the help of experts, and then puts it up on its site. They only do this after they test the phone, so don't worry about that.
Visit: Gazelle
eBay
How can eBay be left out in the debate of best places to buy refurbished iPhones? There is a chance that you can get the phone directly from the seller. You will have to consider that you will not get any warranty here.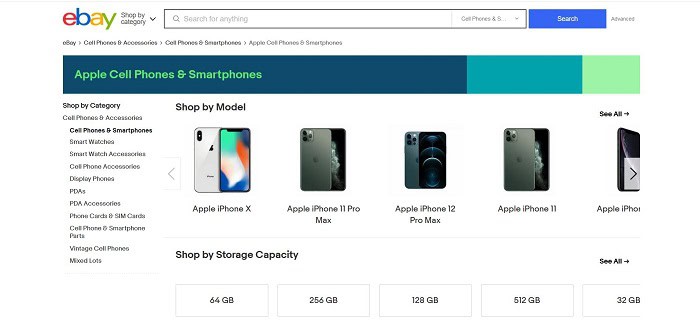 In case there are any extended warranties, the ad will mention everything. eBay also offers a lot of discounts on the prices, so you are certainly going to save money!
Visit: eBay
Mac Of All Trades
Do not misunderstand this site to be the hub for only selling Apple products. This is one of the best places to buy refurbished iPhones and other phones too. They have been in the market for more than 20 years, so you do not have to doubt their credibility.
Mac of all Trades comes with a one-year warranty. If you have never used an iPhone, this is the perfect way to get started!
Visit: Mac Of All Trades
FAQs
Which site is best for refurbished iPhones?
Many sites sell refurbished iPhones, but it is always safe to buy them from official Apple sites or authorized Apple retailers; Apple refurbished store, Best Buy, Amazon Renewed, and eBay are all trustable websites.
Are refurbished iPhones worth it?
Refurbished phones are usually safe and worth it when purchased from legit websites. iPhones generally do not lack in quality and are almost the same as brand-new ones.
What are the disadvantages of a refurbished iPhone?
The refurbished iPhones can have cosmetic defects, and it is necessary to have erased all the information from the previous user; if not, it can lead to problems for the new and previous buyers. One should thoroughly check the condition of phone before buying.
Can you trust a refurbished iPhone?
Refurbished phones are primarily safe and trustable. Utilizing a reliable website or retailer is crucial. Make careful to conduct thorough research before making selections.
Conclusion
You can now get the iPhone of your dreams by going to the best places to buy refurbished iPhones. You will get the iPhones at an extremely affordable range and the same features as that of a new iPhone. Refurbished iPhones are the best things to consider for a person who is switching from Android to iOS. In case you are not sure if you will be able to adapt to the shift in the software, then you should definitely take up a refurbished model. This is the only way if you want to live in a 'trial version' with an iPhone.
There are a number of best places to buy refurbished iPhones. However, the best option is the Apple Refurb Store. The only problem will be that they are going to charge for the refurbished model exorbitantly. So, we recommend that if you want to experience using an iPhone at a lesser price, try out Sellbroke.com as well.
Also, refurbished phones do not mean that the phone is bad or going to give you trouble. It is as good as a new phone, and there is nothing to be paranoid about. The only difference would be that you see the body a little scraped or something like that. The software is the same. Everything is the same, and you do not have to think too much. You should go to the best sites to buy refurbished iPhones, so you are certain that nothing will go wrong.