For lovers of golf simulators, it is important to have a good projector. It is a reason of great grief to golf lovers when the weather is not good to play golf outside. But it is convenient to play it easily in the comfort of your home. So, this article will show and explain to you the six best projectors for golf simulators.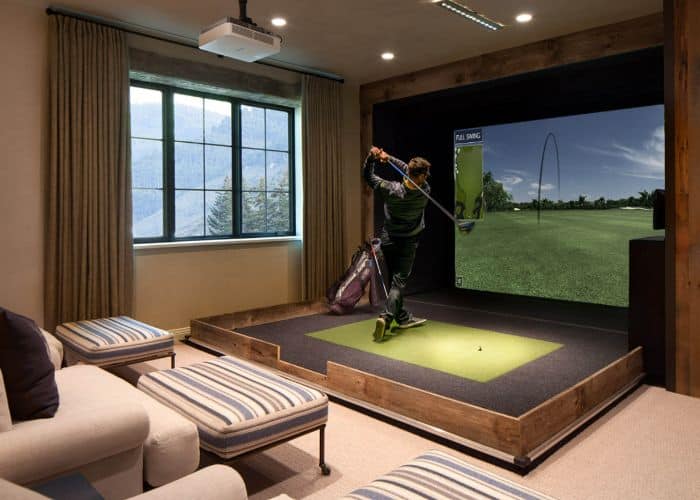 Some of the top six simulators which will give you the ultimate experience of playing golf are Optoma EH200ST, Panasonic PT-VMZ50U, Fangor F-701 Native projector, Optoma EH412ST Short throw projector, etc.
These are the best projectors for golf simulators in the market right now, as they provide you with the best services. We will show you exactly how they do this and which ones. You can also check out the article on the best golf games on Android and iOS.
See Also: Top 7 iPhone Projector Apps To Use in 2023
6 Best Projectors For Golf Simulators
Given below is the list of best projectors for simulators.
Optoma EH200ST
Optoma is a company known for its world-class projectors for golf simulators. It is perfect for golf as it works even in short throws because the projection lens is that sharp. Your golf simulator graphics will be crystal clear, as seen in 1080p. 
Another solid feature of this projector is that it even has an HDMI port, so you can easily access it with any device you might like. There are not too many obstructions to placement. You can place it 3.5 feet away from the screen and perfectly get a 100-inch diagonal image. The company also hooks you up with a remote which works through batteries.
This projector stands at $ 979, which is a pretty good price for something that offers a good service.
BenQ MW632ST
This projector by BenQ specializes in working best in small spaces. It has a high resolution, and the display is also perfect for playing on a golf simulator. This is also one of our list's best projectors for golf simulators. Are you also looking for a swing analyzer ? Click here
This one also consists of a short throw function and HDMI connectivity. Another core feature of this projector is if you accidentally place the projector in the wrong place, its vertical keystone function will do the task of aligning the images or graphics. It also has 10W built-in speakers. If this was not enough, you could use 3D glasses to see, as BenQ has given it full 3D support. 
The MSRP for this product is $649, which is not at all pricey for something this good.
Panasonic PT-VMZ50U
Bagging third place in best projectors for golf simulators is Panasonic PT-VMZ50U. A few things are different with this projector, like it uses a laser light source instead of a lamp to give the best quality. 
This projector needs to be mounted from the ceiling and is not a short-throw projector for a golf simulator, but we assure you that it is just as good. This 3LCD projector contains 5000 lumens, and if you are conscious about saving power, it has an Eco management feature too! One can get 20,000 hours of perfect images and the best performance. 
Another cool feature is that it operates quietly. You will find no noise distracting you from your precious golf game as it works to keep noise levels down to 29db. This projector is a bit pricey at $2499, but it's worth it.
Epson Home Cinema 1080 3LCD Projector
As the name suggests, it shows x1080 golf images. Not only is the text and video clear, but it also has a screen mirroring feature. This screen mirroring can be done by its Wi-fi 5 and mirror cast connectivity which is built in. 
It is also equipped with quick data processing, so you can play all the great games you want and golf on a simulator. A picture sensor is present that will detect if the image is not right and immediately adjust it to fit the image perfectly. 
It also has four color modes for a better experience, and you can choose any that you are comfortable with! With all the cool features, this is one of the best projectors for golf simulators for only $749!
Fangor F-701 Native Projector
This projector is as grand as the name suggests and is considered one of the best projectors for golf simulators. A very thoughtful feature of it is that it is anti-dust. Sometimes, specks of dust fall on top of your projector lens, which hinders the images from being seen properly and ruins the experience. The sealed optical design prevents dust from settling on the lens. 
The projector shows bright colors and more pixels. Not only this, but the imaging is 80% clearer than 1080p. With a Wi-fi connection which is wireless, and a USB charger connection, one can effectively synchronize their screens. This can be useful while playing games like golf and can be used to watch your photos, videos, or movies on a big screen via an app and this projector. If this was not enough, it also has a built-in stereo. 
Fangor F-701 offers a long life of up to 10000 hours. Eight thousand five hundred lumens gives you a much higher brightness than any other projector, which is a lot in this compact-sized one. You can also connect a Bluetooth speaker without the use of a wire. 
For all the features offered, this is a cheap golf simulator projector for only $399, which means it is not pricey at all and is worth every penny.
Optoma EH412ST Short Throw Projector
Another one of the best projectors for golf simulators by Optoma because this company is genuinely that good. This is even more powerful than the model mentioned above. This has a short throw ratio that is perfect for golf. The colors are vivid and bright, and the power shuts off when one is not using it anymore, which is a feature for power-saving.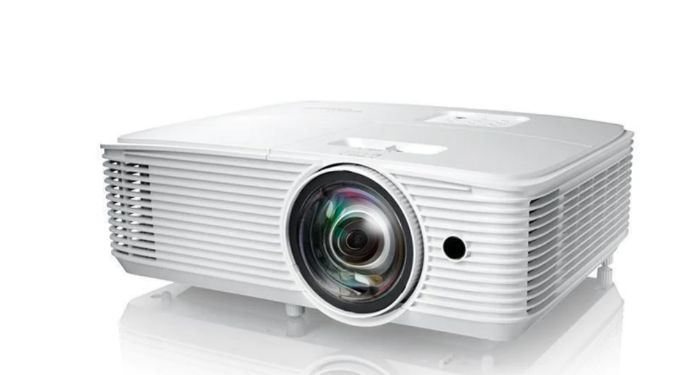 The projector costs $1088 and is completely worth it. Without maintenance, its lamp will last up to 15000 hours. This projector is also very lightweight, so you will have no trouble mounting it.
See Also: 6 Best Projectors For Golf Simulators | Top Picks For 2023
FAQs:
Does one need a special projector for golf simulation?
Not really. One only needs a good screen size and a projector that will work with this screen size. A short-throw projector will perfectly show the images and graphics if placed at a good or recommended distance.
What projector is truly the best one?
There is no best one. Different projectors fit different people. One needs to check what all one needs in a projector, research which one meets those requirements, and finally buy one that suits them. Each company or model will cover various features that will cater to the distinct needs of the people.
Is there a specific measurement for the room to get a golf simulator?
There is a requirement of minimum space to put a golf simulator in any room, which is 10'W x 10'L x 8.5'H. Think where the simulator has to be placed as that will determine the image on the golf projector screen—things like the player's measurements.
Does the place to mount a golf simulator projector matter?
Yes, it matters. You can mount it on the ceiling or in the center. This will ensure that the image looks straight and accurate. The image will not align with the sheet if placed on the side.
Conclusion
This article on the best projectors for golf simulators ends here. It will help you choose the one that fits you better and give you the best golf experience. Read this article and learn more about the best projectors.