Torrents are a great way to download copious amounts of data swiftly. They are the choicest of ways to handle all of your downloads and don't require much from you in terms of expertise. In simple terms, torrents are just files that hold metadata for different kinds of information. The main difference between a torrent download and a regular download is the source from where you're downloading the file. A regular download downloads information directly from the server. However, a torrent download works on a peer-to-peer basis, therefore, reducing the strain on servers. To download torrents, all you require at your disposal is a torrent program and a good data connection. In this article, we have compiled all of the best torrent downloader for macs to spare you the trouble of finding one that suits you best.
Now, it is famous that a macOS isn't the most forgiving operating system. What we mean by this is that the macOS has set forward stringent rules when talking about downloading third-party software. There are constraints on the availability of apps too. The torrent downloaders have been no exception to this ever since the announcement of Catalina and, later, Big Sur. Therefore, we have kept these factors in mind and created a list of the best torrent downloaders for macs. So without further ado, let's get right into it.
Also Visit: 36 Free Movie Streaming Sites In 2023 (No Signup Required)
Qbittorrent
Qbittorrent is one best torrent downloader for macs for plenty of reasons. For starters, it doesn't run the one thing we all hate, which is advertisements. Secondly, it is completely free of cost. It is more of another choice to uTorrent for all major operating systems. Plus, it is open source. This tool features a state of the art search engine, torrent creation tools, and an interactive and simple to understand interface too.
The torrent downloader also comes in over 70 different languages for the convenience of the user. Most importantly, it can operate with Catalina. Big Sur support is, as of now, is still under experiment.
Visit: qbittorrent
See Also: 10 Best Free & Paid Uninstaller Software For Windows
UTorrent App
Comparatively, this torrent downloader is fairly lightweight and is accompanied by a smaller installer. The torrent you wish to obtain can be looked for right from within the app itself. Plus, the downloads can be prioritized too.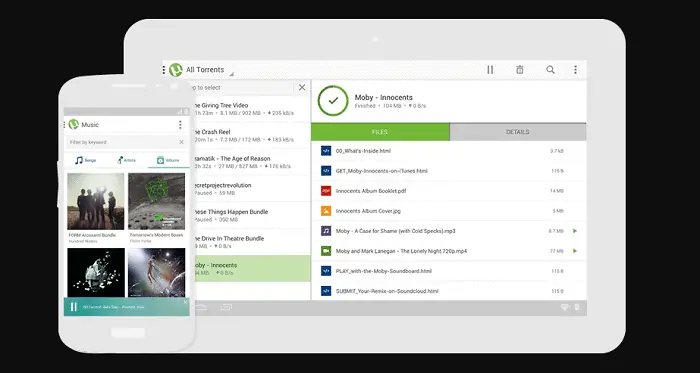 uTorrent can be stored in a USB stick as well, hence, giving it a portability feature. It gives you an option for scheduling and comes with a free version. However, this particular version does run ads. Otherwise, it is the best torrent downloader for macs. You can even make your uTorrent faster with these simple tricks. To know more, click here.
Visit: uTorrent App
Folx
Folx is definitely the best torrent software for mac mainly as it has been produced to be compatible with the macOS. This tool comes equipped with a sorting mechanism for your torrent downloaders. You can download torrents from different trackers and also magnet links. It features a brilliant interface that stays consistent with Mac's UI, music integration, its download scheduling, etc.
The downloads can be further split into two different threads to ensure a quicker download process. It is 100% compatible with Big Sur, so that's a major plus point. Folx comes with a cost-free version and a paid version. You can check out more about the benefits of their pro version on their website.
Visit: Folx
Vuze
This torrent on mac offers a plethora of features within its free version itself. The torrent search option is directly available within its app. Additionally, from remoter locations, you may manage your downloads as well by employing the use of the Web Remote that it's equipped with.
Vuze is the best best torrent downloader for macs. It also has a video player via which you can play your downloaded media content. This tool to works swiftly with MacOS 11. However, Big Sur compatibility hasn't yet been announced.
Visit: Vuze
Transmission
Transmission is the best torrent downloader for mac for various reasons. It consumes the bare minimum amount of RAM due to the fact that it utilizes lesser resources. It can classify the torrents into different individual groups and locations on the basis of their categories.
Transmission offers magnet link support too. It is absolutely the best torrent downloader for macs as it's straightforward and, as of now, works fairly well with Big Sur.
Visit: Transmission
Bitlord
The next best torrent downloader for macs on our list is Bitlord. It is free of charge and operate with both Mac and Windows operating systems. Bitlord works great for the purpose of downloading and also a great site for streaming various kinds of torrents.
It is equipped with a search engine, controls for the bandwidth, and RSS Subscriptions. It also plays videos while they're downloading. You get the opportunity to make playlists of the audio and video torrents too. So, it's definitely worth checking out.
Visit: Bitlord
See also: What are Seeders and Leechers, And Why To Know About Them?
WebTorrent Desktop
This is the last mac torrent downloader in our article, the best torrent downloaders for macs. Just like Bitlord, you need not wait for the download process of the torrent to complete before making use of them.
The software is completely free for use and also open source. You can stream videos to the Chromecast, Airplay as well as DLNA. The interface is clean, and the tool also supports WebTorrent protocol for linking to various WebRTC peers.
Visit: WebTorrent Desktop
So here's our list of each of the best torrent downloader for macs available. All of these mac torrent clients have their own unique features that they're offering at the best prices. Now it is up to you to decide which one suits you the most! If your torrent is not loading properly, check these simple methods to fix the unable to load error. 
If you are looking for best music torrent sites, click here.
FAQs
What is the best torrent video player for Mac?
The VLC media player is the top video player among many available. It is not only limited to Mac but compatible with almost all devices. It is free and also very flexible.
Is it safe to use uTorrent on Mac?
uTorrent can be safe when used with a VPN. Otherwise, the user must exercise extreme caution. The website contains too many ads and sourceless displays, which can corrupt the software and introduce malware to your device.
Is Folx safe for Mac?
The greatest torrent client for Mac is called Folx. You can look up and download your preferred videos. You can search and download the videos of your choice. It is a reliable method overall.
Does Apple support uTorrent?
The mobile version of Apple does not support uTorrent.