I think once in a while we all have come across a situation where we're just sick of entering different stupid usernames because every sensible name is already taken. Well, you don't have to worry anymore. Here are some of the best Twitter username generator that would help you in finding your unique and a perfect username.
See Also: [6 Methods] How to Delete Multiple Tweets at Once – TechWhoop
List of Twitter Username Generator Tools
Here is the list of best Twitter Username Generator tools:
Fun Generator
The variety of quirky names this generator provides is unparalleled. Superhero names for the Marvel fans, pirate names for the adventurous, and even Shakespearean names for those hopeless romantics and writers! Fun Generator has innumerable categories and variations of the smallest of words.
It generates thousands of suggestions for your preferred word, which you want to include in your username. Furthermore, it is an all-in-one name generator for your new pet dog or cat, or even babies! There is a random phone number generator as well, in case you wanna self-entertain with prank calls! Head up to the site now, for random fun!
Visit: Fun Generator
WeShare Twitter Name Generator
With the increasing population, you must be sharing your name with at least a hundred more people around the world! One can only imagine how hard it must be to find a unique, distinct username for oneself. WeShare username generator offers innovative usernames that serves your likes and dislikes.
It works like a brainstorming tool. You have to feed in words relating to your personality or whatever you want to include in your username. Give this tool a few seconds, and it will give you enough variations for your username. Select your favorite one and enjoy being the only holder of that username!
Visit: WeShare username generator
Twitter name generator
It has a straightforward interface. Twitter name generator asks you some simple questions about you such as your name, surname, nickname, what do you like, essential words and some critical numbers.
Just answer these simple questions and you're all set to go. It also asks you if you want to add prefix. Well, it's a basic and pretty simple to use, and you can trust it by finding a right username.
Jimpix
Any random username generator generates a username by the questions and categories you are provided with. Jimpix just asks for one word which you want in your username. That could be your name or your nickname or any other word which is important to you.
It also asks for a category that your username should belong. Jimpix has various categories such as Job, Insults, Countries, Brand and many more. And then you just press 'Go' button.
Jimpix also gives you an option such as length of the username and the letter it should start with. It provides you twenty-five different username options to choose from.
Visit: Jimpix 
See Also: 5 Best Anagram Generator Websites That You Must Know (2023)
SpinXO
SpinXO its pretty simple to use. It generates your username by the six simple questions such as your name or nickname, your hobby, what do you like, things you like, any vital word and numbers.
Just answer these questions and press the 'Spin' button and there you go. SpinXO generates thirty different usernames by your answers.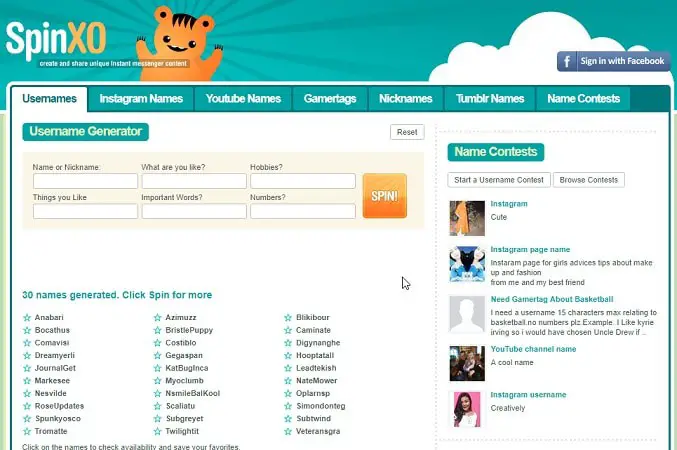 And if you didn't like any of the names in the given options, just press the Spin button again, and it comes up with another thirty combinations which I'm sure will work for you.
SpinXO also checks the availability of the generated username on different websites such as Instagram, YouTube, Tumblr, etc.
Visit: SpinXO 
Cool Generator
As the name suggests, use this generator to get yourself a "cool" username. With words and combinations, you won't even be able to pronounce to the trendy play-on-word names; this site offers it all! And good news for Millenials, the cool generator can make up a username on millennial terms.
Call yourself a 'cool' dude or a 'kewl' dude; this tool won't disappoint you! Also, it offers words from different languages around the world- Spanish, French, Hindi, Korean, Arabic, Greek names, and prefixes. Try it out if you are a wannabe cool dude!
Visit: Cool Generator
Names4Brands
Feels like every username been taken up? Not true. You can find aesthetic usernames for Twitter, Instagram, Reddit, etc., here! Names4Brands username generator & username maker maintains a list of unused usernames. Their algorithm allows the user to find a random or a customized username according to their whims and fancies.
They scan their unused username list and display suggestions according to your preferences before giving you the results. Not only can you generate a username for yourself but a brand name for your startup business too! Also, they have a 'Name Ideas List,' ordered alphabetically to arrange for your username. Find your aesthetic brand name or username here!
Visit: Names4Brands
Best username generator
Best username generator is pretty simple to use. It asks for one word that could be your name or your nickname or something you like. And it also asks for the length range of the username you want. Fill those text boxes in, and you're ready to go. Press the 'Generate' button, and it will come up with more than hundred of usernames.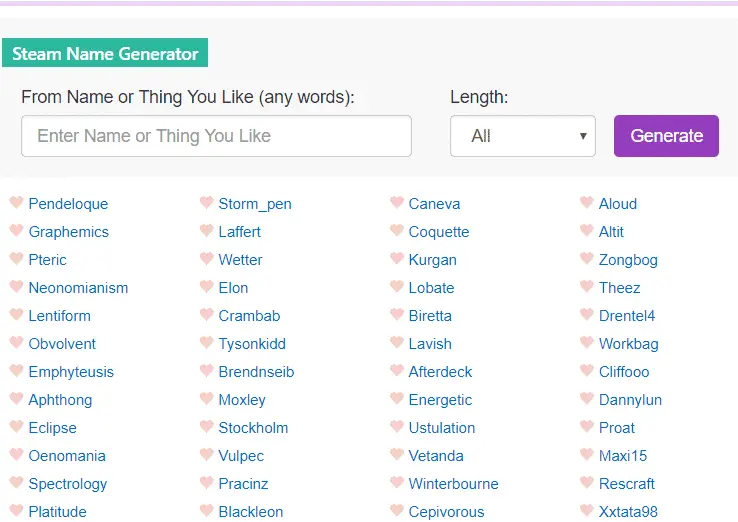 If you like any particular username just click on it, and it will show you some more usernames of the kind you like. Also, at the same time, you can check the availability of the username generated on other websites too such as Instagram, YouTube, Blogger, Facebook, Twitter, Pinterest, Tumblr, and WordPress.
Visit: Best username generator
See Also: Top 5 Best Meme Generator Tools to Make Memes (2023)
Screen name generator
Screen name generator creates cool and funny screen names. It works by listing prefix and suffix. Once you enter a prefix and a suffix, it combines both of them and generates a number of usernames. In Prefix you might as well put Mr, Mrs or Master, etc.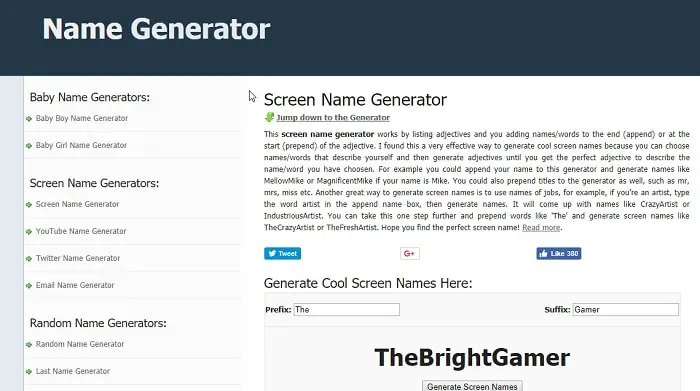 There are two columns. Namely, Username generated where all the usernames generated for you are shown. And the other column is Favourite names. Click on the names you like, and it'll come in the Favorite usernames column so that you could copy them before you leave.
Visit: Screen name generator
Fantasy name generator
Fantasy name generator gives you ten random names which are ideal for both games and other websites such as Twitter, Instagram, YouTube, etc. but most commonly this site is known for generating funny usernames for gamers.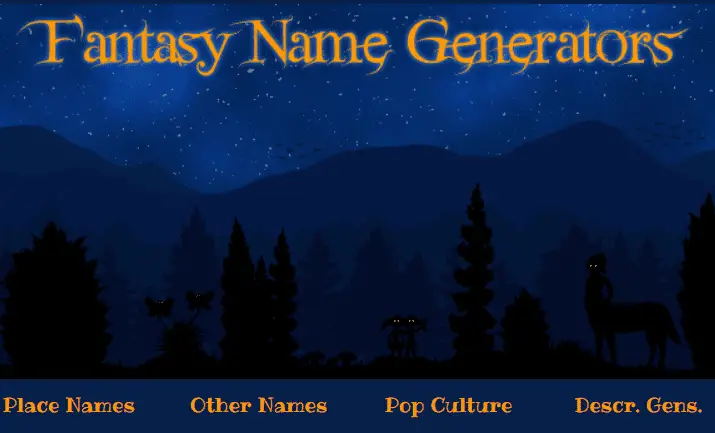 This Twitter Username Generator also works by combination of two words. It mixes and matches the two names entered in the text box and gives you a number of combinations.
Visit: Fantasy name generator
Speedy Password
Unlike other Twitter username generator, Speedy Password both username and password. Although functionality is somewhat same as the other websites, it has slightly different categories such as positive usernames, negative usernames, Shakespearean usernames, Heroes and villains usernames, space usernames, basketball usernames, and lastly unicorn usernames.
As you see, none of those categories are available in any of the other websites mentioned above.
See Also: 7 Best YouTube Channel Name Generator Tools
Username generator
Username Generator is easy to use and more of a one-click solution. This Twitter Username Generator just asks for your name or nickname and the length of the username you want and then just hit the 'Generate' button next to the text box.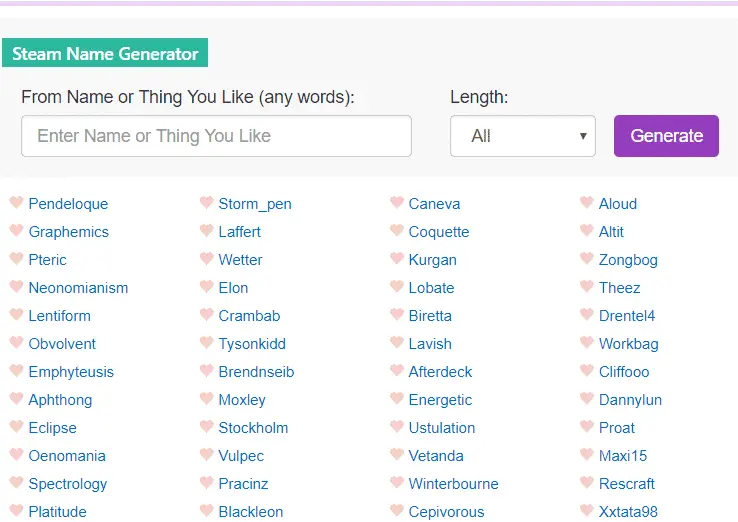 It will give you a number of cool and funny usernames.
Visit: Username Generator
Rum and monkey
Rum and monkey is an exciting Twitter username generator. You get a variety of fresh and funny name generators such as Minion name generator, The pirate name generator, The stripper name generator, Korean name generator and many more.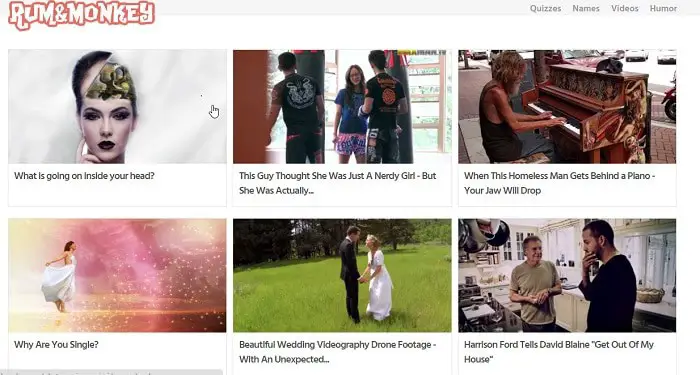 This is again a unique feature of this website as none of the sites has such characterized features.
Visit: Rum and monkey
Name generator 2
Name generator 2 is pretty much similar to 'Username generator.' This Twitter Username Generator also has two text box, i.e., prefix and suffix.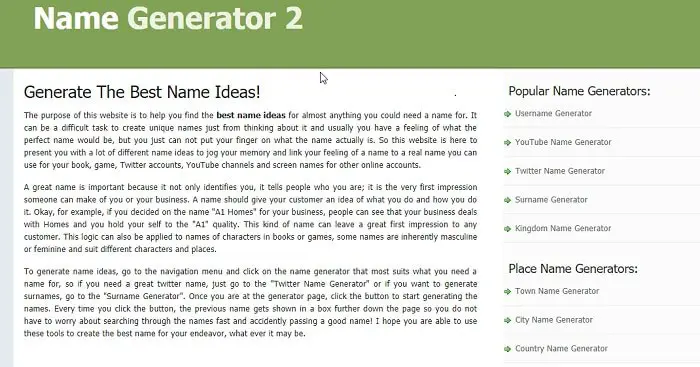 You just have to enter two words there and hit the word 'Generate.' It combines the two and generates usernames one by one.
Visit: Name generator 2
See Also: 5 Best Online Fake Person Generator Tools in 2023
Conclusion
So these were the best-known Twitter username generator websites where you can get yourself a perfect username whether it's funny, cool or professional. You can always count on username generators.