As technology evolves, so do businesses operating in the current competitive market. To stay ahead of the competition, companies must be aware of and embrace new software and applications to satisfy their clients. Henceforth, companies need the best virtual mail services for their virtual mailboxes.
Anytime Mailbox, PostScan Mail, Alliance Virtual Office, Us Global Mail, and VirtualPost Mail are a few Virtual Mail Services to consider using today.
Both individuals and businesses can benefit greatly from virtual mailboxes. Some benefits include improving communication, which makes it an efficient CRM tool, providing physical addresses, processing and managing Mail, and improving workflow. Nevertheless, it is not easy to choose from the market's wide range of options. Here are 8 of the best virtual mail services to consider.
See Also: 13 Best Free Fake Email Address Generator Tools
8 Best Virtual Mail Services That Provide Global Assistance
While selecting a virtual mailbox, take your time before selecting one to ensure you find the perfect one for your needs. To make the tedious task of narrowing down your options, we bring you the best 8 virtual mail services. Read further to know more!
Anytime Mailbox
Anytime Mailbox provides cloud-based virtual mail services. It provides up to 1308 locations, greatly benefiting businesses operating across different cities or expanding into new areas.
This software platform is a great choice as it offers different payment plans based on your needs and budget. The simple steps include selecting a plan and paying. Starting from as low as $4.98 per month.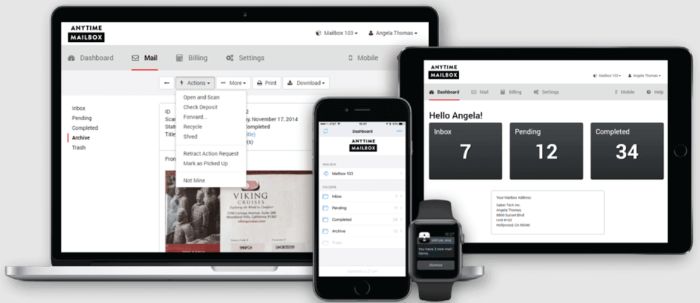 Anytime Mailbox is also supported on almost all devices, including smartphones, tablets, and PCs. Additional features include notifications upon receipt of Mail, round-the-clock access to your Mail, and high levels of security.
Visit: Anytime Mailbox
See Also: 10 Best Email Spoofing Tool With Advance Features
PostScan Mail
PostScan Mail offers virtual mailbox services in a format supported by different devices and operating systems. It allows you to access your Mail with a simple click.
PostScan Mail also provides notifications upon receipt of your Mail and has indexes that contain senders' information. This virtual mail service can be great for personalized marketing and targeted ads.
It offers global access and has no courier limitations. Provides 24-hour access to your Mail. It is perfect for people or businesses that receive large volumes of Mail as it is sorted through and processed.
Pricing is also competitive, ranging from $15 to $30 per month.
Visit: PostScan Mail
See Also: How To Send An Anonymous Email In Four Different Ways
Alliance Virtual Office
The company offers virtual addresses in physical office buildings located in recognizable locations. They offer mail receipt and forwarding; these addresses serve as Registered Agent Services. Henceforth allowing businesses to register and get licensed. This is one of the best virtual mail services that includes administrative services like receptionists, phone numbers, working spaces, and conference rooms.
Alliance Virtual Office has multiple locations globally, perfect for businesses operating globally. The company also facilitates in-person pickups. This company faces challenges like needing more Mail forwarding capacity since Mail is only picked up and forwarded to the recipient without scanning.
It can also be costly, especially for those who don't need the virtual office features since there are no separate plans.
Visit: Alliance Virtual
US Global Mail – Best virtual mail services for

environmental enthusiasts
US Global Mail is one of the earliest virtual mail services. It is affordable, with monthly rates ranging from $9.99 to $15, and even offers free mail storage and storage for physical boxes for limited periods.
It's great for businesses, ex-pats, individuals, and SMEs. The company is also a good choice for environmental enthusiasts as they aim to make the planet greener.
The company also offers fast turnaround times, ensuring you receive your Mail between 2 to 6 hours after the arrival. They also provide check deposit services, which will help you access payments on time and is convenient and time-saving as it saves you a trip to the bank.
US Global Mail is also a good option for those looking out for the best virtual mail services since they offer a 30-day money-back guarantee if you are not pleased with their services.
Visit: US Global Mail
Click Here: How To Change And Recover Gmail Password | Easy Ways
VirtualPost Mail
VirtualPost Mail helps to keep information safe from identity theft and unauthorized access. The company uses SSL encryptions, password encryptions, and other recent technologies to assure users of high levels of security. High-security levels make it perfect for processing sensitive information like check deposit services they offer.
VirtualPost Mail offers unlimited storage space for emails. It's perfect for businesses that receive many emails and packages. The company provides free mail storage for up to 60 days. VirtualPost Mail gives your business a commercial mailing address across numerous locations. VirtualPost Mail is a brilliant option for people trying out the most secure virtual mail services.
Depending on your preferences, it sends Mail in different formats, such as images or PDF files. With their 30-day money-back guarantee and various plans, you can easily find something within your budget with their process ranging from $20 to $90.
Visit: VirtualPost Mail
See Also: Email Client For Chromebook | 7 Best Tools For 2022
PhysicalAddress.com
PhysicalAddress.com is amongst the best Virtual Mail Services, and it differs from the rest as it offers free local pickups for all plans. It is affordable, charging between $7.98 and $26.98 per month for its plans.
It offers mail forwarding service, shredding, and storage based on clients' preferences. The company provides free and unlimited cloud-based storage. It is versatile and can receive Mail from anywhere in the world and from any courier service.
PhysicalAddress.com can also be integrated and used across different devices and operating systems, including iOS and Android.
Visit: PhysicalAddress.com
USA2Me
USA2Me is a virtual mail service provider that has been around for almost 16 years. The company offers clients a US shipping address, the best option for businesses based in the US.
It is user-friendly and offers an easy-to-use portal. You can easily log in and access your Mail from anywhere. The company provides shipping services and can send you parcels and packages that have been sent to your address.
The company is different from other providers as it can fulfill your inventory orders, making them perfect for small businesses that may need shipping services and help processing returns.
Their shipping rates are low, and their plans are also competitively priced, ranging from $10 to $60 per month.
Visit: USA2Me
See Also: Top 7 Gmail Extensions And Add-Ons To Use In 2022
Incfile –

best virtual mail services to improve your brand image
This company will provide your business with a real street address. Which can help improve your business image by making your business look more professional and building trust.
The Incfile company ranks amongst the best virtual mail services that allow you to access your Mail from anywhere in the world. It also has fast turnaround times, ensuring you receive your Mail no later than 24 hours.
You can easily access Incfile services through its online portal. It doesn't require any special apps to function. Incfile offers data encryption, ensuring your information is safe from data security threats.
The company can also receive your bank cheques and deposits and send them to you via USPS. However, the company does not receive packages and operates only in 22 states.
The rates are fair, and they offer one standard plan, which costs $29 per month.
Visit: Incfile
See Also: Email Marketing Automation | What It Is And Its Importance
FAQS
Can I use a virtual mail service for business purposes?
Yes, virtual mail services are commonly used by businesses. They provide a professional mailing address, mail management tools, and the ability to handle mail remotely. This is particularly beneficial for businesses that operate remotely, have multiple locations, or need a prestigious address for their correspondence.
Are virtual mail services secure?
Yes, virtual mail services prioritize security. They use encryption to protect your digital mail and often have strict protocols to ensure your information's confidentiality and privacy. Reputable services also have measures to prevent unauthorized access to your mail.
How much do virtual mail services cost?
The cost of virtual mail services varies depending on the provider and the plan you choose. Prices typically range from around $10 to $50 per month, with additional fees for services like mail forwarding and storage. It's important to compare pricing and features to find the best fit for your needs.
Can I receive packages through virtual mail services?
Yes, many virtual mail services accept packages on your behalf. They can hold the packages for you to pick up, forward them to another address, or even provide package consolidation services. This is especially useful for individuals or businesses that frequently receive packages.
Can I use a virtual mail service outside the United States?
Yes, virtual mail services are available to customers worldwide. However, it's essential to check if the service provider offers international mail forwarding and if there are any restrictions or additional fees for customers outside the United States.
How do I choose the best virtual mail service for my needs?
To choose the best virtual mail service, consider pricing, features, customer reviews, and the provider's reputation. Evaluate your specific requirements, such as needing a particular location or package handling services. Comparing multiple providers will help you make an informed decision.
Conclusion
Virtual mail services are a must-have for all businesses in this tech-savvy era. They can help you build a professional image for your business by providing you with a physical address and helping you stay connected. Therefore, we bring you the best virtual mail services that provide global assistance. Consider your budget and business structure, then go through the different options before making a choice. You can also use those offering free trials to test the services before committing.
See Also: How To Change And Recover Gmail Password