The world of music players and music streaming services is vast. But an average user only knows of a few famous names such as Google Play Music, Apple music, or the most common choice out there, Spotify. If you think that Spotify is the biggest one there is, you are pretty nearsighted, mate. Because if there is any market that could outdo the entire world, it's China! Thus, you must know about the top Chinese Music Apps out there.
Chinese people are patriotic as anything, which is the main reason why the country has come up with booming solutions for every market trend. Be it technology, luxury cars, online stores, and social media apps like WeChat. And as you have probably guessed, they have their bevy of music apps too. So in this article, let's go over some of the popular Chinese music player apps.
Suppose you live in China (in which case, you naturally know more about this topic than me), these apps might be of interest to you. Even if you are not a Chinese resident like me, you could still consider using most of these apps outside China as well. You can always use SoundCloud Downloader to get free SoundCloud music as an alternative. Not that existing services are not good enough, but it is always cool to have a bit of variety.
See Also: Top 5 Best Alexa Radio Stations of All Time
So with that in mind, let us take a look at a list of music streaming apps that I compiled.
Top 12 Chinese Music Apps | Download for Free
Are you a Chinese music fan, and do you love to hear Chinese Music? Well, here is a list of Chinese Music apps that you must give a try 
Youku
When it comes to a list of popular Chinese video streaming and music app, Youko tops the list with flying colours. If you love to see Chinese movies, and videos and love to hear Chinese music, then you must have heard about Youku.
Youku is a popular streaming app in China which is a kind of Youtube out there. It is available for free, and here you can get a lot and lots of music videos, movies, amazing dramas and everything that you need in just one go. Everything is perfectly organized in this app, and you can never ever face a problem while streaming in this application because they have subtitles for everything, which makes it easy for the users to access every single thing. Read about TuneFab Apple Music Converter Review In Detail.
 It is available for free for android and iOS.
See also: Trying To Learn A New Hobby? Try These 6 Free Hobby Apps Now!
Radio FM China
Are you the kind of person who still loves to hear songs on the radio? Wait, we were talking of a list of popular Chinese Music apps; now, where did that radio come from? Yes, we are still talking about the Chinese music apps, but how about a Chinese Radio? Chinese radio! Sounds too crazy, right?
But here we have Radio FM China, a free and simple Radio app where you can hear amazing music and get a lot more updates as well.
This simple and easy-to-use app has some amazing features, which include
See Also: How To Change Spotify Email I A Complete Guide For You
Quick search
With the help of these options, you can easily search for a specific station and can listen to it.
in comparison to the other apps, this app has fewer ads, so the user can get an uninterrupted experience while using this app and can hear the music at their own ease.
Not only can a user listen to the songs and regret later that why they can't get that song again, but they also can add the song to their favourites through this app. An amazing product of technology! Isn't it? It is a great app for learners and can easily use the app as most of the key functions are written in English.
It is available for free for android devices. 
FluentU
FluentU is a popular Chinese music app where you get a lot more other than music. It has a mandarin library where you get tons of movie trailers, music videos, news, and surprisingly, a lot more. It has a simple interface that is in English so that beginners, as well as professionals. They can easily navigate through the app and get easy access to everything.
Here in this app, you can also get the advantage of English subtitles for music videos which makes them easy to learn and understand for the user. It is available on android and iOS. You can get the advanced version after your free trial, so the user can choose whether to proceed with the app or not.
KuGou
KuGou is a popular local Chinese music app with a bunch of interesting features. Meaning Cool Dog, KuGou app allows users to stream KTV content via integration with the same. This KTV streaming feature also comes with rewards, where users can earn points called song coins. These coins can later be exchanged for real currency, so it's a win-win situation. Listen to your favorite tunes, stream some local KTV and earn a couple of, err, yuans for the go!
This music player is more like a social platform in itself. There are live comments and videos to watch, where you can post a comment that runs across all streaming device screens. KuGuo download has an average of over 230 million monthly users as of early 2018.
QQ music
The earlier company called KuGou is merged with QQ music now. They offer radio, live TV streaming, and other similar services too. Users can watch other music industry-related videos and not only Chinese pop music, such as exclusive interviews with stars, as well as they get access to worldwide music. (No, I'm not talking about Pitbull, even though that would be valid)
So you could blast some Linkin park through this music app, even if you're in China. This app and company are owned by Tencent, China's leading multinational investment holding. They partly owe their success to the country's version of WhatsApp, popularly known as WeChat. With over 2.2 million monthly users, QQ music is one of the big boys of Chinese and global music distribution business players.
KuWo
KuWo is another music purchase and download service that is affiliated with KTV. It offers services such as KTV content streaming, music streaming, and purchases. KTV uses this app with its 110 million monthly user base to broadcast its contests and live show where users could win potential cash prizes. Though the content offered here is often a bit canny, there is no denying that this app has a huge number of regular users.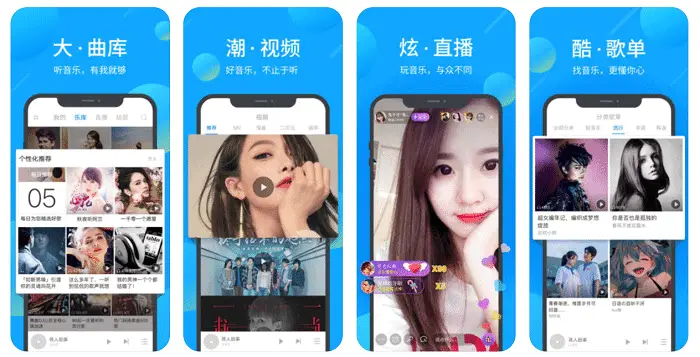 This is one of those companies who start out as an entertainment brand and started making products under their own brand name. KuWo is also selling their own products, such as KuWo branded headphones and speaker units.
NetEase Cloud Music
While all the other big music apps are focusing on selling millions of copies of huge artists like Katy Perry (stop judging me!), the NetEase Cloud Music app focuses more on budding talents and smaller but growing artists. This app is of great help to anyone who is bored and overwhelmed by the common multimillion dollar music videos and wants a taste of those plain old, simple indie songs. However, you will still see bigger artists as well on this service.
This app offers video streaming and allows any user to communicate with other profiles on the app, even big stars. There is a new music streaming option called Run FM. It allows the user to pick a tempo and the music will play as per that tempo. The user can set their favorite beat to their jogging pace to match up. Pretty cool, huh!
With a monthly active user count of over 60 million people, you could say that NetEase Cloud Music service is doing pretty well among the other big Chinese music streaming apps of 2022.
Xiami Music
Xiami Music is one of those Chinese Music Apps that gives more emphasis on talent discover, just like NetEase Cloud music, but in a slightly different way. They allow this voting system, where common users can vote for their favorite artists, who are emerging musicians with great, original content.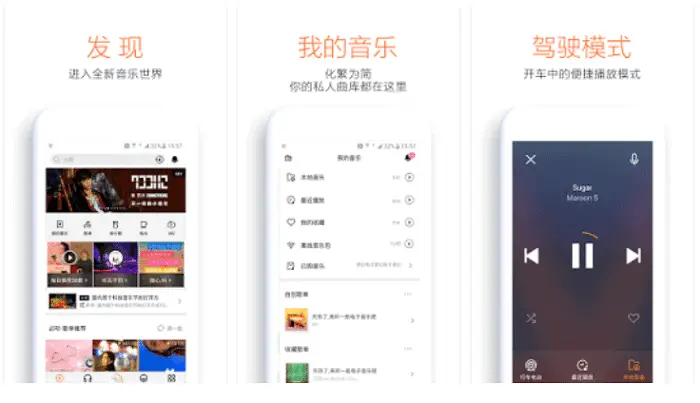 Xiami Music is currently owned by Alibaba Group, the Chinese ecommerce giant. With an average user base of about 15 million active subscriptions a month, Xiami Music definitely has its reasons to be in your music app preferences. It is managed by Alibaba multimedia sector, who have their own version of such music apps. It's called as Alibaba Planet.
Check out more on Xiami music if you are interested. There is a full-fledged website as well.
TTPod Player
One of the Chinese Music Apps that I personally enjoyed using is the TTPod player app. The app, as the name suggests, is a music player.
You can obviously play your own music libraries on it, but what's awesome is that you get to enjoy their collection of premium HD videos of Chinese as well as some international music videos. This app is where I first saw the weird video song of The Weeknd- Can't feel my face.
Duomi Music Player
If you are searching for an effortless way to download millions of high-quality soundtracks, look no further than the Duomi Music Player app. It has a collection of over 3 million copyrighted music tracks, and they are all free to download!
This music player also has a unique, well-organized interface. It is not with interstitial ads or any such annoyance at all. All soundtracks are premium quality ones with high bitrate playback, so you will have a no-compromise experience with this app, provided you have a sufficiently fast internet connection.
Radio Chinese Plus
Powered by a questionably named source called spoiled milk, Radio Chinese Plus is a radio streaming service that features all your favorite and popular Chinese music channels in the air. Big names such as KAZN AM1300 and KMRB AM1430 from LA air live on this one of the Chinese Music Apps.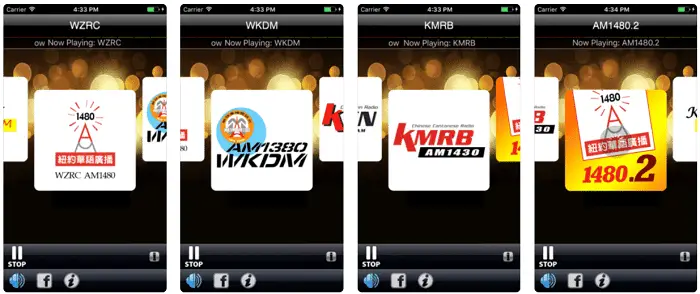 If you are looking to quench your thirst for a healthy mix of modern as well as some traditional Chinese hits, be sure to check out the Radio Chinese plus app. It might be just the right blend you were looking for.
Baidu Music
You may have heard about Baidu before, right? It so happens to be the biggest search engine in China! This music app, obviously created by Baidu people themselves, has a great interface, has other functionalities one would expect from a music streaming app. You can search for major Chinese and international music titles and artists. Song streaming is free, but you need to integrate this app with your Baidu account, which is a fair demand from the company. Google does the same with their google play music app as well.
Final Thoughts
So these were the top nine apps that are the Best Chinese Music Apps, at least as of these early months of 2018. This list will most likely remain the same pretty much throughout the year since all the above apps are brands and are not likely to go anywhere anytime soon. They could get a name change at the maximum, but they will still be around for a very long time.
All the above Chinese Music Apps support free song playback, and some of them allow for free downloads as well. If I know anything from my time of being an average internet user, every time you hear the word free on something, even though it is something as bare bones as a music track feels like Christmas! So yeah, merry (free music streaming) Christmas to all Chinese music lovers, enjoy! Find out all the popular Chinese songs now.
See also: Top 10 FM Transmitter Apps