Cloning the contents of a hard drive is no easy feat, especially if you are doing it with no help. Cloning software exists to make copying an entire hard drive swiftly and accurately. This article will discuss the six best cloning software for Mac in 2023.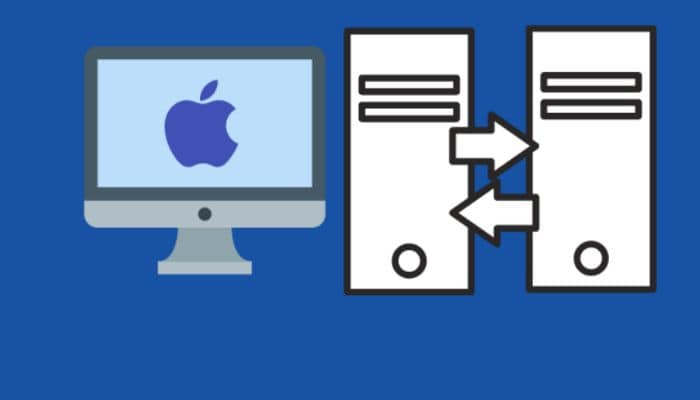 The article will include some cloning softwares like EaseUS Todo Backup, Carbon Copy Cloner, SuperDuper, Clonezilla, ChronoSync, and Get Backup Pro which you can use to create backups and clone the contents of your hard drive.
Cloning frees up space when you get a new gadget and want to transfer all the data there. We utilize the guidance of cloning softwares to ensure that the information is not lost while moving. Your search for the best cloning software for Mac will end here as we present to you the best ones. 
See Also: Fix: Laptop Won't Recognize External Hard Drive Error
Some Of The Best Cloning Software For Mac
The list of the best cloning software is as follows:
EaseUS Todo Backup
It is among the best cloning software for Mac as it is good for beginners and people not new to backing things up. The user interface is easy and clean, and all the attributes can be swiftly understood, even if you are a newbie. 
If you wish to back up or clone some files in EaseUS Todo Backup, you must select which file or folder you need to clone. Furthermore, select the final destination of this file or folder. There are other attributes of EaseUS Todo Backup like:
EaseUS Todo Backup consists of four sections: Disc cloning, File Sync, Backup Archive, and Mac Data Backup. 

You can schedule a backup in Mac Data Backup by setting the day, time, and duration.

There are many security features, including password protection, FTP protocol, and many more.
EaseUS Todo Backup costs $29.95, but it also offers a trial version and offers a 30-day money-back guarantee if you think EaseUS Todo Backup is the right fit.
Download: EaseUs Todo Backup
See Also: Setapp Review | Everything About Setapp You Need To Know
Carbon Copy Cloner
The second best cloning software for Mac on our list is Carbon Copy Cloner. It is an efficient tool for backing up and creating clones of entire hard drives. Carbon Copy Cloner is also a master in restoring deleted documents.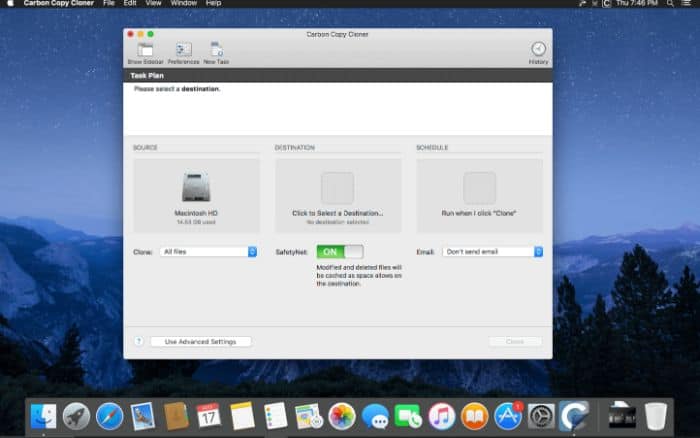 Carbon Copy Cloner also comes with the scheduling of backup option and others like pausing the backup or tracking your progress. Other attributes of Carbon Copy Cloner include:
Carbon Copy Cloner shuttles files from block level instead of file to file, which makes the backing up process even faster.

The cloning coach has a feature that helps users make the right decisions while cloning or backing up.

You can also see all the files you copied in the Backup audit so you can review everything.

It has a Preferences section where you can set your criteria on what to copy.
Carbon Copy Cloner starts at $39.99, but you can get a 30-day trial period which has no features disabled. You can fully use this tool without limits, and if you like it, you can finally purchase it.
SuperDuper
You can count on SuperDuper being one of the best Mac cloning software, and it will not disappoint you. 
SuperDuper provides more than one backup option to choose from and is incredibly fast when it comes to cloning and backing up files. The three backup options are to Copy new files, Erase and copy and Copy other files. Some of the other attributes of this Mac hard disk clone are:
Useful features like smart updates, scripting, and scheduling.

Backs up data without deleting it from the original place.

Makes and stores backups of the disks.

SuperDuper will scan and inspect hundreds of files at the same time.
SuperDuper stands at $30 but includes a free trial with limited features. In the paid version, only the complicated functions are included. So if all you need to do is clone and backup, you can use SuperDuper's free version.
Download: SuperDuper
Clonezilla
Clonezilla is one of the best software for disk cloning for Mac and is perfect for cloning many files but also up to 40 computers. It is an open-source app; you can customize the disk cloning process.
Your data will remain safe during storing, transferring, and restoring due to the encryption used by Clonezilla. Other features like encryption are:
The app offers three types: Clonezilla lite server, Clonezilla live, and Clonezilla SE.

Cloning happens sector-wise.

It performs a bare metal backup, backing up all the OS files.
Clonezilla is inarguably one of the best cloning software for Mac. It is also completely free, and with all these functions, it is worth it.
Download: Clonezilla
ChronoSync
If you are questioning 'how to clone a Mac hard drive?', ChronoSync is just the software for you. It helps in creating extra space by creating a backup of all files it deems useless. You can schedule a disk cloning time in ChronoSync too. 
ChronoSync has a simple user interface and helps recover data that you have accidentally deleted. Some other features of ChronoSync include:
You can share files from Cloud and sync these folders too.

You can automate the drive-up process easily

Schedule time for backup in a variety of criteria
ChronoSync starts at $40, but you can download a trial version to test the app for 15 days.
Download: ChronoSync
Get BackupPro
Get Backup Pro is our final recommendation for the best cloning software for Mac. It has several functions, like creating a backup, archiving data, syncing folders, and cloning disks. It also assists in data recovery if you accidentally delete your files or documents.
The backups are encrypted, so your data stays private and will also be stored on another disk in an emergency. A few other attributes of getting Backup Pro are:
Get Backup Pro allows for incremental backups meaning the old files won't copy again.

You can smoothly sync the files, folders, and directories.

Given any issues, you can contact their orderly customer service.
Get Backup Pro is within easy reach at only $19.99, but there is also a free version with limited functions.
See Also: Recuva Data Recovery For Android In Seconds- 4 Easy Methods
FAQs:
What is the meaning or function of cloning?
Cloning means creating an exact one-on-one copy of your hard drive. This copy serves as a backup in case of any emergency. You can copy many things, from photos to big documents.
Which amongst the ones given above is the best Mac HD cloning software?
Aforesaid are some of the best cloning softwares for Mac. You can find one that best fits your purpose and one which you find reasonable. One is not finer than the other, as they all consist of different attributes.
Is it achievable to clone a hard drive without help from softwares?
In a Windows 10 operating system, it is not possible to clone without help from softwares. However, in a Mac, you can take the assistance of the Mac's recovery HD volume. Either with the aid of this hard drive volume or of a drive that has a bootable copy of OS X already installed.
Is there a variation between backup and clone?
A backup is a copy of the data or information you own in an emergency. A backup is performed on the files, OS, or hard drive. A clone is the second hard drive copy and contains the same things as the first.
Conclusion
With these questions, our article on the best cloning software for Mac ends here. You can download any of these six cloning softwares according to your wants and requirements. They will guide you in executing the cloning process efficiently. We hope this article was truly captivating and insightful for you.