YouTube is one of the most famous video-sharing platforms in the world. Any person can upload and share this video on YouTube. Although uploading a video to YouTube is possible, there is no option for downloading the video directly from YouTube.
Top 8 URLs for MP4 Converters to Use in 2023
Wondershare UniConverter 
Online-Convert
CoolUtilis 
AceThinker 
ClipConverter 
Sometimes, the video format downloaded from YouTube using some tool might not be compatible with uploading to other websites. This is the cause why you should always convert video URLs to MP4 and not any other format, as almost all video-sharing platforms support MP4. There are many such mp4 converter tools available out there. It isn't apparent for a person to decide which converter tool they should use. We have made a list of the best tools to Convert Video URLs to MP4 easily and quickly.
Best Tools to Convert Video URLs to MP4
Here are the best tools to convert video URLs to mp4.
Freemake

 

converter
The users can freely download this converted Video URL to an MP4 tool without barriers. It supports over sixty video formats and can download videos from various segments like YouTube, Facebook, etc. Further, it can extract any audio as per your choice. Also, it avails the option to trim/edit videos before converting.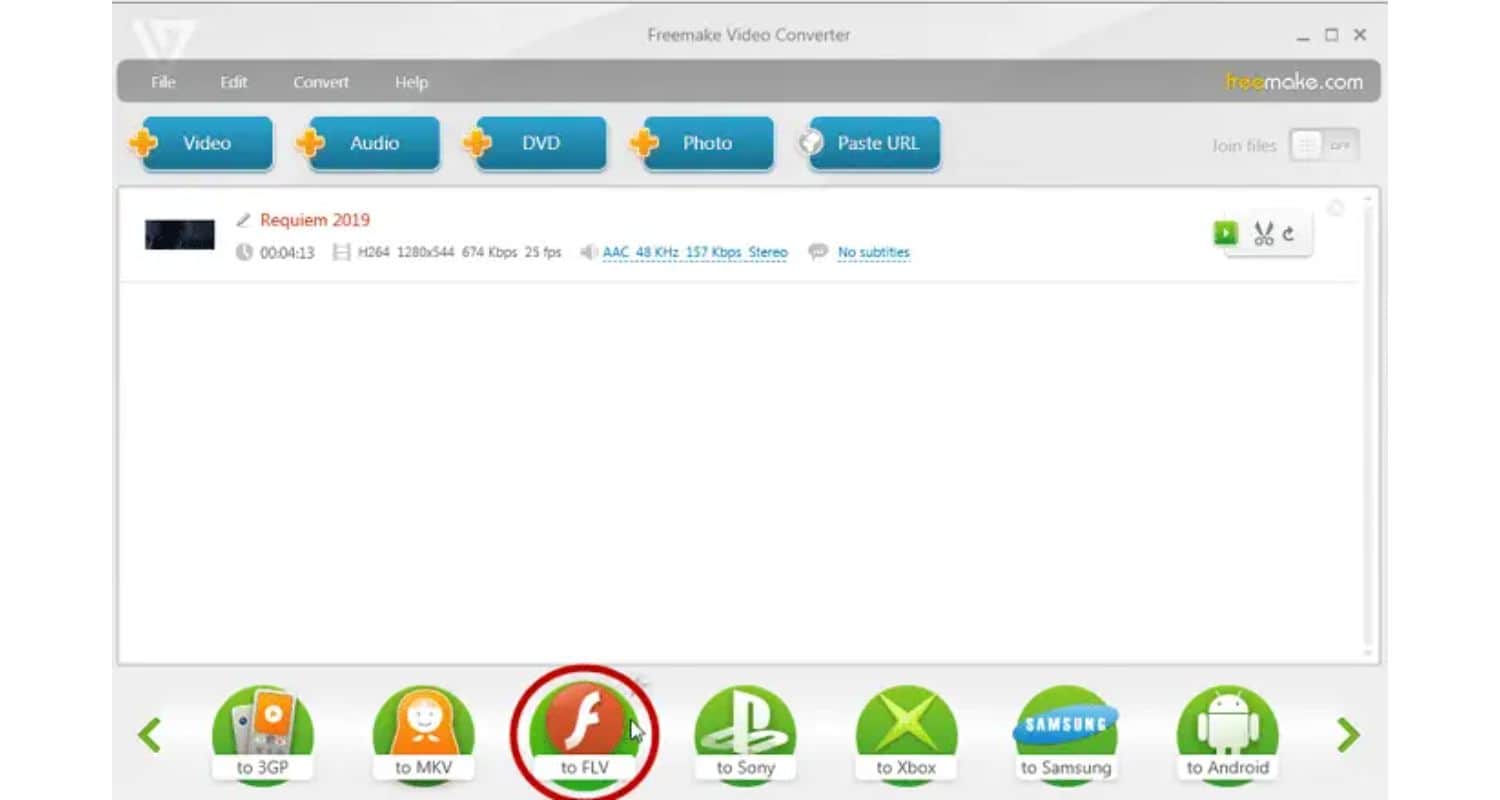 It supports all Windows versions, provides eighteen menu languages, and provides twenty video presentations. However, it leaves a watermark imprint on every converted video. Some extended benefits of this convert video URL to MP4 tool are a quick present selection menu, internet services, and workings with DVD. Also, do you want to convert your WebM file to MP4? Click here!
Visit: Freemake Converter 
Hamster
It is a free tool to convert video URLs to MP4. The user interface is simple to use, and it provides comprehensive features for Windows 7, 8, and 10. It supports over two hundred devices like iPad, Blackberry, and Xbox and provides preview support.
It contains no ads and provides little space on the hard drive. One of the drawbacks of this convert video URLs to MP4 is supporting only a few file formats. The platform does not have a scheduler available, and there is no progress displayed on the screen.
Visit: Hamster 
Format

 

Factory
It is another free tool to convert video URLs to MP4. Like other tools, it offers a simple user interface. The process of recycling is straightforward, as said before. Select the format, upload a file, and then convert. If you want to edit or resize the audio file, use the advanced options.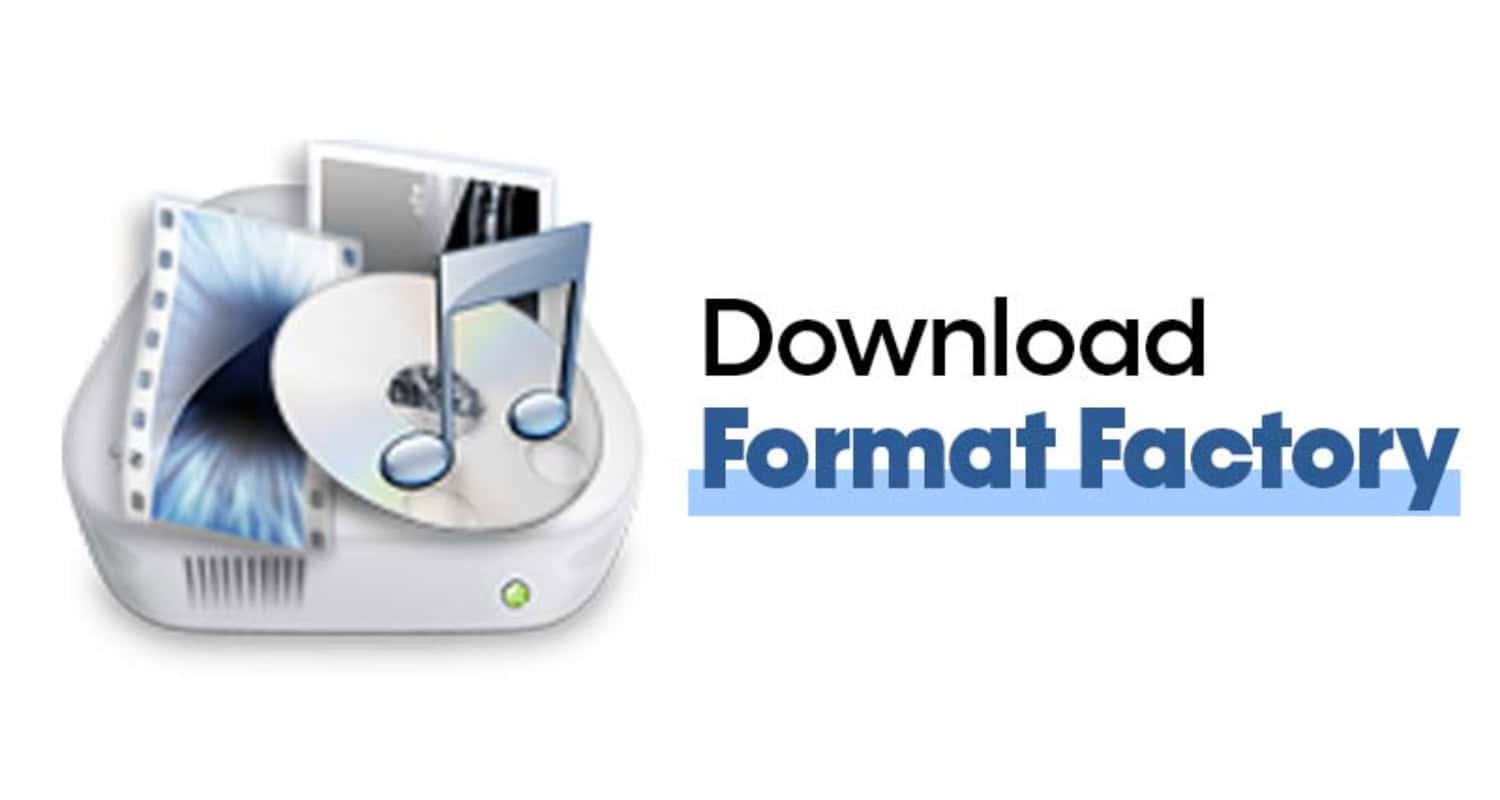 However, while downloading the video, stay alert not to download additional programs meanwhile. It works perfectly well with iPhone and iPod devices. This platform is equipped with various widely-used file formats and is completely free of any advertisements. Another disadvantage of this tool is that it does not provide custom sizes and effects of videos.
Visit: Format Factory 
Any

 

Video

 

Converter
It is a user-friendly tool. The interface is user-friendly and has a sleek design that works well on both MAC and Windows devices. It has various presents, including device type, allowing the user to edit a video. 
Please exercise caution when downloading to avoid downloading any unnecessary programs.
Additionally, this tool also provides the option to store mobile presets.
However, this popular tool to convert video URLs to audio has certain limitations and no option to save videos. Also, it contains a lot of ads.
Visit: Any Video Converter
Clipconverter
Clipconverter is a website used to Convert Video URLs to MP4. If you don't want to dissipate any time or space on your device by installing a video-converting software or tool, this website is strictly for you. This excellent website converts video URLs to mp4 easily and quickly. You can select the format you require to convert the video to. It is also possible to restore the videos to formats like Mp4, AVI, 3GP, MOV, etc.
You can also convert URLs to audio; available audio formats are- MP3, M4A, and AAC. Clipconverter is one of the best ways to convert URLs to Mp4.
You must copy-paste the video link you want to convert into the search bar on its homepage, select the format, and press enter.
Your selected format will be used to download the video onto your device. The conversion speed provided by Clipconverter is remarkable.
Visit: Clipconverter
Online video converter 3.0
This website can convert video URLs to Mp4 easily and quickly. Online video Converter 3.0 provides you with more formats to choose from as compared to Clipconverter. The conversion speed of Online Video Converter 3.0 is a bit slower compared to ClipConverter. Another annoying thing about this website is the volume of annoying ads on its homepage; almost the entire website is full of ads.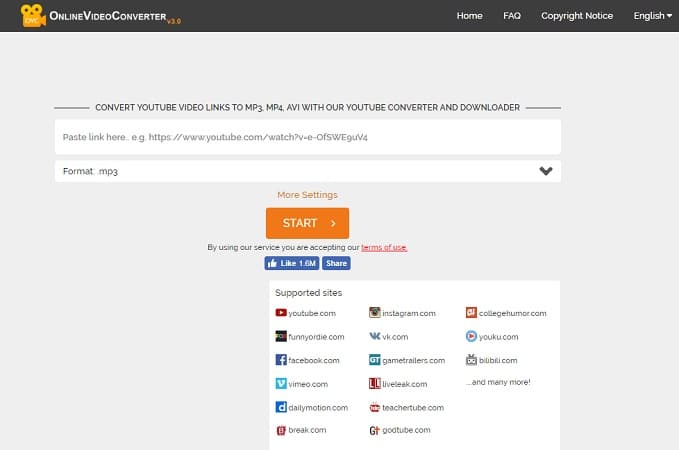 On its homepage, you will find a URL bar; all you have to do is copy-paste the video link you need to convert, select the format, and press enter. You can also convert audio using this website. Following are some of the video formats that you can choose from- Mp4, AVI, MOV, MKV, FLV, etc. Here are several audio formats to consider: Mp3, AAC, OGG, and WMA.
Convert2mp3
Convert2mp3 is a website that can be used to Convert Video URLs to MP4. This website has a basic and straightforward layout. The UI is very user-friendly. A unique feature of this website is the search bar, where you can search for a particular video from different websites and convert it to the format of your choice.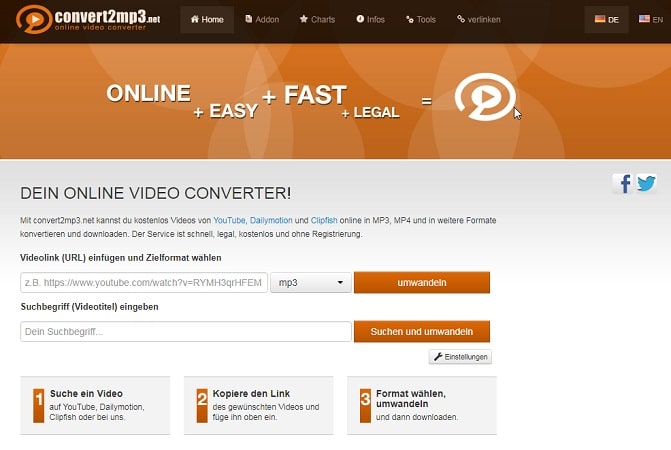 This feature is handy as you don't have to waste time looking for videos on other websites like YouTube, Dailymotion, etc. Just insert the name of the song or artist and convert it. The available video formats are- Mp4, AVI, 3gp, and WMV. You can choose from multiple audio formats, including MP3, M4A, AAC, FLAC, OGG, and WMA.
Visit: Convert2mp3
FLVTO
FLVTO is a simple website that can convert video URLs into MP4. It is a website, software, and a plug-in for converting video URLs to Mp4. You can use whatever suits you the most. If you do not want to waste time adding a plug-in or downloading software, you can use its website to convert video URLs to Mp4 videos.
One limitation of the website is the limited number of formats available for selection, in contrast to the numerous design options offered by plugins and software. The website has an mp4 format, and the most significant thing about this website is that there are not many annoying ads. FLVTO is free of use for everyone.
Visit: FLVTO
Online-convert
Online-convert is the complete website to convert video URLs to MP4. You can easily and quickly convert any video URL into Mp4. There are also many other formats to choose from. You can use this website for converting URLs into different audio formats too. One can convert the video by copy-pasting the URL, uploading the video to the website from your local storage, or selecting a video file from your Google Drive or Dropbox account.
You will find different converters on its homepage like Audio, Video, Image, document, and E-book converters. Please make a selection of the converter you wish to use, indicate the desired format for conversion, and hit the enter key. Online-convert is one of the easiest and quickest ways of converting video and Audio URLs to different formats, including Mp4.
Visit: Online-convert
2conv.com
Want to save an excellent Youtube video as MP4 on your device? But not understanding which Link is safe enough to Convert the Video URL to MP4. You sure don't want to have a virus on your device, and neither do I, so here I'll tell you about a super safe app that speedily converts any video into mp4 format without compromising your device, and it is a 4k video downloader. Now let us walk through the 4k video downloaders and learn to save our fancied video on our device.

4K Video Downloader is software that helps you rapidly and easily download videos, playlists, channels, and even subtitles from YouTube in luxurious quality. With the 4K Video Downloader, one can save videos like MP4, tracks as MP3, etc., on a Windows, Mac, or a device.
Follow these easy steps to have a hassle-free video downloading experience.
Download and install the 4K Video Downloader on your device. Go to YouTube and copy the URL of the YouTube video that you wish to convert. Open the 4K Video Downloader and Paste the desired Link.
4K Video Downloader will then show you some options of which. Select Download Video and MP4 from the drop-down menu and choose the video quality. Then Click Download and Voila! A super-duper swift and prompt process to convert your favorite videos to MP4.
Visit: 2conv.com
iskysoft.com
Searching for an online video converter to help save your amazing videos from your YouTube playlist into your device? Video converter iskysoft.com does precisely that.
Easily save your preferred videos from various streaming sites such as YouTube, Vimeo, and Facebook. Download your entire YouTube playlist in one click. Apart from this, it also allows you to save HD videos with subtitles.
This website can improve your downloading experience 50 times faster than other apps. Convert video URLs to MP4, MOV, MKV, MP3, and hundreds of other video & audio formats.

Support batch downloading and guarantee 30X faster download speed than contemporaries. Its built-in video editor allows you to add watermarks, prism effects, doodles, photo collages, and color effects and change the video's layout.
You can quickly transfer video to iPhone, Android, and other devices. Its integrated video compressor also helps to save space and compress large videos without compromising quality. So what are you waiting for? Start with iskysoft.com and Convert the Video URL to MP4 with ease.
Visit: iskysoft.com
WonderShare Converter
This fantastic tool to convert videos URL to MP4 has so much to offer. It has conversions of up to 1000+ formats, including MOV, 3GP, AVI, etc. With its playlist download support feature, this tool can easily download videos along with their subtitles in text format. Not just YouTube, the converter leads to converting videos from 1000+ sites!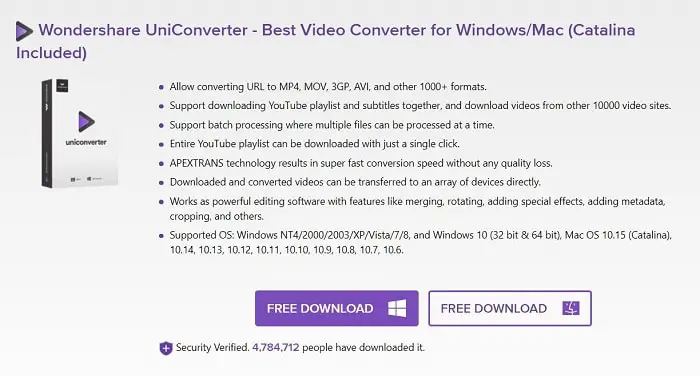 Batch processing is another beauty of this software, enabling it to simultaneously operate and process multiple files. APEXTRANS technology, a part of this converter, allows it to convert the videos faster without causing any loss or compromise in the quality.
See Also: 15 Best Free Online Vimeo To MP4 Converter Mac Tools (2023)

Handbrake
The Handbrake video to mp4 converter is free and allows users to convert video formats of almost all kinds. It is open-source software and is widely accepted by many users.
This simple, convenient, and quick tool provides users with several advanced options. So many built-in devices preset in the app allow users to pick a custom profile specifically tailored for their devices.
The application has many additional features like batch scanning, chapter makers, VFR and CFR support, title or chapter set selection, video filtering, and video encoding of average bit rate.
You may also get a live static and video preview of the files. Besides the features, this utility tool is entirely free to download to your device and does not need a license to enable it.
Windows, Mac, and Linux support the Handbrake Video Converter with a Command-Line version.
However, as it is restricted to only a few generally accepted formats, you may also want to check the output format list.
Visit: Handbrake
Free Converter
Free Converter is another tool that allows downloading and playing media to carry out express video and audio conversion tasks.
The broad range of assisting video and audio formats is a significant feature of Totally Free Converter. This application is a free video converter and works with all in-demand designs.
You can easily install the application on the device; the interface is uncomplicated and compact.
The original quality of the video file is kept intact but can not be customized. Compared to similar software, the conversion activity is much faster.
As third-party software is bundled up with the software, the installation process must be carried out accurately.
Visit: Free Converter
QuickTime
QuickTime is the Mac Operating System's built-in media player. It, therefore, only supports Mac OS. In addition to playing videos, it also has the capability to convert them into MP4 and other formats.
There is no need for any other program when you use QuickTime software, as it can import videos from online outlets, convert formats, and function entirely as a media player. It is easier to Convert Video URL to MP4
This is built-in software; a download is, therefore, not required. For first-time users, a straightforward interface makes it simple to use. It also correctly preserves the resolution and consistency of the files during conversion.
Visit: QuickTime
Quick Media Converter 
Quick Media Converter is a utility tool that makes it very easy to transform video file formats. It is free to download but only supported by Windows OS.
Although the device supports a wide variety of formats, this feature may sometimes cause it to malfunction. The app has plenty of advanced file conversion options.
Here you can Convert Video URL to MP4
As it does not contain malware or viruses, the app is secure to download to your device and will not leave a watermark on your video.
There is also an option to build your profile so that the most preferred format for potential conversions can be added to your profile. It can be used to take webcam videos as well.
FAQs
How do I convert a video URL to audio?
You can use online video-to-audio converters to convert a video URL to audio. Online converters like YTMP3.cc or 320ytmp3 can extract audio from YouTube videos by pasting the URL and selecting the desired audio format. Software like 4K Video Downloader or VLC Media Player can achieve the same result.
How do I get an MP4 from a YouTube link?
To get an MP4 from a YouTube link, websites that convert videos online are an option. Copy the YouTube video URL, visit one of these websites, paste the URL, select MP4 as the output format, and then click the convert or download button to save the MP4 video to your device.
How do I convert an unknown video to MP4 using VLC?
Converting an unknown video to MP4 may require identifying the format first. Use a media player like VLC. Open VLC, go to 'Media,' select 'Convert/Save,' add the clip, choose MP4 as its final format, and hit 'Start.' If VLC supports the format, it will convert to MP4.
How do I copy a YouTube URL?
Copying a YouTube URL is easy. Open the video you want to copy the URL from, click on the address bar at the top of your browser to highlight the URL, right-click on it, and select 'Copy' from the context menu. The URL is now copied and ready to be pasted elsewhere.
Conclusion 
This was our well-compiled list of top video converters to convert video URLs to mp4 converters. We hope you liked our guide. If you have other websites in mind, let us know in the comments.