Most of us are pretty happy with our computer systems. Many features, like video editing, virtualization, pdf annotating, etc., are all packed into one system, making it possible to do anything with these high-power machines. They will be fresh and lightning-fast initially and manage to run calmly and quietly. Our CPU starts to liberate more and more heat as our computer gets heavily loaded over time. A loaded truck naturally burns a ton of fuel to climb a small dune! And so are some excellent solutions to this problem using any of these best CPU Temperature Monitor software.
Some of the best CPU Temperature Monitor software are:
Nagios
SpeedFan
CPU-Z
HWMonitor
Speccy
HWiNFO
AIDA64
Paessler PRTG
NZXT
See Also: Best 6 Computer Repair Tools to Fix Issues |You Must Have
So if you have decided to take thermal throttling matters into your hand and try to lower the temperatures, or you want to know just how hot it is in that cabinet, you need a CPU temperature monitor. And if you are on a Windows-based system, you are in luck! I have searched and compiled a list of the 17 best free CPU temperature monitor software for Windows OS. Scan through it and see if you find one that best addresses your needs. Here we go!
See Also: How To Identify CPU Physically: 3 Pro Tips And Tricks
Top 18 CPU Temperature Monitor Software For Windows
Here are the top 18 CPU Temperature Monitors you must try using in 2023. While some are free to use, others provide a paid version.
AIDA64 Extreme
AIDA64 Extreme is a complete system checker and benchmark tool. It combines some compelling features, most importantly, developed CPU monitoring. Moreover, you can also verify your RAM and GPU performance and potential spikes and problems.
This monitoring software gives a very intuitive interface and is simple to follow, even for infrequent users. You may see it very much related to Microsoft Console Management.
Some additional characteristics of AIDA64 Extreme are that you can check for many activity indicators and emphasize stress test your elements in various successions.
The drawback is that you must spend some money to utilize the full version. It isn't a disadvantage as the software is worth the price and offers a free version.
Visit: AIDA64 Extreme 
SolarWinds CPU Load Monitor
The SolarWinds CPU Load Monitor is one of the best softwares to keep your CPU's health under regulation. It lets you set a limit, which, when crossed, will show a warning to cool off your device. Furthermore, due to its Engineering Toolset, you can access around 50+ network management tools.
The load caused on the routers by heavy work can be graphed by this monitor. Moreover, it supports IPv6 as well as SNMPv3.
SolarWinds is a diverse solution for managing networks and CPU health. It may sound expensive at 14.95$, although it has a 14-day free trial. But its efficiency proves that it is worth it.
Visit: SolarWinds CPU Load Monitor
HW Monitor
HWMonitor is a light, straightforward, and easy CPU monitor software for displaying the execution of your computer's elements. It shows stats similar to your system's temperatures, fan speeds, and voltages.
CPUID was the developer of this and CPU-Z and PC Wizard software. Therefore, it is well-trusted and reliable. This software stands out for its homogeneity. It lists the total effects on a particular window, divided into easy-to-understand layouts. Somewhat related to the Device Manager in Windows.
You can review your motherboard's temperatures and voltages, our GPU's temperatures and voltages, and the processor's temperatures and voltages y. Additionally, three sets of values are shown, the current state, the minimum state, and the maximum state.
It appears on the top CPU Temperature Monitor software because, despite providing us with excellent performance and features, it is entirely open-source to use.
However, the disadvantage of working with HWMonitor is the unavailability of some superior characteristics similar to the capacity to keep monitoring SMBus data to a text file or the ability to manage fan speeds or fix warning alarms.
Other than these, if you require a smooth and well-equipped CPU Temperature Monitor, HWMonitor will match your choice.
Visit: HWMonitor
Speccy
Also identified as a daily driver, this CPU Temperature Monitor software can assist you in regulating the temperature of the CPU. It sustains both 32 and 64-bit computers. It has two variants, namely open and priced versions.
You'll be given advanced penetration into your system in the open-source version. But, when you go for the paid version, this software will enhance your one-stop destination to grasp your system's health.
Features
Take a screenshot with this software.
Obtain a detailed report about the system for future decisions.
Monitor the real-time temperature of parts.
Visit: Speccy 
NZXT CAM Software
NZXT CAM is entirely free software for maintaining your PC. It is hands down one of the best and safest CPU Monitoring software.
It reviews your computer in great detail and provides the necessary information to optimize it fully. Information about processor load, CPU fanning, bandwidth consumption, frequency, etc., is always available to the user.
Moreover, it can perform In-Game monitoring for checking CPU/GPU load and temperature, time of play, battery usage, etc. This lets the user know where the system needs improvement and how the CPU load can reduce.
Visit: NZXT CAM Software
Moo0 System Monitor Portable
Tech experts highly recommend the Moo0 System Monitor. The minutely detailed, live report by this software can not be reciprocated by any other.
With on-point analysis in real-time, this software gives all the information about CPU health, network connections, CPU load, storage, etc. Moreover, it provides suggestions to improve and optimize the system's working.
Their CPU temperature regulator tool comes free, otherwise paid for in other software. The advanced features of the Moo0 Monitor give the best results to your PC and are simple to operate and support all Windows versions.
Visit: Moo0 System
See Also: [Solved] How to Fix WMI Provider Host High CPU Usage (WmiPrvSE.exe)
Core Temp
Core Temp is a great software to monitor CPU temp. It is structured to monitor Intel, AMD, and VIA processors in real time. Usually, it takes the data from the digital thermal sensor. Further, it displays the collected data on the screen to make accurate temperature reading easier for the user.
Moreover, it has a few additional capabilities, allowing users to monitor their Windows and Android devices. Also, it can create a visual display for every core processor and generate a graph about its core temperature and load percentage.
This CPU temperature monitoring software is available for Windows and Linux. If buying for commercial use, getting a business license is advisable.
Visit: Core Temp 
Atera
Atera is a platform designed for managed service providers. It includes all the utilities technically and remotely used by the MSP technician in an IT company. It is a CPU monitoring tool and a tool to monitor multiple devices.
This CPU monitor tool also helps in accessing channels and automating processes. The remote processors have an inbuilt agent program that reports back to the central Atera processor on the live activities of the server.
Besides, it lists among the editor's choices, which means, a highly recommended tool to try. If there is a load on temperature, or any performance issues on hardware, network, or services, you can set alerts for the same. Before purchasing the software, a 30-day trial is available.
Visit: Atera 
Enhanso Free
Enhanso was provided by Windows XP initially. But it has developed into new versions compatible with Windows 7 and above. It serves as a general tweaking tool for system management.

It helps the user configure the computer's various hardware and software components. Performing multiple functions such as cleaning, scanning, defragmenting, CPU monitoring, CPU information, RAM details, etc., maintains the overall system.
Thus, Enhanso is a very efficient tool, given its free-of-cost installation.
Visit: Enhanso
OP Manager Monitoring Tool
OP Manager Monitoring Tool is another best PC temperature monitor software with network and memory capabilities. Here, you can monitor temperature, speed, memory, and speed clock. If your device does not support OID (out of the box), the tool enables you to create custom monitors through a device object identifier.
The task of managing software is quite an easy job for this tool. For example- if there is too much data utilization, you can bring down the causes for it. Unlike the Altera CPU monitoring software, this tool lets you know about the high-temperature levels through emails, notifications, SMS, or alarms.
This CPU temperature monitor works well with Windows and Linux. If you are looking for a network monitoring tool with a temperature controller, then the Manager Engine OP Manager is the right choice.
Visit: OP Manager Monitoring Tool
HWiNFO 
HWiNFO is a real-time and free tool with CPU temperature monitor software available for Windows. You can monitor hardware tools like CPU, GPU, drive, mainboard, and performance issues here. The user interface is easy and helps view in-depth performance through the infrastructure hierarchy.
You can also set customizable alerts for the high rise in temperature and performance degradation. An add-on capability of this CPU temperature monitoring tool is a custom sidebar displaying CPU performance with bars and graphs.
Visit: HWiNFO
SIW
The System Information for Windows is the most basic and simple program to maintain your system health. Even though it is a simple program with all the necessary features, it provides you with information in great detail.
Be it the CPU temperature, the power supply unit, cable troubles even monitoring chips within the system. Moreover, you can also check the hardware devices attached to your PC, virtual machines, ports, etc., through this software.
However, it is only compatible with Windows 7 and above systems. At the same time, the other thing to note before using this software is that you need a sensory chip for it to work. If your system does not have a sensor chip, then this software won't work.
Visit: System Information for Windows
Accurate Temp
This is a pretty neat software for monitoring CPU temperature, which gives many details on the cores of your computer's onboard CPU. Just note that it is designed to work with Intel-based microprocessors, so as long as you are on team Intel, it will work great with you.
It is compatible with the Core i5 and i7 processors, ranging from single to quad cores. It keeps reading temperature values and notes the highest and lowest temperature peaks.
You can assign colors and fonts for each core and even monitor the GPU if you have a dedicated one on board. I could not get my AMD Radeon graphics card to show up; maybe my old system hardware is not fully supported. But the second generation core i5 CPU information ran just fine.
Note that it's a zip file. So you don't need to bother installing it on your system. Just send this file to whichever method you want to monitor, and just run it. That's it!
Visit: Real Temp
Rainmeter
Probably the fanciest and, at the same time, the most refreshing monitoring software on this list has to be Rainmeter. It looks like something from an alien ship or maybe from the future, all iron man-ish. It's not all bark, no bite, though; it gives you a ton of helpful info on your hardware.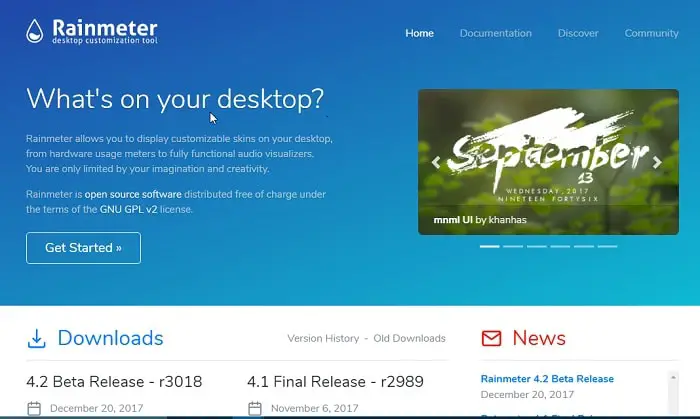 You can see the CPU and RAM usage, disk space and availability, temperatures, and process run times. What's more, there are several skins to be installed on it. You can customize the crap out of your temperature monitor and control tool. Pretty impressive for us nerds!
Visit: Rainmeter 
See also: – 2 Methods To Remove WinRAR Password Without Software – TechWhoop
Open Hardware Monitor
This thing is the total reverse situation of the Rainmeter. It is a straightforward Temperature Monitor with the most simple interface of all. This software will list all the hardware components that could be prominent and record their current temperature, the maximum temperature reached, and the safety limit.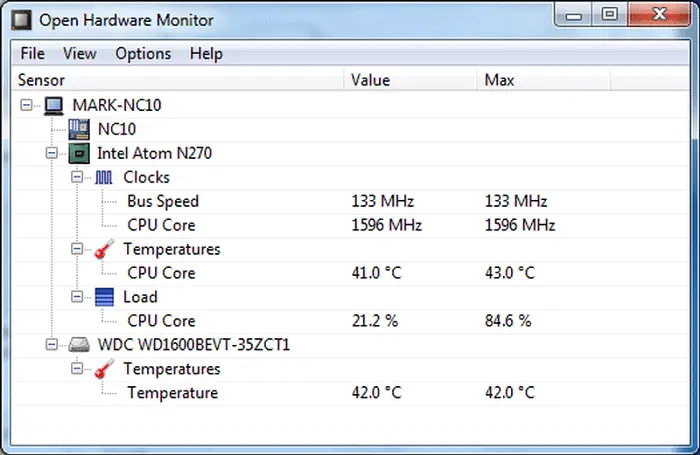 It has some level of customization to it too. You can choose to show or hide specific values from the dashboard. It's very lightweight software to install on your system. It is a zip file and need not be installed. Just open it and run it as administrator for additional features and details.
This one could readily recognize and map my AMD Radeon HD 7600M GPU—great news for me and some legacy hardware owners.
Visit: Open Hardware Monitor 
See Also: – How To Check Graphics Card On Windows 10 – TechWhoop
SpeedFan
This program is one of the moderately interactive CPU Temperature Monitors. It has a graph that plots varying temperature points on your CPU cores. You might have heard of this software before. I was a user back when I had a desktop running Windows XP!
Other than monitoring your hardware voltage levels and the temperatures, it also allows you to track your fan speed. Depending on the hardware and the PCB firmware used, it also allows you to control the speed of your fan if you think it is running too low or too high and noisy for your taste.
Just be careful, as it can increase thermal throttling issues if you lower the fan to avoid blowing noise. Ensure you know what you are doing before setting it up.
Visit: SpeedFan
CPU Thermometer
A very minimalist computer temp monitor that follows this interestingly plain name. It shows the CPU load and temperature on a single page, which makes it easy to get details at a glance.
It shows the current temperature of your CPU right on the icons tray in the taskbar. You can watch the thermals without opening the app interface, which is excellent! Others on this list will work too, so not to worry.
It is an exe file, so you must install it as usual. But it is a short installation process that will be done in a jiffy!
Visit: CPU Thermometer 
Paessler
Paessler is the best CPU temp monitor. It helps monitor servers, switches, and routers. Paessler has a feature of automatic alarm if there are any disruptions in the device.
This monitoring software gives detailed information and alerts you about what is causing the overheating of the device and how to eliminate the overheating problem. It is entirely free for 30 days, and after that, you can purchase its pro version or continue to use the basic one.
Paessler allows unlimited device monitoring in the Pro version, which is best for IT infrastructures. If you need it for a single device, you can always use it for free.
Visit: Paessler CPU Temperature Monitoring 
See Also: How To Tell If Your CPU Is Dying? Complete Guide
FAQs
Does Windows10 have a CPU temp monitor?
No, Windows 10 does not have any in-built CPU temp monitor. You can use other software like Speccy, OP Manager Monitoring tool, AIDA64 Extreme, etc.
Is 70 degrees Celsius too hot for the CPU?
No, 70c is a normal temperature for a CPU, especially while gaming. After 90-100c, your CPU will start to throttle itself.
How to check CPU temp online?
To check CPU temperature, you can use CPU Thermometer freeware. You can download it directly from its website, cputhermometer.com, and follow its guide. Other than this, you can use Open Hardware Monitor or HW Monitor. They are also an excellent choice as CPU Monitoring software.
Is 50c Hot for GPU?
No, 50c is normal for a GPU. But if it goes more than 130 or 150c, it can cause damage to the GPU.
Is HW Monitor free?
Yes, HW Monitor is a free program to check CPU temp.
What is too much for the CPU?
More than 90-100 Degree Celcius is harmful to your CPU. After which, the CPU starts throttling itself and shuts down the device or crashes.
Is MSI Afterburner a reliable choice?
Yes, MSI Afterburner is a reliable and completely free CPU monitoring tool.
What damages the CPU?
Common causes for CPU damage include extreme temperatures like 90-100c most of the time and voltage issues, so it is better to use a powerful protector and to have a constant power supply without much up or down in voltage, dust, transistor failure, fan failure, etc.
Are GPU and CPU temperatures the same?
Yes, they only have a slight difference in their bearability. A GPUs normal temperature is between 70-75c, and a CPUs normal temperature is 60-70c. They both should not exceed the maximum temperature limit of 90-110c.
Does a hot CPU affect performance?
Yes, a hot CPU will slow down the clock speed and smooth the device's running. Too much hot CPU starts throttling itself. It can also destroy the processor and shut down the computer in some cases.
Which is the best PC temp monitoring software?
For the best PC temp monitor, you can refer to PRTG Network Monitor, SolarWinds CPU load monitor, Open Hardware Monitor, Speccy, HW Monitor, SpeedFan, and Real Temp. They are all easy to use, and most are free also.
Conclusion 
This was our list of Best CPU Temperature Monitor Software for Windows. I hope you like it. Feel free to ask in the comment section if you have any doubts.
If you don't want to use CPU temperature monitor software, check out our guide on lowering your CPU temperature, along with some tips!