A mobile phone runs with various built-in settings, but several apps add more value to the mobile phone. You can download several apps from the play store or AppStore, but what when you can download apps from any source? Yes, this is possible through developer mode. Alike the developer mode in the Android device on Chromebook, by turning on the developer mode, you can get access to more content of websites. We will disclose the several methods through which you can enable it and easily solve the issue of developer mode being disabled on this device by system policy.
To enable developer mode on your Chromebook, first, switch it off. Upon restarting, press the Esc, Refresh, and Power buttons all at once. When a warning message appears, simultaneously hold down the Ctrl and D keys.
 We will dive deep into the topic and discuss each step so you can easily solve the problem. Follow each step and also take care of climactic points to do before starting with this process. 
See Also: How Do I Stop Apps From Automatically Running On Android
How Can I Activate Developer Mode On My School Chromebook?
If your developer mode is disabled on this device by system policy, then you can easily unblock it. You must follow a few steps and relish access to more website content.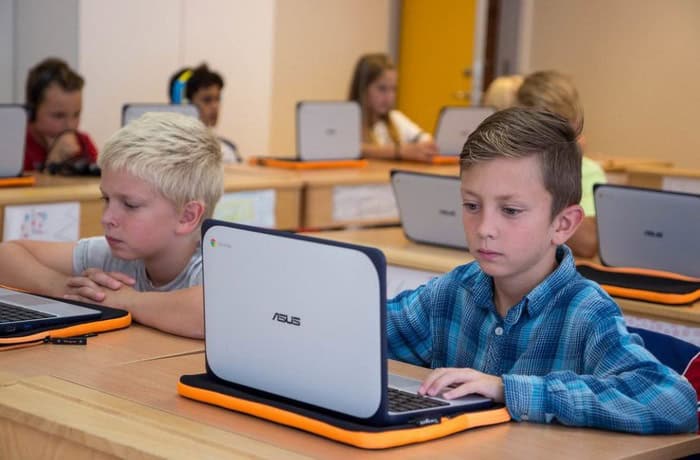 By doing this, you can enhance the capability of your Chrome, so let's discuss its steps to achieve the final stage;
First, before settling your device into recovery mode, power off your Chromebook, and after that, do the rest of the process. 
Now press the key buttons of Chromebook that are esc+ refresh+ power button. Don't panic; these keys will not automatically turn on the device; this process will take a few seconds to start the Chromebook. Meanwhile, browse through the best browsers for Chromebook by clicking here.

After pressing the listed keys, on your Chromebook's screen, you will see a big text field in which you can catch sight of the sentences

Chrome OS is missing or damaged, and Please insert a recovery USB stick or SD card

.

Now, after seeing this text field, don't fret and simultaneously press Ctrl+D, and now again, you can see the text field conveying that; to turn OS verification OFF, press enter, your system will reboot, and your Chromebook will clear local data, and this field also gives the option to go back by simply pressing Esc. 
The enter step is the eye-catching step where you can go ahead with it or quit it. To proceed, press the enter key to kickstart the reboot process. 
Now, after entering enter, you can field stating that OS verification is off, and please click on the space bar re-enable. To disable the OS verification is off, press the ctrl+D buttons again.
After this operation, you can see the sign of success on the screen depicting the vital words: Your system has been transitioning to developer mode, and the local data has been clear; Google does not support the modifications and may cause hardware issues. Now the Chromebook gives you the last chance to cancel the process by simply turning off the Chromebook. 
After choosing to go with the process of enabling the developer mode, Once the countdown begins, your device will automatically power off when it ends. Check Out this article on drawing apps for Chromebook. 
Now turn on the device and skip the messages by pressing ctrl +D, and you will see the new setup of the Chromebook

. After solving the issue,

developer mode is turned off on this device by system policy. 
See Also: Best Browser For Chromebook | Top 10 Picks
Things To Consider Before Activating Developer Mode
After enabling the developer mode, you might realize that the device owner has disabled developer mode for this Chromebook device with good intent or has protected your device from harm.
This realization is because by boosting developer mode, you can suffer subsequent consequences;
After allowing the developer mode to take place in Chromebook, the Chromebook will wipe out all data, and you will lose access to all your apps,

file manager of Chromebook

, and many more essentials from it. So to secure yourself from this, backup your data to another device and then enable developer mode.

This process may lead your device toward various malicious viruses; due to this, your device can face an alarming danger; that's why in the reboot process several times, you get an option of withdrawing from this process.
Google does not support this process, as the process will take you to the path where warranty support will not help in case of any trouble with the hardware of the Chromebook. Therefore, if you experience any hardware problems after turning on developer mode, turn it off again, just as developer mode is turned off on this device by system policy.
Most importantly, before heading towards this process, it will lead through the function of deactivating OS verification, so be careful about enabling developer mode. 
After reading the listed cons of the developer mode, you might think that the device owner has disabled developer mode. If you are sure about this process, follow the troubleshooting method to not suffer from anything. 
See Also: How to Install Kodi on Chromebook [The Complete Guide]
How Can You Turn Off The Developer Mode On A Chromebook?
If you wish to deactivate developer mode after enabling it, follow the same steps as for developer mode.
This will disable the developer mode on this device (Chromebook) by system policy. Follow the steps for a clear understanding:
While turning off the developer mode, when you realize that this will lead to vandalizing of OS verification, then in between the process. You get a message of entering a space button to enable OS Verification. Using the space bar in place of the enter key will work in this process. This vital space key will take you to the disabling of developer mode in Chromebook. 
But this process will also efface your data and will do the factory reset. 

After following these end-moment pro tips, you can successfully turn off the developer mode. It will also be easy to pass by the Chromebook setup again. 
See Also: How To Use Chromecast Without Wifi In 10 Easy Steps
FAQs 
Can anyone be able to hack my Chromebook?
Chromebook has several built-in security settings that make it hard for hackers to hack it. These features which protect Chromebook from hacking include sandboxes, verified boot sequences, and bulletproof encryption.
How can I activate Chrome's developer mode?
Follow a few essential steps if you wish to activate Chrome's developer mode; Firstly, go to your chrome and click the three-dot option; you can see several options from it; click on more tools. For more tools, click on developer tools. If you are using macOS then click to Option + ⌘ + J , or Shift + CTRL + J (on Windows/Linux).
What to do when developer mode disabled Chromebook?
If you want access to the operating system setting on your own, enable the developer mode. This can easily be done simply by pressing a few keys. You can learn more about the vital keys in the developer mode is disabled on this device. You can also refer to the system policy section for more information.
How to examine whether your Chromebook is watched or not?
You can easily glance at whether your Chromebook is on survey or not by following simple steps; Click on the status section where your profile photo is on display. Find the icon for the managed device. Your device is okay if the icon is present.
Conclusion 
Concluding the write-up, we witnessed that the developer mode is disabled on this device by system policy with a good purpose. But if you still want access to the system's operating system, follow some vital steps mentioned in the article.
Reiterating the article's important key points is to back up the data before enabling the developer mode in Chromebook. After enabling the developer mode, you will lose all your data, so be careful about this and proceed with the procedure accordingly. 
See Also: Full Stack Web Developer Roadmap | Perfect for 2023