Social distancing has become a necessity in today's era, and shortly, it is still going to exist. As a result, there has been a rise in the use of social media. One of the social media platforms is Discord. It is a social media platform that allows you to chat and interact in the way you want. Video calls are also possible here. The most astounding part is that you will get all of the services for free on your mobile and PC. Now let us see how to get the default discord avatar. There are many Ways To  Fix An Update Failed Error On Discord
There are a lot of things that we can do on Discord like Add Bots On Discord or you can Use Public Servers On Discord. One of the most amazing things about Discord is the avatar that it has.
You can set your profile to the way you want and give it your twist. The only thing that you need to focus on is reading the article properly to do it properly. To know how to transfer ownership on Discord, click here.
However, it sometimes becomes challenging to get the Discord default avatar. In this article, you will get to know how can you get the default Discord avatar in an unchallenging way. If you looking for fun on discord you can try some Best Funny Bots too
How To Obtain Discord Default Avatar
Sometimes, the Discord avatar that you have may not be the one that you like. In such a scenario, you might want to change it. Most people prefer to use the grey Discord icon over any other picture. 
See Also: How to Cross Out Text in Discord | Easy Ways
To get this, you will have to follow the steps in the order that it has been presented here. First, you got to make sure that you read the article properly. This will make sure that you do not make any errors while you are setting up the picture. You will not only get the technique to set the default picture, but also you can give it a little twist of your own.
The process is extremely simple to do. Head onto your Discord account via your mobile phone or PC. Maybe your Discord Is Not Opening. You will then have to look for the Settings in Discord.
In most cases, you will see it on the bottom left of the page. Here, you will be able to see your profile. Next to the profile, there will be a button. Here, you will see the profile picture that is currently put on. You will see that there is an option to change your avatar.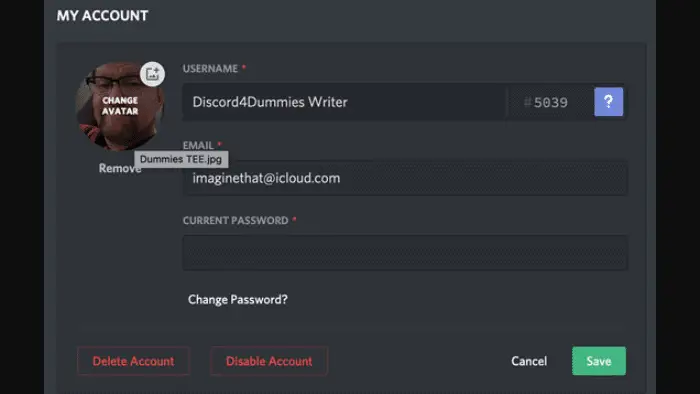 See Also: How to Use Twitch Emotes on Discord | Simple Steps
Before you proceed further, you can choose the best default Discord avatar style. Download the one you want to set as your Discord default PFP. Here, there is an avatar that is grey if you want to go classic. Once you do that, you need to upload it there, and you will see that you have a new icon to look at!
Please wait for a minute or two until it is uploaded to your account. As soon as that is done, you can then say that you have changed your Discord picture!
Is That All That we Can do?
You can choose to change the colour of the default Discord PFP to the colour you love. It can be from blue to pink to purple – you can even choose to keep it grey. In the background, you can also decide to add a pattern, lines, check boards, dots, hearts, and much more amazing still we can use backgrounds.
You can also choose to use the solid colour, the pastel form, or the gradient form of the colour you select. Well, that is not all – you can have a 3D background that you can use.
There are a variety of 3D backgrounds such as scrolling checkerboard, rainbows, and scrolling lines. Indeed, it might be challenging for you to choose the perfect picture for you! There are many Websites Through Which You Can Make Yourself A Cartoon
However, you can try the link here to get the best types of avatars for Discord. All you need to do is select the one that appeals the most to you, and then you can download it. Then, you only have to upload that on Discord as your profile picture.
See Also: How To Add Bots To A Discord Server | Only Guide To Read
So, it does seem that the Discord default avatar is far cooler than your regular picture. Adding effects to the background is beyond amazing.
Discord is one of the rare applications that allows you to play with the background image. So, you can still use the default avatar by giving it a twist of your style!
Conclusion
You now know how to get Discord default avatar in an extremely easy way. The method that we used here will not involve you being a technical expert. Even if you have used Discord once or twice, you can perform the technique to get the default avatar.
All that you can do is that you need to follow the steps in the way they have been put forward in. Rest assured, you will not find any difficulty hereafter to get the Discord default avatar. You can also Add Bots To Your Discord Server
It is always safer that you use the grey Discord icon as your display picture. If you are worried that someone you do not know will misuse your picture, you can try this out. If you have a picture that you are a little embarrassed about, you can use this.
You not only know how to set your Discord profile to the default one, but also you can add a little glamour of your own. There is nothing more amazing than that!
You can also Add Some Bots To Discord