Even with a continuous growth of 1 million users per month to reaching 11 million by July 2016, the users have had to face specific issues such as their Discord won't open after several attempts.
The app shows a comparative study on their website proving their tagline "It's time to ditch Skype and TeamSpeak." No doubt the software has been built in a way that makes it a multi-platform which can run both on the web and personal computers.
For the record, Discord's interface, ease of use and platform compatibility was praised by Lifehacker. Also, the writer of PC Gamer, Tom Marks had written an article on the first anniversary of the app stating Discord is the best VoIP service available.
He says, "Lightweight, simple, and free; Discord has dethroned every other gaming voice chat service." There's just this one major issue that is affecting the gamers that their Discord won't open properly. Thus, it becomes a little disappointing for them.
See Also: How to Cross Out Text in Discord | Easy Ways
A Brief Information About Discord
Discord- Chat for Gamers, has provided an appealing service to the users. It has tried to include every single feature that Skype, TeamSpeak, Ventrillo, CurseVoice, Mumble, etc. have in a manner that people don't have to bother to install too many apps on their phone.
It helps them save storage space on their phones and makes it easier for them to operate or complete their respective tasks. This doesn't mean that the other apps are not good options. But with so many facilities, Discord has been able to stand out in the crowd!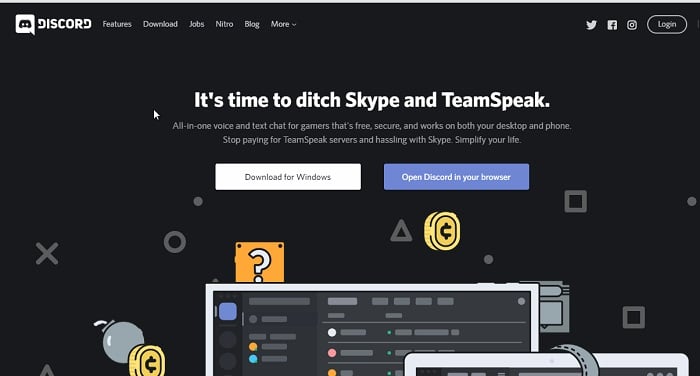 Jason Citron, CEO, and Founder of Discord (software) has assured all the users to continue all the free services and core functionalities the same way forever. However, the developers did investigate to find out ways to monetize themselves.
They came up with open customization options which include themes, sticker packs or emoji and sound packs available for purchase. The major problem being mentioned earlier will be solved in this article.
But before you find out the ways to fix your Discord won't open error, take a look at what makes the app so unique and worth handling all the errors.
See also: Top 10 Fixes On "Discord Not Connecting" Issue
What's it that Makes Discord a Step Ahead of the Others?
Free Voice Chats: – It provides 100% free communication which means there are no limitations for slots. Also, one can make as many servers as they want.
Play online safely: – They have an encrypted server which keeps the IP address to client communications safe. They also have Erlang (fixes bugs and improves characteristics) running in the backend on the cloud that has built-in DDoS (Distributed denial of service attack) protection along with automatic server fail over.
Always connected with friends: – All you need to do is download the free mobile app on the Play Store or Apple App store to chat while on the go. You can also summon your AFK Gaming friends with a @mention, and they will get a notification about it. This way you will always stay connected with your friends.
The template of the Text chat: – Discord has designed the text chat for you keeping in mind the needs and interests of the young generation. You don't need to worry about sharing images, videos, or links from your desktop. You can now easily transfer it to your phone. Most of the media is directly embedded in the chat. Moreover, your CPU is spared from GIFs since they will only play when you move your mouse over it.
Voice Channels: – Built with the latest technology, Discord works on browser apps, desktop apps, and phones. It has worked very hard on the sound quality. Their technology includes echo cancellation, automatic gain control, system attenuation, noise suppression, modern jitter buffer, and many more.
Secure, friendly environment: – Discord values its user's security way too much. They have a block feature that hides the offenders' text in servers from baddies. The app allows you to message friends individually outside the server after adding them up.
Hassle-free setup: – The setup is quite easy and barely takes 10 seconds. For maximum performance, download the OSX or Windows App.
Game Performance: – Since it has been mainly designed for gamers, Discord has made sure that your gaming is not affected in any way. Thus, its impact on CPU is minimal.
Alt + tab: – Since it customizes itself now and then for providing a better gaming experience, Discord allows you to see who wants to talk to you in the middle of any action. It's interesting how you can kick out people without even quitting the game. Also, you can change the servers and channels along with adjusting individual volume settings.
The Discord software works better when used on OpenGL, DirectX 11 and, DirectX 9 for most of the games played.
How to Fix Discord Won't Open Error
Despite performing so well, many people have complained that their Discord won't open. Here, we will provide you with best ways to fix your Discord won't open error:
Press the Windows Key+R and enter cmd.exe, then type in taskkill /F /IM discord.exe and try to launch discord again.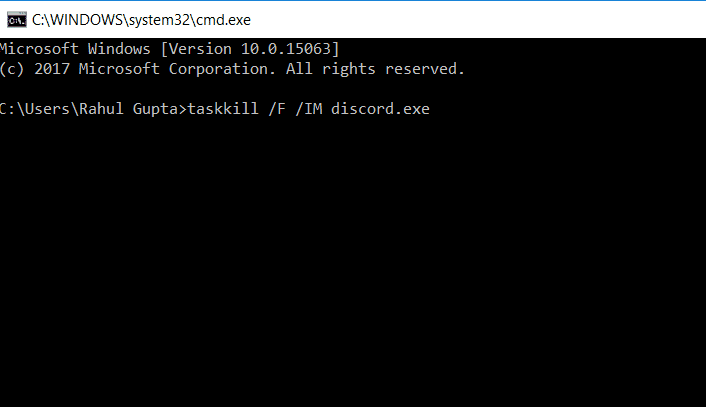 You might have individual app or file running in the background that needs to be closed when Discord is being used. Try to minimize the number of files running in the background.
Sometimes all you need to do is update your app. Make sure you are using an updated version of Discord.
Try uninstalling Discord. Simply, hold Windows Key & Press R. Now, just type "%appdata%" and hit Enter.
Locate discord's folder and delete everything. Reboot your system & re-install the app.
Go to Task Manager in the desktop menu and open the Process tab. Here, you need to end all the discord.exe processes and relaunch the app.
Go to C Drive and type the following:
C:\Users\Langly\AppData\Roaming\discord\Cache"
You can skip all the above processes, and launch discord directly, by navigating to
C:\ProgramData\%USERNAME%\Discord\
Here, you can find several versions of the program that you have installed. Inside this route, you will see Discord.exe. Run that and see how your app works.
Here's a video tutorial if you're still struggling with this error:
Final Thoughts
Discord is apparently available in 21 languages, and its operating system runs on Windows, Linux, Android, iOS, macOS. It currently has a user base of 45 million and claims to have around 9,000,000 daily players with several useful discord bots out there..
It is essential for them to work upon the "Discord won't open" error since nobody would want unsatisfied consumers.
Till then, follow the above tips provided for Discord won't open error and enjoy Gaming forever!
Learn: How To Add Bots To A Discord Server | Only Guide To Read