A question that some frequently ask when they first get into dual-band Wi-Fi is, does a dual-band router switch automatically to the fastest and best band when needed?
So, does a dual-band router switch automatically?
The answer is that a dual-band router does not automatically switch between the fastest and slowest bands and does not auto-switch between 2.4 GHz and 5 GHz networks. Instead, it requires the user to connect to both networks manually; in this way, they can prevent the router from automatically switching between two different bands when connected to the same network.
It would be challenging to work continually if the router automatically switches between the two bands, thus breaking it whenever you use the faster band. 
Instead of going back and forth between the bands, the user would only have to switch their particular access point between them. This review will tell you more about whether your dual-band router auto switches between 2.4 and 5ghz, why and how a dual-band router works, how to switch between 2.4 and 5ghz, the difference between dual switched vs. dual concurrent, and how to set up a dual-band router. 
See also: [Solved] Fix The Default Gateway is Not Available Error 
A Dual Band Router Does Not Switch Automatically 
You have to do it manually. If the router did so, a lot of your crucial work might get interrupted, whether it is an online meeting, a download, or a game you are playing.
Switching between the faster band might cause a lot of interruption, thus making your work more difficult. Hence, it establishes that changing from one band to the other has to be done manually by you. 
See also: Types of Antenna for WiFi: Complete Guide
How To Switch Between 2.4 and 5 GHz
Now that you know the answer to "Does dual-band router switch automatically," and it is a now, let us help you understand how to switch it manually. It is an effortless task to do. All you have to do is check the list of all the Wi-Fi networks in your mobile or PC, whichever device you use. From there, look for what band the Wi-Fi is using and shift to the alternate one through the drop-down menu.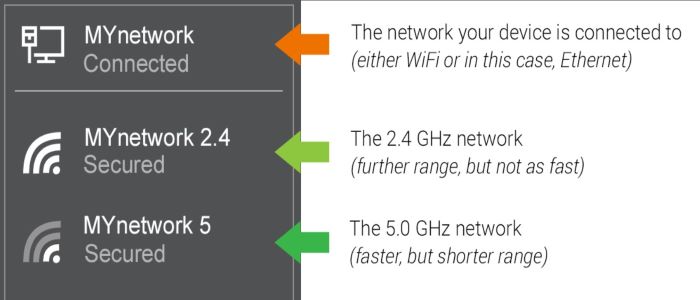 For a dual-band router with both its bands active, you will notice two different usernames or SSIDs for them. One will be for the 2.4 GHz, and the other will be for the 5 GHz. all you have to do is manually enter the credentials for whichever band you want to use. Most routers have a feature through which you can also save this password. 
Dual Switch Vs. Dual Concurrent
There are two types: the selectable dual-band or the dual switch and the concurrent dual-band or the dual concurrent. Let us have a look at these bands. 
Selectable Dual-Band
The selectable dual-band has the same bandwidth as a router with a single band. Hence, it has a single network of Wi-Fi for all the devices. The single network is generally more crowded. Lastly, it is either of the band. Only one of them, a 2.4 GHz band or the 5 GHz band, is present, not both of them. 
Concurrent Dual-Band
The concurrent dual-band is of double bandwidth. Hence, you can use it for demands like gaming and streaming HD videos. It has two separate bands that operate at the same time. Thus, there is no interruption between the bands.
Comparing The Two Wifis: 2.4 GHz and 5 GHz
The use of each of these two bands is for different purposes. It is because they transmit different frequencies and have different wavelengths. The Wi-Fi with 5 GHz has a shorter wavelength. As a result, it has more speed and can be used by a higher number of users. On the other hand, the 2.4 GHz has a longer wavelength, because of which it does not have enough bandwidth. A limited number of users only can handle it. 
On the other side, 2.4 GHz Wi-Fi is better as its signals can pave their way through hard and solid objects and cover a longer distance comparatively. On the contrary, 5 GHz Wi-Fi cannot pass over harder objects and longer distances. 
There are specific times when one of the dual bands is better to use. Some scenarios are listed below:
At What Times The 2.4 GHz Wi-Fi Band is Better? 
There are specific scenarios when the 2.4 GHz Wi-Fi band is better than the other. Some of these scenarios are:
Having less number of users. 

Having a low data package. 

When you have work, that is fine with a lesser bandwidth. 

While you are using Wi-Fi very far from the router.

When you believe that a single-band router is safer to use. 
Gamers Prefer using a wired connection while doing so. 
At What Times The 5 GHz Wi-Fi Band is Better?
There are specific scenarios when the 5 GHz Wi-Fi band is better than the other. Some of these scenarios are:
Having more users. 

Doing work that requires a higher bandwidth. 

Having a good data package. 

Using high-speed internet. 

Experiencing connectivity difficulties while using the other hand. 

While working or using the Wi-Fi in a crowded space. 
Watching videos/movies or any other HD streaming. 
How Does Dual-Band Router Work? 
You have now got your answer to "Does dual-band router switch automatically?" In this section, we will explain how dual-band Wi-Fi works. As we already know, these routers support both bands; however, your device automatically chooses which band to use.
Note that it selects the band at the start of a session and does not switch between them later on. In some cases, the routers implement band steering. It means that they do not give any power to the device and themselves look into the amount of traffic coming on the 2.4 GHz and steer the device to the 5 GHz band, finding that the 2.4 GHz band is too congested. This is why choosing a good router is of utmost importance.
How To Setup A Dual-Band Router? 
Now that you know whether a dual-band router switches automatically between bands, we will help you understand how to set up a dual-band router.
In doing so, the first thing you must ensure is that your device supports 5 GHz 802.11n. 

After this, all you have to do is connect all the devices. Affix your PC or laptop to the router using a LAN cable. Follow this by connecting your router to a modem through the WAN and attaching your modem to the internet supply. That's it. 
Now, configure your computer. Here, set up your device so that it gets the IP address on its own. Follow the steps on-screen, and you will have your system configured. 
After this, set up the router. In your browser, type 192.168.0.1. You will reach the page where you can set up your dual-band router. Enter the login credentials. Your router generally provides it. 
Next, go to the Advanced option given on the top right corner of the screen. On the screen, you will notice the quick setup option. Click on it to set up your router. Here, you will have options to choose the type of internet connection. We generally select Static IP (This is an example). Next, choose the band. Set the SSID for it and the security key (password). Save everything. 
Here is the last step. Reboot everything. After doing this, log in the same way, go to Advanced Settings, and check the WAN Status. If you see this as Connected, that means you have successfully set up your router, and now you can use the internet through it. If it still shows Connecting, turn the modem and router off for some time, say 5 minutes, and turn them back on. It should do the job. You have now successfully setup your dual-band router.
FAQ's
Do devices automatically connect to 2.4 GHz?
The phones compatible with a 2.4GHz frequency will connect to 2.4GHz automatically.
Can I use both 2.4 and 5GHz at the same time?
If your device supports dual-band, then you can use both frequencies at the same time.
Is it better to have a dual-band router?
Dual-band router better than others because it provides more signal strength and more extended coverage.
What is the disadvantage of dual-band WiFi routers?
The setup is challenging to implement in dual-band. The problem of channel interfacing also occurs, which may distort the network.
Conclusion
Hopefully, the article has answered all the questions you had regarding dual-band routers: Does dual-band router switch automatically, how and why it happens, and how to set up one. We hope that this review has helped you get a clear understanding of this topic.