The power of a good email client is often overlooked, but it is essential for starting a new business or keeping track of emails. There are several email clients for Chromebook, offering various functionalities to help keep you more organized. With an email client, you need not revert to the tab where your email ID is open, and every time you receive an email, you get a notification regarding the email on the tab you're on.
7 Best Email Client For Chromebook
Gmail
Microsoft Outlook
Hunter for Chrome
RightInBox
Thunderbird
Taskforce
Boomerang for Gmail
Gone are those times when you regularly have to check your email tab for any new emails regarding work. You can expect much more in terms of functionality from email clients than notifications. Some include creating to-do lists, scheduling meetings, and organizing your emails as required. So without further ado, let's get into it. 
Gmail
Gmail, without a doubt, is the most celebrated email client for Chromebook. It offers endless functionalities to its users. It offers Gmail tools to increase productivity. You can send and receive emails as well as attachments with this software provided by Google. Gmail is equipped with strong encryption to ensure your complete privacy. By enabling notifications, you can be on any tab and receive updates regarding any kind of email activity.
The emails can also be sort into various categories to organize them. Finally, Gmail itself is integrated with other services offered by Google, e.g., google drive, photos, etc., that you can benefit from. It is also comes with various other email providers like Yahoo and Outlook. Finally, it offers 15 Gb of free storage; therefore, Gmail is a lucrative option for new businesses. 
Visit: Gmail
Find How: Sort Gmail by Sender, Subject, Size And Labels
Microsoft Outlook
Microsoft Outlook is a Chromebook email client app by Microsoft Inc. In order to access this service; you need to have a Microsoft account or Office 365 suite. The email client works tremendously well in securing your emails from hackers as well.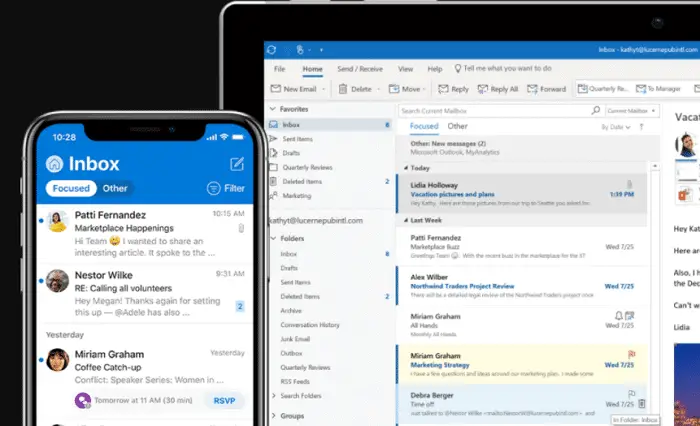 Besides sending and receiving emails, Outlook offers various other services too. You can schedule your meetings, organize your data such as contacts and make notes. 
Visit: Microsoft Outlook
Hunter for Chrome
Hunter for Chrome is a nifty software that you can utilize to make finding email addresses easier. What it does is that it helps you detect the email address of the website that you're visiting.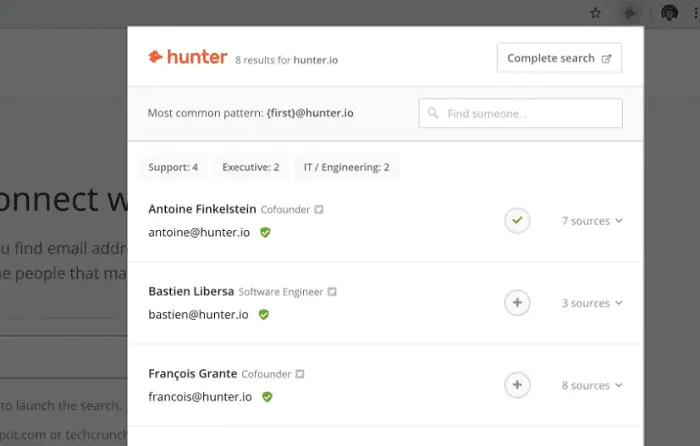 It shall render you the source of the email along with its date of discovery. This functionality can come in handy for a wide array of professionals, ranging from freshers to sales teams of businesses. It is a free service, and you should definitely take advantage if you're seeking to make work a little easier for yourself.
Visit: Hunter for Chrome
RightInBox
This is an email client for Chromebook that is widely renowned for its flexibility and ease of usage. The application offers a wide array of services. Some of these include creating recurring and follow up emails, making notes, and accessing professional-looking templates.
You can schedule important meetings too. Finally, this service allows you to seamlessly integrate all work-related emails with their Customer Relationship Management application. It is a free email app for Chromebook and definitely a useful one. 
Visit: RightInBox
Read More: How to Send an Anonymous Email with Four Different Ways
Thunderbird
Thunderbird is an email client for Chromebook that is developed and provided by the web browser, Firefox. This email client is highly versatile and supports multiple email accounts, e.g., Gmail, IMOP, etc. The software will manage your data seamlessly.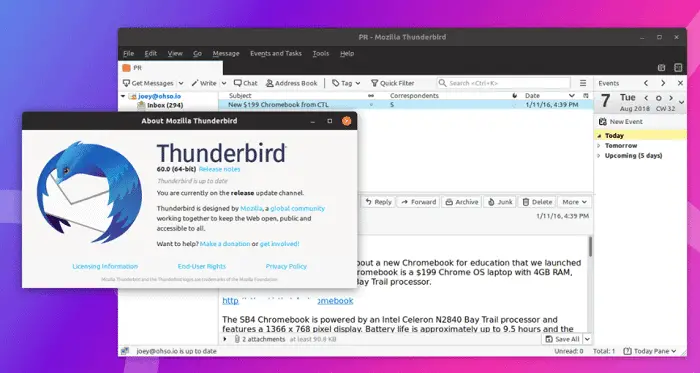 It will also organize your email on the basis of its date of receipt, tags, folders, etc. It also works brilliantly for filtering out spam emails. Thunderbird will also support multiple file formats, e.g., mBox and Maildir. 
Visit: Thunderbird
Taskforce
The taskforce is the best email app for Chromebooks for students and businesses. This email client works fairly different in the sense that it lets you convert emails into tasks. Each email is organized into to-do lists for easier functionality.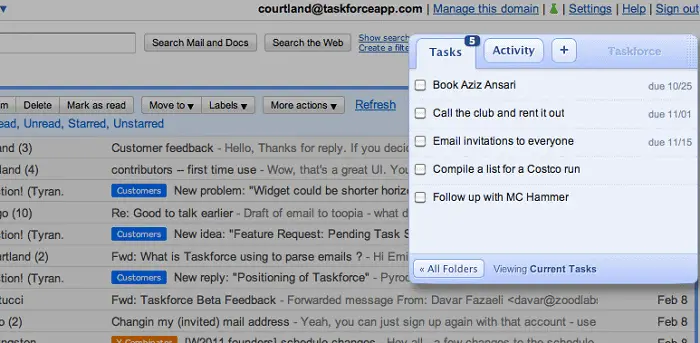 You can share these with your contacts too. If you're looking to improve your productivity, this is the email client for Chromebook to get.
Boomerang for Gmail
Boomerang for Gmail is a nifty email provider to help bring some more functionality to Gmail. With Boomerang, you can schedule emails to be sent at a later time. Postponing of incoming emails is also possible with Boomerang.
You can also manage emails on the basis of their priority as well. There is also a Pausing inbox feature that is highly useful for avoiding unwanted emails. Overall, it integrates brilliantly with Gmail, making it a great email client for every work. 
Visit: Boomerang for Gmail
So here's our list of the best email client for Chromebook. Each Chromebook email client offers its unique functionalities. Now, depending on your business type or requirement, you can make your selection with ease! 
FAQ's
What email do you need for Chromebook?
For Chromebook, you need the email and password of your Google Account.
Why do you need a separate email client for Chromebook?
The default email client for Chromebook is Gmail. You can also use other clients according to your need which includes Microsoft Outlook, RightInBox, TaskForce, Hunter for Chrome, etc., as alternatives.
How do I change my email client?
Go to Chrome Settings and look for default apps; you can find the default apps used. You can alter that by clicking on them.
Why won't Gmail open on Chromebook?
You can try specific steps to try opening your Chrome. Restarting your device or utilizing it in a different browser are both options you have. Additionally, check to see if your gadget is current and connected to the internet.