Suppose you have lots of vital and private data, such as essential files, images, documents, etc., on your computer. It is always better to keep your computer password-protected so no one else can access your computer's vital and private files without your permission. Privacy is essential; unfortunately, it is something people do not respect nowadays. Nobody seems to understand the importance of personal space or cyber privacy anymore. It is unethical if your friend comes to your house and checks your computer randomly. That's why you need Facial Recognition Software.
Some of the best Facial Recognition Software:
True Face
Kairos
The Rohos Face Log-On
Any Vision
Affectiva
Key Lemon
Toshiba Faces Recognition Software
Face Access
A computer is a person's private property, and one should not browse all the files on a person's computer without the person's permission. With almost all important files and documents stored on your PC, you should ensure your computer is password-protected. There is nothing evil in going ahead and adding some additional layer of security to your PC. I am talking about facial recognition software for your PC. You might have seen movies where the hero, a secret agent, holds his face in front of a scanner to access some essential room or highly confidential files on his PC. This is precisely how a facial recognition scanner works for your PC.
Why Facial Recognition?
There are various risks involved with keeping just a text password, like forgetting the password or some hacker cracking your password and gaining access to your computer.
Any hacker cannot hack the facial recognition software as it only grants access to the computer once it scans the bio-metrics of your face. After installing this software, you can scan your face initially; the software will scan your face, then remember it, and store it in its memory.
Once this process is completed, you can only unlock the computer by scanning your face. The only thing you require to get this facial recognition software to work is a webcam to scan your face. There are various facial recognition scanners for your Windows PC out there. Following are the ten best softwares for facial recognition for Windows.
Facial Recognition Software For Windows
Here are the Top 14 Best Software for Facial Recognition for Windows that you can use.
True Face
Trueface changes clients' camera information into significant data. The organization uses PC vision innovation to camera streams to empower organizations to settle on immediate arrangements dependent on distinguished examples. Established in 2014, the California-based organization offers assistance with speed and straightforwardness.
NIST confirms Trueface, and with its first accommodation, it is positioned in the world's leading ten for authentic match speed of face formats. The organization's accomplices are industry pioneers in retail, Fintech, security, and also friendliness.
TrueFace is an industry-driving PC vision model that assists individuals with sorting out their camera information and transforming it into significant data. It offers just on-premise PC vision arrangements, which improves information security and execution speeds for its accomplices.
The stage freethinker arrangements are prepared explicitly for every organization and work in various biological systems. It puts the most extreme need on the variety of preparing information, guaranteeing equivalent execution for all identities and sexes.
Trueface has built up a set-up of SDKs and a dockerized compartment arrangement that tackles the forces of AI and man-made brainpower to change the camera information into significant knowledge.
Facial acknowledgment, weapon recognition, and age check advancements are, for the most part, effectively deployable on associations' framework, establishing more secure and more intelligent conditions for their clients, representatives, and visitors, and that's just the beginning.
Visit: TrueFace
Kairos
It gives best-in-class, moral recognition to engineers and organizations across the world. They can make it more secure and more available for client encounters.
Kairos Face Recognition On-Premises controls information protection and security 100% while keeping basic information in-house and away from outsiders/programmers. It additionally accelerates the face acknowledgment empowered items that diminish idleness hazards related to running on open cloud arrangement.
Kairos is developing new business sectors with certainty alongside its super adaptable engineering, which means individuals can look through 10 million appearances at roughly a similar time as one face.
Visit: Kairos
The Rohos Face Log-On
Rohos Face Log On is as good as any face recognition software available for Windows PCs. It has multiple useful features, and you can also keep the satisfactory registered face patterns and delete the unsatisfactory ones. The power-saving feature automatically stops using your laptop's camera once no one is in front of the computer.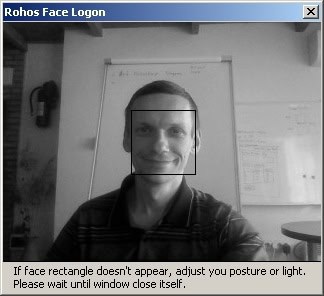 You can even utilize a USB flash drive as a key. The self-training feature of this software is handy as it avoids failure of face detection, and also, this software is very safe, secure, and easy to use. This is one of the best software for facial recognition for Windows PCs.
Visit: Rohos Face Log On
Any Vision
AnyVision is the world's driving visual AI stage software that gives visual knowledge to make the world more secure. The software's AI-driven PC vision arrangement helps individuals get to spaces, encounters, and administrations with certainty and accommodation.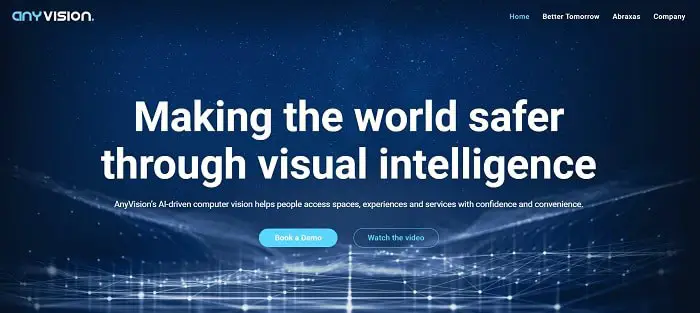 AnyVision bridles its front-line research and amazing innovation stage to make the world more secure, instinctive, and associated. Its answers are worked to work on any camera, with any goal, and are demonstrated to work progressively and in true situations with the most noteworthy exactness.
Visit: AnyVision
Affectiva
Affectiva, an MIT Media Lab spin-off, made and characterized the Emotion AI class. Its human discernment AI investigates complex human states.
Based on profound learning, PC vision, discourse science, and gigantic measures of certifiable information, Affectiva's innovation can identify nuanced human feelings, complex intellectual states, exercises, communications, and articles individuals use.
Its in-lodge detecting AI empowers vehicle makers, armada directors, and ridesharing organizations to work with cutting-edge versatility. That faculty adjusts to complex human states for improved well-being and customized transportation encounters. This is a great face recognition software to use for complex human states.
Visit: Affectiva
Key Lemon
Key Lemon is one of your Windows PC's best facial recognition software. It is very trustworthy, as thousands of people across the globe use it.
With Key Lemon, you can easily log into your PC without repeatedly typing your password. It uses the webcam attached to your computer or laptop to scan your face.
Using this, you can be 100% sure that your files and documents on your PC are safe and can be accessed by you and you alone. The best part is that you can also log in to various social media accounts, because of which you can say goodbye to the tedious typing in your password repeatedly.
Visit: Key Lemon
Toshiba Faces Recognition Software
We all know that Toshiba is a well-known brand around the globe and that they have gained goodwill by selling high-quality electronic products like Air-conditioners, TVs, Washing machines, etc.
Toshiba has developed facial recognition software for Windows. Since Toshiba makes it, you can be 100% sure about the effectiveness and safety of this software. This software makes logging into your computer safe and also easy.
All you need to do is get your face scanned, and you are ready to use your computer. Scanning and gaining access to your computer hardly takes 5-7 seconds, which is very little. Toshiba's Face Recognition software's facial recognition technology is on point and accurately scans a person's face.
Fast Access
Fast Access claims to recognize your face up to 2.5 times faster than all the other facial recognition software. It scans your face in any lighting conditions very quickly. With quick access, you don't have to remember passwords to your PC and social media accounts. All you have to do is get your face scanned via Fast Access.
Fast access has zero false recognition, which means better and improved security. You can use quick access on a device for different people using the device. For example, if you have a laptop in your family used by four people, then all four people can create a different account for fast access.
All you have to do is scan your face using face access, and you will be automatically logged in to your Windows account full of your images and documents.
O2 Face
O2 Face is the product of the well-known company O2 Micro. It is one of the best facial recognition software available for Windows PCs. Its facial recognition technology is very accurate.
This means you can trust this software to reject access to anyone trying to log into your PC. O2 Face is a very trustworthy name, and also thousands of people use it across the globe.
The best feature of this software is the "leave detection feature." This feature is handy as it automatically locks your computer once your face is out of the range of your webcam.
This feature ensures your PC is logged out correctly every time you are away from your PC. Even if you forget to lock your computer, there is no need to worry, as O2 Face does the task for you.
Visit: O2 Face
Face Log on Xpress
Face Log is a product of XID technologies. XID technologies have won numerous awards for excelling in various technology fields and is an excellent facial recognition software for Windows.
This Face Log on Xpress has a multiple account access feature that stores the passwords of different people. It also grants access to the files and passwords of the person scanning the face accurately.
With Face Log on Xpress, you no longer have to remember your passwords. This software will do all the remembering for you.
The artificial intelligence of this software is excellent, and the chances of false facial recognition are zero. The user interface of this software is very plain and simple, and also the installation process of this software is fundamental.
Visit: Face Log on Xpress
Face Code DX
Face Code DX is another facial recognition software for Windows, and the high-tech artificial intelligence of this software makes sure that the software scans your face accurately and quickly, no matter how poor or bright the lighting is. It accurately scans your face in all kinds of ambiance.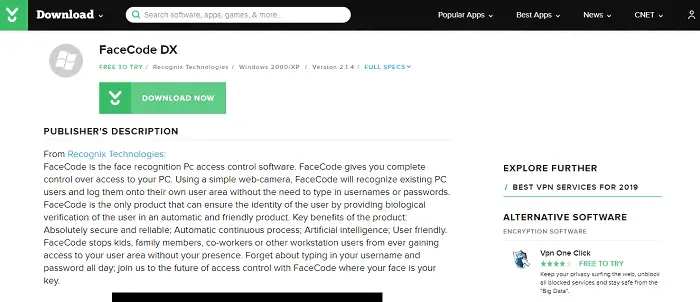 Face Code DX has multiple account access features in it. You can also scan your face and get access to all your documents, files, images, and saved passwords instantly. The software is straightforward to use.
This software saves a lot of your time, and it also rescues you from the tedious typing process of your passwords repeatedly.
Visit: Face Code DX
FaceMetrix
FaceMetrix is a facial recognition software that compares the face in front of the webcam with the images stored in its database and grants access to the computer within seconds. It is a big-name player among all the facial recognition software.
FaceMetrix allows up to 5 users to store their passwords, or you can replace them by scanning your face. It is a highly efficient artificial intelligence that can detect and recognize faces at any angle or lighting conditions. This software is very safe and secure, and it is also a product of Pen power technology.
Visit: FaceMetrix
See Also:  Best Stop Motion Software for Windows 
FaceAether Windows Login
FaceAether Windows login is available in two versions. The basic version and the pro version. The main difference between these two versions is that with the pro version, you can remember as many passwords as you like for as many websites as you like.
FaceAether has very efficient artificial intelligence that quickly detects the face of the user within a matter of a few seconds. The required time for logging into your computer using this software is 1-3 seconds, and because of which, FaceAether is one of the best and most popular software for facial recognition in the world.
Visit: FaceAether Windows Login
Blink
It is the best facial recognition software available for Windows, having many unique features that separate it from all other facial recognition software on the list. For example, it detects the face of the person even if the person has tried a different hairstyle.
It also detects the face even with changes like the person putting on specs or contact lenses. Blink also automatically takes a photo of anyone trying to log into your computer.
You can later see the pic of the person who tried to connect to your computer in your absence and can secure your PC from your siblings or snoopy friends even when you are not around.
Visit: Blink
Also, Refer: 23 Best Image Viewer Software To Download
Learn how to boost online identity verification by clicking here.