TiWorker.exe, heard this software name? It is quite notorious for using entirely too much of the CPU. You might have often wondered, what exactly does a TiWorker.exe software do? It is a WMI software, which is short for Windows Modules Installer. It is supposed to scan and install necessary windows updates occasionally.
But the high CPU utilization for the same does not make sense, right? I mean, why would a simple software updater take up resources so intensively? After a deep research, I discovered that it only does that if an installation turned out to be erroneous. So what to do now? You will be happy to know that there are easy fixes for this problem. So here are 5 such solutions to fix high CPU usage by TiWorker.exe.
Solve High CPU Usage by Tiworker.exe
Run System Maintenance
You can try running system maintenance to fix this high usage problem. To do that, open up control panel through the start menu. Head over to System and Security option. There you'll see the Find and Fix problems option. Click on it.
Choose the System maintenance option and hit next. Run the troubleshooter and let it find the problems present if any. It might ask you for administrative privileges, grant it. It will start detecting issues and come up with a small report.
This should quickly fix the problem if it turned out to be a minor error regarding data corruption or something like that. Try it; it might work out just fine for you.
See also: – [Solved] Fix Error 0XC000021A in Windows 8 and 10 – TechWhoop
Try and run Windows updates
Running windows updates might eventually fix the problems caused by the incomplete execution of the previous batch. Enter control panel again through Win+X keys. Check for updates and install any available ones. If you're on windows 8 or 8.1 versions, you can do the same by heading over to settings, and check for updates under windows updates option.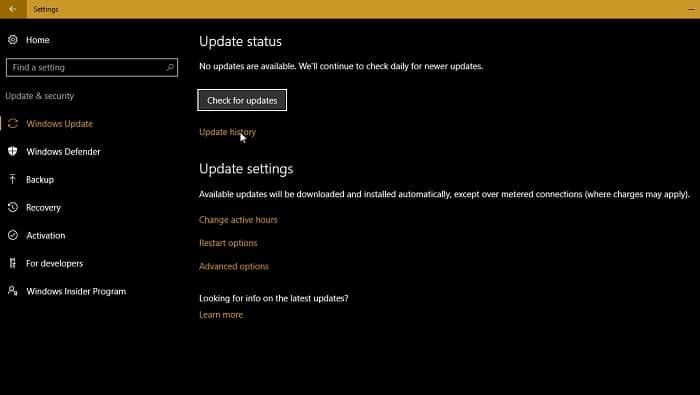 It is pretty much the same for Windows 10 users. The settings are located under the update and recovery options. Install any pending updates and reboot your system. That should likely fix the abnormally high CPU usage by TiWorker.exe.
Run System file checker
To run system file checker, first, run the command prompt as admin. You can do that in many ways, one of which is pressing WIN+W and typing cmd. Then right-click on the search result and select Run as Administrator.
Type sfc/scannow in the command window and wait for it to complete. It checks for all the essential software and replaces any seemingly corrupt program files with the ones that are stored as system backup, or the mirrors, if available from the local cache. Either way, your problems are usually listed on the prompt after this command.
If it says, Windows Resource protection found corrupted files, paste this command:
Dism /Online /Cleanup-Image /RestoreHealth
It will perform a quick clean-up of your system and do the necessary replacements. After the progress bar completes, reboot your system and test it once again using the first command mentioned.
See also: – How to Solve "SYSTEM_THREAD_EXCEPTION_NOT_HANDLED" Error
Repair corrupted files
If you do not wish to remove or disable the TiWorker.exe and want the windows updates to be installed correctly, you need to repair some possibly corrupted software using some third party aid. To do that, you need to download a repair and replace application on your system.
I suggest a software called Reimage Plus. Download the .exe file and run it on your computer. It will scan your system files and find the ones that are seemingly corrupted. It will fix the errors that might have occurred while installing the previous batch of updates using TiWorker.
      Want to convert your Laptop into custom computer? Click here! 
You can replace most of those files with new ones and reboot. Installing latest windows updates are essential to some people, and to them, this method is recommended. I cannot guarantee that it will work every time, but it will surely fix minor issues with your system updates software.
Clear update cache
Sometimes, a little bit of cache memory can be a very annoying thing. It is worth a shot to clear the cache if your TiWorker.exe does not shut up in the task manager. To do that, go to Run by pressing WIN+R keys. Type in services.msc and hit enter.
Switch over to the standard view for your convenience, and search for an option called Windows Update. Select that option by double-clicking on it.
You will see the service status under the general tab as running. Click on the stop button right below it to kill the process from running in the background. Now, to remove all the already existent files from cache, go to this path in your file system:
C:\Windows\SoftwareDistribution\Download
You might see some entries there; those are all the files and data present as cache memory. They need to go!
Select all the entries by pressing Ctrl+A and delete them. It will ask you to grant administrative privileges to delete them. Click on continue and proceed to move them to the recycle bin. Clear them out from there too later on. Now you have to restart the service which you stopped earlier.
See also: – Top 10 Best Free Malware Removal Tool For Windows – TechWhoop
Head over to the same place where you clicked stop on the windows update option. Double click on it again and select start option this time. These were some of the working ways to fix high cpu usage by tiworker.exe.
      See also: CPU Temperature Monitor Software