CAD or Computer-Aided Design is a must-have designing tool for most enterprises for designing and correcting projects. The purpose of using CAD varies from designing a small hairpin to a large township. Planning and designing using CAD is a very skillful job. Most industries use one or the other version of CAD according to their specific need.
Professional CAD software is very costly due to its demand and features. A student, on the other hand, needs free CAD software for learning and designing purposes on a very small scale with fewer features. However, being a student, CAD software is very costly to buy and use. To cater to the need of such a community of first-time learners, free versions of CAD are available in the market. Many use these free versions of CAD for the purpose of practicing.
As many software are available in the market, before using (or downloading), we need to know about them and select the best from the lot. After much research, I have found a few such software which is free of cost and sufficed the need of the learners.
See Also: 8 Whiteboard Games For Seniors
Top 20 Best Free CAD Software For Windows
Here are the top 20 best free 3d cad software for Windows.
Autodesk 123D Design
Autodesk 123D Design is the free version of CAD created by Autodesk. This is the best tool for beginners to learn design, to get a solid foundation. The software is like Autodesk's Inventor. It is very powerful yet simple to operate. The software is best for 3D designing and editing tools.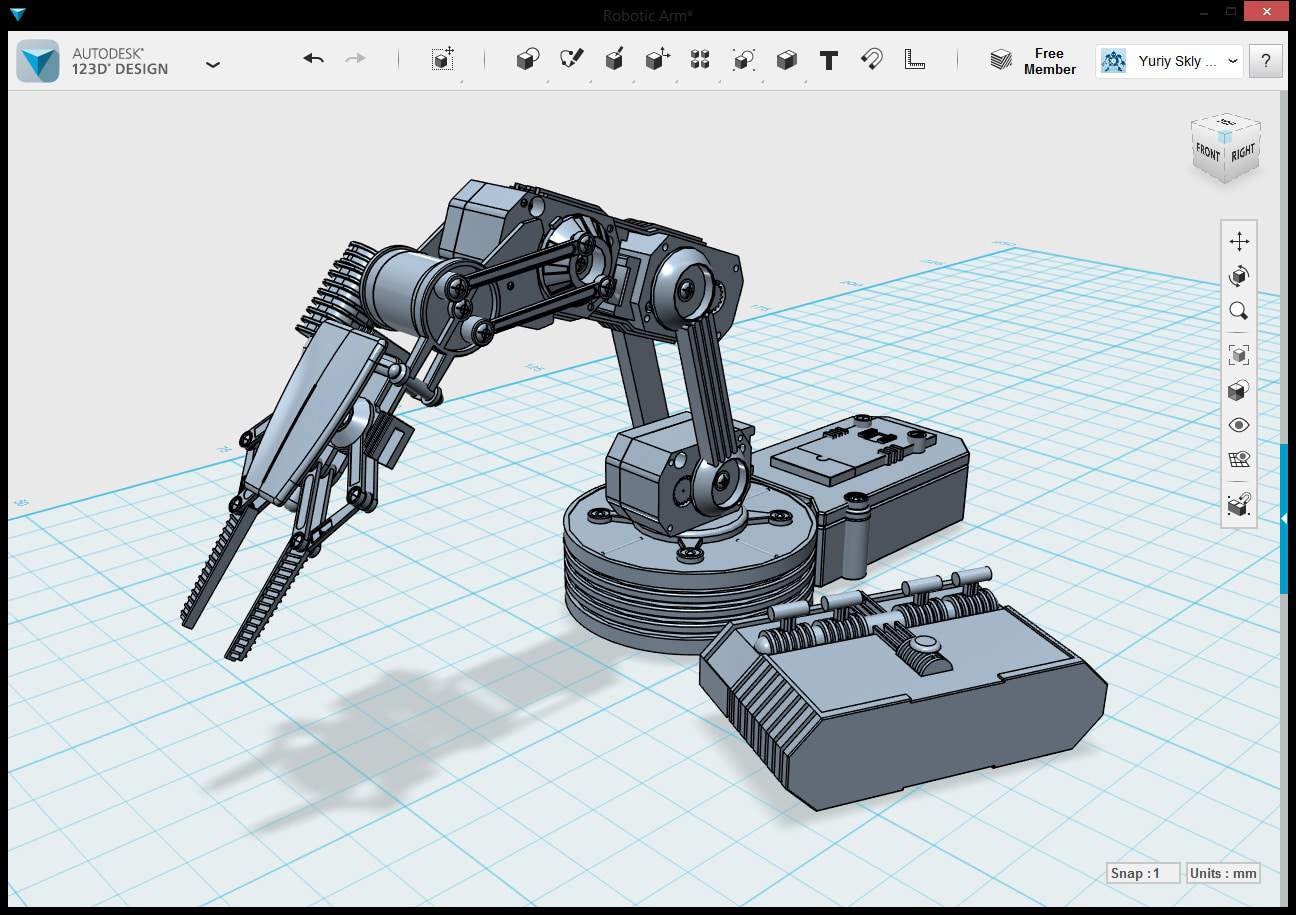 There are many great tools available in the software which cannot be found in other free software. The user graphic interface is very intuitive. The tool is compatible with almost all 3D printers available on the market. The software is the best CAD tool available in the market free of cost.
Visit: Autodesk 123D Design
See Also: Top 12 Free Writing Software | Create Better Content Faster
LibreCAD
LibreCAD is an open-source free CAD Software. This software is another great tool for technical designing purposes. The tool is best for high-quality 2-D designing purposes. Though the software comes in a small package, there is a great feature in this tool. It has features like usage of layers, snap to grid for designing, measurement inside design, and much more.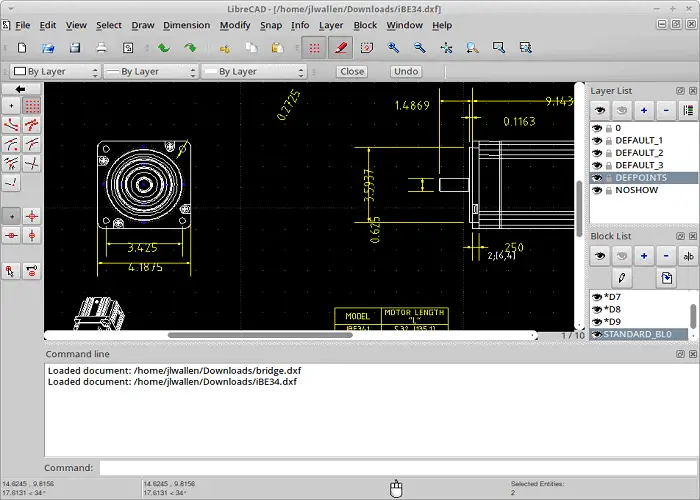 The tool is pretty simple to use. But, if any beginner feels difficulty in using it, they can refer to the user manual provided on the wiki page of the software. The feature in the tool is sufficient enough for designing purposes. This tool is free of cost.
Visit: LibreCAD
See Also: Best Free Home Design Software for Windows
Sculptris (Free CAD Software)
Sculptris is a great sculpting tool. This CAD tool is for designing 3-D sculptures. The tool has been developed by the same developer who designed ZBrush. Though the features in this tool are much less compared to ZBrush, they are quite sufficient for beginners to start with.
Create your version of sculptures with the rich sculpting toolset available in the software. A tool is a professional tool yet free of cost. Before moving to professional tools like Mudbox, you can try this for practice.
Visit: Sculptris
See Also: Top 10 Best Free Online Bookmark Managers [2021 Updated]
SketchUp Make
SketchUp Make is a popular 3-D modeling software. This tool is used mostly for architectural purposes and other minor 3D designing purposes. This tool is most suitable for minor 3D project modeling. It allows much third-party software to extend their extensions in the tool (mostly free).
SketchUp Make has a special additional feature called SketchUp Warehouse which contains many designs made by other users. Users can download, modify, and redesign these designs according to need. This great tool is free of cost.
Visit: SketchUp Make
Fusion 360
Did you know about 3D modeling? Do you want to start with making your 3D models? But after experiencing the hard-to-use tools of 3D modeling software, you quit this thought. Don't worry! Just surf the internet and download Fusion 360. This best free cad software for beginners is specially made for amateurs who are new to 3D.
Get started with this straightforward software created by Autodesk. The best part about this program is that it is freeware. For 3d designers, college students, or someone who likes 3d modeling as their hobby, this is adequate software. You can easily create 3D elements, render your project, and start a simulation in the same software.
This software can help clear your concepts about basic 3D modeling. If you want to extend your project in the future, you can import it to CAM or CAE program flawlessly. You can also bring different projects in one window. You will never quit 3D modeling if you start with this elementary software.
Visit: Fusion 360
TinkerCAD (Free CAD Software)
Suppose you are working for a company and get a call from your boss to create a 3D model of the office, but you are at some relative's home who doesn't have CAD software. Downloading CAD software will take lots of time.
So if you want to meet your deadline, then utilize TinkerCAD, an online free drafting software to create 3D designs. This is an online approach to 3D modeling.
The notable thing about this tool is that it is pretty straightforward and free to work with. You don't need prior information to use this program. The best part about this is that TinkerCAD provides fun tutorials to get you started.
If you are a gamer, you must have heard about Minecraft? You will be stunned to know that you can make models like Minecraft using this online tool. Being online, it is not packed with so many features as the offline ones.
Still, this is made up of our list because of its popularity. This also comes with a preloaded gallery where you can find lots of elements to download. You must give this online tool a try.
Visit: TinkerCAD
See also: Top 6 Free STEP File Viewer Software for Windows [2021]
OnShape (Free CAD Software)
OnShape is the latest approach to creating 3D elements. Like TinkerCAD, it is also one the adequate Web-Based modeling software. It is based on cloud computing, so if ever by mistake, your browser closes, your data will never be lost. Its changes are automatically saved, so never worry about your design or file loss.
This software has premium access with lots of features, but it provides a no-cost version to learners, teachers, or design enthusiasts. You never have to worry about software crashes or any other problem while using this software. So what are you waiting for? Use this software and create new wonders.
Visit: Onshape
DraftSight
DraftSight has been developed by Dassault Systèmes. They are also the publisher of industry giants such as CATIA and Solidworks. This tool is the best free drawing software that is useful for students, professionals, or educators. This tool is great in supporting the creation, insertion, and editing of the project in the DWG format.
The interface is very simple and not very eye catchy, but perfect for intermediate CAD users. Users are provided support by the developers if needed. The software allows users to save and export the design in PDF format. This tool is completely free.
Visit: DraftSight
See Also: Crello Review: Easy to Use Free Online Graphic Designer Tool
FreeCAD (Free CAD Software
FreeCAD is an open-source free CAD Software. The main use of this software is for mechanical engineering. This software can also satisfy architectural or other engineering purposes. The software is highly customizable and you can add the very advanced extensions.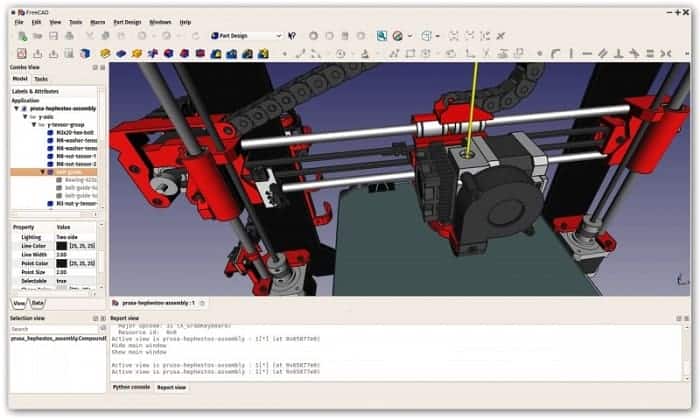 The feature list of the software is great with many surprising tools. These tools, help in easy modification and creation of the 3-D model in the software. The tool is open-source, is free of cost.
Visit: FreeCAD
QCAD
QCAD is one of the best platforms for creating 2-D designs. The primary use of this tool is for a technical drawing of buildings, mechanical parts, and other diagrams and schematics. The user interface is quite neat and clean. It is easy for even a beginner to use the software.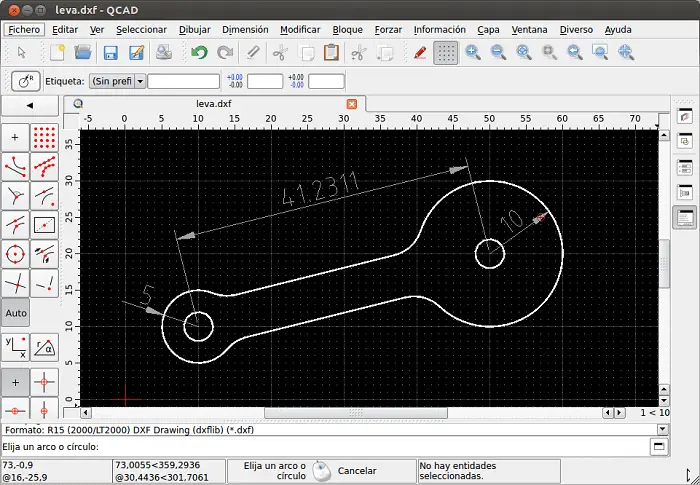 The tool is open-source software, and the tool is quite portable and extendable. Many add-ons and other features are available in the tool. Though this tool is free of cost-sharing of design is only available in the paid version.
Visit: QCAD
OpenSCAD (Free CAD Software)
OpenSCAD is a unique tool among the best free drafting software above. This tool is used to design 3-D objects. The environment is not interactive like other software. The tool is a 3-D Compiler for designated textual description language.
This tool is not for everyone. Those who are die-hard designing fans and want their design come to life through a 3-D printer can use this tool. If the user determines to design a precise machine part, then the perfect tool for the job is this software. This software is freeware.
Visit: OpenSCAD
See Also: Top 11 Best Psychic Apps for Android & iOS 
NanoCAD
NanoCAD is another tool on the list of best free CAD programs. This is the basic version of AutoCAD. This tool has a powerful spreadsheet editor. This tool has many unique features like Autodesk's AutoCAD.
The tool contains many features with paid and used by advanced users. This tool provides full DWG file format support. This tool is good for both beginners and advanced users.
Visit: NanoCAD
See Also: 10 Best Email Spoofing Tool With Advance Features
Blender
Blender is an open-source professional graphic design software. The use of this tool is for multiple purposes like designing, animation, art, visual effects, and much more. It also has sculpting features added to its list.
This tool has many tools and add-ons, which makes the 3-D printing of objects much easier. This tool is not for beginners and is not easy to use. Those who have gained knowledge in designing previously and are eager to use free CAD Software can opt for this tool.
Visit: Blender
TurboCAD

 

Deluxe

 

2021 (Free CAD Software)
TurboCAD Deluxe 2021 is a fast yet easy CAD application suitable for both young and medium-sized CAD consumers. Although it does not include as many tools and functions as advanced software, this tool is the most powerful tool which will assist you in creating 2D and 3D designs.
Because of its low cost and functional characteristics, TurboCAD Deluxe 2021 is the most reliable CAD software tool that is accessible to beginners. This program costs less than $200 and has unlimited technical support so that after it's purchased, you won't have to pay additional money. This is an excellent choice for newbies with its simple design and big icons. Nevertheless, other resources and functionality of advanced software are missing.
Visit: TurboCAD
See Also: 6 Best Online Whiteboard Tools of 2021 | Best Virtual Whiteboard
SolidWorks

 

2021
Dassault Systèmes has been designed and built to improve the intensity and easiness of SolidWorks 2018 relative to many other states of the art CAD systems on the market.
Technical preparation is still required so that gathering will be more straightforward.
The Security Wizard Variable tests the plans and helps you to identify and strengthen issues before actual prototypes are produced. You and the business can save a lot of money in the development of designs and research.
It is also relatively small for this specialized plan, but you still have to prepare to pay a couple of thousand dollars a year, plus technical support, in the payment phase.
Visit: SolidWorks 2021
CATIA

 

V5
CATIA is a software specialized in the fields of design and engineering curriculum for professionals. It regards as a vigorous and expensive service in the sector.
Moreover, this top software makes it much more challenging for usage among people using CAD because of all its peculiarities. For example, some commands have to render in a particular sequence Hence you may need professional training through education or client classes if you may intend to use this curriculum.
It is probably a chosen system for many developers, although it's demanding and hard to do and through design options, it will allow you more creative freedom.
Visit: CATIA V5
AutoCAD  (Free CAD Software)
Autodesk is one of the trending 2D CAD and 3D designing software produced by Autodesk due to all of its comprehensive set of tools. This software can be used for different purposes, such as architecture or mechanical projects, to create plans or design plans.
You can work in 2D and 3D files using this software. Be mindful that AutoCAD is not a full 2D software, but AutoCAD offers students and learners a free version of the 2D CAD system.
Would you like more tips to cut the laser? Don't forget to sign up right here for our weekly newsletter!
We hope that you will make a choice and launch Laser Cutting projects with this range of design software.
Visit: AutoCAD
PTC Creo Elements/Direct Modelling Express (Version 6.0)
PTC is a notable name in the field of 3D modeling and design. The organization has created Computer-Aided Design (CAD), Product Lifecycle Management (PLM), Service Lifecycle Management (SLM), and other programming arrangements.
PTC Creo Elements/Direct Modeling Express 6.0 is another arrangement appropriate for amateur designers who need modeling experience. Although this module is accommodated for free, it isn't suitable for an amateur. The client should have certain knowledge if you utilize direct or parametric modeling programming before using direct elements.
It is the best option for experienced designers who knows about 3D CAD program.
Visit: PTC Creo Elements/Direct Modelling Express
3D Slash
3D Slash is free 3d CAD software and is outstanding amongst other free CAD drawing software for 3D printing students. This is simple to utilize programming that permits you to make models using a straightforward structure strategy, similar to TinkerCad.
It is fun and intelligent. The free STL files downloaded from Thingiverse can be edited in 3D Slash. This is the best free CAD software for beginners.
Visit: 3D Slash
Autodesk Maya & 3ds Max
In addition to the free 3D printing CAD software mentioned above, these two Autodesk software are good choices.
Maya can make more practical models than regular 3D modeling programming. It is primarily utilized for rendering, modeling, and animation.
3ds Max is quite possibly the most comprehensive modeling programming, fundamentally utilized by game developers and graphic artists. This product is appropriate for clients who have insight in proficient programming animation modeling like Maya.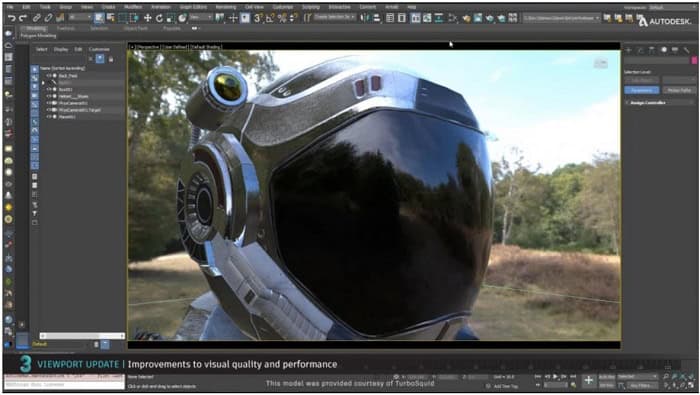 Both programs are paid, however free for students and new businesses, like Fusion360 for 3 years. Both programs are extremely proficient and have a high position in outstanding among another free CAD programming for 3D printing in all modeling programs.
This complete rundown of the best free CAD programs for 3D printing will direct new students to begin 3D modeling and enter the universe of 3D printing.
Visit: Autodesk Maya 
Visit: Autodesk 3ds Max
FAQs
Is there a free AutoCAD program?
For students and teachers, Autodesk gives a free instructive version that can run for 3 years on two individual devices. This is the manner by which you can get to the free instructive version of AutoCAD. Go to the Autodesk Education Community. Select AutoCAD from the software list.
What is the easiest CAD software to learn?
So, for an amateur, you can begin working in AutoCAD. It is one of the most punctual CAD programs accessible. Its software is straightforward, simple to learn, simple to use, and so more. Assuming you need to learn CAD, you can generally begin with AutoCAD.
Can I learn CAD on my own?
The most ideal approach to learn AutoCAD all alone is to track down an online course or tutorial that best suits your preferences and preparing needs. For instance, if you're predominantly a visual learner, you can begin with a YouTube video tutorial or pursue an online course with a ton of video content.
How much does an AutoCAD subscription cost?
The month-to-month membership charge for AutoCAD is $220, and the yearly membership expense for AutoCAD is $1,775. 2D and 3D CAD programming. The membership incorporates AutoCAD, unique tools, and applications.
Know More: AutoCAD Subscriptions
Conclusion (Free CAD Software)
Be it a 2-D or a 3-D model, the art of designing using CAD is unique. The list of free CAD software is innumerable in the market. The list is purely suggestive, and users can choose any tool according to their needs and skills. Any modification or addition to the list is most welcome.
Enjoy using the best free CAD programs!
Also Refer: DesignBro Review: All-in-One Platform for Logo & Brand Identity Design