CAD or Computer Aided Design is a must have designing tool for most enterprises for designing, and correcting projects. The purpose of using CAD varies from designing a small hairpin to a large township. The planning and designing using CAD is a very skillful job. Most of the industries use one or the other version of CAD according to their specific need.
The professional CAD software is very costly due to their demand and features. A student, on the other hand, needs free CAD software for learning and designing purposes on a very small scale with fewer features. However, being a student, the CAD software is very costly to buy and use. To cater the need of such community of the first-time learner, free versions of CAD are available in the market. Many use these free versions of CAD for the purpose of practicing.
See Also: Best Photo Management Software for Windows 
As many software are available in the market, before using (or downloading), we need to know about them and select the best from the lot. After much research, I have found out few such software which is free of cost and sufficed the need of the learners.
Top 10 Best Free CAD Software for Windows
Here are the top 10 best free CAD Software for Windows.
Autodesk 123D Design
Autodesk 123D Design is the free version of CAD created by Autodesk. This is the best tool for beginner to learn designing, to get a solid foundation. The software is like Autodesk's Inventor. It is very powerful yet simple to operate. The software is best for 3D designing and editing tools.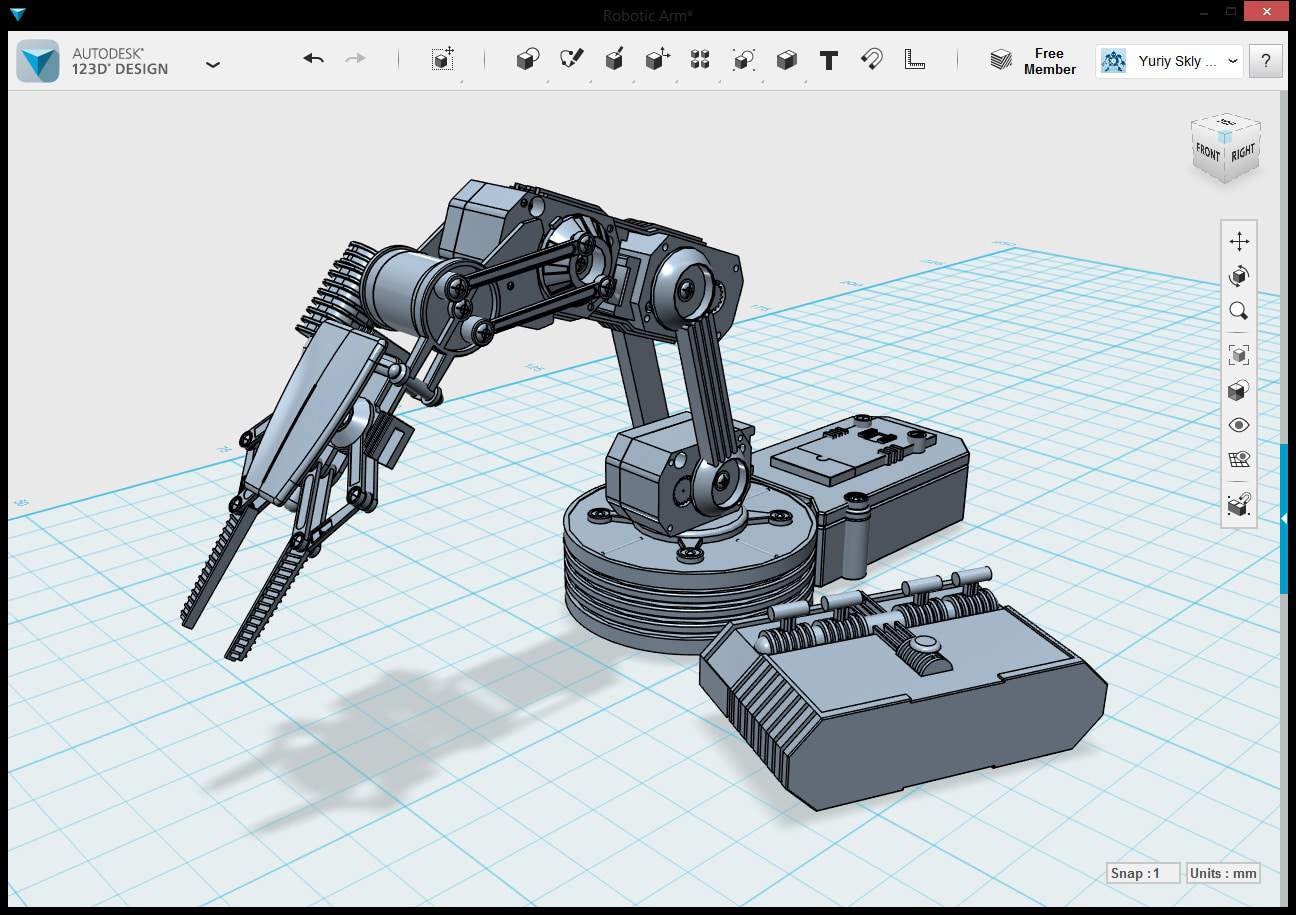 There are many great tools available in the software which cannot be found in other free software. The user graphic interface is very intuitive. The tool is compatible with almost all 3D printer available in the market. The software is the best CAD tool available in the market free of cost.
Visit: Autodesk 123D Design
LibreCAD
LibreCAD is an open source Free CAD Software. This software is another great tool for technical designing purposes. The tool is best for high-quality 2-D designing purposes. Though the software comes in a small package, there is a great feature in this tool. It has features like usage of layers, snap to grid for designing, measurement inside design and much more.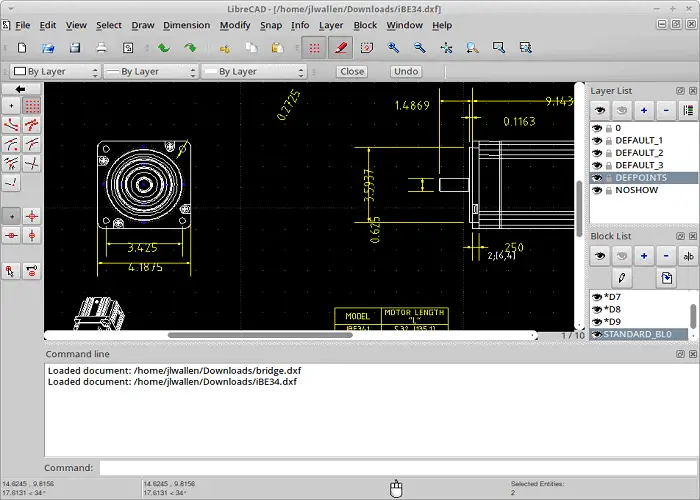 The tool is pretty simple to use. But, if any beginner feels difficulty in using it, they can refer to the user manual provided in the wiki page of the software. The feature in the tool is sufficient enough for designing purposes. This tool is free of cost.
Visit: LibreCAD
See Also: Best Free Home Design Software for Windows
Sculptris
Sculptris is a great sculpting tool. This CAD tool is primarily used for designing 3-D sculptures. The tool has been developed by the same developer who designed ZBrush. Though the features in this tool are much less as compare to ZBrush, they are quite sufficient for beginners to start with.
Create your version of sculptures with the rich sculpting toolset available in the software. The tool is professional tool yet free of cost. Before moving to professional tools like MudBox, you can try this for practice.
Visit: Sculptris
SketchUp Make
SketchUp Make is a popular 3-D modeling software. This tool is used mostly for architectural purposes and other minor 3D designing purposes. This tool is most suitable for minor 3D projects modeling. It allows much third-party software to extend their extensions in the tool (mostly free).
SketchUp Make has a special additional feature called SketchUp Warehouse which contains many designs made by other users. Users can download, modify, and redesign these designs according to need. This great tool to is free of cost.
Visit: SketchUp Make
DraftSight
DraftSight has been developed by Dassault Systèmes, the publisher of industry giants such as CATIA, and Solidworks. This tool is the best free drawing software which is useful for student, professionals, or educators. This tool is great in supporting the creation, insertion, and editing of the project in the DWG format.
The interface is very simple and not very eye catchy, but perfect for intermediate CAD users. Users are provided support by the developers if needed. The software allows users to save and export design in PDF format. This tool is completely free.
Visit: DraftSight
FreeCAD
FreeCAD is an open-source Free CAD Software. The main use of this software is for mechanical engineering but can be used for architectural or other engineering purposes. The software is highly customisable and very advanced extension can be added.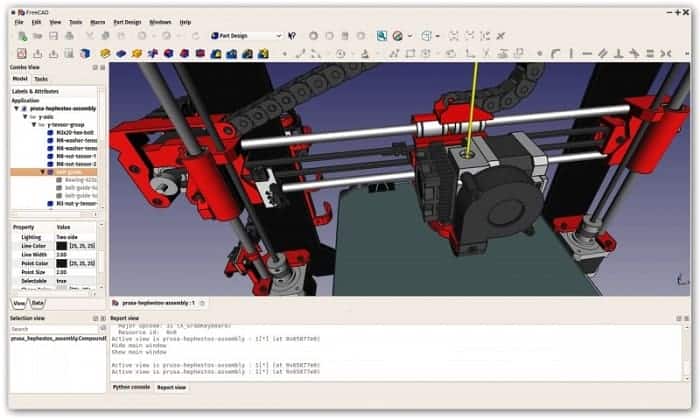 The feature list of the software in great with many surprising tools. These tools, help in easy modification and creation of the 3-D model in the software. The tool is open-source, is free of cost.
Visit: FreeCAD
See Also: 8 Best Free and Paid Virtualization Software of 2019
QCAD
QCAD is one of the best platforms for creating 2-D designs. The primary use of this tool is for technical drawing of buildings, mechanical parts and other diagrams and schematics. The user interface is quite neat and clean. It is easy for even a beginner to use the software.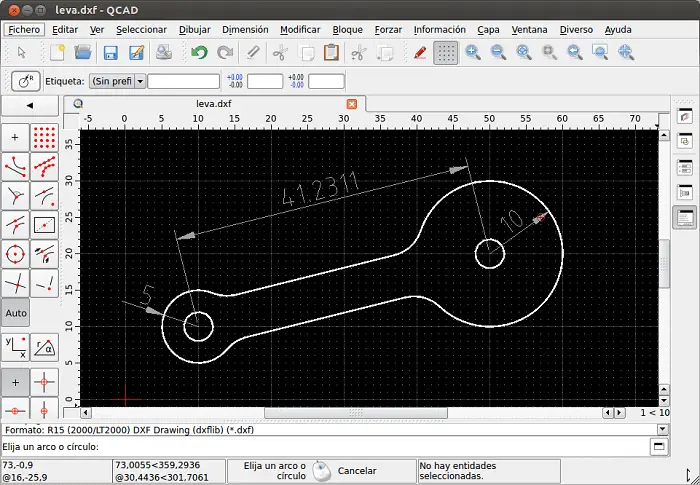 The tool is open source software, and the tool is quite portable and extendable. Many add-ons and other features are available in the tool. Though this tool is free of cost sharing of design is only available in the paid version.
Visit: QCAD
OpenSCAD
OpenSCAD is a unique tool among the Free CAD Software above. This tool is used to design 3-D objects but without any interactive environment. The tool is a 3-D Compiler for designated textual description language.
This tool is not for everyone. Those who are die hard designing fans and want their design come to life through a 3-D printer can use this tool. If the user determines to design a precise machine part, then the perfect tool for the job is this software. This software is a freeware.
Visit: OpenSCAD
NanoCAD
NanoCAD is another tool on the list of Free CAD Software. This is the basic version of AutoCAD. This tool has a powerful spreadsheet editor. This tool has many unique features like Autodesk's AutoCAD.
The tool contains many features which are paid and are used by advanced users. This tool provides full DWG file format support. This tool is good for both beginner and advanced users.
Visit: NanoCAD
Blender
Blender is an open source professional graphic design software. The use of this tool is for multiple purposes like designing, animation, art, visual effects and much more. It also has sculpting features added to its list.
This tool has many tools and add-ons, which makes the 3-D printing of objects much easier. This tool is not for beginners and not easy to use. Those who have gained knowledge in designing previously and are eager to use a Free CAD Software can opt for this tool.
Visit: Blender
Conclusion
Be it 2-D or a 3-D model, the art of designing using CAD is unique. The list of free CAD software's is innumerable in the market. The list is purely suggestive, and users can choose any tool according to their needs and skills. Any modification or addition to the list is most welcome.
Enjoy using Free CAD Software!
Also Refer: DesignBro Review: All-in-One Platform for Logo & Brand Identity Design