Most of us are pretty happy with our computer systems, or so I assume. They will be fresh and lightning fast in the beginning and will manage to run calm and quiet. But unfortunately, things don't stay butterflies and rainbows all the time, do they?
Our CPU start to liberate more and more heat, as our computer get heavily loaded over time. A loaded truck burns a ton of fuel to climb a small dune, naturally!
So if you have decided to take thermal throttling matters into your hand and try to lower the temperatures, or you just want to know just how hot is it down in that cabinet, you need a CPU temperature monitor app. And if you are on a windows based system, you are in luck!
I have searched and compiled a list of 5 best free CPU temperature monitor apps for windows OS. Scan through it and see if you find one that best addresses your needs. Here we go.!
Top 5 CPU Temperature Monitor
This is a pretty neat software, which gives a lot of details on individual cores of your computer's on-board CPU. Just note that it is designed to work with Intel-based microprocessors, so as long as you are on team Intel, it will work great with you.
It is found to be compatible with the core i5 and i7 processors, ranging from single cores to quad cores. It keeps reading temperature values and notes the highest and lowest temperature peaks.
You can assign colors and fonts for each core, and even monitor the GPU if you have a dedicated one on board. I could not get my AMD Radeon graphics card to show up; maybe my old system hardware is not fully supported. But the second generation core i5 CPU information ran just fine.
Note that it's a zip file. So you don't need to bother installing it on your system. Just send this file to whichever system you want to monitor, and just run it. That's it!
See also: – How to Root Nexus 5 with Ease (Complete Guide) – TechWhoop
Probably the fanciest and at the same time, the most refreshing monitoring software in this list has to be Rainmeter. It looks like something from an alien ship or maybe from the future, you know, all iron man-ish. It's not all bark no bite though; it gives you a ton of useful info on your hardware.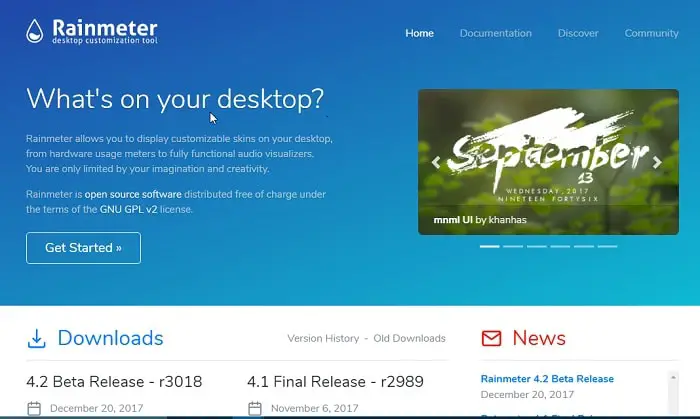 You get to see the CPU and RAM usages, disk space and availability, temperatures of course, and process run-times. What's more, there are several skins to be installed on it. You can customize the crap out of your temperature monitor and control tool. Pretty impressive for us nerds!
This is their website:  You can download the software from the links provided. This is a regular old exe file, so you will have to go through the somewhat short installation process before you get this running.
See also: – 2 Methods To Remove WinRAR Password Without Software – TechWhoop
This thing is the total reverse situation of the Rainmeter. It is a straightforward CPU Temperature Monitor software, with the most honest interface of all. This software will list all the hardware components that could be of prominence and list their current temperature; the maximum temperature reached and the safety limit.
It has some level of customization to it too. You can choose to show or hide specific values from the dashboard. It's a very lightweight software to install on your system. It is a zip file and need not be installed. Just open it and run as administrator for additional features and details.
This one could readily recognize and map my AMD Radeon HD 7600M GPU. Great news for me and some legacy hardware owners out there.
See also: – How To Check Graphics Card On Windows 10 – TechWhoop
This program is one of the moderately interactive CPU Temperature Monitor. It has a graph which plots varying temperature points on your CPU cores. You might have heard of this software before. I was a user back when I had a desktop running Windows XP!
Other than monitoring your hardware voltage levels and the temperatures, it also allows you to track your fan speed. Depending on the hardware and the PCB firmware used, it also allows you to control the speed of your fan, if you think it is running too low or too high and noisy for your taste.
Just be careful, as it can increase thermal throttling issues if you lower the fan to avoid the blowing noise. Make sure you are aware of what you are doing before setting it up.
A very minimalist CPU Temperature Monitor that follows this interestingly plain name. It shows the CPU load and temperature on a single page, which makes it easy to get details at a quick glance.
It shows the current temperature of your CPU right on the icons tray in the taskbar. You can keep an eye on the thermals without even opening the app interface, which is excellent! Others on this list will work too, so not to worry.
It is an exe file, so you will need to install it as usual. But it is a short process to install so that it will be done in a jiffy!
See also: – How to Solve "SYSTEM_THREAD_EXCEPTION_NOT_HANDLED" Error