India's economy is proliferating more than twice as the rest of the world, but the story on the job's creation is just contradictory. India's rate of employment is in the deterioration condition, and job creation has not kept up with this flourishing working age population. Thus, you must know about the best Free Job Listing Sites of 2018.
In this modern era, we and our next generation want an extravagant life. A lot of young individuals desires in earning more and more money, some due to family and financial assets and some just want to live a lavish life.
So they go for measures that can make them gain more and more wages quickly. But, for living this luxurious life, some people do not get a right path to start his/her career. They may not get the opportunities of jobs which they wish to do.
In any organization (say, in college), there are several opportunities for jobs that will come through campus recruitment. Many students will pass the selection procedure.
But what about the prospects for those students who may not get selected in any campus? Is this is the end of their career? The answer is No. Students have an excellent chance to apply for a job in different reputed companies including MNC's, BPO, KPO, or in any industry as per their criteria.
But how they will get all this information regarding the job? There are Free Job Listing Sites which provide relevant information about tons of job opportunities for employers.
They can apply to any company which they want to. Nowadays, there are plenty of online job portals so, it is difficult to find which one is genuine. Below is a list of top 10 free job listing sites which provides you the information regarding jobs.
Top 10 Free Job Listing Sites to Post Jobs Online
Naukri
Naukri is the most significant online job portal which has the most extensive network of clients and companies in all possible fields. Due to the considerable brands tying up with this portal, it has gained a good name in the list of job portals.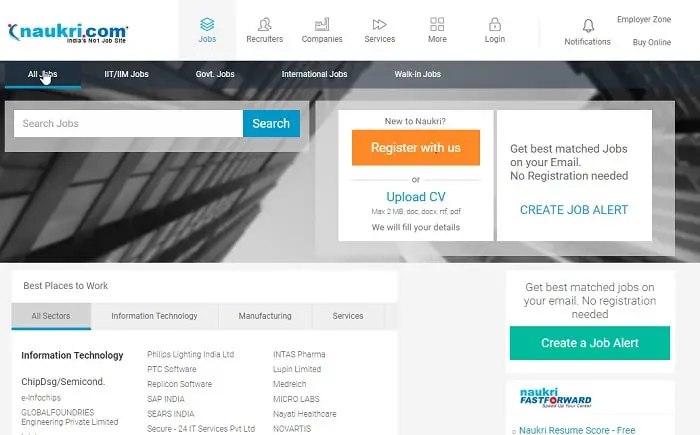 The site has nifty feature of Job Messenger for sending job opportunities to the registered users. All these features make it one of the best Free Job Listing Sites around.
Visit: Naukri 
Freshersworld
Freshersworld is one of the best free job listing sites for freshers. The site also offers opportunities to a trained and experienced professional but is most useful if you are a fresher who is searching for the job.
This site helps you to connect with the right people over the internet, so that you get a job on demand lines in the industry of your choice.
Visit: Freshersworld
See also: Top 5 Best Time Management Apps for Android & iPhone
LinkedIn
LinkedIn has high passive to active member ratio and includes executive search capability. Because of its focus on professionalism and its many uses outside of recruiting, it has become a standard for most Professionals to have a profile on LinkedIn.
If you need additional information on a prospect, LinkedIn provides a recommendations feature which is although subjective. LinkedIn profiles are accurate, therefore easily comparable and searchable.
Visit: LinkedIn
Monster
Monster is another prominent free job listing sites which has an equally extensive network of job providers and seekers.
The users of Monster.com can search for and apply for jobs online, post a resume, review company profiles, get career advice and salary information. It has a separate section for employers and employees. So both the employers and employees have the access to the data presented.
Visit: Monster
See Also: Top 20 Business Tools To Use in 2019
Glassdoor
Glassdoor is accessible using its convenient application on iOS and Android stages. This web portal facilitates users to keep an eye on the advancement of the companies.
Also, it allows the employee of companies itself to give advantages and drawbacks about the company. It has 30 million monthly users, 89% of them are looking for work. They provide a free trial from which you can post up to 10 jobs for free for seven days.
Visit: Glassdoor
TimesJob
TimesJobs is the ancillary of Times Group which provides excellent opportunities for job seekers and job providers in all fields. This site has an outstanding feature of displaying portfolio.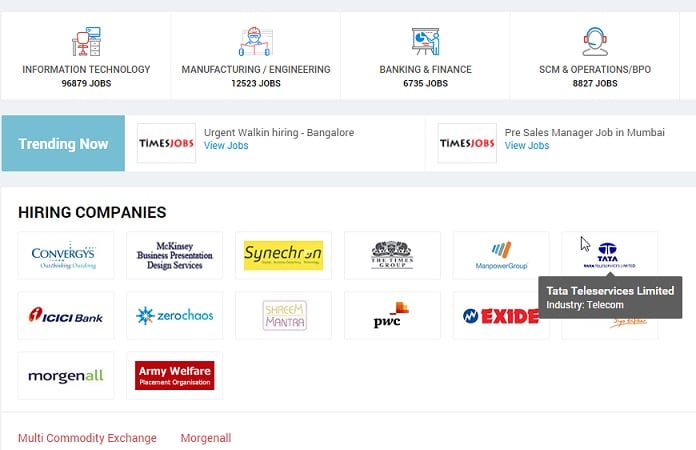 Portal users can view their portfolio and samples for communicating with the employers.
Visit: TimesJobs
Indeed
Indeed has more than 20 crores kind of guest and users consistently using from more than 60 distinct nations. It is sincerely exuberant about conveying an ideal choice for each of its user. You can consider it as one of the most reliable free job listing sites out there.
In fact, it helps organizations of all sizes, enlist the best ability and offers the best open door for employment searches. The website automatically amends your job post for mobile, which means you can accept applications on the go, from any desktop or mobile device.
Visit: Indeed
FreeJobAlert
FreeJobAlert covers a broad range of employment segments that incorporate Government jobs, Bank, Teaching, IT jobs, Engineering, Railway, Police/Defence jobs.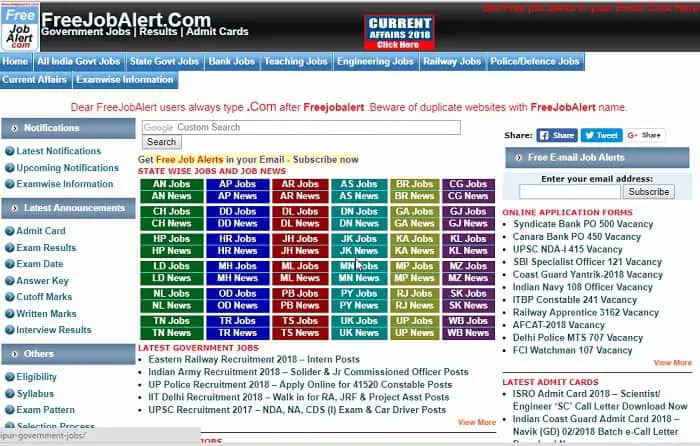 Visit: FreeJobAlert 
CareerJet
CareerJet is one of the most effortless to utilize, and the ease of using can be easily understood and manipulated by any user of the website. The site accommodates occupations for individuals with different aptitude sets.
It is a vertical Job Search Engine that maps job listings vacant on the internet in one database by mentioning job listings originating from company websites and large specialist recruitment sites. Hence, it makes into our list of Free Job Listing Sites.
Visit: CareerJet 
Careerbuilder
Careerbuilder helps to both experienced competitors and freshers candidate to discover employment in a wide range of fields. So that You can find specific areas of specialized work in this portal. Also, they email you with regular updates daily. Therefore, At the end, we can consider it as one of the reliable job posting sites out there.
Visit: Careerbuilder
Conclusion
So this is the comprehensive list of Free Job Listing Sites to post jobs online. Do share your thoughts and let us know if you're going for the jobs now!