In the current day and age, finding free job posting websites and internships has never been easier than typing in an address and visiting a particular site who are hosting and giving out a wide variety and array of jobs and professions to the young and old in equal variety. Thus, you must know about the most popular Free Job Posting Sites.
Even though it might be easier for future employees to find good employers, but it gets even harder for the employers to get good employees due to the extensive outreach and intake of such free job posting sites.
This is also because even the degrees you might have might not be a testament to the experience you can deliver or gain. Hence, employers have to tighten their specifications to filter the potentially good employees from the bad ones.
See also: 8 Best Free E-Book Download Sites Without Registration
Best 22 Free Job Posting Sites
There are many websites out there in the vast lands of the Internet which are all excellent for employees, but a select few are perfect for employers. Hence we have hand picked these top 20 free job posting sites for just for the employers.
Naukri
The most prominent Indian free job posting sites for employers and employees rank 3rd in our ranking is Naukri.
Ever since its creation in 1997, it became India's number 1 site for job seekers and employers alike.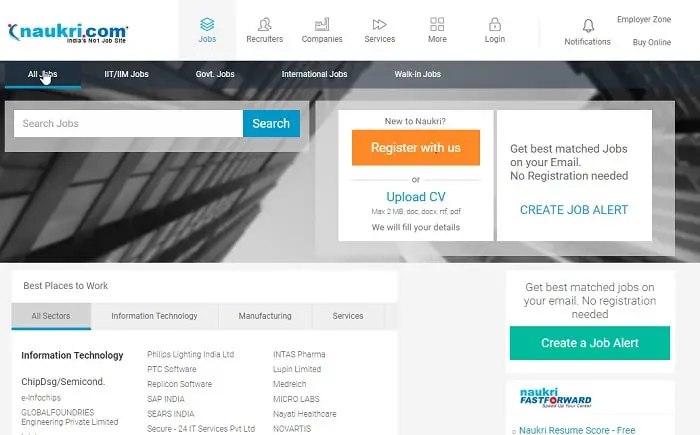 It's a simple site to post a job for free for employers to check CV's and to respond to potential employees. It is the most significant online job portal which has the most extensive network of clients and companies in all possible fields. Due to the considerable brands tying up with this portal, it has gained a good name in the list of job portals.
This one of the Free Job Posting Sites also allows the employers to use their own latest tactics in HR to attract employees.
The site has nifty feature of Job Messenger for sending job opportunities to the registered users. All these features make it one of the best Free Job posting Sites around.
Visit: Naukri 
Freshersworld
Freshersworld is one of the best free job posting sites for freshers. The site also offers opportunities to a trained and experienced professional but is most useful if you are a fresher who is searching for the job.
This site helps you to connect with the right people over the internet, so that you get a job on demand lines in the industry of your choice.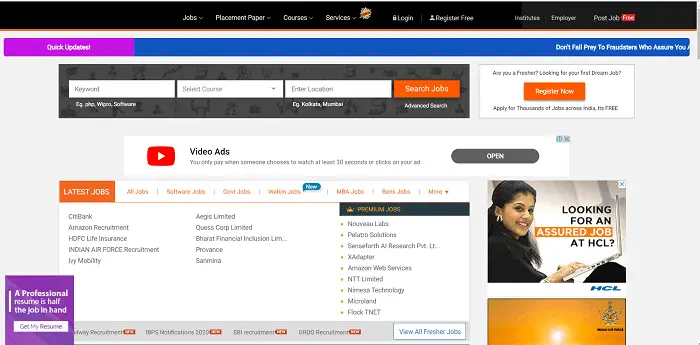 It offers a plethora of opportunities to trainees so that they can learn something new, develop their interests and refine their skills. Through premium membership, job seekers can undoubtedly expect more call letters and job offers. 
Whenever your profile matches any job requirements, it delivers an email to you. However, if you accept any job offer, you are bound to follow the recruitment drives.
Visit: Freshersworld
LinkedIn
LinkedIn is one of the most popular Free Job Posting Sites and operates via website and mobile app. Professionals use this for networking and generating referrals. Also, it lets employers post jobs. It's a place for candidates to make them more creative, efficient and successful.  
The job search is a lot more contextual here. On the basis of the number of applicants already in the queue, you can choose which roles to apply for. Also, it gives users an option to integrate their portfolios within their profiles.
LinkedIn has high passive to active member ratio and includes executive search capability. Because of its focus on professionalism and its many uses outside of recruiting, it has become a standard for most Professionals to have a profile on LinkedIn.
If you need additional information on a prospect, LinkedIn provides a recommendations feature which is although subjective. LinkedIn profiles are accurate, therefore easily comparable and searchable.
Certainly, it's the best platform for job seekers to showcase their work samples and market themselves in a better way. This explains why it's the world's largest professional network.
Visit: LinkedIn
Monster
Ranking second in our pole positions is Monster. Monster is another American based employment website which has got a global outreach.
It was launched in 1999 as one of the Free Job Posting Sites through the merger of The Monster Board and Online Career Center. They provide a holistic or filtered approach to getting employees.
The users of Monster.com can search for and apply for jobs online, post a resume, review company profiles, get career advice and salary information. It has a separate section for employers and employees. So both the employers and employees have the access to the data presented.
The users of Monster.com can search for and apply for jobs online, post a resume, review company profiles, get career advice and salary information. It has a separate section for employers and employees. So both the employers and employees have the access to the data presented.
Visit: Monster
Glassdoor
The next one in the list of best free job posting sites is Glassdoor. Glassdoor is the 4th installment in our ranking, and it was constructed by Tim Bese in 2007. The main feature of the site is that it allows employees to rate employers anonymously.
Glassdoor is accessible using its convenient application on iOS and Android stages. This web portal facilitates users to keep an eye on the advancement of the companies.
They also provide detailed information of each employer and allows all members to see it.
This feature, in turn, enables the employers to observe their competition and will allow them to build unique and attractive job offers for potential employees.
Also, it allows the employee of companies itself to give advantages and drawbacks about the company. It has 30 million monthly users, 89% of them are looking for work. They provide a free trial from which you can post up to 10 jobs for free for seven days.
The site does have a high traffic of prospective employees and employees due to the rating feature of the site. The best part is that posting job offers on this site is free.
Visit: Glassdoor 
TimesJob
TimesJobs is the ancillary of Times Group which provides excellent opportunities for job seekers and job providers in all fields. This site has an outstanding feature of displaying portfolio.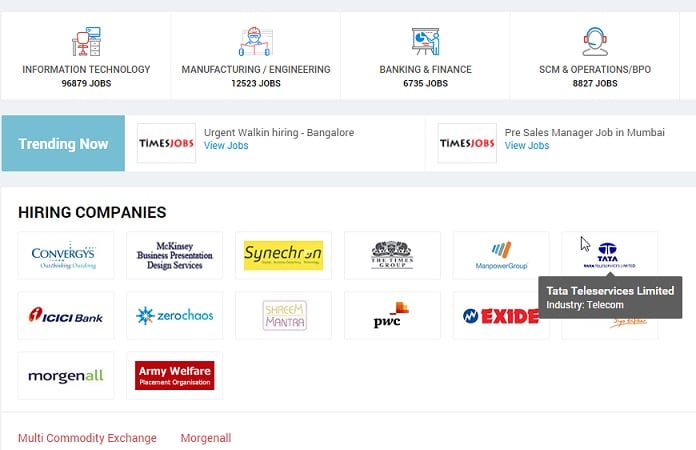 Portal users can view their portfolio and samples for communicating with the employers. This is one of the most convenient free job posting sites.
Visit: TimesJobs
Indeed
Indeed is an American based global employment search engine which was launched in November 2004.
This one of the Free Job Posting Sites started out as a single topic search engine but now runs as a multi-job search engine available in 60 countries and 28 languages.
In fact, it helps organizations of all sizes, enlist the best ability and offers the best open door for employment searches. The website automatically amends your job post for mobile, which means you can accept applications on the go, from any desktop or mobile device.
Indeed .com became so popular that they beat monster.com even though they existed before them. Indeed has had the highest traffic of employees and also allows employers to post free job postings.
They also enable the employers to boost the visibility of their job options with pay per view ads. The negative side is that all business go first here to post a job for free. Hence expect heavy competition from an employer or an employee.
Indeed is a website which gives you the facility of posting jobs, both free and paid, globally. The presence of paid advertisements doesn't affect free ads as the only difference between the two is the way their advertisements appear.
Moreover, the traffic is enormous and job-seekers click on whatever job-offer appears in front of their eyes, which is suitable for them according to their qualifications. To make this strenuous process a little better, Indeed also provides you with a mobile application.
Visit: Indeed 
FreeJobAlert
The next one in the list of best free job posting sites is FreeJobAlert. FreeJobAlert covers a broad range of employment segments that incorporate Government jobs, Bank, Teaching, IT jobs, Engineering, Railway, Police/Defence jobs.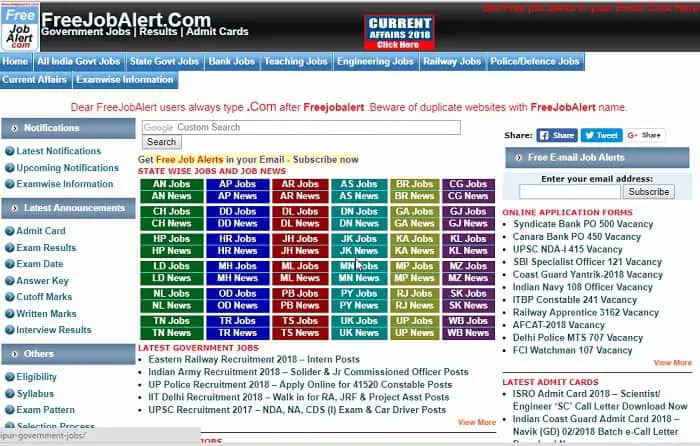 Visit: FreeJobAlert 
Careerjet
As the name suggests, this one of the Free Job Posting Sites can give a kick start to your career with its massive search access. It utilizes smart tools running on a stack of networking computers. Thus, it scans the web and identifies job posting for job seekers.
They periodically revise, scan listings and add jobs to the index. With its cutting edge technology, it provides relevant profiles of the situation to the seekers.
It has a significant presence worldwide, covers 90 countries and is available in 28 languages. CareerJet allows employees to search resume too if you have a paid subscription to it. 
It is one of the vertical Job Search Engine that maps job postings vacant on the internet in one database by mentioning job listings originating from company websites and large specialist recruitment sites. Hence, it makes into our list of Free Job posting Sites.
Visit: CareerJet
See also: 7 Best Movie Downloading Sites For Mobile | 2023
CareerBuilder
The next one in the list of best free job postings sites is CareerBuilder. One of the oldest as well as the most significant job portals, CareerBuilder, provides job listings, posting of resume and career advice to job seekers. People can easily search for jobs and know about the latest job vacancies.
If you want to make a new resume, CareerBuilder can help you with it and build a fantastic resume within minutes. Thus, it helps to create a resume as well as gives an edge to your career.
The most crucial part is that it secures job listings directly from the employers. Its network has become more significant over the years by partnering with local dailies and online class fields.
Visit: CareerBuilder
Jora
This is one of the newest free job posting websites that is now competing with Indeed. It is a job search engine based out of Australia, where an employer may post upto 10 free job ads per month.
Job posting is a simple task on this website. All the employers need to do is fill in necessary details about their business, provide information about the job, create an account on Jora and click on 'Post Job.' This free job posting platform has a huge global network for country-specific sites.
Visit: Jora
WorkTipper
If you're a tech-savvy and very much into software engineering, Work Tipper is the right place for you. Search jobs in digital marketing, software development, design and sales for free. WorkTipper is another best free job posting sites out there.
They place more than 20 roles daily according to your preferences, and it has more than 100 companies in its database. Thus, aspirants will never skip a chance to apply for their dream job, and they can always refine their search quickly.
The prominent feature of WorkTipper is it allows candidates to create multiple resumes as per job profiles. Thus, increasing their chances of success. 
Visit: WorkTipper
GeekForGeeks
If you're a techie and looking for a profession in Information Technology, GeekForGeeks is one of the best free job posting sites that one can recommend to you.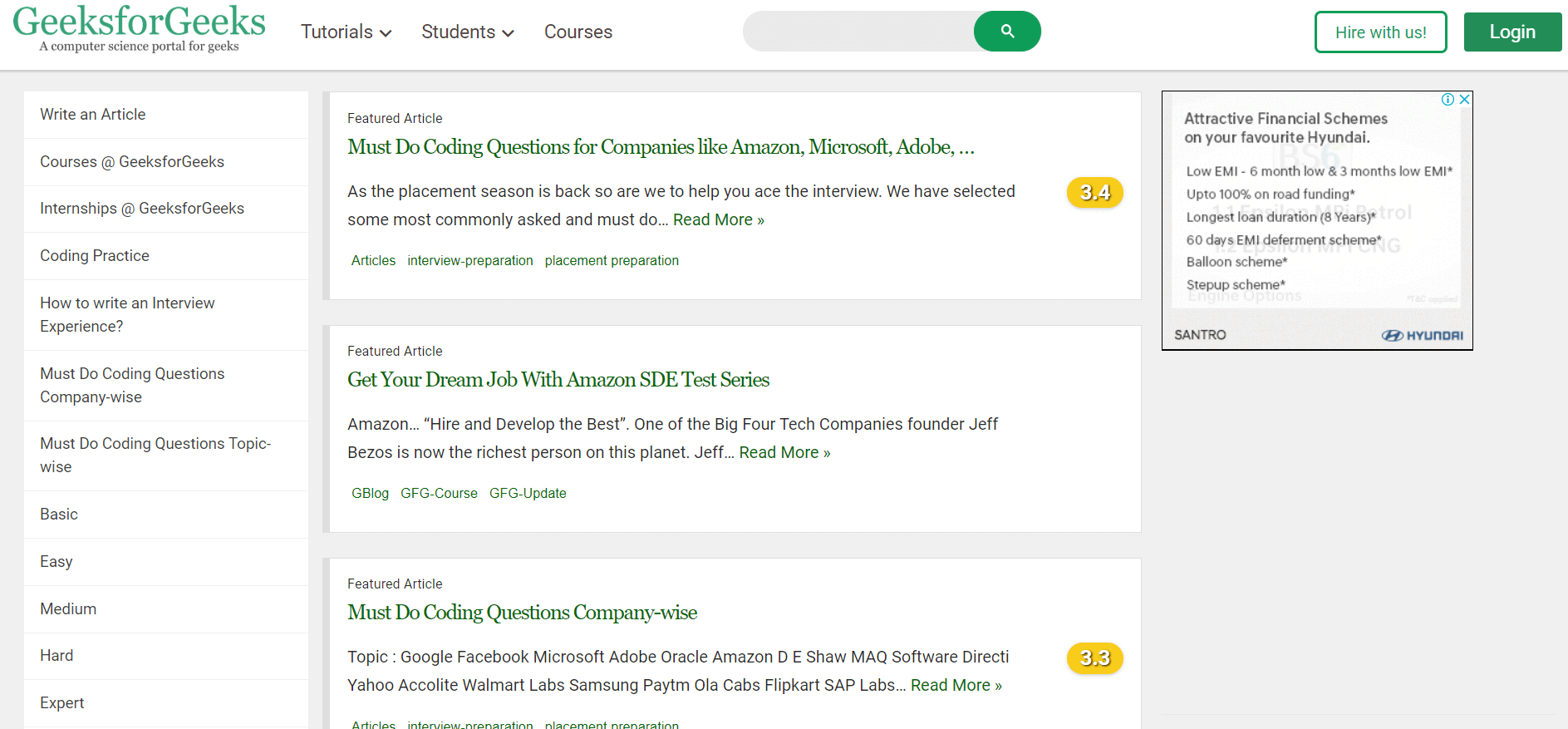 It covers almost all the courses available in the field of computer and technology. It also lets the newbies practice coding and enhance their programming skills. You can quickly get a job at this one of the Free Job Posting Sites if you're a master of coding. Chances are more if you practice almost all the questions available here. 
An interview session is held once you crack all the problems paving your way to easy placements. It gives a programmer the perfect ambiance to work, learn and develop new interests.
Visit: GeekForGeeks
Jobisite
It is a free job board and aggregator that allows employers to post unlimited jobs for free. It also permits job seekers to apply for jobs and communicate with the employer on the site. All these services are provided for free without even posing the compulsion to register on the site. They offer Basic, Silver, and Gold plans. The latter two are paid and show more results than a Basic account for job or applicant searches.
Posting a job on this website is an easy three-step process. This is not the site you'd consider to be the most job-friendly. However, it is easy to use, has an attractive interface, and allows job seekers and employers to post and search for jobs with various useful resources for free.
Visit: Jobisite
Quikr
Quikr is an India based classified advertising platform and of the best free job listing sites. It also allows you to buy and sell things. The range of these things is enormous- from an old coffee table to life insurance. What makes this site of our concern is, it lets individuals post jobs for free.
As an employer, you can keep posting job offers on this site. Not only this, but you can also get employees for a specific duration of time, like plumbers, electrician, etc. who will work for you as long as you will need them. Quikr also has its mobile application, which makes the process a lot easier.
Visit: Quikr.com
Mighty Recruiter
This platform focuses on recruiting. It is a modern recruiting solution designed for all sizes of companies, be it a small one with one employee or a large company with over a hundred employees.
A free account holder may post about twenty jobs per day, while paid account holders are permitted to post more than a hundred jobs daily. This free job posting site also allows an employer to cross-post a job to certain other job boards, namely, Glassdoor, Linkedin, and Career Builder. They claim to have crossed seventeen million resumes.
Visit: MightyRecruiter
National Career Service
This is a government recruitment portal which is run by the Ministry of labor and employment, Government of India. And one of the best free job posting sites.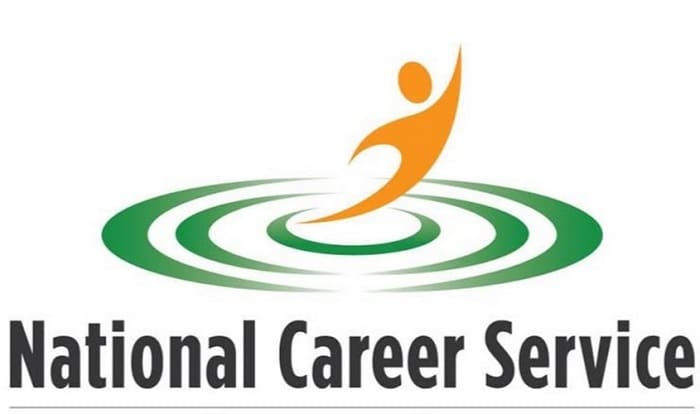 This website focuses on giving skilled craftsmen and unemployed people job opportunities. This site provides job matching services in a user-friendly manner.
Visit: National Career Service
Neuvoo
It's one of the fastest growing free job posting websites in the world. This platform requires the user to create an account and then leisurely scroll through to find jobs or applicants.
They have around 75 million monthly visitors worldwide and over a thousand job network partners. An employer may post jobs here for free. They also receive an opportunity to sponsor Neuvoo to get ten times more candidates who have applied for the jobs.
PlacementIndia
The next one in the list of best free job posting sites is PlacementIndia. PlacementIndia enables you to post free as well as paid jobs. It has some of India's leading companies as its clients which makes it one of the best.

The only difference between the paid and free job advertisements is that the paid ones are promoted automatically on the website. This doesn't harm the unpaid advertisements.
Visit: PlacementIndia
WorkIndia
WorkIndia is from those Free Job Posting Sites which lets you post jobs for free. The process of posting a job here is straightforward. You have to fill a form telling your requirements. Next, they advertise your job offer on their mobile application. Job-Seekers who might be interested in the job offered by you can directly contact you.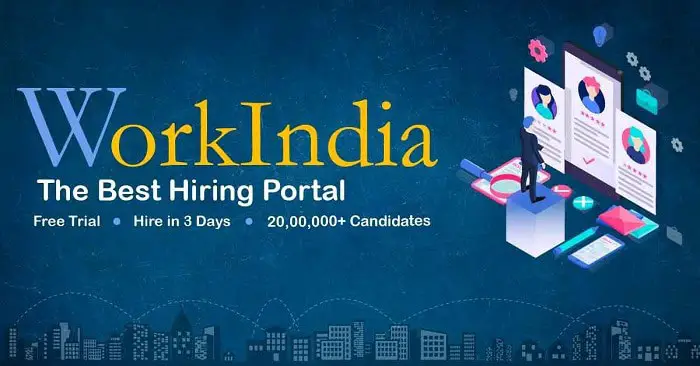 This website has maximum traffic from the beginners who apply directly for the interview by submitting their CVs. This site also enables you to add the Google map location so that the candidates can reach the venue for interviews.
Visit: WorkIndia
Shine
Shine is undoubtedly not the least, but it is placed in the last in the top 5 positions of Free Job Posting Sites. It's the fastest growing recruitment portal in India, and also it has Facebook integrated into it.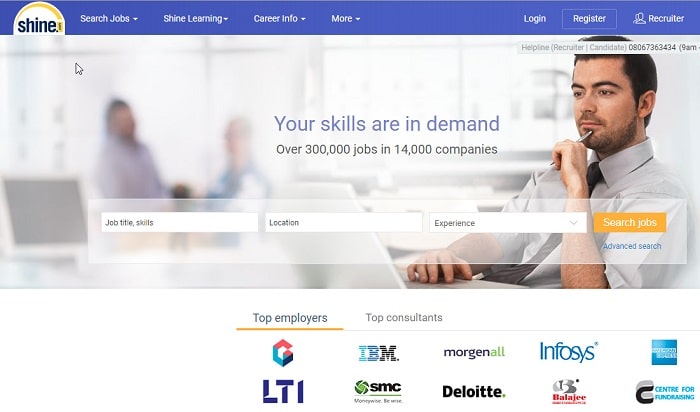 Getting the right employees for the right job in an organisation will lead to a more efficient and efficient organisation. This is what the packages of Shine.com are tailor-made for that is to find the right person for what. They also allow employers to post jobs for free.
Visit: Shine 
See also: 15 Best Prank Websites You Must Use Right Now
FlexJobs
Starting as our first pick in the last 4 places for job sites are FlexJobs. Even though this one of the Free Job Posting Sites allows free placement of job listings.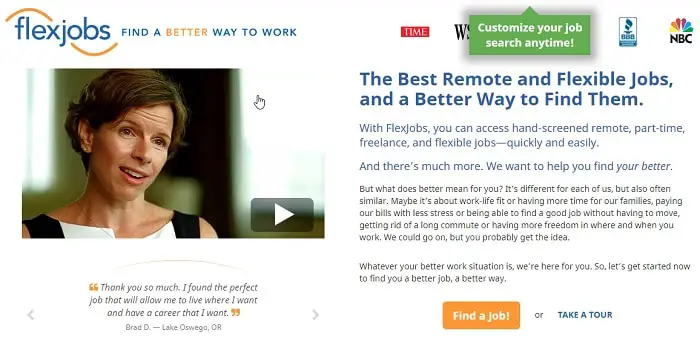 The problem is that you have to apply to the site and have to get approval by them to post on their site. But once you get approval, you get unlimited free postings. They also provide outstanding support as a site.
Visit: FlexJobs
Best 5 Alternative Free Job-posting Sites
Ladders
This American company is one of the Free Job Posting Sites which is close copy  of Indeed.
Founded it in 2003, Ladders accepts payments to boost your job postings visibility. It also offers a free tier of the job posting. It is in New York.
Visit: Ladders 
JobSpider
Job spider is counted on as one of the easiest and most straightforward Free Job Posting Sites of posting job vacancies. It's also entirely free with no premium tier.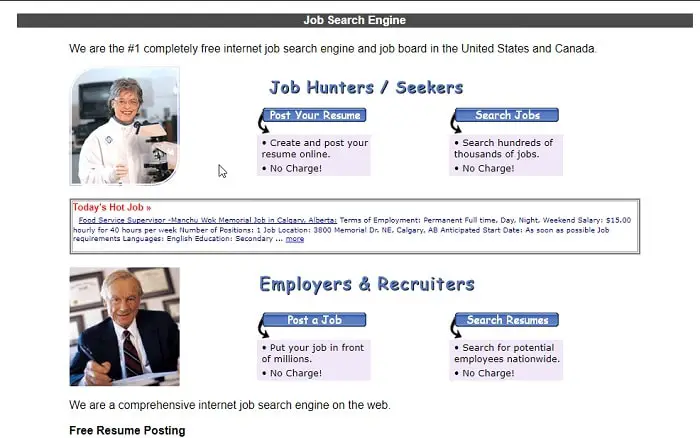 It's just not popular as much because their marketing is not top notch.
Visit: Job spider
Upwork
Reaching the last two ranks are Upwork. This one of the job websites is considered as one of the top free job posting sites but the negative side is that the site is more towards freelance.
It's also very unknown as many people don't know about this site. You can register yourself as a Freelancer here if you think 9-5 jobs are not your cup of tea.
Visit: Upwork
Learn4Good
This platform, founded in Ireland in 2006, is a great choice for attracting local and global professionals to US-based jobs. Currently, they have listings in twenty different countries, where businesses and employers can post jobs in their respective categories and interact with potential candidates.
Visit: Learn4Good
Resumark
It's one of the best & free job posting sites to post job vacancies, but you are only allowed to see partial bits of the candidate's resume.
This is because the rest of resume is behind a paywall. Which you can remove for $3 per applicant which in turn also allows you to contact the potential candidate.
Visit: Resumark
Conclusion
So this is the comprehensive list of Free posting Sites out there. Do share your thoughts and let us know if you're going for the jobs now or got great employees for your company!