Whether you are an experienced writer or a complete newbie, you know the struggle of focusing on your writing an overcoming that first sentence. Luckily for us writers, the new technologies do not only distract us from doing our job, but they can also provide us with some free writing software for improving our writing. 
Computer-based writing tools affect writing skills in many ways. They provide content-specific help throughout the write-up. Writing software or Writing tools provide an outline of the way the content is to be written. They provide simplified revisions of the content as they contain tools like spell checking, grammar checking, dictionaries, text editing, and many more! There are multiple websites like paperap.com which can get you detailed essays on any topics along with all these mentioned things! Check out some good essay writing software here.
12 Best Free Writing Software for Every Writer
Now without any further ado, let's quickly get into the topic.
Grammarly
A free tool for proofreading and editing your papers.
If you've been looking for a free essay editor app, this one is your dream come true. Grammarly is the app of choice for millions of academic essay writers because it really is excellent and because it is free.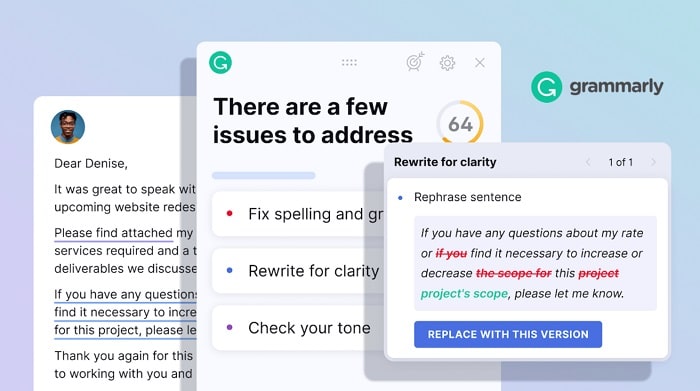 You can, of course, subscribe for premium access, like professional writers from many websites do, but this subscription is really optional since the free version of the app does the trick. So, if you want to boost your writing skills, edit your papers, and just make your papers look more professional, use this Free Writing Software service,  and see your essays shine.
Pros
Can

help

in detecting typos, wordy sentences, and grammar mistakes

Tracks your word count

Checks for plagiarism

Tracks your progress and sends reports
Cons
Sometimes suggested corrections are useless

Sends tons of ads to your e-mail (you can switch it off)
Visit: Grammarly
Read here to know more about Grammarly's alternative Ginger and the comparison guide of them.
Scribus
A stylish tool for designing your books and magazines.
So, this one of the Free Writing Software is better suited for professional writers than for students, but it is free and really exciting to use and explore, so you might be interested in checking it out. If you value the appearance of your essay as much as you value its content, then you shout to take a look at Scribus because it can make your essays or articles look like they've been just taken from the professionally designed magazine.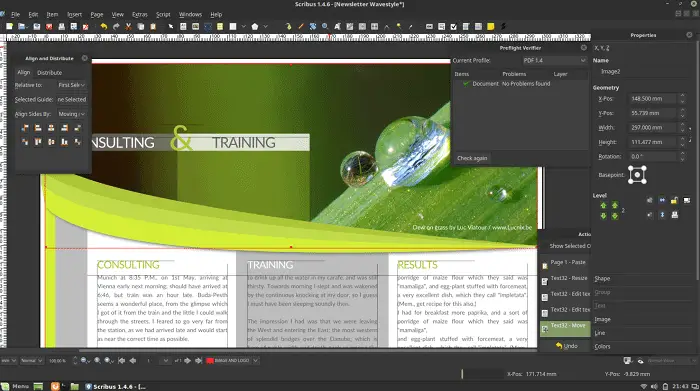 This free app gives you a wide variety of templates to use as well as the opportunity to create your own templates for your future essays and articles. The long-time users of Adobe InDesign might find the interface of this app familiar, so go ahead and check it out.
Pros
Cross-platform

Professional-level design for your texts

Multi-laired design templates
Cons
No editing

service

Little to no attention to the text itself
Visit: Scribus
LibreOffice
A completely free alternative to Microsoft Office.
While most claim Microsoft Office to be the best free writing software, some forget that it is rather expensive. Yes, Microsoft Office is excellent, but what there is literally the same thing with all the same functions that are entirely free.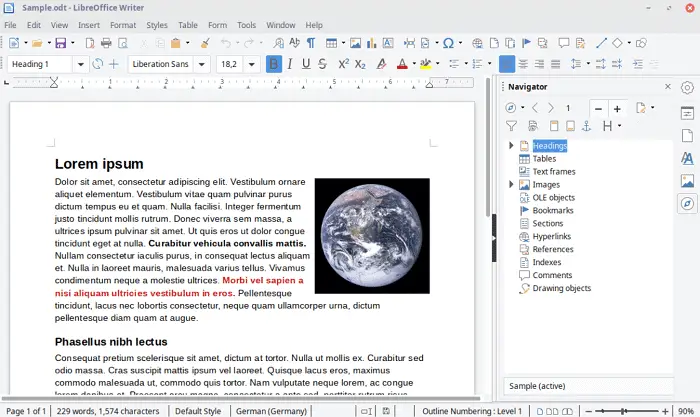 If you are a student on a budget or just not feeling like paying for a simple writing tool, Libre Office might be the best Free Writing Software, so you might want to check this one out. While it might seem like the most basic of writing tools, it is no doubt one of the most essential ones because you'll need some document to write in, right? 
The LibreOffice suite consists of programs which are use for word processing, to create and edit spreadsheets, slideshows, diagrams, and drawings; it works with databases, and also has in-built mathematical operations and formulae. This LibreOffice is available in 115 languages, which allows beginners to have a better and more natural approach to kick start their writing skills.  
Pros
A fully functional Office software

Underlines and edits typos

Entirely free
Cons
Some Windows devices might have troubles opening Libre Office files.
Visit: Libre Office Writer
FocusWriter
The app that helps you focus on your task and eliminates distractors.
This Free Writing Software is designed specifically to help you focus on writing. The whole point of this app is to make you comfortable while writing and stop you from scrolling your feed all day long instead of doing your essay.
If you are one of many writers who tend to procrastinate instead of actually doing their job, this app might be the best choice for you. Besides, it has the typewriter sound effect, in case you feel extra fancy.
Pros
Hides and even blocks other apps while you work

Has times that remind you of deadlines and alarms in case you slag

Auto-saves your progress all the time
Cons
Visit: FocusWriter
Freemind
The app that helps you unleash your creative potential and organize your ideas.
This is the Free Writing Software that does not serve as a writing tool but also a sort of an organizer that allows you to write down your ideas, combine them under separate tags, unite them into complex projects, and just create a sort of an idea-space.
The app is genuinely user-friendly and comfortable to use. Freemind is all about letting you express your creativity and saving your ideas for the future.
For instance, if you are working on some serious project, you can write down your diverse ideas, create a sort of a separate space for those ideas, and then elaborate on them as you work on your project.
Pros
Helps to organize your progress

Helps to organize and generate ideas
Cons
Can be substituted with other apps or a simple notebook

No editing functions
Visit: Freemind
Microsoft Word
Microsoft Word or MS Word or simply Word is a word processor which was developed by Microsoft. MS Word is an excellent tool for beginners to test their writing skills. Word includes features like a built-in spell checker, a thesaurus, editing texts by finding and replacing them, and also has a dictionary. Microsoft word is used widely in comparison to other writing tools.

Word has the ability to create templates allowing the writer to define a file with titles, subtitles, paragraphs, etc. The option of pasting a JPG file or clipart is also available in Word. Writers can even give borders to the pages, and format the size and style of the words by using WordArt. Therefore, it is one of the best Free writing software out there!
Visit Microsoft Word
 Google Docs
Google Docs is a word processor  by Google within its Google Drive services. It is used widely in comparison to other free writing software. It is a free web-base software office suite similar to that of MS Word. This application allows users to create and edit files online, and they can collaborate with other users during this process as well. Google Docs is compatible with Microsoft Office file formats.
Some features like machine learning, such as "Explore" and "action items", which offers search results based on online content from a document and allows the user to assign tasks to other users respectively, have been added after the recent updates.
Visit Google Docs
Pages
Pages is also a word processor that was by Apple Inc. This is a part of the iWork productivity suite of Apple and runs only on macOS and iOS operating systems.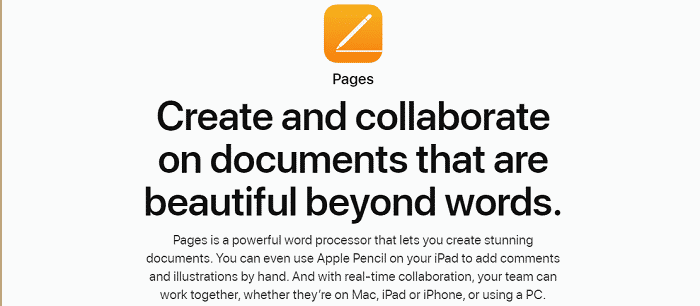 Apple do the marketing of pages and is an easy to use application which allows its users to create documents on their devices very easily and quickly. Many designed templates like different themes for CVs. Resumes, posters, outlines, etc. are in-built in this application. And hence, it makes its way to the list of best free writing software.
Visit Pages
Evernote 
Evernote, a free writing software that was developed by Evernote Corporation, California. This is an application software that is design  to take notes, organize tasks and task lists and also to archive. This application allows users to create notes, which can be formatted texts, photos, web pages, voice memos, and even handwritten notes.
Evernote also has the feature to attach files to the notes and you can sort them into notebooks. We can edit, format , search and even exports, notes on this software. Evernote is free to utilize with monthly usage boundaries, and also has paid plans for extended usage. 
Visit Evernote
Canva
Canva is a simple and free writing software website that enables the user to create graphic designs and was  in 2012.  It uses a drag-and-drop format and also provides the users to access photographs, vector images, different fonts, and graphics.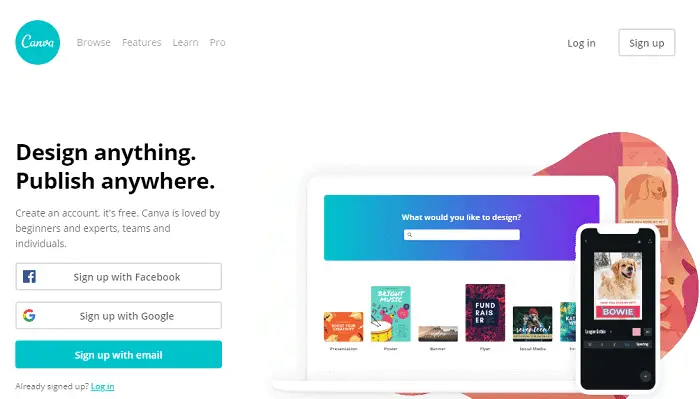 This application is very user-friendly and  both amateurs and also professionals, can create graphic designs. The tools of this website are suitable for the web as well as for print media design and graphics.
Visit Canva
FastPencil
FastPencil is a self-publishing start-up application founded in 2008 by Michael Ashley in America . This application offers a web-based publishing engine that allows its users to create books in print and EPUB formats. Fast Pencil is also one of the best free writing software that gives you a great writing experience.
The users can also publish and distribute their contents online. This is very easy-to-use publishing and writing tool which even beginners can use.
Visit FastPencil
Open Office
The next one in the list if best free writing software is OpenOffice. OpenOffice is an application that includes a word processor, a spreadsheet, a presentation application, a mathematical formula editor, a drawing application, and even a database management application.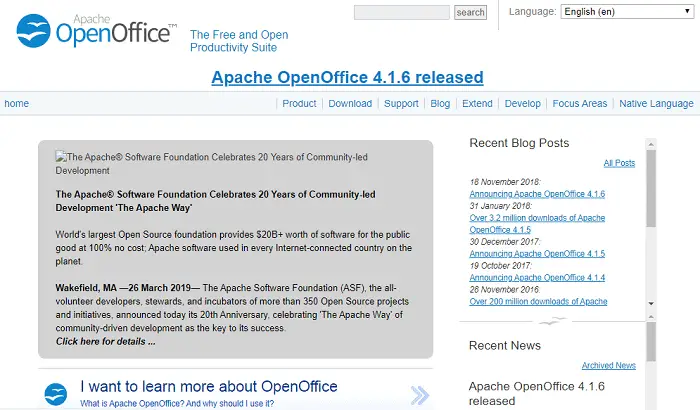 So the users of OpenOffice can perform various operations such as writing, calculations, drawing, etc. all in one application. The default file format was the OpenDocument Format (ODF), which originated with the OpenOffice.org; it can also read other file formats with particular attention to those from MS Office.
Visit OpenOffice
Conclusion
So, here you have it, to 12 best Free Writing Software for the writers or just students who occasionally write various papers. Some of these apps are genuinely essential, and most professional writers no longer imagine their lives without these software tools. Try them out, find which one suits you best, and I bet that at least one of them will become the long-time writing tool you'll use for writing, editing, and designing your perfect essays.