GIF is an acronym for Graphics Interchange Format. It was introduced in 1987 and has been running successfully in the field of multimedia since then. GIF is an image format just like JPEG or PNG, but it has a bit animation in it. The static images are packed up to form a GIF image. In its 30 years of journey in the fast-moving world, GIF has earned its title as the Biggest Digital Marketing Trend for 2017. The significance of GIF technology has risen tremendously that we find GIFs in every field of importance. They convey the message quickly and apparently without any ambiguity. Thus, you must know about the best Gif Animator Software out there.
You need not have any expensive software to create a GIF image of your own. One can sit right there and make fantastic GIF images and make your project presentation look more convincing using free software.
Any user can easily animate even if you are a beginner. There are a plethora of GIF Animator software and GIF viewers available for Windows at zero charges. Here, we have imparted the best GIF Animator that would grab your attention for sure.
See also: How to Copy and Paste Animated GIFs [Easy Guide]
Top 19 GIF Animator Software
PhotoScape
PhotoScape is a simple photo viewer and editor with a convenient user interface. This software helps you create animated photos. i.e., GIFs with ease. Just select a folder from your file system and drag and drop pictures into the animation editor and watch your photos play an animated file. Dragging and dropping is what you need to do.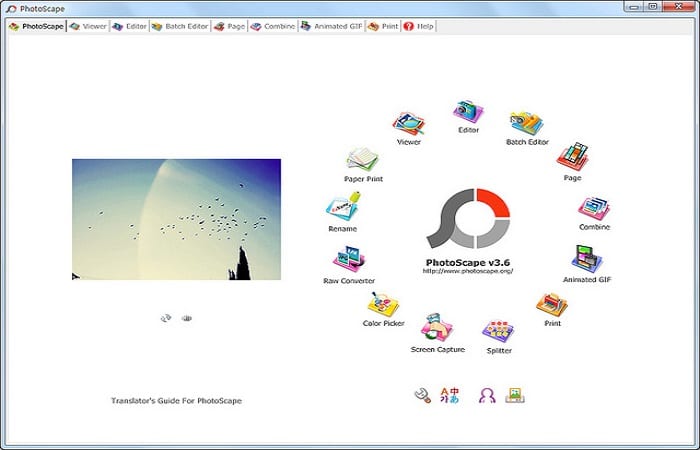 The software works the rest. You can quickly delete or add a photo to the editor. Once you are done with your editing, save the file to your storage and play it to see if your creation has got a shape.
Download: Photoscape
Microsoft GIF Animator
This Microsoft GIF Animator software is an animation creation tool that supports easy handling of the features with its intuitive user interface. Not all your purposes are fulfilled by downloading GIFs online. They may vary in time, content and purpose. Therefore, to meet your exact purpose of using a GIF either as a formal requirement or an informal requirement, it is recommended to create it yourself.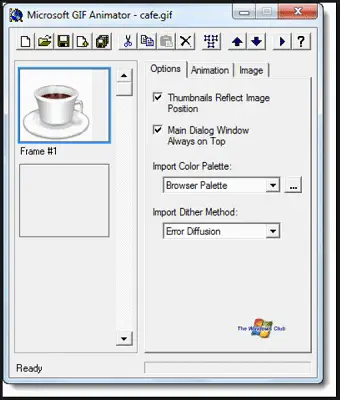 Microsoft GIF Animator serves you this goal by giving you an additional feature of setting frame time and repetition time which allows you to create a GIF file that runs according to your command. Just add the photos, set the frame time and repetition time. Now, your GIF file is ready. Save it, view it and share it.
Download: Microsoft GIF Animator
See Also: – 10 Best Free Image Viewer Software to Download – TechWhoop
GIFApp
GIFApp is a GIF animation composer that enables you to create an animation out of images in a particular sequence. You can add pictures and set different delays between the frames to meet your time requirement.
Images are not the only source of framing an animation; a video clip can also be composed as a GIF file. GIFApp supports this procedure of converting a part of the video clip as a GIF image. You can create, edit and add effects to the GIF image using this software.
Download: GIFApp
Photobie
Photobie is a software that is capable of editing photos and creating GIF images. It is a featured software that meets all the requirements of the users ranging from the beginners to the professionals.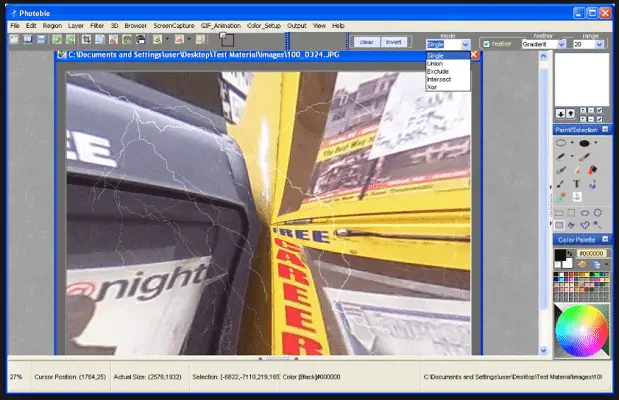 This gif editor software is a freeware which permits you access to all of its features with no restrictions or additional charges.
Download: Photobie
See also: – 10 Best Free P2P File Sharing Software for Windows
GIF Maker
Gif Maker is an extremely simple and straightforward to use animator. It is a powerful tool to make and edit several GIFs. This tool will let you make, recreate, edit, filter gifs accordingly. as per your requirements. You can also make simple gifs, a presentation, a banner, a card, or whatever you like using this software.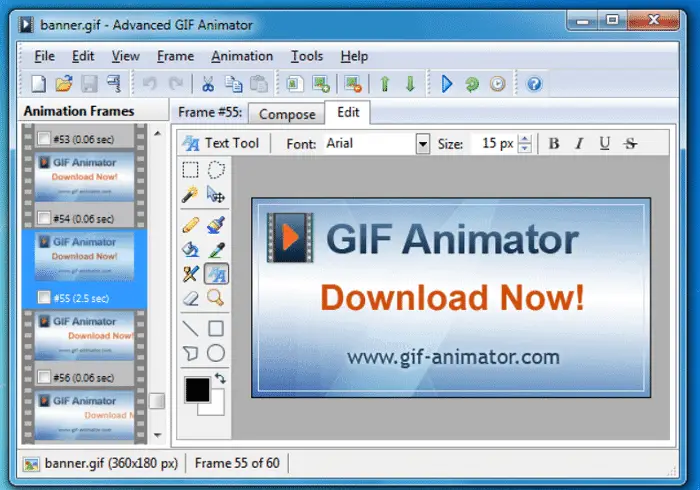 Using this tool, you can enhance and make your projects better. It provides several features like converting AVI Video files, various multiple graphic formats, wizard, and optimization tools for all kinds of effects and edits. This is fairly easy to work with and is an option both beginners and professionals would love. It is available for windows vista and above and is best gif software that is completely free to get and start using!
Download: GIF Maker
Wondershare Filmora X is famously known for its video editing features, but little does anyone know that it also provides you with various features for making and animating features. This software is already a big name, and many people trust it for their works and projects, which alone explains why you need to try it. But not many know of its GIF animator software capabilities.
You can make new gifs using several still images, add a whole unique and different lot of special effects and glows, get and convert your files in different formats, use advanced tools for optimization, etc. Filmora is available for windows 7 and above, and you can go on to try out the free trial version to get to know it better. It is pretty simple to use and operate gif video editor, even for beginners.
Download: Wondershare Filmora
LICEcap
LICECap is an animator that lets you create animations by following the basic concept behind animation, i.e., you can set FPS (Frames per second) rate. By editing the window-dimensions, you can adjust the GIF size.
You can create animations by recording the desktop or window you are currently working on.
Download: LICECap
GIMP
GIMP (GNU Image Manipulation Program) is a free and open source image editor that can help you in creating fantastic GIF images. This gif making software allows you to edit pictures as well as develop animations as GIF files.
The procedure to create GIF files is:
Open all the photos you want to frame in your GIF, to the editor.
Now after adding all the images, you can preview your creation by following this order: Filter>> Animation>> Playback.
Now play the animation and watch your GIF image being played. Then, close the animation playback window and save your project.
Download: GIMP
See Also: – 14 Best Free 2D Animation Software for Windows
Gifted Motion
Don't want to go through the pains of installation and licensing? Then Gifted Motion is the software for you. Just download this software, and you can start working right away! It is a completely independent software platform, and it runs on Java. It can also work on any operating system and has a huge already existing image library for you to start without having to do much work.
With all necessary optimization and editing, easy to implement features available, this tool is rather uncomplicated to use and quick to work on. It can be termed as the best gif maker software option for beginners and those who don't need to work on it professionally. The user interface may look a bit outdated to some, but that makes it even easier to understand and use. It is completely free to use and is available for windows 7 and above. It's undemanding and a great option for you to start.
Download: Gifted Motion
See also: Top 8 Simple Tools to Convert GIF to JPG Immediately
SSuite Gif Animator
Need a Gif maker which is compatible and works with all kinds of systems? Then it's time to check out super easy tool, SSuite's GIF animator software. This GIF animator is probably the most manageable to use and understand in the whole list. With most editing and optimization options available and various unique effects and display features, this is one of the best gif making software on the list.
You can create your gifs using both images, different kinds of videos and convert and save them in any format of your choice. It is quick and efficient and would be a great choice for people who don't have much idea on the advanced animating softwares and much editing knowledge. Beginners would love to try it out to make fun gifs to share with their family and friends. One can download this one of the best gif makers as it is completely free and have fun while creating amazing gifs.
Download: SSuite Gif Animator
InstaGiffer
InstaGiffer is a professional tool which enables you to master the GIF animations. You can record your desktop while playing any video or doing any operations on your PC. Record your desktop in live and add various effects to reflect your magic onto your creation.
It's free from ads and other interruptions. Boost up your skills in the editor and master your GIF creation techniques.
Download: InstaGiffer
Cyotek GIF Animator
Cyotek GIF Animator software allows you to create and modify GIF images easily. This gif animation maker has a simple user interface that helps even the amateurs to master the usage of the editor.
You can animate, edit, modify existing GIF images, work with color palettes and explore many other exciting features. It is also possible to drag and drop images into the editor. You can preview the created animation before saving your project.
Download: Cyotek GIF Animator
See Also: – 10 Best Image Watermark Software for Windows – TechWhoop
KickMyGraphics
KickMyGraphics is easy to use software with a simple and understandable interface. You can create an animation using a sequence of images of any format. Set delay time between the frames using the slider.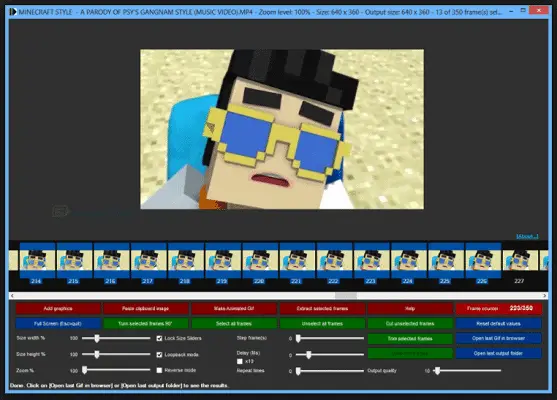 Add various effects to give your animation a professional look. It also enables screen recording and animating the recorded video. You can import high-resolution images and make it look professional.
Download: KickMyGraphics
Express Animate Software
Express Animate Software has advanced features to build your motion animations. You can animate and add digital effects to the animation.
Add videos, images, text and move objects and make the animation look lively and creative. You can easily group objects, add masks, audio and much more. It is available for free of cost, and you can create animations using extensive features with no additional charges.
Download: Express Animate Software
UnFREEz
A quick Windows program that can merge any amount of photographs saved as separate GIF files into a unified animated GIF. What sets this software apart from the competitors in the market? To open with, UnFREEz is freely available, which means you could use it as long as you like without spending a cent or feeling terrible.
Second, UnFREEz is a tiny program, so you won't have to waste too much time downloading a huge program. Finally, it is really easy to operate. Drag GIF files from Directory into the window, adjust the frame delay time and click Make Animated GIF after that. UnFREEz will take care of the rest, which includes automatic interlacing and opacity detection.
Download: UnFREEz
ImgFlip
Imgflip is a GIF animator software that can create high-resolution 2D Animation for commercial use. As a consequence, any company may profit more and experience a rise in sales. Video imagery files, photos, Youtube clips, and any video platforms may all be used to create GIFs. It's really simple to get into and offers a wide range of modification options.
You can even save the generated GIFs account by entering right into your Imgflip private account. By marking the "private" option, you can export your created GIFs while maintaining them secret. The presence of the Imgflip logo makes people determine where you made the GIF and the place it was generated. If you enlist for a Premium membership, you can eliminate the logo from your GIFs if you really want them not to have any kind of watermarks.
Download: ImgFlip
GifPal
GiFPal can be considered a freeware GIF editor with simple effects that let you apply the changes you desire to your chosen media. GIF animations may be made with photographs and cams. For sketching and textual insertion, there are sketching tools available.
You now can add the required effects in every created GIF without losing the quality of the end product. One of the reasons GiFPal is considered one of the best gif-making software is that it is great for stop motion cartoons and animations.
Download: GifPal
Animation Desk
Animation Desk's best feature is its intuitive sketching interface, allowing users to animate their ideas effortlessly. It offers a user-friendly interface for sketching, modeling, and storyboarding. Every creative thought you already had in your brain can now be reimagined with this GIF-making software.
Your ideas may well be turned into animated features, animated figures, and e-cards. Users could save their creations in various formats, including high-resolution GIFs, PSD elements, videos clips, and PDF Storyboards.
Download: Animation Desk
Free GIF Maker
Generate animated GIF visuals in a few simple steps; without any need to spend countless hours using image manipulation tools to make vibrant images. This Gif animator software works in a way that helps you to create animated GIF pictures in a matter of minutes. The way individuals engage with one other on social media by using the share, like, and comment features may be linked to the effects of animated GIFs.
Freely download and use the produced pictures on your website. Now just upload the picture and click a button. Simply download the free full version GIF creator, install it on any Windows PC, and use it for free on your website.
Download: Free GIF Maker
Hope our list of the best Gif Animator Software came to your help. Do let us know your thoughts. Cheers!
See also: How to Make an Animation Easily [Beginner's Guide]