Gmail is one of the essential tools of communication and the most important tool used by professionals. With 1.5 billion users worldwide, Gmail is nothing short of being the most influential tool of all time. People always look forward to getting most out of their things, and this is where Gmail extensions and Gmail tools come into play. 
Just like Google has the option to add on extensions so that your use of it would be customized to your needs, Gmail also provides extensions that are very helpful to customize your mailing account into one that is most effective and efficient for you. However, for Chromebook owners, mailing can be made less tedious with these email clients for Chromebook as well.
We have provided a list of top Gmail extensions and add ons available out there to increase your productivity and get the most out of your Gmail.
Best Gmail Extensions to Use in 2023
Here's the list of topmost used and productive Gmail extensions and add Ons out there. 
GMass
GMass is one of the most preferred Gmail extensions used by companies to send cold emails. A person receives thousands of cold emails, so how would yours stand out the most? This is where GMass comes in. GMass has features such as Personalization, analytics, scheduling, and also provides you with exclusive features to break Gmail's sending limit, Automatic email follow up, google sheet integration, and much more.
This will not only get you the highest response rate ever but also help you to keep track of your campaigns and prevents cluttering of your inbox using its reply management feature. The company swears to get you the highest opening rates of your cold mail you would ever get, and they do live up to the promise. 
Visit: GMass
Clearbit Connect
Want to send cold emails to someone, or you get a cold email from an unknown source but don't know who that person is? Clearbit connect can tell you this. It helps you to find email addresses by the company, which then reduces your search for the same.
While composing the mail, click on the Clearbit icon to search mass email addresses. You can also see some sidebar information about the sender while viewing a cold email. It is one of the best marketing tools and is by many companies utilize it globally. What's more? Clearbit Connect is free to use, and you can search for upto 100 companies per month. 
Visit: Clearbit Connect
Dropbox 
Dropbox for Gmail lets you upload the files directly from the cloud, rather than let you go through the struggle of uploading the file that's already on the cloud onto Gmail. Using Dropbox, you can directly attach the file from the cloud storage service to your mail in just a few clicks. This is not only useful for your computer but can also be very useful on your Chromebook and mobile device.
It's very convenient to have direct access to your storage rather than rummaging through the files to find and then upload it. It also allows you to save email attachments to your storage directly, and then reattach it to another email; so that you can send the same file across. Dropbox is also a free service to use, so do take advantage of it and get some more productivity using your email. 
Visit: Dropbox
Zoom
Zoom is one of the Gmail extensions that can be made use of to start a video call with someone you are emailing. Why you want this feature? Because what can be explained over 5 or 6 emails can be done within a matter of time. 
You just need to open an email, click the zoom button in the sidebar, then send the invitation over to everyone in the mailing list. You can also start the meeting immediately or schedule it for later. It's a very useful tool, and all the organizations use it to communicate effectively. And its also a free extension to use. 
Visit: Zoom
Gmelius
Gmelius is one of the most intrinsic Gmail extensions to a well-managed email address. It helps you to customize Gmail's interface according to your preference. For example, you can disable google ads, make Gmail always show To, Cc, Bcc fields, and much more, there's a sea full of customization option to dive into.
Moreover, it also lets its users schedule emails to send later, snooze inbox so that you can get emails later at a desired time, block email trackers, and more. Gmelius is free, but features such as email templates and advanced tracking stat at $9 a month. 
Visit: Gmelius
Trello
Trello is considered to be one of the best Gmail extensions because it lets you stay organized and get everything done without leaving Gmail's UI. It is easy to install; and you can also use it to add contacts easily from your mail to your trello boards. And you also have the option for everyone to see them or just to keep it for yourself.
Uses of trello can be to make a task list and share them with your colleagues, and your colleagues can also mark tasks after completing them. You can add due dates and label your responsibilities too. Trello has two pricing policies; one is free and is recommended to the people with smaller teams and offices; and the other is $9.99 per month, which is mostly used by big offices and larger organizations.
Insightly CRM
Insightly CRM is one of the best Gmail extensions for Customer relationship management. Used by people who want to control every aspect of your business, especially with the clients, Insightly CRM provides management software to make this easy for you. It also allows all the members of the team to access the critical information within seconds and also send across notice or projects.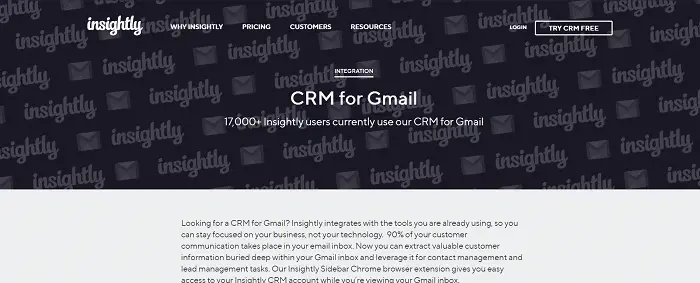 Insightly CRM provides features such as lead tracking and managing sales opportunity. It also provides access to the history of any previous interaction with the customer, manage projects and orders, etc. Insightly CRM has four pricing policies which are Free; Plus: $29 per month and can store upto 100,000 records; Professional: $49 per month and can store upto 250,000 records; and Enterprise: $99 per month and has unlimited storage for records.
Conclusion
These are the top 7 Gmail extensions ad add ons to use in 2023 to boost your productivity. Let us know in the comments below which one of these did you find the best. Have a nice day!