Finally- you struck a deal with yourself to construct a Minecraft server! But all of a sudden, a question lingers in your mind, "Wait, how much does a Minecraft server cost?" Read along to explore this question in detail, to imbibe knowledge to make your own decision!
Discover the perfect Minecraft Server Hosting plan tailored to your requirements. Our plans start at just ₹599.00/month and go up to ₹2,499.00/month, offering a range of options to suit your needs. Whether you're aiming to create a Vanilla server for a close-knit player community or pursuing specific gaming goals, we have you covered. Consider the Alex plan for an ideal fit if you're looking to host a small-scale Vanilla server. You might want to check this article on fixing Nintendo Switch controller lag.
It's easier said than done, and we know that! But if you decide to build a server, many factors come into consideration. The most important question is, "Does it cost money to make a Minecraft server?" And you will read all these factors and the answer to the question as you read along. You can also check out what to do if Minecraft won't launch here. After reading the title of this article, it might strike you that you could put it on your computer instead of hosting it on a server. Honestly, there are a variety of reasons to do the latter. So please keep reading to know it all!
Okay, But First, What's a Minecraft Server?
If we go by the textbook definition to answer this question, we could say it is a server for the multiplayer game 'Minecraft' that a user/ group of users can own.
It is advantageous in a lot of ways. You could let your friends, relatives, or anyone around the globe participate in various adventurous activities and amalgamate your ideas to create the world of your dreams! That was a tad bit dramatic, but you got the gist! Here is a guide on Code Vein multiplayer.
Things to Take Care of Before Hosting a Server
As discussed above, you need to evaluate some aspects before hosting a server and deducing how much a Minecraft server cost is:
The total number of gamers:

The amount of gamers is directly proportional to the amount of RAM in your PC. On average, you can say that every gamer needs about 300 megabytes. But, if you have many gamers invested, you'll require more RAM, meaning you'd need to pay more.

RAM usage

: You would already know that RAM is essential to a smooth gaming experience. It is better to have nearly 2 gigabytes of RAM if you intend on having one to five gamers on your server.

Type

: If you're an ardent fan of the game, you would know that the game has two editions: Java & Bedrock. Set up two different servers for fun, with gamers playing two separate editions.
Your quest for "How much does a Minecraft server cost?" does not end here. You can rent a server from a site or let your PC act as one. Well, you can decide on them by reading further.
Should I Host it on My PC or Rent a Server?
The answer to this How much a Minecraft server cost question is subjective. Let's look at it this way- you are hosting a party and inviting some friends. You could ask a caterer to bring the food to your doorstep or hire a chef to cook for you at your place. The latter requires you to dedicate your resources to cooking. It's the same with Minecraft serveHow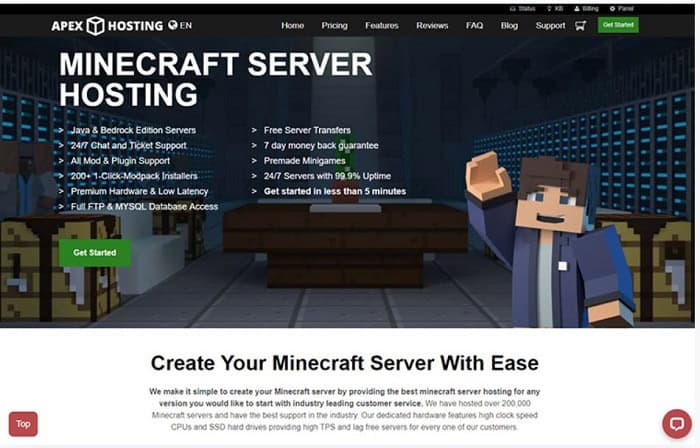 Minecraft says that if you wish for your PC/ laptop to act as a server, the RAM requirement is at least 3 GB with 18 GB of ROM for 3-5 active players. It would be best to note that you can't have any other applications running on the host system; you would have to let it work only as a host. You'd need to buy another system or perhaps build one.
See Also: How To Turn Off Narrator In Minecraft?
How Much Does a Minecraft Server Cost for Me?
To answer the question of how much a Minecraft server costs, the price of a server wherein the PC at your home acts as the host could vary anywhere between $500 to $1000. The former is for building a decent but strong PC that acts as a devoted host. The latter if you are okay with upping your budget and developing a powerful beast of a server!
It would help to remember that this results in extra electricity and Internet consumption. Although they sound negligible initially, they might accumulate considerable costs in the long run.
Now talking about renting servers, let us look at the advantages that you get for doing so:
The hosting company takes care of any and every maintenance the servers require

They look after the updates. They have easy installation and setupInternetng you to set up the hosting without any hassles

they offer good support for the customers
In the end, it all depends on your requirements. If twenty players use a single server, it will cost you arouThe$15 per month. But if your community of gamers expands, an inexpensive server won't help you! Also, every site offers different prices based on their features.
See Also: Top 14 Best Farm Game Apps for Android & iOS (2022)
FAQs
How expensive are Minecraft servers, and are they affordable?
It is subject to the site and features you wish to go with, as every site offers different features and services. But on average, it is safe to say that it will accumulate an expenditure of $5 per month. Numerous events do not cost a penny.
How much is a Minecraft server?
For twenty gamers, expect to expend anywhere between $15-$20 every month. But to employ your PC as a server, you ought to have a budget of around $500 to build an adequate system.
Conclusion
"How much does a Minecraft server cost?" is not a mystery to you! You have ample knowledge to decide whether to employ your PC as a server or rent one. This article provided you with an overview of how much budget you will require to have in your mind if you plan on hosting a Minecraft server. People opt for services based on their requirements, privacy, and other parameters. Happy gaming!