The WiFi home connection and the internet must be connected to your Roku player when you connect it to your TV. This post will enlighten you on how to connect Roku to Xfinity WiFi on a streaming device or stick.
By following these steps below, you can easily connect your Roku device to Xfinity WiFi and enjoy seamless streaming:
Install the Roku Player, Streaming Stick, or TV.
Set the input channel on your Roku device.
Select your language using the Roku remote.
Choose between a wired or wireless connection.
Enter your WiFi password.
Connect your Roku device to the network.
Make sure you scroll down and read the complete article, so you don't have any more doubts. Check out the below troubleshooting steps on how to connect Roku to Xfinity WiFi:
See Also: 4 Best Cheap Android TV Box | A Complete Guide For You
Easy Steps To Fix – How to Connect Roku to Xfinity WiFi
We have prepared this simple guide article for all issues regarding connecting Roku to Xfinity WiFi. The following steps will tell How to connect Roku to Xfinity WiFi:
Step 1: Install the Roku Player, Streaming Stick, or TV
Depending on the Roku model, you'll need to plug your streaming stick or player into an available HDMI port on your HDTV.
Also, pay attention to which HDMI input you choose so you can set your TV to the same input source. Next, plug your Roku TV's HDMI port into the Roku player or player directly by connecting the streaming stick.
See Also: How To Login Into Comcast Xfinity Router In 3 Easy Steps
Step 2: Ensure the Input Channel is Set Properly by Switching to your Roku.
The most popular query is how to connect Roku to Xfinity WiFi, and this step will assist you in resolving the issue. Your Roku TV should have had an HDMI port labeled something like "HDMI 1/2/3/4". Your Roku player or streaming stick will be set into it. Look for the Input, Video, Source, or Aux buttons on your Roku remote control. Switch to the same input to connect Roku to Xfinity.
Don't fear; there won't be anything on the screen for a while. However, in a few minutes, the Roku logo animation should fill the entire screen of your TV.
If this doesn't happen, check to see that the input on your Roku TV is set to the correct one. If you need more assistance choosing an input or if there isn't a picture being shown, please visit https://go.roku.com/selectinput.
See Also: How To Turn Off Roku Express And Other Roku Models
Step 3: Select your language using the Roku Remote
Your Roku remote will begin to pair automatically on the Let's get started screen as soon as it is turned on. 
Use your Roku remote to choose your language after it pairs successfully. If it doesn't, press and hold the pairing button for around 3 to 5 seconds until the green pairing light on the Roku remote starts blinking. This indicates it is ready to pair.
Once you select the proper input, a screen for Roku's ongoing setup will appear. Press OK on one's Roku remote, select a country, tap Set up for home use, and press OK once again to return to the previous screen.
See Also: Best Screen Mirroring Apps On Android For Roku | Top 5 Picks For 2022
Step 4:

From the Menu, you can then select either Wired or WiFi
Once you select your desired language, the tutorial on how to connect Roku to Xfinity WiFi will begin. Continue to the following step if you decide to use a wireless connection.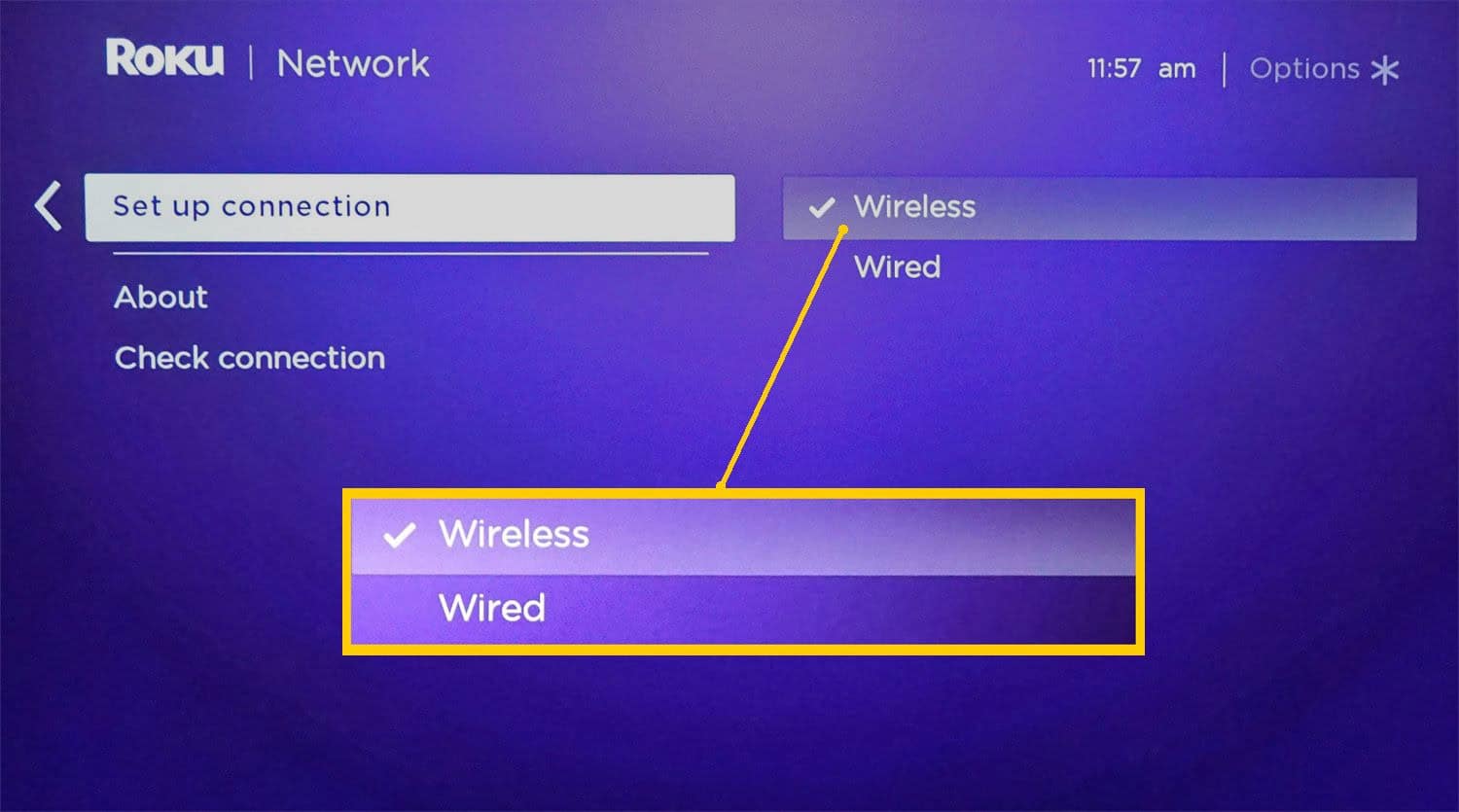 If you select a wired connection, your Roku player will immediately detect your connection; you only need to attach the Ethernet cable to the Ethernet cable on your Roku player. Your problem with connecting Roku to Xfinity WiFi will significantly alleviate it.
See Also: How To Cast VLC To Roku – Easily Explained
Step 5: You should select Wireless Network from the List. 
Try to press "Scan once more to see all networks" If one's network doesn't display or list out, then press "OK" once more on your Roku remote.
For more troubleshooting steps to locate your home network, visit https://go.roku.com/findnetwork or https://go.roku.com/wireless.
See Also: How To Use Twitch On Roku | Simple Stepwise Guide
Step 6: Specify the Password
You will require a WiFi password for your home network if it has one, or any other available information.
 Please remember that network passwords are particular instances. You can press "Show password" to see your password as your input. To enter capital letters in the password, use the shift key on the on-screen keyboard.
See Also: How To Change Network From Public To Private [Easy Way]
Step 7: On your Roku Remote Control, Choose Connect and Hit OK Again. 
Your Roku device will connect to your network if you type your password correctly.
 The connection is successful when two or three checks are green. Therefore you can now proceed. You should try again if it doesn't connect to the WiFi network, and if a red "x" ever shows, go to https://go.roku.com/connectivity or https://roku.com/go/wireless for more troubleshooting information.
And search for I'm having trouble connecting to my wireless network. Once your Roku device successfully links to the internet. It will take a while to download the most recent software update. This automatically allows you to receive the newest features and channel updates. For more help troubleshooting error codes 001 to 005, go to https://go.roku.com/softwareupdate.
If you have two or more  Xfinity WiFi accounts that connect and are having trouble enrolling in how to connect Roku to Xfinity WiFi, you could see the following message: "Welcome! You can use only the Xfinity WiFi in your home for this device to access Xfinity Stream. Use the app to watch whenever you want on your PC, tablet, or smartphone. Error TVAPP-00101." 
See Also: How To Install Xfinity Stream On FireStick? (2023)
FAQs
Does Roku support connecting Roku to Xfinity WiFi?
You can easily get Roku and benefit from all of its features if you have an Xfinity TV and Internet subscription.
How come my Roku is unable to connect to Xfinity WiFi, and how to set up Xfinity WiFi on Roku?
The connection between the Roku and the Xfinity device should be over the same network. When the Xfinity device restarts, reboot your Roku device and connect your Roku via network wiring.
Why is Roku unable to access my WiFi?
Try rebooting your router if you have trouble connecting to the internet. Boost the wireless signal's strength. The wireless connection on your Roku device becomes weaker the further it is from your router so check it as well.
How can I access my Xfinity router?
Ascertain your network connection to Xfinity before attempting to get into your Comcast Xfinity modem router. Then key in 10.0.0.1 and hit enter in any browser. Use the login credentials of "admin" and "password" to access the website.
Conclusion 
We're sure you found a solution using our list of potential reasons why your Xfinity Stream on Roku was not working. You can now use your Roku device without problems to access the fantastic Xfinity entertainment!
If you could not resolve your problem here, you would likely be able to do so by calling the customer service departments of either Xfinity or Roku. This article must have answered all your doubts and solved your question about How to connect Roku to Xfinity WiFi?