There is no single app to find all the Anime on the IOS side of things. Do not worry; TechWhoop will guide you about how to watch Anime on iPhone. This article lets us know about a few apps and websites to watch Anime for free. For what are we waiting? Let us spiral down the ways. 
Taiyaki Anime
So, first of all, we will need the Test Flight app to watch anime. Go to any internet browser and search for Test Flight app download. Since this app is free, we have plenty of websites that offer downloads. Choose a safe website and download the app or click on "https://apps.apple.com/us/app/testflight/id899247664". Now, install the Test Flight app. After installing the test flight, another application needs to be installed; Taiyaki Anime. Like test flight, either search for it on the internet or click on this link "https://testflight.apple.com/join/MLL0nUqr".
Tap on the install, and after installing, tap on Open. We are asked for permissions to run the app and click allow always. Tada!!! We are now done with the dreary installation process. Click on start testing on the app. You can see a massive list of Anime. Now, please scroll through the list of Anime to find your favorite or search for it. Once we have opened an anime, we get information about the synopsis, genre, other tags, and recommendations. 
Swipe to the Episodes tab and click on "Open Settings." 

Click on View Available Sources. 

Now install every available source. 

Now go back to the anime page and click on the same Anime you searched before.

Go to the episodes tab, and we find a lot of available sources.

Click on any source and watch the video.

We can change the quality of the video and a few other settings too.
That is it; we can now watch Anime on iPhones for free and with unlimited options to choose from. 
Crunchyroll
If you want to watch Anime on your iPhone but need premium content with a vast collection of Anime, you should go for Crunchyroll. We can get a 14- day free trial, and if we like the content, we can subscribe to it either every month or yearly.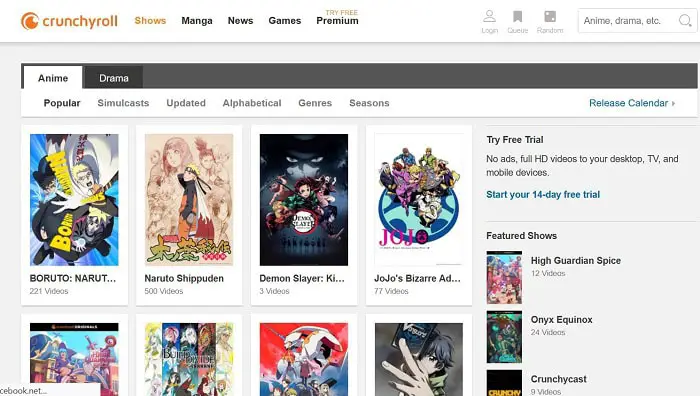 It provides us with 1000+ Anime. Crunchyroll is an excellent platform for IOS users who love watching Anime. You can watch Anime on your iPad as well. 
Visit: Crunchyroll
Tubi
Dive into a massive collection of Japanese animation — from classic blockbusters to brand new shows airing weekly on Tubi TV. Tubi TV is an application that is free and easy to download. We can stream Anime on iPad, iPhone, and Apple TV with Tubi. Though we don't have much Anime like other platforms, it has a classic collection that keeps us hooked.
Also, we don't have a download feature that allows us to watch the videos offline. We need to be connected to WIFI to watch the videos. Nevertheless, its content is pretty good, and it's for free. Do check it out. 
Visit: Tubi
Netflix
Netflix is an obvious source to watch anime on iPhone. Though it's premium-based and not for free, it has the best anime content.
Download the Netflix app on your IOS and enjoy the Anime. There are zero ads on this application if you have subscribed to it. It also has subtitles and you can also download your favorite shows and episodes.

Visit: Netflix
Bilibili
Bilibili is also an anime-watching website that a Chinese company owns. It is an easy-to-download app on IOS. Almost all the content is free except for a few premium shows.
The exciting feature of Bilibili that makes it stand out from other apps is, it allows the users to upload their reviews about the shows they watch. This ensures a better exchange of views among the audience. Minimal disturbance of ads is the soothing feature of Bilibili. 
Visit: Bilibili
Hulu
Hulu is very much available on the Apple Store, and we can watch Anime on iPhone without any hassle. We have a one-month free trial on the Hulu app. We can access premium content with quality and without ads.
Prices are very affordable and every buck paid is worth it. We can find dubbed anime content in a few regional languages along with subtitles. Attack on Titan, Death Note, Food Wars, and Toradora are some of the many Anime available on Hulu. 
Visit: Hulu
KissAnime
KissAnime doesn't have an app that is designed for IOS. But, an iPhone anime stream is possible through its website. It is a legit website that offers free content.
Though we don't have plenty of Anime, the content available is appreciable. All our childhood anime can be found on this website, and it is safe to use. 
Visit: KissAnime
Frequently Asked Questions
Can I get all the above apps from the Apple Store?
Yes, all the apps mentioned above are available on the Apple Store and are easy to download.
Should we pay to download these apps?
All these apps are free to download, but we may need to pay to access premium content for a few apps. 
Are these apps safe for IOS devices?
We have listed out all the apps that are safe to use. 
What happened to Mangastream? Click here to learn more
Conclusion
Anime; the most-watched and admired content across the globe. Unfortunately, IOS doesn't provide much access to its users to watch Anime. But through this TechWhoop's guide on How to Watch Anime on iPhone, we covered a majority of the apps. We tried to ease the problem of iPhone users so that we could watch Anime on the iPad. All these apps are free and very safe to use. Watching Anime on iPhone is easy with the guide provided by us. 
See also: 18 Best Websites to Watch Anime/Cartoon Online {Updated}