Today's topic is "How to make uTorrent faster." The origins of the pirate classified file sharing system of uTorrent and torrents are shady, just like how it operates.
Here are some Proven Tips to make uTorrent Faster:
Addition Of Seeds And Peers.
Allocate uTorrent the Maximum Bandwidth.
Make it faster by speed queuing.
Use An Ethernet Cable
Irrespective, torrents are computer files composed of vast amounts of metadata on the files and folders meant to be distributed. These files are comprised of specific network areas called trackers.
See Also: Torrent Trackers For 2023 | All You Need To Know About It
Trackers
Trackers are various computers that assist the system, which use this file-sharing system to find each other to form an effective and efficient group for distribution known as swarms.
Torrents, in general, do not contain the files meant for distribution but rather the information which is concerned with those files.
The information carried can vary from folder structure to cryptographic hash values, which are utilized to check file integrity. Torrents are received with the extension .torrent, making it clear to the user which type of file they are downloading.
Various applications, like BitTorrent or uTorrent, and Vuze, have been developed to harness the power of the torrent system.
uTorrent, the most popular of the three, is a proprietary adware torrent software that assists in the completion of downloading data through torrents. Ludvig Strigeus initially developed the program and released it in 2005.
However, over time, BitTorrent now owns it and has over 100 million users supporting it. All of the versions are in C++, including the latest 6.0 version.
See Also: How To Open Torrent Magnet Links? 3 Best And Easy Ways
Is uTorrent Illegal?
The truth is everyone uses torrents or has used torrented software once in their lifetime, with or without the knowledge that they have been using them. But if you bring the topic of torrents to their presence, they will reject all connections to it.
This is because everything or everyone connected to torrents has always been on the wrong side of the law if looking through the perspective of the law.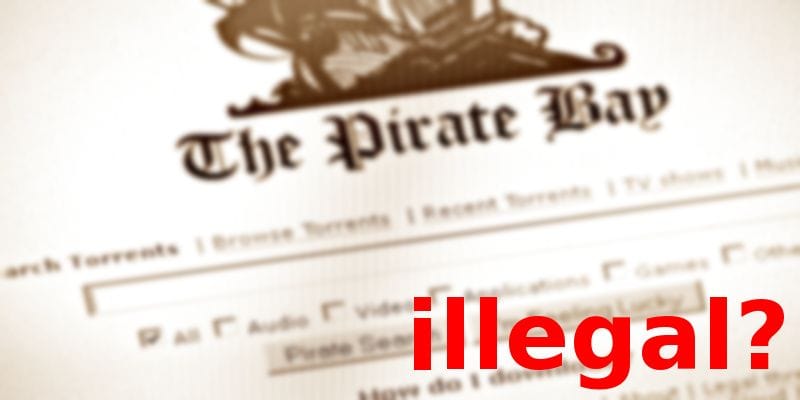 This is because torrents give free access. The community of torrent users and torrent hosters are pirates. They crack software for the public to use for free. Irrespective, looking from a positive point of view, torrents and pirates have kept old classic applications alive.
Many of their developers have stopped supporting them as they have to support newer software versions. Hence torrenting and the support of torrents isn't an entirely bad practice.
See Also: What are Seeders and Leechers, And Why To Know About Them?
Cons Of uTorrent
Torrents in the current day and age are not trustworthy. As sometimes they have a potential chance to put your computer at risk. This is because many torrent developers or authors want to use torrents as a means to prey. Prey on the weak of the internet.
The problem is mainly because torrent hosting sites don't filter. The active torrents are from the non-working ones or even the dangerous ones. But once you know you have a working torrent where the wait will be profitable for you.
The user can't spend time waiting for it. Hence today, we are here to show you eight tips to make uTorrent faster.
See Also: How to Fix Unable to Load: Torrent is Not Valid Bencoding (2023)
Tips To Make uTorrent Faster
Here are some of the most straightforward ways to achieve the same quickly!
Addition Of Seeds And Peers
The first step you can take to make uTorrent faster is to make sure you have the maximum amount of seeds and peers for a tracker from a specific file you are downloading.
Seeders or seeds are the users who previously downloaded the torrent you are downloading, while peers are the users who are downloading alongside you.
Hence having more seeds and peers in the torrent, the easier the solution how to speed up uTorrent. To add more seeds and peers, the user must ensure that uTorrent downloads a torrent. This, in turn, can assist you in checking the download speed of the torrent which is downloading.
After that, right-clicking on the torrenting torrent and selecting properties will allow you to locate trackers.
Once pasting any available trackers in the chosen option, the user should confirm the changes made by clicking "OK." This will, in turn, make the client put in any additional seeders and peers associated with your file, making uTorrent faster.
See Also: Best Torrent Downloader For Macs | Top 7 Tools 
Open Up The Highway
The second step the user can do to make uTorrent faster is by increasing the additional bandwidth used by uTorrent. To execute this tip, the user has to click the "Options" selection within uTorrent.
Once inside the selection, clicking on "preferences" will make you reach the option to locate bandwidth, within which making the following changes to the settings:
Change the maximum upload rate to 14.
Modify the maximum download rate to 1800.
Change the maximum number of connected peers per torrent to 257.
Modify the global maximum number of connections to 2329
Change the number of upload slots per Torrent to 14.
This should make uTorrent faster, but only after changing the right parameters. If it doesn't become faster, try it again or give the next tip a shot.
See Also: Best Torrent Downloader For Macs | Top 7 Tools of 2023
Special Road
Another tip the user can execute to make uTorrent faster is allocating bandwidth to the particular file you are torrenting. This will assist in speeding up the download of the file. To execute this tip correctly, right-click on the file which needs speeding up.
After floating, the cursor over "bandwidth allocation" will bring up another drop-down option. It has various degrees ranging from high to low or even a custom upload and download option. Ignoring all the other selections and choosing "high" will make uTorrent faster.
Speed Queue
Another tip the user can execute to make uTorrent faster is speed queuing. Speed queuing is the process of arranging the torrents in a manner to maximize the download speed.
The benefit of this one of the best uTorrent settings is that it will help download many torrents simultaneously. You can do this by clicking Options and then selecting Preferences.
Once inside preferences, clicking on queuing will give you options. Change the number of active torrents and the number of active downloads. Changing both of them and then, lastly, setting the global seeding minimum to zero will make uTorrent faster.
Shift The Gear
To make uTorrent faster, the user can execute a gear shift too. The process of shifting the gear in torrenting is simple. It just basically means to increase the download speed manually.
To accomplish this tip, the user must double-click on the torrent you want to speed up.
After which, a pop-up box will appear where the user must change the "maximum download speed" to zero. This means that the threshold or limit for the download speed is set to infinity. Hence this will help you to make uTorrent faster.
Use An Ethernet Cable
We usually use Wi-Fi to download any file. But what if I tell you there's a faster way to speed up the downloading process?
You can choose Ethernet, as all routers have an Ethernet port. An Ethernet cable's speed is always constant. With an Ethernet cable, you don't have to worry about network interference or slow speed.
If your laptop doesn't have an Ethernet port, you can choose a USB to Ethernet adapter.
This is the best way to speed up uTorrent downloads.
Authorize uTorrent In Your Firewall
Here's how you can perform Firewall uTorrent settings for fast downloads.
For every Firewall configuration, you need to check the software's documents to know the process.
If you have Windows XP/ Vista Firewall, follow the steps below:
Go to the Control Panel in Windows,
Open Windows Defender Firewall,
Go to the "Allow an app or feature through Windows Defender Firewall" in the upper left corner,
Now, find and check on the uTorrent application to allow.
Change Your ISP
ISP, an abbreviation of the Internet Service Provider, plays a vital role in uploading and downloading files. ISPs provide specific data speeds, and your internet speed won't surpass the actual speed of the ISP.
So, it would be best if you had a faster internet connection to have a faster-downloading speed.
Try changing your ISP with a better one to speed up uTorrent.
FAQs
How to make uTorrent download faster with Disc cache settings?
In uTorrent, go to the Options and then Preferences. Now, click on the Advanced option and then click on Disk Cache. After, check on 'Override automatic cache size and specify the size manually.' Now, change the size of the default 128 MB to what you want. For. E.g., 300, 400, or 1000. After that, click OK.
Is BitTorrent faster than uTorrent?
BitTorrent and uTorrent are the products of the same company. BitTorrent acquired uTorrent in 2006. There isn't much difference in both software when looking at the speed factor. But uTorrent has more downloads and reviews than BitTorrent so you can choose uTorrent as a better one in the game. Another factor to consider while choosing the software is that BitTorrent's size is 3 MB, and uTorrent's is only 1 MB. So, it is lighter than BitTorrent.
Is uTorrent safe to download?
It is safe as long as you are aware of the malware and bloatware. uTorrent is a good software to use, but what type of files are being uploaded here and what you choose to download is what you need to be aware of.
How to download uTorrent?
Go to the uTorrent website, download the uTorrent Classic, and install it. Or you can directly go to the Google Play Store and download it from there.
Is uTorrent illegal to use?
No, uTorrent is legal software. It is only a platform where some users share files and other users download them.
You may also like to learn about UTorrent Private Internet Access Setup. We hope this article answers your question about how to make uTorrent download faster.
See Also: 19 Best Music Torrent Sites To Download Music Torrents