Videos are the best media to capture real life moving visual images. Capturing moments at birthdays, weddings, casual parties, live performances or funny clips light up your eyes with sparks when you recall those beautiful memories later. Few crucial and beautiful moments happen only once. Thus, you must know about the best free MP4 Joiner out there.
You may have it imaged in your mind and run them in your thoughts. But living that moment any number of times occurs only when you capture it on your camera. It may be your wedding proposal or your baby uttering its first word or any other adorable moment, give them life with your videos.
Not all videos are perfect. There may be flaws, or few may be broken. But do not let your moments captured end up in uncertainty. You can merge videos to make them look as if they were the seamless original live video. Give life to your dead videos and let your memories live forever both in your mind and your device. Here are the 10 best MP4 Joiners that enables you to merge your videos at absolutely free of cost. Try them and share them.
Free MP4 Joiner Software
MP4tools
MP4tools is a video editing software which enables you to process video files by splitting and merging video clips. It also lets you convert your video file formats to help you play your video in any format restricted devices by making your video compatible with your device.
Split your video to reach your preferred video size or start-end time. You can adjust the Pixel Aspect ratio accordingly. You can embed your subtitle tracks into the video either as a hard code or by including SRT files.
Download: MP4tools
WinX HD Video Converter Deluxe
WinX HD Video Converter is a windows MP4 Joiner which serves as a multipurpose video editing software. You can convert your video into any format without comprising the quality of your original video.
You can split, merge, crop or embed subtitle tracks into your video. Convert your MP4 into MP3 within few steps. It supports 320 video codecs and 50 audio codecs which gives you all the freedom you need to convert or edit your videos.
Download: WinX HD Video Converter
Gihosoft
This is another free of charge MP4 joiner tool available exclusively for all window's versions. Also, it is helpful in cutting and merging audios as well. Furthermore, you also can add creative transition effects for smooth progression. Not only it charges nothing, it also aids you in expediting the creation process. They are known for their speedy service. This free video and audio merger is not just high-powered but also has a clean and uncomplicated interface. Any amateur creator can easily utilize the video combiner tool. MP4, AVI, WMV, also MOV, and MPEG are some formats that can be run on this Gihosoft Free Video combiner.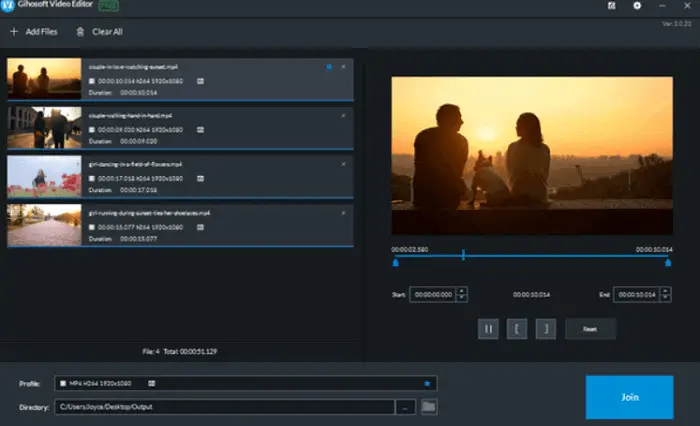 Moreover, when the file is trimmed, the quality still remains intact, which is a great benefit of this app. Furthermore, you can unite videos and audios together as well. You can join unlimited clips for free. However, the most amazing property apart from zero quality loss is that there is no adware and malware bunched with the app. Moreover, another handy feature is that you can also preview the outcome after mixing the clips as per your needs.
Download: Gihosoft
See Also: 16 of the Best Tools to Convert Video URL to MP4
Windows Movie Maker
Microsoft designed the Windows Movie Maker program exclusively for windows OS, which after 17 years got discontinued. However, you can still find the free app from the link below. This mp4 combiner tool is ideal for both beginners and editing experts. It has amazing variations in transition filters and impeccable speed. Furthermore, the pool of tools available for editing makes the entire editing process effortless.
To add to these features, users can easily share their creations directly from the application without much hassle. One can even change 'save as' formats from the variety of options available.
Furthermore, users can combine mp4 files of any size together.
Download: Windows Movie Maker
MediaJoin
If your goal is to find a simple app for combining videos, you can opt for MediaJoin. This app is specially designed for joining media, as the name indicates. Moreover, this app can also be utilized as a photo editing software. However, as said earlier, it's a simple app and thus does not contain much transition effect or editing effects. It surely has a friendly interface and options like adding the audio tag.
However, you might like to consider these two cons of this app before installing it. It does not favor windows version 7 and Vista. Also, the file drag and drop option is not included.
Download: MediaJoin
VideoGo
If you are searching for an MP4 editor that is the latest yet competent, then VideoGo is the best option. It does not just support windows operating system but also Mac OS.
VideoGo is devised for professionals yet simple enough to be used by beginners. It is suitable for mixing MP4 and audios to make them one.
The straightforward interface gives added advantages like the add file option makes it easier to add MP4 and MP3 files. Furthermore, you can choose from multiple transition effects. However, the process of combining videos by VideoGo is comparatively slower than other mentioned software.
Download: VideoGo
Virtual Dub
Virtual Dub is a video capturing and video processing open source software. The software helps you compress the video as per your desired video size.
You are free to remove or add audio tracks in the video. You can edit the video by cropping, blurring, resizing, sharpening, adjusting brightness and contrast levels, smoothening and many other exciting edits. Decompress and recompress both audio and video accordingly. It is elegant video editing app with its simple user interface.
Download: Virtual Dub
Avidemux
Avidemux is a free video editor trusted by millions of users to give their video a new life. It enables you to filter and encode your video by using a variety of codecs. It guarantees to take good care of your video quality while processing your video.
Avidemux supports multiple video formats and comes with various filtering and editing techniques that enable you to rotate, flip, resize, adjust brightness and adding subtitle tracks. Download this fantastic software and enjoy unlimited video editing free of cost. You can download this software from the below link.
Download: Avidemux
VSDC Editor
VSDC is a free MP4 Joiner software that provides you professional video processing functionalities. It supports multiple audio and video formats which enables you to choose one as you desire.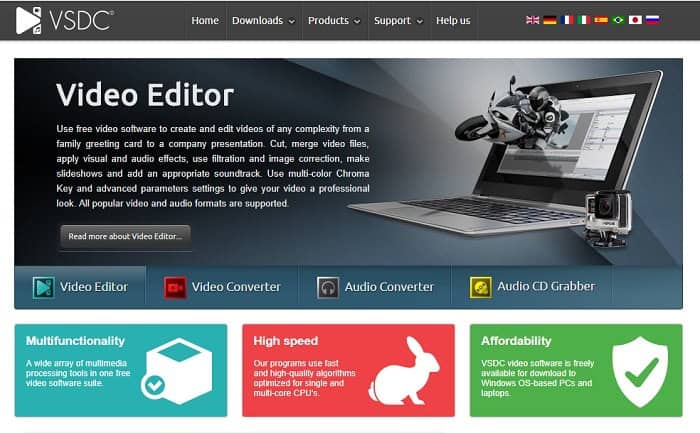 VSDC Editor includes a variety of video effects like color correction, brightness adjustment, object transformation and many jaws dropping features. It lets you create your impact by combining the available effects. The well-presented videos attract you towards the software inspiring you to create more of them.
Download: VSDC Editor
Movavi
Movavi has got a fantastic user interface which is simple and comfortable to use. You can cut and join mp4 files with this simple software. It provides you various other features as well: improving quality, stabilizing the footage, applying filters, adding titles and audio, splitting, merging and many more exciting features.
You can export your video into any format and directly share on Youtube. Spice up your creativity with this amazing software.
Download: Movavi
VideoPad
VideoPad is a featured video editing software that provides you professional quality videos. You can put exciting transitions in the middle of the video to change the scenes with excellent visual experience. You can even customise the duration of your transition.
It provides you with a drag-and-drop feature to ease off your editing. You can mix the audio tracks and tailor your music into the video. Not to mention, you have all those rotate, resize and other standard features available by default. Explore the software and find exciting features waiting for you.
Download: VideoPad
FFMpeg
FFmpeg is a multimedia tool that can record, edit and convert audio and video files. It saves file formats to your desired format with no loss of quality.
Also, it is a command line tool which may be hard to interpret, but it is an ultimate multimedia tool that can perform any edit on your video.
Download: FFMpeg
ShotCut
ShotCut is a free video editor that supports all latest audio and video formats. Native timeline editing is enabled which does not require you to import the video into the software.
You can use audio filters and give your video real sound effects. Various video filters give your video a lively and lovely look. Use the transitions for additional effects. All types of editing features are enabled to edit your video as you like it to be.
Download: ShotCut 
Movica
Movica is a graphical video editor with very simple and understandable GUI. You can cut and merge videos and make up a new video from multiple videos.
Also, it is possible to select one or more clips from the video and trim them off. You can refine your selections by using the slider. All in All, it is a simple software that requires no additional skills or efforts to merge mp4 files.
Download: Movica 
See Also: – Top 6 Best Free Adware Removal Software – TechWhoop