Most of us prefer to listen to MP3 songs rather than watch an MP4 video in most of the situations. These situations include traveling, parties, adding background music, etc. In such circumstances, we prefer to play an MP3 song, which stimulates happiness and excitement in the hearts of the music lovers. Thus, you must know how to convert MP4 to MP3.
But sometimes, we only have an MP4 video of the most desired song, but could not find the MP3 format. To help you in such cases, quite some MP4 to MP3 converter tools are available online, which takes your MP4 video as an input and gives an MP3 format as an output. Also, MP3 files have a reduced file size and are compatible with almost all the multimedia supported electronic devices.
Online converters are very comfortable to use. You don't have to download and install complex and complicated software to convert your file formats. You just go to the website and browse through the files from your device and select one MP4 video. And then convert the file and download the MP3 format. Some of the best MP4 to MP3 online converters are listed below:
Top 8 MP4 to MP3 Converter Tools
Zamzar
Zamzar is an online MP4 to MP3 converter that takes your MP4 file as an input and gives out an MP3 file as an output. It eliminates all the video content and extracts the purely audio content. The website asks you to browse your device and select an MP4 file, choose MP3 as the output file format and enter your e-mail address to receive your output content. Then, click on convert, to start your conversion process. After the conversion is completed, you will receive mail from Zamzar with your MP3 file.
Visit: Zamzar
Docspal
Docspal is an online format converter that converts your MP4 to MP3 within few minutes. It has a drag-and-drop option that lets you drag and drop your file into the website. So, you can either browse your device or drop your files to provide an input file to the converter.
Then select the original file format as MP4 and the output file format as MP3 from the drop-down list. You can receive the downloaded file link in your mail if you provide your e-mail id or browse the link right from the website.
Visit: Docspal
See also: – 6 Best Online Vimeo to MP4 Converter Tools – TechWhoop
OnlineVideoConverter v3.0
OnlineVideoConverter is a simple MP4 to MP3 converter with a user-friendly interface. Just browse or drop your files into the converter, select the output format as MP3 and start converting.
Then, after the conversion is complete, click on the download link, to obtain your converted file. The converter is free of cost with super-fast conversion rates. It works with all the browsers. It demands no registration to help you with conversions.
AConvert
Aconvert is a free online converter which fulfills your need to convert MP4 file to MP3 format. Select a file from your file system, select target format as MP3 and select an audio bitrate from the drop-down menu or leave it as 'Do not change.' Then, Click on 'Convert Now!' and your conversion process starts immediately.
After a successful conversion, the conversion block will display the results. Then, Download the output file and enjoy your MP3 song. Using with unlimited file conversions is free. It supports other file conversion formats as well.
Visit: Aconvert
See also: – 5 Best WebM to MP4 Converter Tools for Windows – TechWhoop
FileZigZag
FileZigZag is an online format converter. It helps you to convert MP4 to MP3 in a simple interface. Also, it supports faster conversion rates with iinstant downloads. Select a file from your device, select the type of file you want as output, enter your email address and start converting.
Then, you can download the output MP3 file instantly from the converter or download it later through the link that is mailed to you. The converter also supports other formats to fulfill your all different needs. It is free and simple to use. No complex steps and no complications.
Visit: FileZigZag
FileMinx
FileMinx is an easy and free format converter. It converts your MP4 to MP3 with ease. It does not require any registration or email address. Also, No personal details and no insecurity. It only does what it is supposed to do. It supports file sizes up to 50MB, and you get an output even much lesser to accommodate in your device.
It is very secure to use and assures virus-free files to download. Just choose a file, select a format you wish to convert your input file and your file will convert within concise time. So that lesser steps and lesser time is required to get your work done. Your MP3 file is ready to be downloaded within a short period. Download it and enjoy your favorite music instantly.
See also: – 5 Best MOV to MP4 Converter Tools for Windows – TechWhoop
Media.io
Media is a simple yet useful online audio converter as well as a video converter. Input your MP4 file by browsing your device by clicking on 'Select Files to Upload' button, then select a file format you desire as output and select the quality of the audio from the given choices.
Then click on 'Convert' and your file will convert in no time. It assures you 80x faster conversion than any other converter. Media.io supports 4 different audio bitrates for quality- Extreme (320kbit/s), High (192kbit/s), Normal (128kbit/s) and Lower (96kbit/s). Also, it supports 17 different languages including English.
Visit: Media
ConvertFiles
ConvertFiles allows a safe and convenient way of converting files from MP4 to MP3 or to your desired formats. Upload your file from your local storage, select input format, and output format and click on 'convert.'
The conversion starts, and you can get the download link to your mail if you have provided your email address before converting the file.
Visit: ConvertFiles
See also: – How To Convert Youtube Video To WAV File – TechWhoop
CloudConvert
Cloudconvert is yet another online converter for MP4 to MP3 files. You can select files from your computer, Add from URL, Choose from Dropbox, Google Drive, OneDrive, and box. Once you have chosen the files, the site uploads, or processes your input. Then it gives you the options in what type of output you want your file to be and then converts it into that once you have selected it.
Its pretty simple to use while giving you options of places to upload your file from and more than 200+ ways to convert it to. It will always be a reliable MP4 to MP3 file converter.
Visit: CloudConvert
Audio.Online-Convert.com
Audio.Online-Convert.com is an online MP4 to MP3 files converter. You have a plethora of ways that you can convert your files in, ranging from WAV to MP3 files and so on. You just need to select the type of file you are converting to the nature of the file that you want to convert into, and then you will receive options to drag and drop, upload from the cloud and also add URL.
After inputting your MP4 file, you have to press upload. Once uploads are done, you can check the size of the file and then convert it. It is a very convenient way to convert MP4 to MP3.
Visit: Audio.online-convert.com
Convertio
Convertio is another online MP4 to MP3 converter. Here you can upload as many as files you want and select the format you want it to be converted to. You can upload from URL links to Drive and also Dropbox. Once you have uploaded, you will have to select which format you want it to convert into, and then you will get your results in your hand.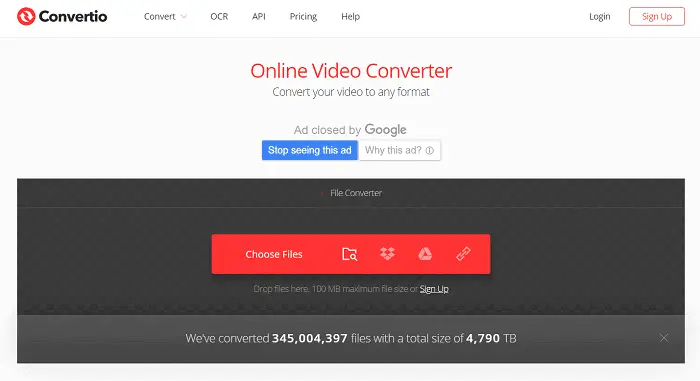 It has more than 100+ formats in which you can convert into. But certain websites, such as youtube, are banned from it. Otherwise, if you want to convert many files at the same time, this converter is the one for you.
Visit: Convertio
Files-conversion.com
Files-conversion.com is an online converter that has the option of converting MP4 to MP3 amongst various formats. Files-conversion provides you a free way to convert any format. You can convert a video, from extension like wmv to flv or 3gp to avi, and much more.
You have to upload the file you want to convert and then select the format in which you want it to be. Once the file has been uploaded, your conversion will begin. If there's a rush on the website, you might have to wait in the queue, but it will hardly take a minute or so to get your file to start converting.
Visit: files-conversion.com
Conclusion
This concludes our list of top 12 methods of how to convert MP4 to MP3 files. Hope you enjoyed using these converters. Let us know which one worked the best for you. Have a nice day.