The introduction of digital technology has significantly altered how businesses operate. Paper usage has drastically decreased, and even receipts are now generated digitally. The use of open-source digital signage has also increased significantly.
Organizations and event organizers have a distinctive medium to show important material and communicate with target audiences thanks to digital signs. Concerto, Screenly OSE, Xibo, Rise Vision, Display, Monkey, etc., are the best examples of open-source digital signage choices.
Digital signage is efficient and appealing and may instantly grab a customer's or viewer's attention. As a result, it is amongst the most important means of communication conveyance in use today. Read up on the information regarding free and open-source digital signage.
See Also: Managing Open Source Components | 5 Best Practices
Features of Open Source Digital Signage Software
Digital signage is a primary means of interaction between customers and businesses. The benefits of open-source digital signage software are listed below.
Support For Soft Signage
Retailers can construct their stores using the digital signage program, and the software's 3D printing capability aids in creating 3D models by using a selection of fundamental shapes. 
Users can access the library of countless shapes and borrow the ones that best fit them.
Content Scheduling
Digital signage differs significantly from static signage in many important ways, including its capacity to automate content display scheduling.
Users can choose to automatically transmit dynamic content and remove stale stuff to keep playback up to date.
Engaging Content 
Digital signage solutions should deliver interesting material to produce good outcomes.
If you want to connect with the audience, entertain them, or promote them, your digital signage system should do so.
Top 7 Open-Source Digital Signage Options
In the following paragraphs, learn about the seven top open-source digital signage options.
Concerto
A web-based Linux digital signage software package called Concerto was created by students at Rensselaer Polytechnic Institute and is still being developed there. Due to its excellent management of medium-sized signs, Concerto is ideal open-source digital signage for small to medium-sized businesses. 
Due to its small size and straightforward design, Concerto is one of the most widely used software tools for digital signage today. Concerto includes practical features like content scheduling to reduce workload and save time. Concerto supports numerous formats, most of which may be found online.
Features
Linux system based on APT

Content planning

Multi-screen assistance

Easy to use and fluid UI

Able to cast in many forms
See Also: 12 Best Linux Android Emulators To Use In 2022 [Complete Guide]
Screenly OSE
The Open Source Edition of Screenly, one of the most well-liked digital signage software programs on the internet, is called Screenly OSE. 
Furthermore, it is quite flexible and user-friendly because of the open-source component. Screenly OSE is open-source digital signage and extremely adaptable because it can support a variety of media formats. 
Additionally, downloading SD card apps is supported, increasing user convenience. One of the most user-friendly pieces of software for digital signage, Screenly OSE is straightforward yet effective.
Features
Runs on resin.io

Easy to Use and Highly Customizable

Assistance for many media

SD card assistance
Xibo
In 2004, Xibo was first developed as a university project, but because of its rapid surge in popularity, it quickly became a phenomenon. Now that Spring Signage is running, practically all platforms may access Xibo. 
Xibo is open-source digital signage and is currently being used with Windows, Ubuntu, WebOS, and Android. The most often used version is cloud-based because it is now the most well-liked alternative and is free and open source.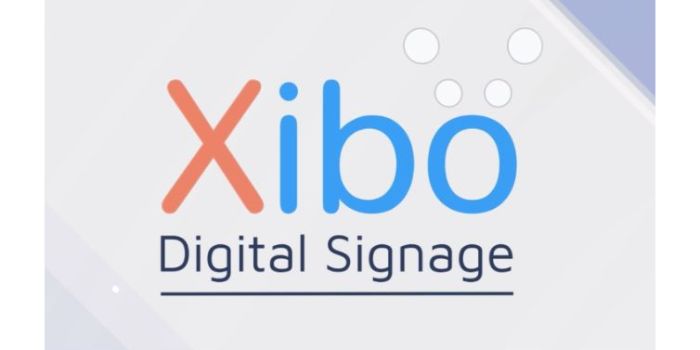 Although Xibo's layout and user interface (UI) are fairly basic, it has various cutting-edge features and widgets. Xibo is effective for the user thanks to its practical features like content scheduling and statistics.
Features
Simple Design and Effective Widgets

Wide Content Scheduling

A variety of players

Superior diagnostics

Highly Modifiable
Rise Vision 
A web-based open-source digital signage tool called Rise Vision is available on practically all platforms and gadgets. Rise Vision's public APIs make it extremely flexible and effective. 
Its style and user interface are highly customizable, and the player is adaptable with a wide range of file types on all platforms. Rise Vision is now a very well-liked digital signage proposal because of its ease of use and web-based accessibility.
Features
Presentations in HTML

Multiple-display support in public APIs

Highly Modifiable

Multi-format assistance
Display Monkey
The cutting-edge open-source digital signage solution, Display Monkey, offers all the most recent online capabilities. Since it is entirely web-based, it is very platform-transferable. 
Display Monkey, one of the most recent software programs on the market, integrates YouTube and live-streaming video services. Its incredibly user-friendly design and flexible layout make it exceedingly configurable. 
Additionally, Monkey schedules and logs content quite well. SQL reporting, a significant function not often found in digital signage software products, is another thing we have on hand. Even the geo-tagging and hierarchical arrangements of the presentation are possible.
Features
Web-based

Reporting Services for SQL

Scheduling content on YouTube

Flexible Design
Pi Signage
One of the best Digital Signage Software tools for the Raspberry Pi is Pi signage. It functions flawlessly on various modest processors and increases the effectiveness of digital signs. The UI's simplicity and clarity make the user's life easier. 
Pi Signage very conveniently logs and schedules information, saving time and effort. It supports content in practically any format, including Windows and Ubuntu. Additionally, it readily operates offline, making it incredibly portable and available everywhere. 
Pi Signage is ideal for small to medium businesses with plenty of displays. And using a Raspberry Pi lowers costs significantly without sacrificing performance. You must need Pi Signage if you utilize a Raspberry Pi.
See Also: 10 Raspberry Pi Zero Projects That You Should Consider Implementing
F
eatures
Intelligent UI

Content Scheduler Support for Multiple Formats

Works Offline

Multi-screen assistance
Info Beamer 
Info Beamer is one of the open-source digital signage software programs on the internet with the most customization options.
On its platform, the content is nested and accessible from practically everywhere. You may keep an eye on the processing, logging, and scheduling.
Features 
Quick Growth

Lua-based

File-format 

Nested Content 

Real-time Control Support
FAQs
What characteristics should open-source digital signage software have?
Retailers can construct their stores using the digital signage program, and the software's 3D printing capability aids in creating 3D models by using a selection of fundamental shapes.
What is free digital advertising?
You've probably seen that more and more public spaces now have TVs installed, including shops, eateries, petrol pumps, menu boards, and many more locations. That is what is known as digital signage.
Why choose digital signs?
The way you engage with your audience has changed thanks to digital signage. It boosts engagement and cuts expenses by enabling you to provide targeted and dynamic visual messaging.
Is creating your own digital signage design possible?
Consider creating your Digital Signage display once and deploying it across several platforms, including browsers and PCs, tablets and other mobile devices, Smart TVs, and set-top boxes. Stop imagining; everything you can think of is real and, you guessed it, free.
Conclusion
As you can see, there are many choices for open-source digital signage.
It's a good idea to utilize Open Source Digital Signage Options until you figure out how to use the program and your unique needs.