Every day, we come across tons of websites and applications. Most of these require you to create an account with a method for identification, mostly a password. Since, due to the sheer magnitude of the number of such information that we come across daily, it is only natural that we sometimes forget our passwords. And so here we will discuss about Outlook Password Decryptor. Whereas sometimes we are not even able to generate a secure enough password of our important accounts.
See Also:- 8 Best Free & Paid Windows Password Recovery Tools
Even though most smartphones and applications offer a feature that allows you to save your password in the app itself, it can cause security issues and hence is not preferred by some users.
So in case, you have forgotten the password for your Outlook account, here are some ways you can get back your account and password.
Best Outlook Password Decryptor Tools
Here are some of the best Outlook Password Decryption tools to recover your lost or forgotten passwords:
Outlook Password Recovery Pro
Outlook Password Recovery Pro by XenArmor is the most sought-after password recovery tool for MS Outlook. Its previous editions have been as efficient as the Pro version. The 23 May 2020 version has so far been the best and the latest of this software.
Whichever Outlook version you may have, be it Outlook Express or the latest Outlook 2019 version. All the versions in between too are supported by this software.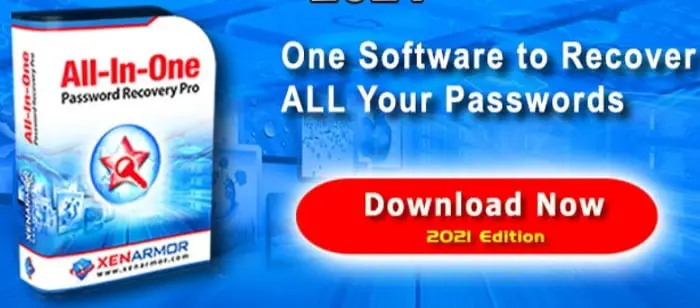 The functioning of the Outlook Password Recovery Pro version is simple. Since Outlook stores the passwords of its users, one does not need to enter it again and again. This software scans the Outlook profile. The passwords stored there are encrypted, so there is no security issue either. This software copies the encrypted password and decrypts it right in front of you for a transparent proceeding.
You can even delete the passwords stored on Outlook and reset it. It is a trusted Outlook password viewer, that even the anti-virus in your PC will not object to.
Visit: Outlook Password Recovery Pro 2021 Edition
Outlook Password Recovery Master by Rixler
Rixler's Password Recovery Master is capable of recovering one's mail passwords as well as Outlook's passwords. In case the user has more than one password, this software decrypts them all in one go.
The Recovery Master is compatible with almost all MS Outlook versions. Be it as old as Outlook 97 or Outlook 2013. The recovery is secure as the whole process is automatic with no intrusions.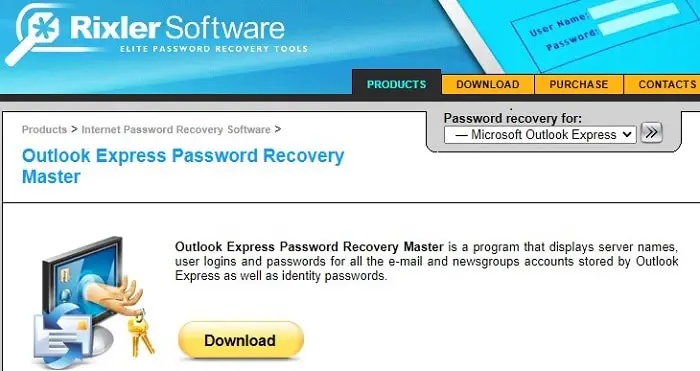 Also, to prevent unwanted eyes, this software allows a 'master' password for the software itself. Thus, the passwords you retrieve will be stored in this software with a single strong password, only known to you. It may seem ironic to expect one to remember a password of a password recovery tool! But this feature ensures the security of your data and files.
Like most others in the list, this software supports all Windows Systems, even Windows Vista. The plain and simple interface allows the user enough convenience.
Visit: Rixler's Outlook Password Recovery Master
Outlook Password Recovery
The best and easiest way to recover your Outlook password is by simply using the 'Forgot password' feature on your Outlook account. This is displayed right next to the login details.
You can enter your recovery details in the window that pops up after selecting this icon. Then, you will be shown a set of instructions that will allow you to reset or change your password. Click to find out what to do if Outlook does not open

However, this works if and only if you have provided the right recovery details for your account. This includes either your phone number or a secondary e-mail address.
If you have given either of the correct information, this is the best way to get back your password. In case that information was outdated or you cannot access them anymore, there are other ways you can try.
Visit:- Outlook password recovery
See Also:- Best Windows 10 Password Reset Tools to Download
Portable Outlook Password Decryptor
This tool is true to its name, that is a portable version of the Outlook Password Decryption freeware. This application removes the need for installing it from a setup file and gives the user instant access to the service.
The software is quite simple and straightforward to use to reveal Outlook passwords. One just needs to push a button to recover keys for your Outlook account. Once you press the 'start recovery' button, the list of all storage accounts pops up with the password, username, etc.
Visit:- Portable Outlook Password Decryptor
Outlook Password
The grideon Software is the developer of Outlook password software. It recovers the passwords for your Outlook account. You can retrieve the details of your Outlook account, like username, from your PC using this password decryption tool.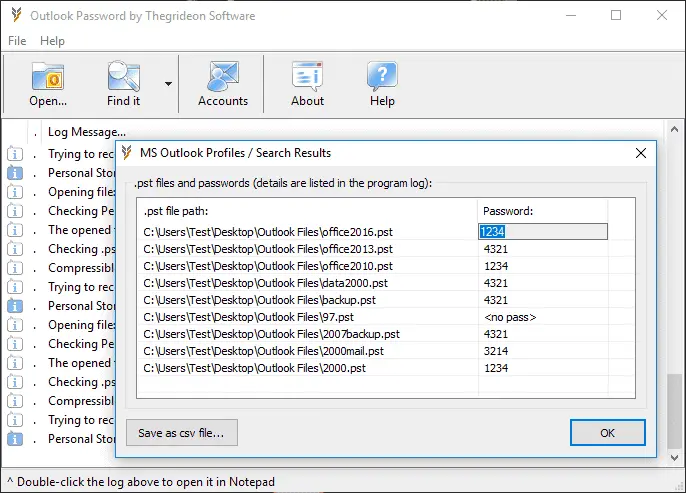 This software is quite sturdy and can process files of up to 4 GB in size. The user interface is not very hard to understand, and the entire process of recovering information is simple. The process can be done quickly on your computer.
See Also:- 10 Best Tested Norton Password Generator Tools (2023)
Outlook Recovery Wizard
The Outlook Recovery Wizard is a powerful tool that can be depended on to get your Outlook account back. This is an advanced recovery tool that employs multiple algorithms and a superior engine.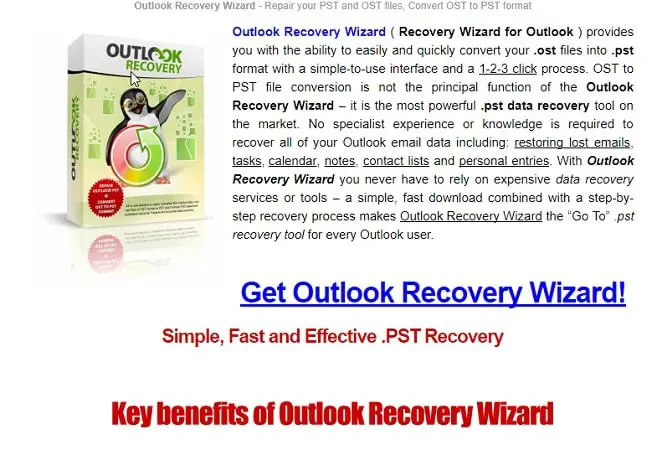 The data recovery is made by analyzing and extracting detected data structures. This also can process large files as well. It is one of the most potent tools for Outlook password recovery and related information. However, the user interface is quite easy to use, and the process is quick.
Sysinfo Outlook PST Password Recovery Tool
The PST Outlook Password Recovery tool by Sysinfo is one of the most efficient and value-for-money password crackers. It can decrypt a code within seconds, however lengthy or complicated the code may be. Moreover, its user-friendly interface allows swift action.
With compatibility to Outlook's higher versions i.e. from 2016 to Windows 10, it is a well-off utility to unlock important mails and data. An interesting feature of this decryptor is its recognition of the multi-lingual.
Furthermore, to ensure privacy, the password is traced to a saved file. One may even opt to see only the first few letters of the password and leave the rest to their brain power. This allows complete privacy in case of any third-party spectators.
Thus, Sysinfo is one of the best Outlook Password decryptors available for free. The user does not even need to have MS Outlook on their device. It can be retrieved through another device as there is no direct linking.
Visit: Sysinfo Outlook PST Password Recovery Tool
Recovery Toolbox for Outlook Express Password
Recovery Toolbox for Outlook Express Password is a simple and expeditious way to recover your Outlook Express data. It can also fix and improve your corrupted mailboxes in Outlook.
This can happen for some users while using Outlook, and this tool can help out in such situations. This tool is quite handy for multiple Outlook utility operations. This includes problems and corruption caused by virus and malware attacks. One can use this tool as an Outlook password finder.
Visit:- Recovery Toolbox for Outlook Express Password
DataNumen Outlook Password Recovery
The DataNumen Outlook Password Recovery is another powerful tool that can decrypt the encoded files of Outlook on your computer and provide you with your password and other information.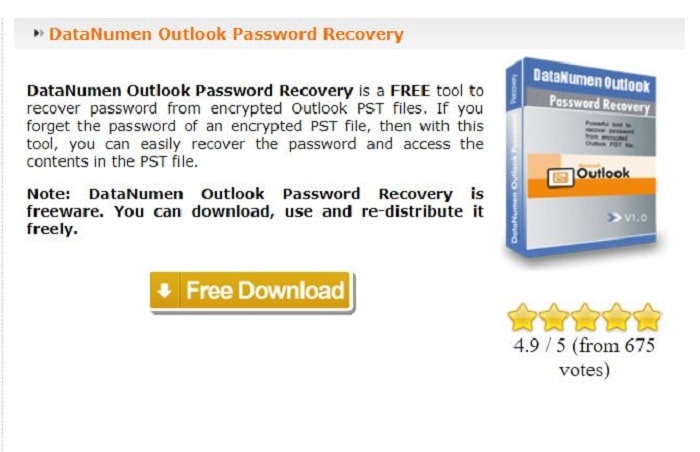 Conclusion
These are the 9 tools that you can use to recover your Outlook password if you ever forget it or cannot connect to your account. These are all quite effective and will be able to help you get back into your Outlook account without much trouble.
One should note that these tools recover your password by analyzing local data present on your device, and hence, you should use these on your device to retrieve your password. But using the official Outlook password Decryption tool can be a solution for any device.
And finally, these are some of the simplest Outlook password Decryption tools. We hope you liked this list. Let us know your opinions in the comments.