The PSP or PlayStation Portable is one of the most popular portable video game consoles that were ever released into the market. But as usual, no gaming console is complete without its set of ROMs for the gaming titles. If you have a PSP or maybe you're running a PSP emulator on your Android device. And are looking to get yourself a few gaming PSP ROMs. This article is going to help you find the most trusted sites download all those PSP ROMs and amazing Nintendo 3DS emulators you have ever wanted to play.
There are many sites out are there without any real content in them except for a bunch of ads. And they waste your time asking you to click on random links. They are nothing but pop-up ads so that you certainly want to get rid of. Don't worry your research is to find legitimate sites in this article from this list. You will only find legitimate sites to download PSP ROMs in this article. So, without further ado, let's get straight to it.
If you face an error where PS4 does not recognize USB, click here.
How to Run these PSP ROMs on Android?
From where above lines, if you were paying attention. You would have read that you can run PSP games on your Android phone as well. That is, of course, by making use of an emulator known as PPSSPP Emulator.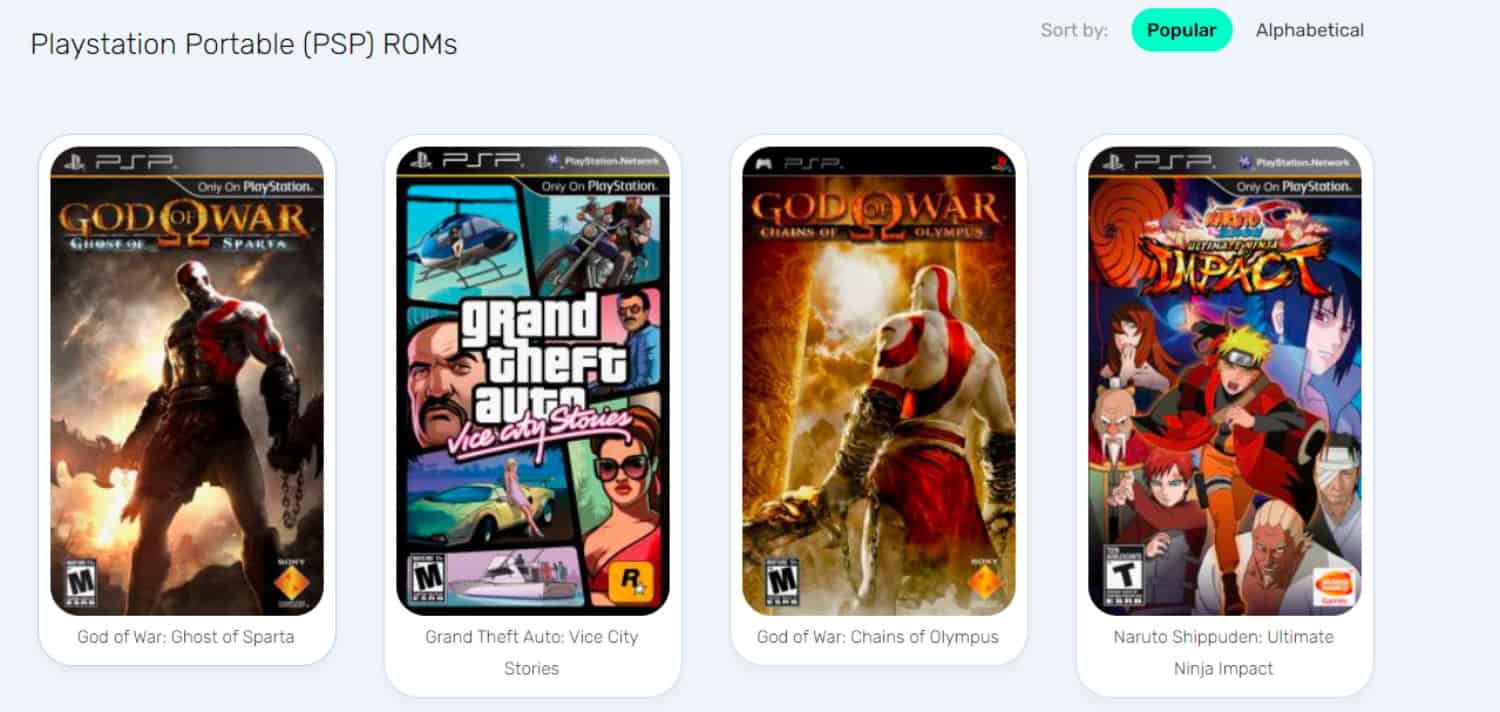 If you have an Android device, you should download this PPSSPP Emulator and install it. And you will be able to run all of the following ISO files just as you would do it on an actual PSP itself. You can also have ISO maker software to run them. Pretty cool, right?
12 Best Websites to Get Free PSP ROMs in 2023
Ok, now let's get to the websites list from where we can download ROMs or ISO files for the PSP:
ConsoleRoms
This is certainly one of the best sites available in the market to download PSP ROMs for free. This site offers a huge collection of games that game freaks won't like to miss out on. All the varied range of games, as well as emulators, are categorized here. Thus, you don't have to waste time browsing for your favorite ones.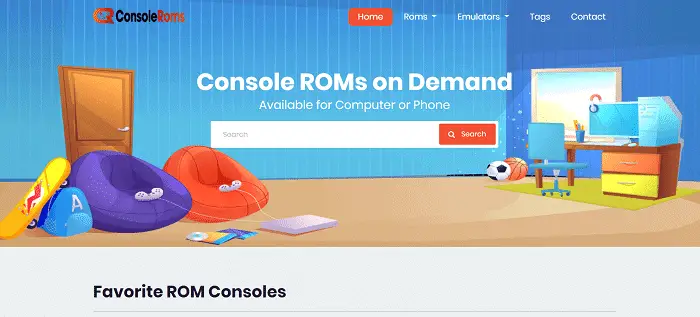 This site lets the users download games on PC as well as Android devices. The interface of this site is quite easy to operate yet modern. Newbies won't find any difficulty while searching for games. Check out the link below and know more.
LoveRoms
This is yet another decent site that can help you to download distinct PSP ROMs as well as emulators for free. The homepage of this site displays numerous trending games that game freaks would love to play. This site offers a wide range of ROMs and multiple types of emulators. This includes the Wii U ROMs, Xbox one emulator as well as Xbox 360 emulator.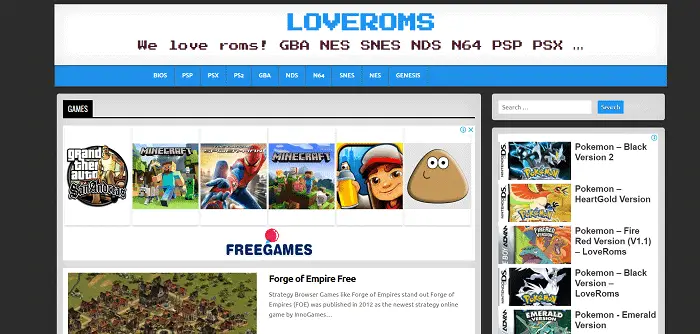 If we talk about the interface, it is undoubtedly modern but easy to handle. This explains why it's one of the best sites to download PSP ROMs. All you have to do is select your favorite game to play and click. After this, it'll direct you to page where you will get a download link with which you can begin your gaming journey.
See Also: 2 Best Free N64 Emulators for Windows in 2023
Nitroblog
Are you looking for a website that is very easy to operate and can let you download your favorite games easily? Then, Kudos, you are just in the right place. Nitroblog offers a diversified range of PC games as well as emulators that you can download without much effort.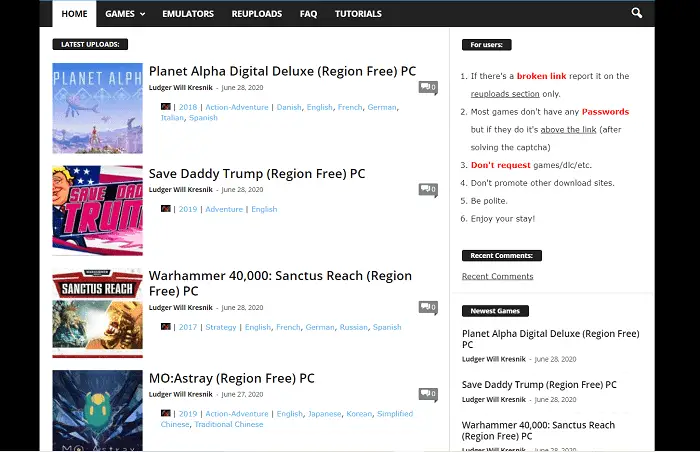 All you have to do is click on the section "ROM." After a few seconds, a page will appear on your screen displaying the button " Sony." Click on the button, and it will direct you to a new page displaying various PSP games. Choose the one that best suits your taste and download it.
Visit: NitroBlog
Retrostic
If you are in search of a website that doesn't keep bothering you with annoying ads and pop-ups, Retrostic could be the right choice for you. As the name explains itself, Retrosic is one of those websites that consists of retro games that are still quite popular.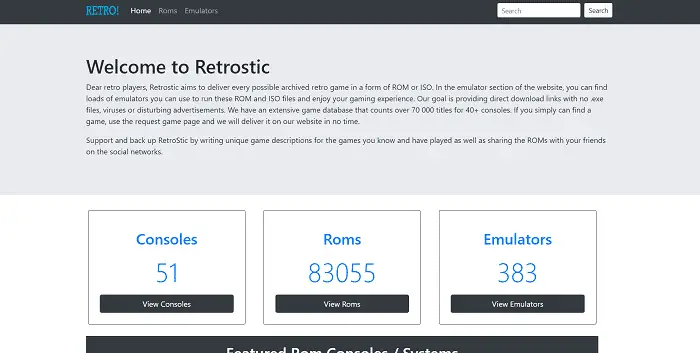 With an extensive collection of Consoles and ROMs, this site has always impressed many game freaks. A search option is available at the top of the homepage from where you can search for your desired game to play without wasting your time browsing. Check out the link below and discover more new features.
Visit: Retrostic 
Portal ROMs
This site is undoubtedly one of the best websites to download PSP ROMs for free. The popularity, as well as ratings for this site, are pretty high. This site delivers ISOs for many famous emulators that include GameCube as well as Dreamcast.
All you have to do is log in to this site with a few clicks. A page will appear on your screen showing various games sorted by the number of downloads. You can thus know the trending games that gamers love to play and begin your gaming journey without much hassle.
Visit: Portal ROMs
See Also: PortalRoms Review | All Cemu Roms in One Place?
Emuparadise.me
If you ever tried searching for the same topic directly in Google, you would definitely see this site among the top search results. Emuparadise is a great site we can download tons of ROMs, neo geo emulators as well as other emulators. And even ISO files for a bunch of different gaming consoles, including PSPs it has by far one of the most significant collections of retro as well as modern titles that support the gaming console that you are interested in. And yes, as mentioned earlier, these ISOs are 100% compatible to be run on emulators as well.
How to download
To get the PSP ROMs, you just have to scroll down to the ROMs, ISOs and games section of this site. There you will find a list of all the available gaming consoles, which has Nintendo Wii, Sega 32x, and Sony PlayStation 2, as well as other popular options. Directly head over to the option that says Sony PlayStation Portable ROMs and click on it. It is listed in the other section, at the very end of the page for some reason.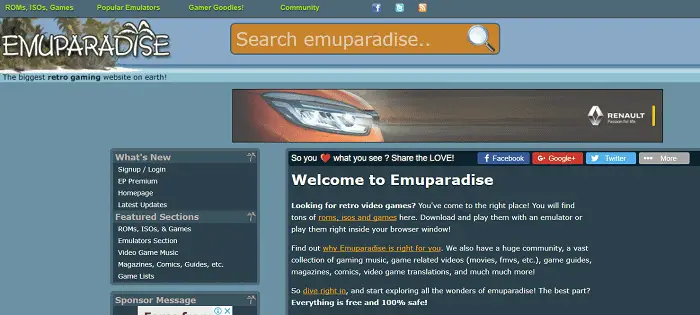 The default will alphabetically sort all the ROMs available here. You can also choose to sort them either by the user rating or by the number of downloads that each PSP ISO file has.
You can find pretty much all the familiar as well as unfamiliar titles, such as Valkyria Chronicles II, Crisis Core – Final Fantasy VII, and MediEvil Resurrection in this list. Just tap on the one you want to download. And the description page will open up along with a couple of information regarding the game. And the download link for it as well.
You will have to prove that you are a human by completing a captcha before they give you the download authorization. After you have entered the captcha, just click on the verify and download button. Soon after, the file should be ready to download in a .rar format. This is a very reliable and spam free website. Make sure you try this before moving on to the others on this list.
See Also: Emuparadise Review | Good Site to Get Classic ROMs?
CoolROM
CoolROM based on other famous sites for getting emulators  as well as extract files in ISO for your gaming consoles. They have their dedicated download links for Android emulators. And even give you tutorials on how to use it properly on your machine or device. So, if you do not have a PSP and want to use emulators but are new to emulation. Then feel free to check out their tutorial. It's pretty informative and easy to understand.
How to Download
If you just want to download the PSP ROMs from this website. All you need to do is click on the ROMs link from the menu toolbar of this site. The moment you hover your cursor over to the section. You will see a list of devices and consoles you want to download the ISO. You will see the Sony PSP as the last option in the list highlighted as new. Click on the Sony PSP option. And you will be taken to a page that has all the rooms available for the PlayStation Portable listed as top games as per region. You can also browse through them alphabetically.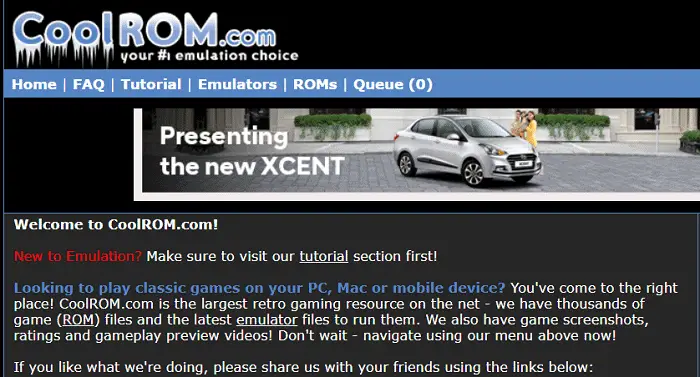 Click on the ROM file you want to download, and you will be taken to the description page.  There, you will see some screenshots of the game along with links to download the ROM for different operating systems such as Windows, Mac, or Android. If you just want to download the ROM itself for PSP, you can use the links given below the screenshots.
For some reason, the dedicated ad-free link did not work for me, so I clicked on the alternate link, which contains ads and a timer. This link opens in a new window where you must wait 10 seconds.  But after that, the download begins instantly. Do note that you will need a Zip file extractor. Particularly 7zip, to extract the ROM file and load it onto your PSP.
CoolROM is an excellent website to get some ROMs for your PSPs (lame pun).
Visit: CoolROM
See Also: 3 Trusted Sites to Download Wii U Roms for Cemu
FreeROMs
Freeroms is a pretty plain looking website that almost seems like a spam site at first glance, but trust me, it's legit. It offers ROMs for a bunch of different devices, such as Nintendo GameCube, Nintendo 64, PlayStation One, Sega CD, Sega Genesis 32x, Turbo Grafx 16, Nintendo DS, and, of course, PlayStation Portable.
How to download
Click on the PlayStation Portable link and you have a bunch of PSP ROMs with options to list them either based on their rating, based on the number of downloads, or simply according to the alphabet. When I had a tap on the download link for the game, it installed a small 1.6-megabyte exe file on my Windows computer.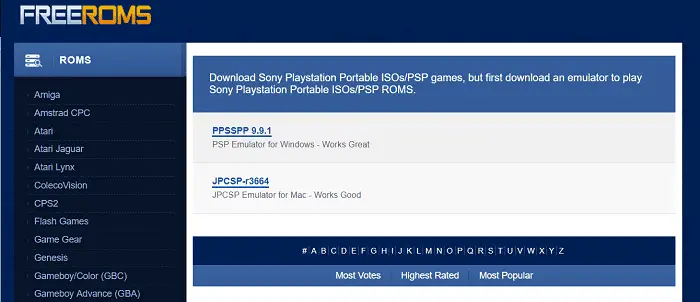 When I opened it, it started up a software installer called as tutor software which started installing a setup file of around 10.2 megabytes in size although the game said that its original capacity was 1.3 gigabytes.
Despite its flat design and questionable download methods, freeroms.com remains to be a trusted and spam free website to download game ISO and ROMs for your PlayStation Portable or any other device which you might have. Take a look at the selections that they have for yourself you might like what you see.
Visit: Freeroms
Psp Share.org
Psp share.org is a website where you can download Psp ROMs for your Psp and emulators games for free. With 800+ gaming options and an easy to use interface of the site, you surely would get the games that you want. You can either download from their list of popular categories such as action, adventure, Horror, Fantasy, etc. or search your favorite games and download those.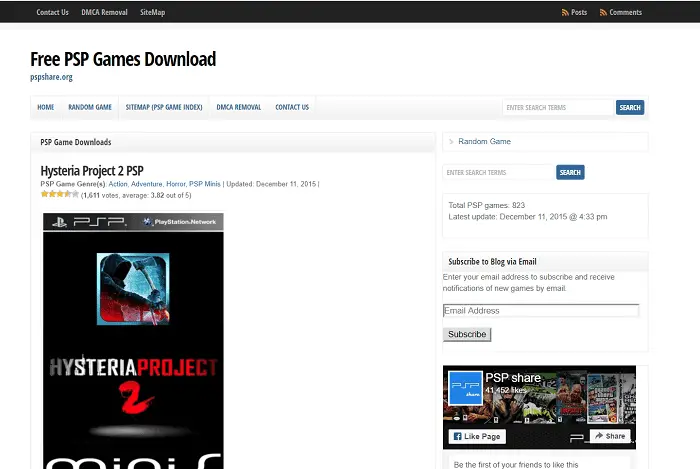 All you need to do is search for your favorite game or browse from their top lists, and then download the ISO from the link available. Usually, there are 2-3 links available per game. Beware, choose only the link that you trust the most, so that you get legit games, and also your device will be secure.
See Also: 7 Best SNES Emulators for Windows 10/8.1/8/7/XP
Gamulator
Gamulator is a relatively newer website, but it surely is one amongst top websites from where you can download your Psp ROMs and ISOs. Even though it doesn't contain many Psp ROMs and ISOs, its simplistic structure, and one of the secure downloading methods to prevent Malwares' from your device, it is sure to be a go to website for all.
Gamulator updates new games almost daily, so you will constantly have a fresh selection of games to play with. You just need to search the game you want and select the download link from where you wish to download, and you'll have the game ready to play with.
Visit: Gamulator
DownArea51
DownArea51 is not so popular, but a good place from where you can download Psp ROMs and ISOs. They have a vast selection of highly rated games on their website. You just need to enter the name of the game that you want in the search bar and then download it from the given links.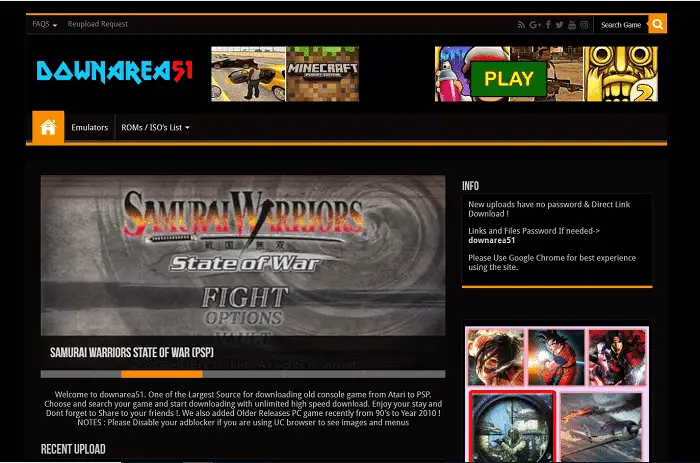 We suggest that you download from google drive because it is one of the most secure as well as a faster way to download the Psp ROMs. Its simplistic design makes it easier for the users to download games from.
Visit: DownArea51
See Also: 4 Best Pokémon Games To Play Online In 2023
Downloadgamepsp.com
Downloadgamepsp.com is has a very user-friendly interface, plus loads of games to choose from. You can choose from various genres like action, fantasy, action-adventure, and so on. And also, you have multiple categories like Xbox, Ps4, Psp, and so on.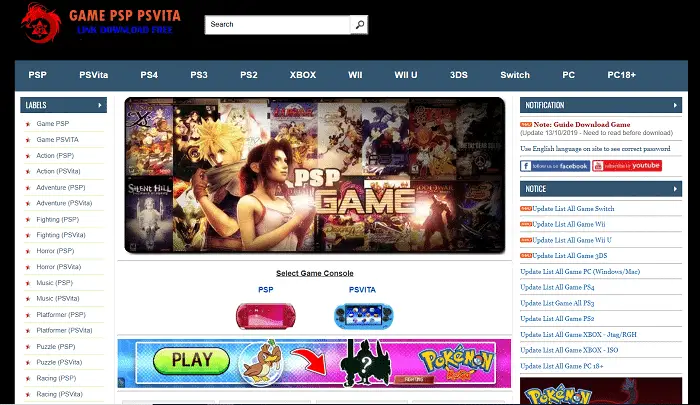 Once you have selected the desired file and category, you can download it from the google drive link, which makes the speed even faster. You also have the option of downloading the ISOs in RAR form, which also saves time and increases the speed of the download.
Visit: Downloadgamepsp.com
FAQs
What's the best PSP ROM download?
Game ROM downloads for the PlayStation Portable (PSP) can be prohibited under the service agreement and unlawful. I can't endorse or guide where to find them. To play PSP games legally, consider purchasing them through authorized channels like the PlayStation Store or using legitimate emulation options.
How to download PSP games for Android?
To download PSP games legally for Android: 1. Purchase and download games from the PlayStation Store if available. 2. Use authorized emulators like PPSSPP, available on Google Play. 3. If you own the physical PSP game, legally dump it and transfer the ISO/CSO file to your Android device. 4. Avoid illegal ROM download sites, as they violate copyright laws.
Are PSP ROMs illegal?
Yes, downloading PSP ROMs game backups from unofficial sources without owning the original game is generally considered illegal. It violates copyright laws. To stay within legal boundaries, consider purchasing PSP games through authorized channels or using legitimate emulation methods for games you own.
How do I put ISO on my PSP?
To put an ISO file on your PSP 1. Plug your PSP via USB onto your computer. 2. Make an 'ISO' drive in your memory stick's root folder for your PSP. 3. Transfer the ISO data to the 'ISO' directory. 4. Remove the PlayStation Portable from the system safely. 5. The game should now appear in your PSP's game menu.
Conclusion
So, these were 12 of the most trustworthy and reliable sites to download ROMs for your PlayStation Portable. Now, download Nintendo 3DS ROMs and other PSP ROMs through the above-mentioned sites. Have fun!
Also, read our article on how to download GBA Roms safely. Click here