Every time login into the new website; you must find it difficult to keep a unique username. Being in a dilemma, you may finally end up using some cool username, but the username takes those usernames already, and you end up at a kind of annoying and geekier username. Thus, you must know about the finest Random Username Generator websites out there.
User accounts are universal these days- most of us have many that spread across a lot of different sites. Thinking about a username must be tough when there are more than 8 billion users out there continuously surfing on internet 24×7.
No worries, the internet is here to help you out finding even cooler usernames. The following websites are the best on the web, which provides you with excellent, creative, and unique usernames.
These sites have a lot of features and tools to look upon and give them a must-try. The independence to choose your username that too with availability is million dollar feeling nowadays!
Premium Random Username Generator Websites
Here is our hand-picked list of online username generators or websites you can use to generate funky and edgy usernames.
Jimpix
"Get lost in the world of the username" is the tagline of Jimpix. The username must show your pseudo description. Jimpix just needs a random word or name, which mainly describes your personality and a category for the purpose. If you're curious about your username, Jimpix gives you twenty-five of them from which you can choose.
This cool name generator has additional features like one-word usernames, and usernames for specific social media like the youtube name generator. It also has a fun category, in which you can do experiments with usernames, and give heights to your creativity!
Visit: Jimpix
Best Username Generator (Random Username Generator)
It has a simple interface, which might confuse you to create flawless usernames on this edgy username generator. It's one of the most popular random username generator websites out there due to its simple interface.
But wait, you cannot judge the book by its cover. The site has tools for various social platforms, such as YouTube, Steam, Instagram, Twitter, Twitch, Tumblr, unique and funny Snapchat usernames. You can use it for several purposes such as funny username generator, cool, unique & fantasy username generator, etc.
Apart from name randomizer, it also has this tool of "Username interest," in which you can opt for the username of your interest.
Gamers always find it difficult to choose that fresh and unique username that gives shivers to their opponents, this gaming username generator sort it out the problem for them by merely generating more than 100 usernames according to their interests. Name it, length it, and here is your username!
Visit: Best Username Generator
NameMesh
Are you looking for a catchy name for your domain? Name Mesh is the cool username generator site you should aim for. This is used to create eye-catching names for your domain.
Creating desired names with this is very easy to comprehend and even a child can use it. It also incorporates Search Engine Optimization to generate domain names for you. Just open Name Mesh and then choose the category you are looking for.
Simply click on the option you wish the most for and this online username generator will come up with an out-of-the-box name you never would have imagined by yourself. The username will be unique and according to you.
Visit: NameMesh
NameGenerator.biz (Random Username Generator)
NameGenerator.biz is another site that you can use to generate good usernames. This creative site makes a distinct username that will be purely yours to use. The name generated can be used while gaming or on social media. You can have your own page on Facebook, Instagram, Youtube, etc. using this username.
This site has an amazing feature of creating different types of usernames like last name, middle name, screen name, boat name, and much more. You can have as many usernames as you want and that too for free. So go try it yourself.
Visit: NameGenerator.biz 
Best Randoms
Creating usernames was never this easy. There were times when one had to sit the whole day just for thinking of a cool and catchy username. But that time ends now. Use BestRandoms, one of the best game username generator, to create a username in only a few seconds.
You can create really simple and easy users using a straightforward algorithm. Whatever is your desired information, just provide the information to this edgy username generator.
After this just select the word limit of your username (like more than 5 letters). Finally, press the generate button on the screen and have fun seeing different hilarious, amazing and out-of-this-world usernames that will pop on the screen.
This funny username generator differs from other online username generators because it allows you to choose the character length of your username.
Visit: BestRandoms 
Name Generator Fun (Random Username Generator)
Are you bored with your existing username because it is too old school? Try Name Generator Fun website which is a username generator for games, for free and create trendy usernames within a fraction of seconds.
Make edgy usernames and use it to make your friends jealous on social media and gaming. Name Generator Fun delivers a list of never heard before usernames that are mesmerizing and catchy.
Creating usernames on this website is piece of cake. Just fill the form that will ask for your preferences of usernames and press the button to get your super-cool username.
Visit: Name Generator Fun
Masterpiece Generator
Do you want to have a username that is a masterpiece? Well when it comes to create such unique usernames Masterpiece Generator is the boss. The steps of creating a username on this cool name generator website are really straightforward.
Initially type your name, then fill the gender box and finally choose the adjectives that describe your personality or profession, and that's it! You will have numerous, unique custom-made usernames on your screen choose anyone of them and get the party started.
Visit: Masterpiece Generator
Speedy Password (Random Username Generator)
With the most relevant features of all, Speedy Password does not just generate the fun username, but it also creates the secure, genuinely random password for your particular username. From specific username style to unicorn username style, it has negative, Shakespearean, space, baseball, hero and villain styles of usernames.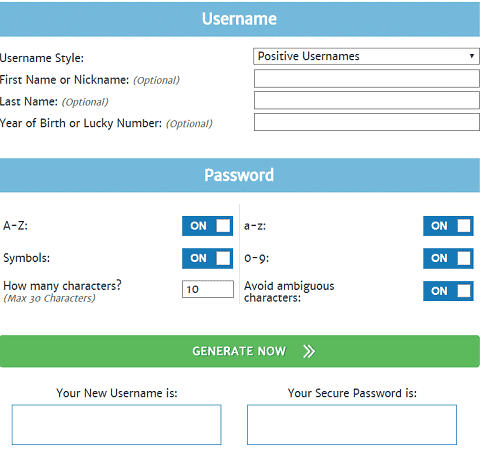 Speedy Password has this fantastic feature of including special characters or not, to add the block or small letters or not, Speedy Password can opt symbols, numeric, and even limits of humor in the password. All these features make it handier for the users. Username and password at the same platform, that's all you need!
SpinXO
You're just seven steps away from your intimidating username when you're on SpinXO. It's one of the most ideal random username generators for games websites out there. It requires your name or nickname, your liking, hobby, favorite thing, a particular word, ideal number, and just SPIN! It will quickly generate 30 funny names based on your trait.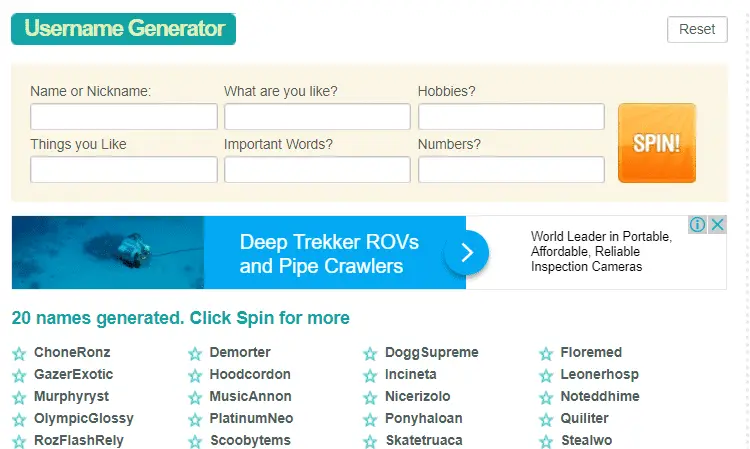 But it's not over yet! SpinXO provides you the access to check the availability of the created username on platforms like YouTube, Twitter, Instagram, Tumblr, Blogger, and Reddit. Just click on the generated username, and there is your stunning and available username.
Tools like Gamer-tags and Username ideas enhance the attractiveness of this website. Whether it is about randomness or uniqueness, SpinXO has it all. With SpinXO the task of creating username gets more fun as it gives you independence of personalizing the username.
Visit: SpinXO
Screen Name Generator (Random Username Generator)
The Screen Name Generator works by listing adjectives and you adding names or words to the end which is the "append" or at the start which is the "prepend" of the attribute.
You will find this a handy way to generate cool random usernames because you can choose names or words that describe yourself and then create adjectives until you get the perfect adjective to represent the name or word you have adopted.

For example, you could append your name to this generator and generate names like RaucousRajesh or RavishingRajesh if your name is Rajesh. It is also possible to prepend titles to the generator as well, such as Mr, Mrs, Miss, etc.
Another great way to generate usernames is to use names of jobs, for example, if you're an artist, type the word artist in the append name box, and then generate names.
It will come up with names like crazy artists or industrious artists. You can take this process one step forward and pretend words like 'The' and generate screen names like TheCrazyArtist or TheFreshArtist. Hope you find the perfect username with this funny name generator!
Visit: Screen Name Generator
Rum & Monkey
Nowadays, it is tough to see a unique and creative username when you play the games like Minecraft, or Xbox or creating an account on social networks like Facebook, Twitter, Instagram, YouTube, and Snapchat, all under the same shade.
When it comes to randomness, Rum & Monkey never disappoints you. It has more than 5000 generators & can be considered one of the most reliable random username generator websites.
Yes! 5.0.0.0+ random username generators, which include Minion name generator, Korean name generator, Monster name generator and undoubtedly many more.
Choose any of the name generators for games, which perfectly suit your personality, and enter your nickname or name. It will generate a random username.
Visit: Rum & Monkey
See Also: 14 Best Twitter Username Generator Tools [Latest]
Namegenerator2 (Random Username Generator)
You know it official stuff when the generator has a sequel! Maybe there were no better (meaning, catchier) names available for their new service. But that is not what we are bothered about here anyway.
The name generator available over at namagenrator2 is a lot similar to the Screen name generator tool which you read about above. It is simply titled as Username generator and has the same selectable fields as on the random screen name generator.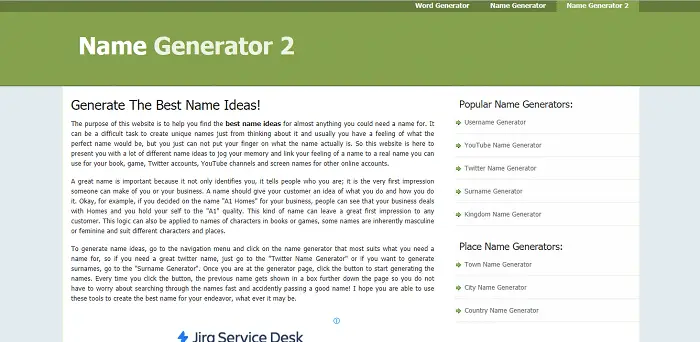 You can select your preferred prefix and suffix to be put into your name and click on Generate Usernames button. It will give you some funky names with first and last words the same as your choice.
Namegenerator2 stores all the usernames generated each time you hit the generate usernames button and you can add those names to your favorites list by clicking on them. It does tell you to copy your names before you go before. They will apparently be erased after the website is reloaded.
Visit: namegenerator2
Lastpass
Many people use the same online username around multiple platforms and websites, from Gmail to bank websites. A single exposure to a person's username can open the up to identity theft.
Remember Snapchat's 2014 data breach? It punctured 4.6 million usernames and phone numbers. All in all, no passwords or email addresses were out, Snapchat still encouraged users to create all-new usernames and passwords.
Using a random username is like having two passwords for an account because it makes it harder for someone to guess your username and break it.
It's easy! Just use the best cool username generator from above to create a secure username that you can rely safely upon LastPass.
Visit: LastPass
See Also: How to Recover Username and Password of Your Router
Fantasynamegenerators (Random Username Generator)
There are no actual usernames like 'xxLegolasxx' or 'Doomlord2014' in the generator. Preferably you'll find more original ones, most of which are in a style you'll love, so they might not fit everyone. There are some customization options in this though.
By clicking on the radio buttons to the 'get usernames' badge, you enable the substitution for either the first or second words of the randomly generated good usernames. You can enter anything you want in the text box next to it.
Maybe, found a word in the generator you love, but you want to see if anything else would go with it, or perhaps you want to add a game theme word or even a swear word, it's all on you.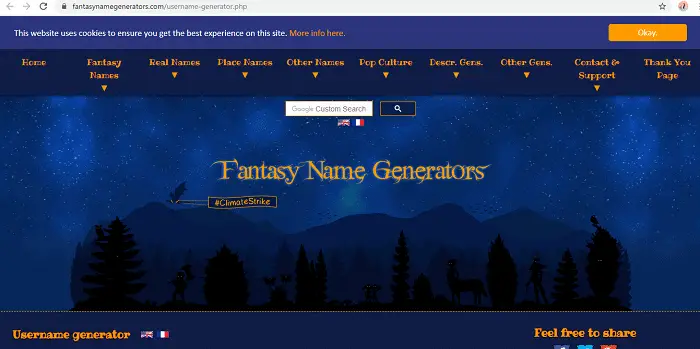 Taking animal names and changing those names to something fun or something which turns into a pun.
Your preference could be funny names or clever names, so try to make sure as many of those were added. They're especially fun to play with. Some of the favorite titles in this generator are 'PhonyPony' or 'FluffyVampire.'
Visit: Fantasynamegenerators
Lingojam
Mostly dealing with Instagram usernames, we have a separate fan base for generating crazy usernames of all times. Many sites have cheap algorithms, but we have specialized experts to deals with providing the best in class services.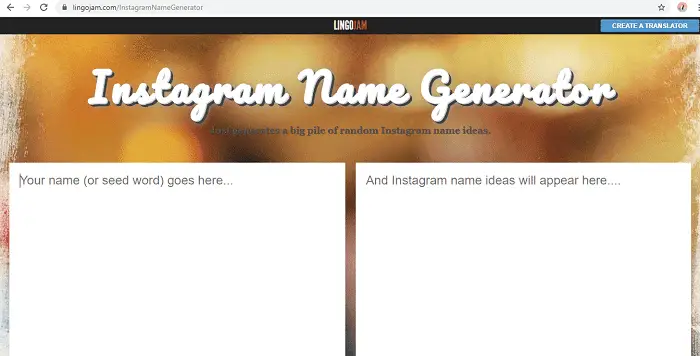 You have to enter your name or a character's name you'd consider in your username and then within no time you have the most eye-catchy random usernames ever. We have a lot of suggestions you would like to choose from and make the most out of this funny name generator.
Visit: Lingojam
Conclusion (Random Username Generator)
So these were some of the best random username generators that are available in the vast realm of the Internet. You can quickly get some catchy names for your Xbox profile, your email account or even a YouTube channel.
Keep clicking on the generate button till you get the right combination. Trust me, it might seem corny and silly at first, but now and then, you do get good usernames out of the automated matches of suffixes and prefixes. Have fun!
See Also: [Updated] 9 Best Free Tiny Text Generator Tools (2022)