Bloatware, mate! It gets my shorts in a twist every time I see it. Useless, bulky application software loaded on my otherwise clean system, to eat up storage and potentially, slow it down. Manufacturers have a pretty good name for this, which tries to make it sound better. They call it "value added software" as if an average user does not know how to install Facebook by themselves if they feel the need for it. Here we will discuss about how to Remove Malware Protection Live.
Depending upon the types of malwares, either they can destroy any PC within minutes or gradually for longer period of times. And so Malware removal tools are a must. There are various malware tools depending upon their utility, for example Malwarebytes is a very common malware removal tool. In case you're facing issues with Malwarebytes regarding its opening, this link may help you. Some common malwares include win32 malware or sychost.exe malware and lot more. Here we will talk about some special malware protection from PC.
One such useless software that might be running on your system right now is called Malware Protection Live. You might be wondering where did it come from and should you remove it or not. We are here to tell you that this malware protection live thing is not what it claims to be. It is just a useless bloat software that is eating away your RAM space and also your CPU clock cycles.
So naturally, to endure you are not wasting your precious system resources on some crap software which is of no profit to you whatsoever, you will need to get rid of that malware protection live as soon as possible. And lucky for you, my coffee mug still has coffee in it, so I am going to write a solution post for it. Yes, mate! This guide is all about how to remove malware protection live PUP (Potentially Unwanted Program).
See also: What Is dasHost.exe | Everything You Need To Know
Step-by-Step Guide to Remove Malware Protection Live Program
Follow these steps to remove Malware Protection Live Program.
See Also: 5 Methods to Remove Error # 268D3 Fake Alert
Step 1
Boot your system into the Safe mode, by using methods that correspond to your hardware. It is straightforward to do if you have a system running on Windows 8 and above.
Navigate to Control Panel —> System and Security —> Administrative Tools —> System Configuration and check the safe boot box. Then, reboot, as usual, it will automatically boot into safe mode.
Alternatively, on Windows 10, you can press and hold the shift key while selecting restart option from the start button menu. Follow on to each step to completely remove Malware Protection Live from you PC.
Step 2
Now that you have booted into safe mode, open the task manager. One shortcut is the Ctrl+Shift+Esc key combination. In the processes tab, see which process is consuming the most amount of resources which is not listed as a critical process of the system. That process is the one we need to target right now.
Step 3
Right-click on it and select open file location option, which should be the first one in the menu. When the directory has opened, check the file sizes for your reference.
If the sizes are relatively light, but the process is still demanding a lot of system resources, then it would be safe to assume that it is a bloatware/malicious software. Feel free to delete it straight away, or scan it again with the antivirus of your choice, by booting out of safe mode later.
Step 4
Open the Run menu and type appwiz.cpl in the text box. Press OK, and you will find yourself in the control panel, in the application manager. Look through the list of programs installed and see if anything comes off as suspicious.
How do you know if something is suspicious? Well, for starters, you could look for weirdly named programs such as malware protection live, which you don't remember installing yourself. It might have fit itself by coming bundled along with some other software which you did install yourself. Bundled malware problem is commonly everywhere. Happens to the best of us, mate.
Step 5
Go back to the Run menu by pressing Win+R again, and type "msconfig" this time. The system configuration window opens up. In the start-up tab, look for the entry that says unknown under its manufacturer tab. That item needs to be unchecked, as it might be our malware protection, the live culprit.
See Also: 10 Top New Inventions You Are Missing Our On! | Best of 2019
Step 6
Now, you will need to clear malware protection live from your browsers. This will work for Chrome, Firefox, and Microsoft edge as well. Right-click on the icon and select properties.
Under the shortcut tab, check the entry in the target text box. Make sure you delete everything that's entered after the .exe extension there and click OK. This would help you to remove Malware Protection Live.
Step 7
Search for Regedit in the windows search box. In the registry editor, press Ctrl+F to open the search box and type in malware protection live in it. If any results are showing up, right-click on them and delete them from the registry editor. And, if no results are showing up in the search, do a double-check and do a manual once over.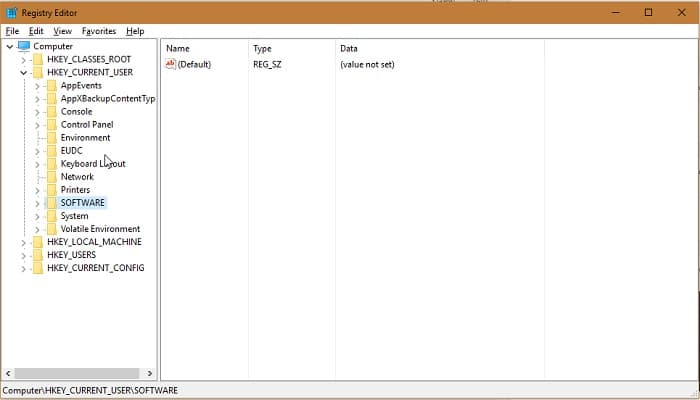 If you find something along this path: HKEY_CURRENT_USER—-Software—–Random, delete it. It could be the program behind the malware protection live process.
See Also: 3 Ways to Remove National Consumer Center Virus or Scam
Step 8
As a final measure, you should see if there are any extensions in your browsers that are the result of this annoying malware protection live or vice versa. O do that, open the settings on your browser and go to extensions. On browsers like Firefox, it is an Add-on.
Go into the list of your installed add-ons, and see if any extensions are named after the malware or some strange ones which you have not installed yourself. Note that these add-ons will have convincingly familiar names, such as Adblock Plus or something like that (If there is a genuinely good software called adblocker pro, don't mind me, mate!).
On Google Chrome, there is another step in addition to this. You need to navigate to this path on your C drive: AppData/Local/Google/Chrome/User Data. Under that folder, you would find a folder named as default. Rename it to something else, to keep it as a backup, something like backup default, and then restart your browser.
This will create another new folder called defaults since the earlier one is as the backup. I recommend you clear the browser data and reboot your PC as well. By now you have done all what is required to Remove Malware Protection Live.
See also: How To Get Rid Luke Filewalker in 4 Simple Steps 
Conclusion
That's all about how to Remove Malware Protection Live! After following these steps, your system should now be free of the undesired malicious crapware, more specifically remove malware protection live one. Just be mindful of where you are browsing and what you are downloading out there cheers!
See Also: 5 Ways to Fix Your MacBook Pro When it Won't Start