The brand-new Galaxy Buds from Samsung are among the best-looking wireless earpieces on the market. If a problem with your Galaxy Buds doesn't go away immediately, you might need to hard reset galaxy buds.
Almost all smartphones, tablets, and Bluetooth-enabled laptops are compatible with Galaxy buds. But just like any electrical item, the Galaxy Buds may experience software or connection issues. The main drawback is that the procedure isn't always simple because of its design.
This helpful article will show you how to restart and factory reset your Galaxy Buds to assist with this. And don't worry, whatever Buds model you own—the Buds Pro, Buds+, Buds, Buds Live, Buds2—you're likely to find something that will work. Read here to learn how to root Samsung galaxy s6.
See Also: 7 Smart Gadgets to Consider Taking on a Camping Trip
Restarting Your Samsung Galaxy Buds Manually
You can experience a few minor problems with your Galaxy Buds. They might not be pairing or charging properly or keep disconnecting.
While performing a hard reset, galaxy buds is one sure-fire repair for this. Doing so would delete all of your device's settings and data. Therefore, you could try resetting your earbuds as a less extreme option.
Turning your earbuds on and off is all it takes to restart, effectively resetting the system. On the other hand, factory/hard reset galaxy buds go a little farther by returning your earphones to their original configuration. As a result, you'll have to pair them with all of your devices once more.
Before performing a complete reset of your earbuds, try restarting them first if you're not quite sure what's wrong. Doing this can save you the trouble of reconnecting them to your devices. Restart your Galaxy Buds in three easy steps.
Wait at least 7 seconds before closing the charging case cover.
See Also: Headphone Jack Broke off in iPad [Solved] [4 Ways]
How To Reset Samsung Earbuds To Factory Settings
If your earbud issues continue even after restart, it's the ideal opportunity for a factory reset of galaxy buds. Don't panic; rebooting your Galaxy Buds won't erase any software or firmware updates.
Install the Samsung Galaxy Wearable or Samsung Galaxy Buds app on your phone to carry out this operation on an Android or iOS device.
These apps offer several useful functions to improve your experience in addition to resetting your Galaxy Buds, including noise cancellation control, firmware updates and detecting misplaced Galaxy Buds.
When you're prepared, follow these instructions to factory reset Galaxy Buds:
Put the charging case with the two earbuds inside.
Hold the earbuds against your iOS or Android gadget and keep the case top open.
Launch the Samsung Wearable or Galaxy Buds app on your smartphone.
Scroll down to "About Earbuds" and click it.
The app will prompt you to continue. To confirm your selection, tap "Reset."
Since this procedure is the same for Android and iOS devices, it should be simple to understand. You can coordinate your earbuds with your phone when the reset is finished.
How To Reset Galaxy Buds Without A Phone
Although Samsung Wearable and Galaxy Bud's applications are useful, there are several reasons why some people could decide not to use them. Among them are the following:
Not wanting to receive continual push alerts

Not wanting more apps to take up valuable storage space

Problems with the device's and the buds' compatibility
A basic concern is the question of compatibility. As was already established, connecting your Galaxy Buds to iOS devices is simple. Only the Buds+ and Buds Live have iOS app support, leaving the Galaxy Buds, Buds Pro, and Buds2 without it.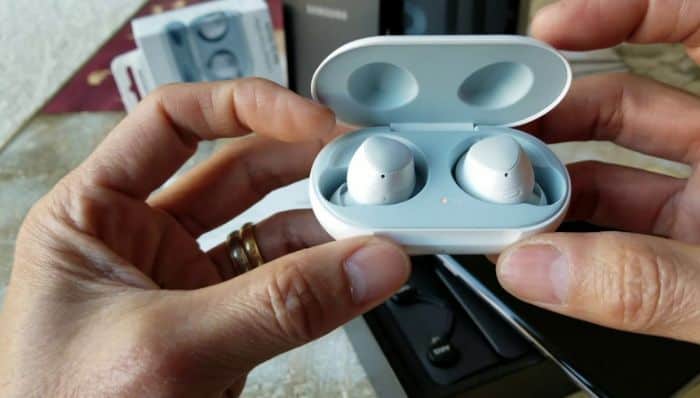 The Samsung Galaxy Buds app cannot be used to reset the latter two.
Fortunately, there are still ways to manually restart your Galaxy Buds without your phone or the app if you're using an incompatible Galaxy Buds model or don't want to download more apps. Here are two ways to accomplish that:
See Also: Holidays on DrakeMall: Get an iPhone XS from the Mystery Box in 2023!
Hold The Sensors
On each earbud of the Galaxy, Buds are touch sensors. Specific motions are encoded into these sensors to assist you in controlling calls and music playback. However, you can use it to reset the new galaxy buds, a rarely-mentioned feature.
This is how:
Insert the earbuds into your ears.
For at least 10 seconds, or until you hear a chime indicating that the earphones have reset, touch the sensors on each earbud simultaneously.

After 30 seconds, link your earbuds with your device once more to check if the problems have been resolved.
Charge Up And Down
You could also try discharging and recharging your earbuds. To accomplish this, you must completely discharge the Samsung earbuds' batteries (to 0%). Your buds undergo a forced reset, eliminating any performance problems or glitches.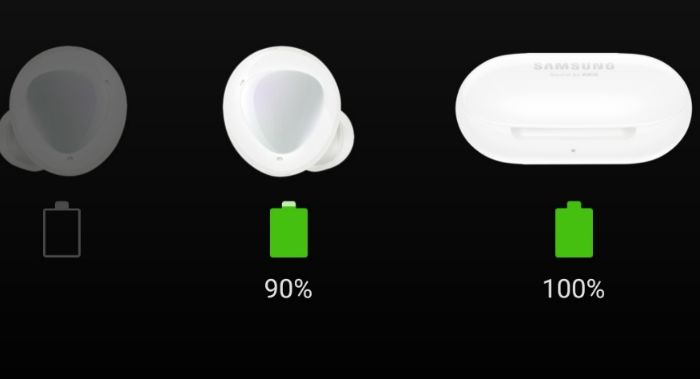 After that, you can recharge and reactivate them as usual, and an improvement should occur. While this strategy doesn't always work, it's a safe alternative that's still worthwhile trying.
When Should You Reset Galaxy Buds?
As was said at the outset of this piece, software mistakes occur. They are present in even the most cutting-edge items made by colossal companies like Samsung.
Although a lot of these software problems differ depending on the product, most fit into the following broad categories:
Issues with Bluetooth connections: Inability to pair a new device or connect to an existing one, lost Bluetooth connections, and Bluetooth earphones not being detected.
Battery charging problems include incorrect charge charging, batteries draining when not in use, or a substantial discrepancy between the battery levels of each earpiece.
Audio quality: The audio from the earbuds may sound bad, have audible echoes or reverberations, or not at all.
You should reset your Galaxy Buds if these problems continue to bother you to the extent that they are becoming unresponsive.

Once more, a reset disables all features—including the broken ones—and cleans the Buds' memory, settings, and previous connections. It essentially restores your headphones to an almost brand-new condition, much like giving users a blank sheet of paper to draw on before.
See Also: 9 Best Google Chrome Themes You Should Use
FAQs
Are your Galaxy Buds not working?
Resetting the Galaxy Buds. Even though the Samsung Galaxy Buds are excellent and among our favorite wireless Bluetooth earbuds, problems can occasionally occur. Since a reset returns the Galaxy Buds to their factory default settings, it frequently solves these problems.
How do I Reset my Galaxy Buds+ to factory settings?
Choose General for the Galaxy Buds Live, Pro, plus models. Tap About earphones for the Galaxy Buds. Hit the galaxy buds reset button on the earbuds, and then tap Reset once again to confirm.
Do the Galaxy Buds have noise canceling?
All three versions of the Galaxy Buds—the Pro, two, and Live—have active noise canceling. When this feature is used, it will silence outside sounds so you can concentrate entirely on your music. Switch off active noise suppression on the off chance that you, at any point, should know about your environmental factors.
What are Samsung Galaxy sm-r170 earbuds?
With the Samsung Galaxy Buds SM-R170 Bluetooth Earbuds, you may talk and listen all day. Galaxy Buds deliver calls, your preferred podcasts, and your favorite music while keeping you attentive to your surroundings while you walk, work, or exercise with AKG-designed audio.
Conclusion
To sum up, a simple restart will fix your Galaxy Buds. But if it doesn't work, a factory reset galaxy buds ought to work just as well.
Ultimately, not all issues need extensive technical knowledge. And despite the Galaxy Buds' unique design, they're not that complicated to sort out. Sometimes, a little touch and hold can do the trick.
See Also: 10 Methods to Fix "iPhone Won't Charge" Problem in 2023