In this hectic world where everyone is looking for a job and new ways to earn money, the first step toward getting a job is making an attractive and appealing curriculum vitae (CV) or Resume. A resume presents an overview of a person's educational qualification and work experience to an employer based on which he/she is hired. The more attractive your Resume, the better are the chances of getting a job. Thus, you must know about the best Resume Apps out there.
People spend a lot of time in front of their computer screens. Making resumes, Trying different formats, and positioning information on a piece of paper to make their CV look attractive and appealing to employers. But sitting in front of computer screens, spending hours building a CV, is now an old-school thing.
Now, Smartphone technology has completely changed the scenario of building resumes. Now you don't need to spend hours building your CV.
You just need to download a resume-building app on your smartphone and by just providing your basic information with a few clicks you'll get an amazing and appealing resume. Both Android and iOS platform provides amazing professional resume template apps. In Android phones, you will often require a clipboard folder to jot down your notes and make your resume better. To know more about the clipboard folder, click here.
Top 12 Resume Apps to Use in 2023
Here is our list of handpicked apps to make resumes that will really come in handy.
Resume.com
The best feature about this site is that it is completely free. Users can create hassle-free CVs at no additional cost, they do not even have to subscribe to the website. They can choose from multiple templates which are compatible with AI scanning programs. They can also edit resumes they made earlier or upload an old one for modifications.
The templates can be read by the ATS software and the users can view a real-time preview which makes creating the resumes much easier. This website not only has multiple options for resumes but can also build and create cover letters which can then be accessed anytime on the website or be downloaded in multiple accessible formats like the PDF.
The site is a hub for user-based data and people can access it and see what the site has recovered on their behalf. In case someone does not want the data to be shown, it has a "hibernation mode" that stops the data from being viewed by others. Not only does this app help build your CV it also shows relevant jobs pertaining to it. Users can send in their applications to these jobs from this site itself. 
Best Features:

All versions are completely free

No need to subscribe

The site offers live chat and helps centres to help with any doubts the users may have.
Visit: Resume.com
See Also: 10 Best Recruiting Software to Streamline your Hiring in 2023
OnlineCV
OnlineCV is another tool worthy of attention. With expert templates, easy document filling help, and pre-prepared texts you have everything you need to get started on your perfect Resume today and get it finished in just a few minutes.
You can easily access all these features from your laptop, desktop, or mobile device wherever once you've created your first file and set up a user account. You may also smoothly return to already completed templates and tweak almost any part of the design or content without needing to start all over again from scratch.
In this resume app, a resume can be created using three easy steps: choosing a pre-designed template, creating a CV, and finally downloading it. The tools in this application also help to create a cover letter for your application. The application also provides professional guidance at every step to harvest the maximum from your CV. OnlineCV helps you to save time and energy by providing you with pre-designed templates to choose from.
All the templates are specially prepared to stand up well to ATS when employers filter CVs submitted online and can be downloaded as an application-friendly PDF files or text files.
Visit: OnlineCV
ResumeCoach
ResumeCoach is a comprehensive, easy-to-use, web-based resume builder that can be accessed from any desktop or mobile device. You can enter the designer for free or get a paid subscription if you want to download your document as a PDF, use premium templates, and get other special extras.
The app gives you all the help you need to build your resume from the ground up. It takes you step-by-step through the whole process, starting with your all-important contact details, before moving on to your work experience, education, skills, and any other essential information.
ResumeCoach provides fast and impressive resumes for work. The templates in this application are unique and save a user's time. The Resume in the application gives a 67% better chance of getting a job than a resume made on a word. ResumeCoach is one of the distinguished applications from other resume apps that allows you to design your cover letters that are equally attractive compared to the Resume.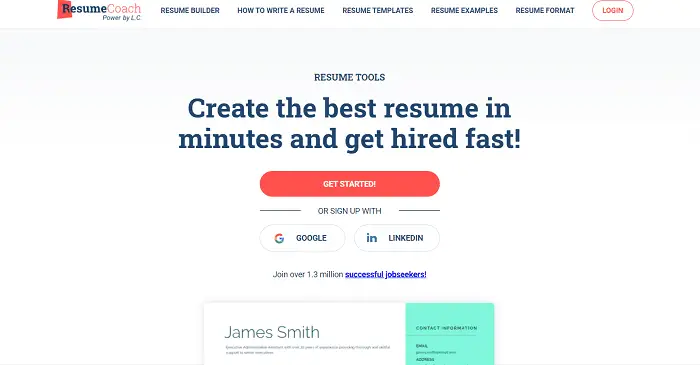 Crucially, ResumeCoach also provides you with useful tips on how to fill in your information on the page and even has examples for your industry if you are struggling to find inspiration.
All the templates you build are specially designed to conform to Applicant Tracking Software (ATS) formatting, so your finished document is optimized for recruiter filters. You can also use the tool to create equally stylish cover letters with designs matching your Resume.
See Also: How to Hire A Programmer For A Startup | Top Priority
Visit: ResumeCoach
Live Career
This is a very viable option for people who are not good with words and need assistance with their resume building. Gone are the days when you would have to ask for help from a peer because Live Career has got you covered.
The site asks you many questions about your education, general profile, your interests, background and most importantly, experience and converts the answer into templates specific to your answers that are written by writers who write CVs for a living.
In this world of extensive competition where an AI may reject your CV even before a human has read it, it's imperative that you have a well written accessible resume and Live Career provides just that.
Unlike other cv building apps that just provides templates, Live career creates a huge chunk of the write up for the subscribers that make it easier for people who do not have adequate writing skills to make an attractive resume for employers. 
It also provides multiple cover letter templates, templates for a business letter and even helps you look for jobs pertaining to your skills.
Best features:
Personalised resumes with minimal writing required.

Subscription Plans:$2 for 2 weeks.
Visit: Live Career
 Aristoz Resume Builder Free
Are you someone who doesn't know how to build your resume and doesn't have enough money to pay the professionals? Then you should probably try this free resume creator. Being a free app, it comes with many ads to collect its revenue but doesn't be bugged by the ads. Overall the app is convenient when it comes to making a resume for jobs. There are more than 80 templates to choose from. Also, these templates can be personalized.
After building your Resume, you can easily download them in pdf form directly to your computer and send it to the company where you want to apply for the job. It is super easy and gives efficient results. All the job seekers should try it.
Visit: Aristoz Resume Builder Free
CV Engineer
CV Engineer is among the most famous apps for building a resume in this modern era. Like other resume apps, you can create hassle-free resumes and download them to your system as a PDF file. The two versions are free and paid. Of course, you get a lot of premium features in the paid version. Building a resume is as straightforward as filling out a survey form in this app. You can also make your CV using this app.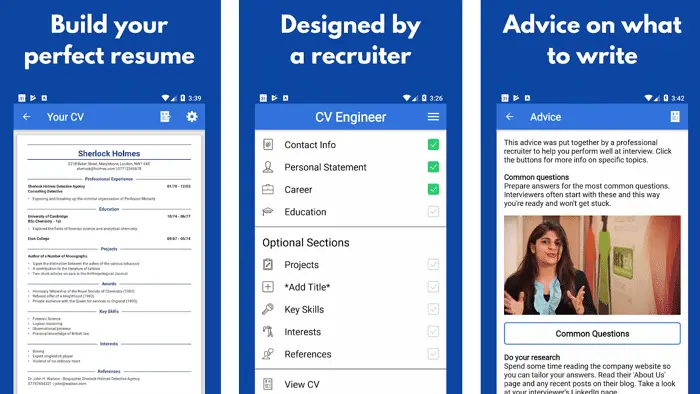 There is a wide variety of templates to choose from. Since the creator of this application is a consultant, CV Engineer provides professional advice on the adoption of practical techniques and also on what to include in it. The simplicity of the controls also makes the app one of the best resume apps on Android or iOS.
According to our research, we found out that a recruitment company specially made an app. Ensure, your resume is well-written. Click here to know about writing skills.
Visit: CV Engineer
LinkedIn
LinkedIn is an app you all must have heard about. If someone tells you that he/she hasn't heard about it, then they are probably lying. LinkedIn, as you all are aware, is a job searching platform with jobs posted by major companies like Facebook, Google, Apple, and almost every multi-national company.
You can find full-time, part-time, internship, or employment based on a contract. For those who don't know about this app, you build your profile here, and that profile is your Resume.
Your profile contains your education qualifications, your skills, your connections, and your past job experiences. It is like social media but for the professionals. Your profile reflects your personality, and it gives the recruiter an idea about you. You can create your profile on LinkedIn for free. So try it now and rule the world with your skills.
Visit: LinkedIn
Make My Resume
This amazing app is available on the Android platform and is provided by Unified apps. Make My Resume is one of the best Android apps for making a resume. With a user-friendly interface, It provides some amazing resume formats.
The reason why it is part of this list is that it has some famous resume formats used worldwide. The user just needs to enter their basic information in different tabs, and the app itself arranges the information in the creative format. The app also provides interview tips and questions.
Visit: Make My Resume
Resume Designer
A super-fast resume app is available for the iOS platform. Resume Designer is a very basic and straightforward resume app with a predefined template with sections like Experience, Skills, and Objectives.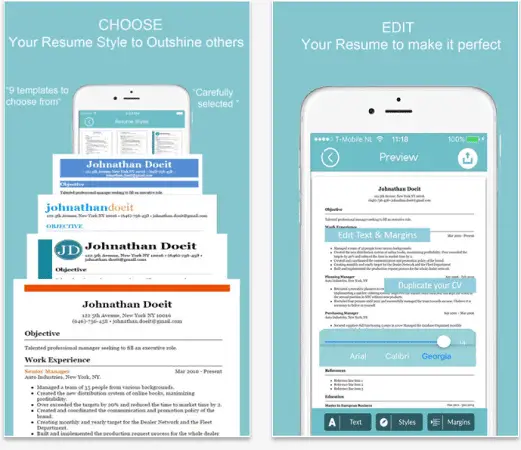 However, the user can create custom sections and can also add events to the CV.
Visit: Resume Designer
Free Resume App
One of the top resume apps available on the Google Play Store. Free Resume App provides some brand new resume formats. The resume formats on this app are different and more innovative than others.
Moreover, formats are very creative and attractive for new users and can represent all the necessary information about the person and his/her personal and professional details.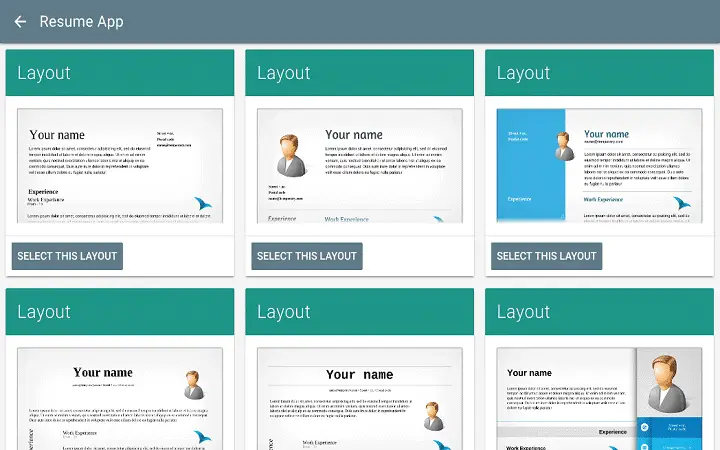 The app is easy to use and has a very attractive user interface. There are no ads, and the Resume can be downloaded in PDF format from the app.
Visit: Free Resume App
Quick Resume
Quick Resume is a very on-the-go resume app available for the iOS platform. Despite being a very simple and straightforward app, the 3D touch support enhances the user's experience and makes it a very amazing resume app for Apple users.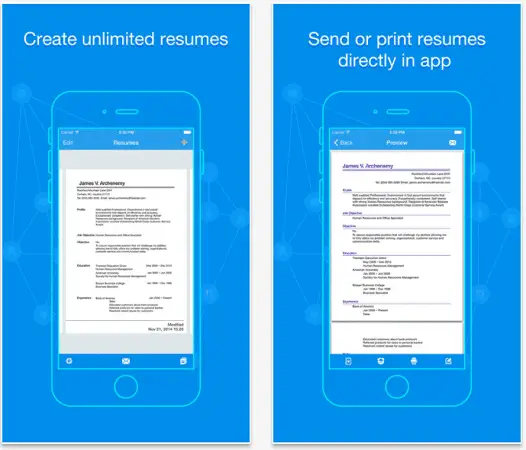 The app has predefined modules and formats and but the user can remodel the structure according to their needs once you are done the app can be saved in PDF format with seven different structures.
Visit: Quick Resume
VisualCV Resume Builder
A very attractive and modern resume builder app on the Android platform provided by Workstory Inc. VisualCV Resume Builder app provides a very easy user interface for the users and makes resume building easy.
VisualCV Resume Builder is considered adequate and provides excellent results among the many resume apps. The CV analytics of this application tracks when an employer views or downloads your CV, allowing you to see where you stand and improve where needed. The data and privacy options ensure the safety and security of your details.
One of the most useful features of this app is that the user can easily import the data from pre-existing PDF or word resumes and can edit them. The users can customize the resume fields and can publish and share their resumes with employers.
Visit: VisualCV Resume Builder
Resume Maker – Pro CV Designer
Resume Maker is a premium resume app on Apple app store and can be downloaded for 2.99 $ or nearly 191 Indian Rupees. Similar to other apps it processes the information provided by the users to make creative resumes from the resume formats provided in the app.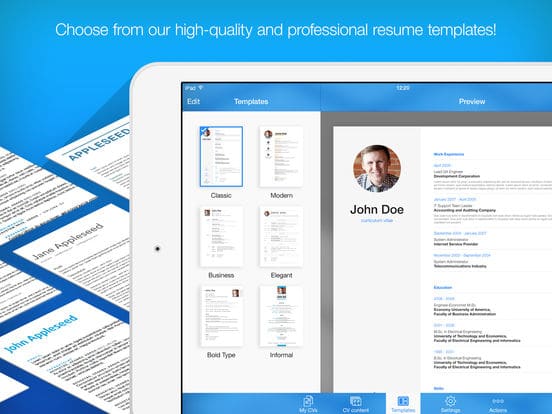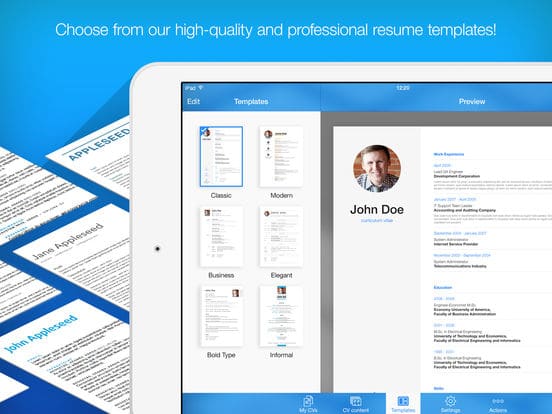 But the features that vary from others resume apps are the cover letter and digital signature feature making the all overwork easy for the user. The user can get a completely ready resume from the app and can get it or share it with employers.
Visit: Resume Maker
My Resume Builder
My Resume Builder is one of the best Resume Apps available on the Google play store and that too free. It allows the users to enter all their details. Moreover, they get a very attractive resume structured in the form of 10 pre-existing templates. Also, you can directly share, download, and backup the resumes.
The feature that makes it different from other apps is that you can save resumes as backups. Also, you can edit and recreate the resumes through My Resume Builder, and the information can update easily.
Visit: My Resume Builder
PathSource 
This app is only available for iOS users and boasts a short time span to create your CV.  They also have a Q/A section where you are quizzed about your background, education, experience etc and the app drafts a resume on that questionnaire's basis.
Its best feature is it's a tool for analysis of the resume that not helps you find suitable employers it also tells you what your salary expectation should be. It also has an education-based search where it offers to find you the best-suited program in your field of interest.
Best features:
1. Has both free and paid versions
2. Resume analysis tool
Visit: PathSource
Frequently Asked Questions (FAQs)
Here are some of the common questions regarding resume apps.
Q1. How long should a CV be?
A1. CV or curriculum vitae can be, however, pages long. It can be two pages or more than that. The number of pages depends upon the experience a person has.
Q2. How long does it take to build a resume in the apps?
A2. The time varies from one application to another. However, the standard time is usually only a few minutes after inputting all the information.
Q3. How can I download my CV?
A3. There is a 'download your CV' button in the corner of every application. In paid applications, one needs to sign up to make necessary payments. Only after that the download option is available.
Q4. If a CV is made on a laptop, is it accessible from another device?
Yes, users can use any other device such as a smartphone, tablet, or desktop to access their account in the particular app. The app contains all the saved CVs. In some applications, there is an auto-save that allows saving the application while working simultaneously.
Q5. Is it possible to write/design cover letters in resume apps?
A5. Yes, many Android and iOS provide separate editing tools for creating visually attractive cover letters. Some apps that design cover letters include OnlineCV, ResumeCoach, etc. The resume and the cover letter go hand-in-hand and look similar in aspect.
Conclusion
All in All, these are some of the great Resume Apps available on Android and iOS platforms. Resume downloaded from the resume apps is in the form of word or pdf. For any PDF problems, PDFBear is a great online platform. Thus, making your life easy and helping you create new job opportunities. Most of these apps are free. And, you can easily download them from the app store of your Android or Apple smartphone.
However, there are other apps available on these platforms, but none of them can give you an experience like this one. Download these apps from the play store, and you can create your Resume anywhere and anytime. Check this out if craigslist not working. Also, you have an interview in an hour and you don't have a CV yet. Just download one of those Resume Apps and get your Resume quick!
See Also: 27 Free Job Posting Sites for Employers | Latest 2023