Craigslist is the easiest way to search, access, share, and post classified advertisements for job opportunities, housing, goods and services, and items for sale. It primarily functions as a local list of everything for sale or in high demand posted near your area. Craigslist is one of the best sites for you to browse the market. The website is excellent at finding local deals in your area based on how far geographically each item is offered from your location. With specific Craigslist listings in each market, it's easy to shop for things available in your area without having to fly halfway across the country.
Here are some options to search all of Craigslist at once:
– SearchCraigslist.org: a web app
– SearchTempest: a web app
– CPlus for Craigslist: available on iOS and Android
– Search All Junk: a web app
But let's face it; the Craigslist website isn't the most functional. Fortunately, there are various ways to search the entire Craigslist database for your needs. Which service you use to search through Craigslist depends on the platform you use. There are a lot of web-based search engines for going through Craigslist that allow you to explore state or country-wide regions, making it easier to search through listings on the go or at home. Follow this guide to learn how, and if you've found a search engine you prefer over our suggestions, be sure to comment on your favorite one!
See Also: The 10 Best Ioffer Alternatives You Should Try
Web-Based Craigslist Search Engine to Search All of Craigslist
Several websites will enable you to search all of Craigslist. These sites may vary in the amount of control they offer, but they all allow you to search Craigslist nationwide. These are our top picks:
The website has a simple interface and an even more straightforward premise: searching every Craigslist listing regardless of location.
It uses a Custom Google Search Engine, which loads every result from the site based on your search terms, with sorting options for relevance and date posted.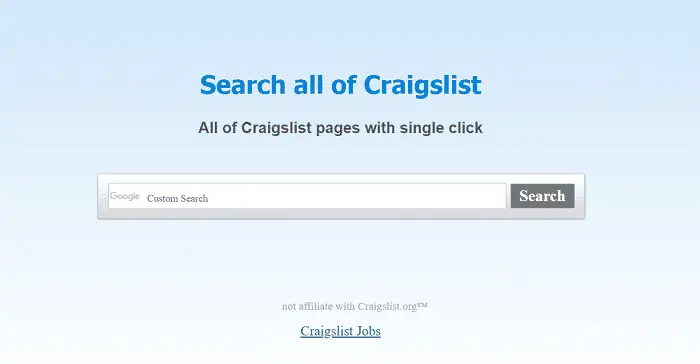 Because the site searches active Craigslist offers, everything is updated on their website.
Clicking on each listing retrieves the information for you, making it easy to load links inside your web browser. The site also does an excellent job of giving you the content you're explicitly looking for.
Statewidelist
The next in line for searching all of Craigslist is the Statewidelist because it makes exploring the entire span of your state for a specific item far more comfortable than the traditional Craigslist website.
The website's homepage lets you enter your search item, select a category of your choice, and then you select the state you're searching in.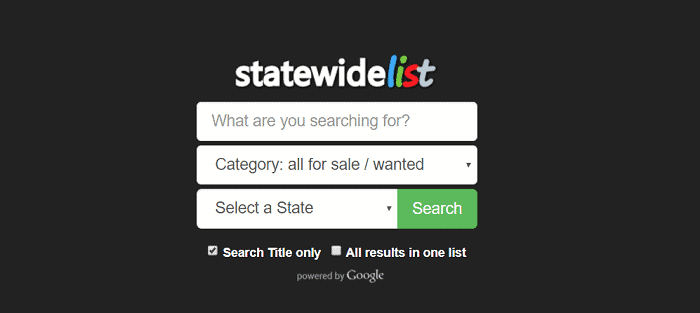 Right below the option to select your state is an area to choose between seeking the title of the post only or the entire position, as well as a selection for showing all results in one very long list.
Statewidelist to search all of Craigslist also shows you relevant search results from eBay below your Craigslist returns.
You can enter the postal code and the radius you want your search to cover for Search Tempest.
If you would like, you can use the Preferences button to change to a state, region, or worldwide search criterion.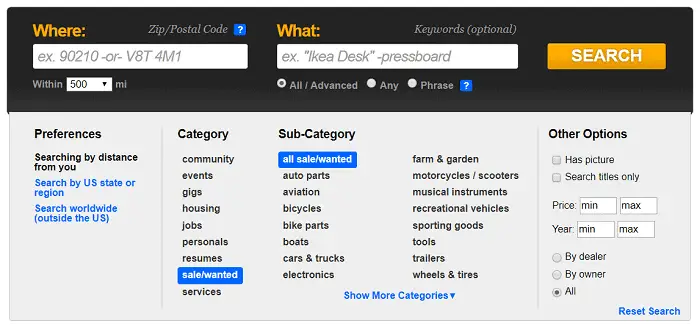 You can also choose categories and sub-categories before you begin your search.
Once you search through your listing, SearchTempest will group your results by location, making browsing easier based on mileage and the approximate distance you'll have to cover to pick up your item.
ZoomTheList
Its interface isn't pretty, but ZoomTheList can make searching through Craigslist a breeze with its advanced filtering.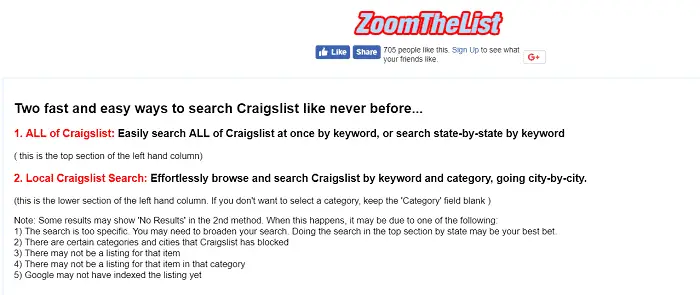 Ad Hunt'r
You'll need to enter your search first. Once all the results are returned, you can use different filters on the left portion of the page to narrow your results to specific areas and categories; not a very decisive website to surf through.
Let us know if you know any other good search engines for searching through Craigslist if we missed it in the list by dropping a comment in the comments section.
See also: 10 Best Free Job Posting Sites for Employers
Using Google Custom Search by yourself!
Google can do more than search. The function we are talking about over here is the "Advanced Search Operators." With a little trick, it can search all of Craigslist nationwide.
You can also use this method to find specific results on other websites (for example, if you are looking for research papers, etc.)
It is also worth noting that this method is compatible with search engines like Yahoo, Bing, and others. Since we have all that out of the way, let us begin performing our custom Google Search Operator for searching all of Craigslist!
Enter your criteria in the search field, and enter what you're looking for, whether it's jobs, merchandise, books, DVDs, old Music Albums, or anything and everything—it's all the same to Google! (Doesn't that make you grateful now?)
Here's the Process
Follow your search word(s) with "site: craigslist.org." Doing this will focus the search for information only on Craigslist and all of its subdomains. Using the site: the operator saves you from sitting for hours on the desk trying to pinpoint that item you need desperately but doesn't see.
Use additional modifiers to narrow your search: You can add other search criteria by using more search operators as a suffix to the website. The ones you will be looking out for a while search all of Craigslist are:
Price range: Enter two prices separated by ".." – For example: "PlayStation 4 $400..$500 site: craigslist.org" will just return results that list a price in the mentioned range.
Add your Postal code: Add your postal code to the end of the search text to narrow your results by location.
Try to exclude unnecessary words: You can remove comments from your search to exclude results you don't need. For example: "PlayStation 4 $400..$500 site: craigslist. org-used" will return results that match the price range and aren't used.
FAQs
How to make the Craigslist ad searchable?
You can incorporate keywords into the body of your Craigslist ad. But refrain from putting keywords in quotation marks. If your ad's body still needs greater keyword visibility, list the keywords at the conclusion with commas separating each phrase.
Why should one use Craigslist?
Because connecting with locals on Craigslist is simple, anyone can use it to find, buy, or sell practically anything. Because it's easy to use, one can also discover recently uploaded goods. It also gives the option of sponsored advertisement.
Is cash a safe method of payment on Craigslist?
Cash is the safest method of payment or collection for a Craigslist transaction if you're dealing with a local. You can conduct the exchange at a secure location to keep it even more secure.
Is Craigslist effective for marketing?
Yes. Businesses can promote their brands on Craigslist to attract new clients and boost sales. It resembles the conventional newspaper classifieds section a lot. On Craigslist, you can use an efficient marketing plan.
Is Craigslist email secure?
Yes. Craigslist employs email encryption to prevent the public from learning your email address. The website creates a Craigslist email account when you click the answer button in the Craigslist ad.