Bill Gates said, "The first five years have so much to do with how the next 80 turnouts". So it is essential to create interest in children in reading and writing, but children should know the sight words to succeed in fluent reading. Thus, you must know about the finest Sight Word Apps of 2023.
Sight words are the words that we come across every day. Various Sight Word Apps for kindergarten provide sight word education as follows.
11 Best Sight Word Apps of 2023
Read the following list of best sight word apps to use:
My Sight Words
It is a great way to enhance children's excitement for reading through various addictive games. It provides reverse audio communication and voice recognition.
MySightWords also enables users to create their own sight words. Also, it allows recording the appropriate pronunciation by yourself and displaying the statistics of training progress.
It teaches the correct sight word, and its voice recognition technology checks whether the children pronounce it correctly.
Teach Your Monster To Read (Sight Word App)
Teach Your Monster to Read is among the best sight word apps available. This app follows a storyline that introduces the users to various characters at different levels. These characters interact with the user, making learning new words more accessible. The app also motivates the users to learn more by providing additional rewards at different levels as you pass them.
The kids can learn more different and complicated words as they pass the levels individually. They can learn graphemes and other more complex words at the more challenging levels and their applications.
This app is the best choice if your kid loves stories, as it instantly pulls them in with its fantasy-filled adventure and cute characters.
See Also: Top 14 Best Random Word Generator Tools of 2023
Sprout Words
The Sprout Words app is primarily known to be used and recommended by teachers. This app makes it fun to learn new words for kids as it makes all the tasks extremely fun with well-thought-out games and colorful graphics that are child friendly.
Various tasks are planned appropriately to encourage step-by-step learning, which thus helps in learning new words and their integration to make a sentence. The app has different difficulty levels to make learning more organized, and it provides a platform for parents and teachers to track their kid's progress. This app is available for ios devices.
Words For Kids (Sight Word Apps)
This app is considered two in one package as children can learn while playing, and it is mainly targeted at children between the age group 2 to 8 years.
Words for Kids is unusual because the terms are grouped according to the specific location, such as bath, kitchen, or garden. It also provides interesting audio clips; due to this app, children will can both play and learn at the same time.
It also gives incentives to encourage the children to study the new words. In other words, this app enables the child to distinguish the different objects that the child sees in everyday life.
Kids Reading Sight Words Lite (Sight Word Apps)
In this app, the child goes on a journey with a frog. This frog visits different places and gives a feast of 220 sight words. Kids Reading Sight Words are classified into five vocabulary levels.
The vocabulary level gets higher as the story goes ahead. During this journey, the child learns to listen to the word and identify the appropriate one.
In other words, it is an entertainment-based educational app. The children do not get bored during this time due to the funny and appealing graphics.
Sight Word Superhero
As its name suggests, this app requires your child to become a superhero to progress in the game and learn new words. The player has to fight against a witch and several monsters to get back their stolen words, get free, and advance to the next level. 
This app engages the children with its superheroic storyline, which also helps instill a sense of responsibility. This app is not free, and you have to purchase it at a small price of $0.99, but it is worth it. This is because the app has no in-app purchases or advertising, making it children-friendly. 
See Also: Top 19 Word Game Apps for Android and iOS [#4 is AWESOME]
Vocabulary Spelling City (Sight Word App)
Vocabulary Spelling City is also a game-based word-learning app that allows a home-school tracking connection. This helps teachers and parents track a child's progress and growth at home or school. Teachers and parents can virtually give assignments to the kids to complete on time.
This app is free of cost and is very highly preferred because of its compatibility with all kinds of devices and special tracking features. 
A premium version is also available in 4 categories (Schools/Districts, Teachers, Parents, and Home Schools), providing more specific features for each type. This makes this app one of the best options available and is an app one should try.
Sight Words List
Sight words list is one of the Sight Word Apps that are helpful for reading. The application consists of 315 words and is again categorized according to age group.
It is fun, affordable, and, most importantly, educational. This application targets the age group between 1 to 4 years. It also offers to add new sight words and record your voice so the children do not get bored.
The user can also be able to set the flashcard viewing speed and can experience multi-sensor tools. The user can have different five game modes depending upon the complexity level, and one can also set the font setting.
Besides this, new cards with the new sight words can also be as well, as one can group the cards in the list appropriate for a child's education.
See Also: Ghost Hunting Apps | 23 Best Apps for Android & iOS
Sight Words Learning Games (Sight Word Apps)
If a child can identify sight words quickly, then there might be a possibility that he will learn to read fast as well. For that sole purpose, this app has a straightforward interface.
It offers six different category games and can train a single word in all those categories. Sight Words Learning Games also allow selecting avatars, letter cases, etc.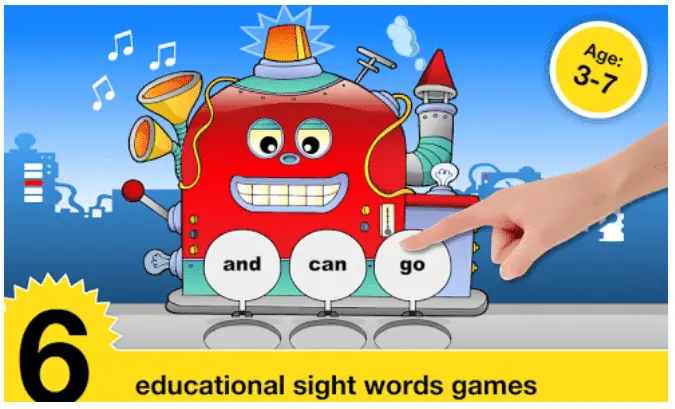 These six categories are included in this app: WORD MACHINE, SPELLING, SIGHT WORD BINGO WITH WORD ALIENS, MEMORY GEARS, and FLASH CARDS. This app has maintained its user interface as straightforward and user-friendly so that little children can easily understand it.
See Also: Top 5 Voice to Text Apps for Android (2023) – TechWhoop
Dolch Sight Words Flashcards
It is human nature that knowledge will remain last long if it gets tests time to time. So this one of the Sight Word Apps for kindergarten helps your child learn and test the reading.
The child learns almost up to 315 words along with its simple application. The children see the right words as well as hear their correct pronunciation.
This app has two sections, namely the standard game and the other is quiz. In the first scenario, the child sees the word and listens to its appropriate pronunciation, and in the second case child has been given the word, but the child must have to provide the correct pronunciation with their own. It has an age range starting from 1 year.
See Also: Top 8 Best Emoji Apps for Android You Can Download – TechWhoop
Phonics Spelling And Sight Words (Sight Word App)
If one learns sight words but cannot pronounce them, then it is a half-thing over, but why worry? This one of the Sight Word Apps for kindergarten and preschool children is a kid's favorite.
Phonics Spelling and Sight Words app help in remembering the children all the sight words and pronouncing the words correctly as they are written and sounded.
Various fundamental reading and writing things include phonetics, spelling, pronunciation, and all sight words. Their spelling and sentence formation are available on this app.
It has different sight words, approximately up to 300. Also, it has exciting games based on combination and ratio.
See Also: Top 5 Free Online Word Games to Improve Your Vocabulary
FAQs
How to recognize sight words?
Sight words are recognized by seeing them since they are difficult to sound out. You can also use phonics methods, such as pronouncing letters, syllables, and blends. Hence, sight words with a high frequency are present frequently in reading and writing.
Does sight words play a significant role in the reading?
Yes, sight words play a significant role in the reading and writing process that children go through while learning to read and write using phonics. Reading sight words is a crucial component for kindergarten and first-grade kids.
Where is the Secret Sight Words app?
On the App Store, there is Secret Sight Words app. The educational game Secret Sight Words is fun and engaging. It also aids children in quickly picking up sight words through touch, sound, and sight.
Do sight words have use levels?
Yes. Sight words come in a variety of use levels and have peculiar spellings. However, about 300 sight words are divided into grade levels and vary based on the list type.
Why are sight words crucial?
Sight words, usually referred to as high-frequency words, are crucial as they are a part of children's literature. One can quickly identify these words 'by sight' to read more rapidly and with greater comprehension.
Do sight words function properly?
Yes, they function as intended, and when a youngster is ready, it is crucial to teach them. Your youngster will be able to read more quickly and smoothly and acquire confidence in their literacy abilities by learning sight words. Additionally, they won't stumble over common words challenging for beginning readers, such as the silent 'e' at the end of 'like.'