It is hard to imagine that you don't know about Solitaire if you are a card game lover. Solitaire has been the favorite game of card lovers for a long time. People used to play it on the computer, and it was a favorite leisure activity of children and adults alike. But with time, the Solitaire world has changed a lot. Besides so many different versions, it has also slipped from computers and become part of our mobile phones and tablets. Now, we have solitaire apps for android too.
There are various Solitaire apps for Android that you can download on your cell phone and play games. Moreover, you can also challenge players from across the globe and take the thrill to the next level. Another best thing? These Solitaire apps for Android are highly customizable, and you can change modes and the playing board. But because of so many options, it is hard to select the best apps. So, we have made things easier for you.
See Also: Top 16 Free Bowling Games for Android and iOS [Updated]
Top 8 Solitaire Apps For Android
Here we have selected the best Solitaire apps for Android that you can play to bring fun to your life:
Solitaire Bliss (Solitaire App For Android)
Solitaire Bliss says 'hello' to all card game lovers with its multiple game options. It is rightly called an all-in-one Solitaire game. This app is for people who want Solitaire apps for Android to play in the offline app version.
With animated instructions, card customization options, assorted Solitaire games, and a beautiful layout, this app is a go-to solution for those looking for never-ending Solitaire fun. This is definitely a must-download if you need a blissful all-in-all Solitaire game. You will not regret your decision after downloading this app.
Visit: Solitaire Bliss
Microsoft Solitaire
Microsoft Solitaire is one of the most followed Solitaire apps for Android, with millions of followers. This one app contains a different array of Solitaire games, so you don't have to go anywhere else to enjoy different versions.
From Klondike Solitaire, Freecell Solitaire, Tripeaks Solitaire, Spider Solitaire, and Pyramid Solitaire, you can find various options to satisfy your inner card game freak. These games come with a twist where you can win rewards and unlock around 75 achievements by playing daily challenges.
Visit: Microsoft Solitaire
See Also: House Building Games You Should Play This Winter Vacation
Solitaire By TripleDot (Solitaire App For Android)
Solitaire by TripleDot app is free, and you can play it in both online and offline versions. It has multiple classic Solitaire games that you can play to keep your brain sharp and stay in the fun ride of card games.
Its new features, beautiful graphics, customization options, and fun animations make it one of the most sought-after Solitaire apps for Android. You can take on Daily Challenges to prove to everyone that you rule the world of card games (you never know, this might come out true!).
And yes, don't forget to try their IQ mode to test your IQ. Let's see if you are the hidden Einstein!
Visit: Solitaire by TripleDo
Solitaired
Solitaired app is one of those Solitaire apps for Android that have a plethora of options to satisfy the Solitaire craving of card game seekers. Name any game from Golf, Pyramid, Klondike Turn 3, Spider, etc. You will find them in this app.
Its happening features, like undo, change the difficulty level, track moves and time, amazing animations, and simple layout, give the best card playing experience without getting trapped in any fussy interface.
Visit: Solitaired
Card Shark Solitaire (Solitaire App For Android)
This is another one of the very frequently downloaded Solitaire apps for Android that comes with around seven collections of games. From Memory Match, Forty Thieves, FreeCell, Canfield, Klondike Solitaire, Draw Pocket, and Spider Solitaire to Beleaguered Castle, this game has a lot to offer to card players.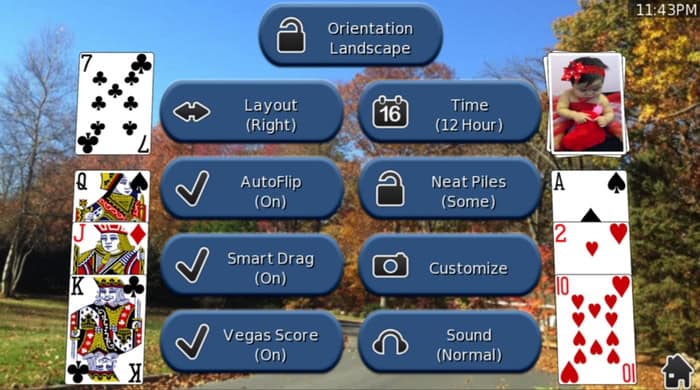 With different customization options, you can give a personalized touch to your cards and board. The best thing is this Card Shark Solitaire app is free to use without any attached strings. Made a wrong move? No problem! Unlimited Redo and Undo options are ready to help you rectify your mistakes and keep you in the winning position.
Visit: Card Shark Solitaire
See Also: Best Xbox One Puzzle Games You Should Play
Solitaire Infinite
Solitaire Infinite is another Android app to play classic Solitaire games without any wifi. This free card game app is a must-have option for those who can't resist playing card games.
So, they can play it without the need for an internet connection whenever they want. It has an 80-90% win rate because with unlimited undo and the 'Retry Game!' feature, there is always a way to ace your game.
The fun part is you can pause the time clock whenever you are interrupted or have something urgent to do while playing the game. You can stop the clock, do your work, and again start the game where you left it. Amazing – right?
Visit: Solitaire Infinite
Solitaire Deluxe 2 (Solitaire App For Android)
If you haven't tried Solitaire Deluxe, then you are missing out on big-time fun. This is one of the highly-rated Solitaire apps for Android due to its amazing interface, challenges, and graphics.
With its 20 different Solitaire versions, you can't get bored after downloading this app. You can find different online tutorials to get a hint of how to play this game if you ever feel lost in the huge world of Solitaire Deluxe's modern interface.
Visit: Solitaire Deluxe 2
See Also: 8 Best Xbox 360 Singing Games
Classic Solitaire 2022
The Solitaire card game is still in a state of a stir, and its new versions are rolling out to amaze solitaire fans – just like Classic Solitaire 2022. It is a modified version of the traditional Solitaire game with a new interface, graphics, and animations.
If you love Classic Solitaire but want it with a modern touch, then Classic Solitaire 2022 is ready to serve you. You can download this app for Android and have fun with your old love with a new twist.
Visit: Classic Solitaire 2022
Conclusion (Solitaire Apps For Android)
Solitaire is one of the most liked card games that has been played by people of every age group for a long time. However, the advancement in technology has reformed the Solitaire world, and now it is available in different versions and for different gadgets.
Solitaire apps for Android have made life easier for card game players because now they can play their favorite games easily. Moreover, the offline availability of these apps has made it even easier to play these games without any dependency.
So, if you are a Solitaire lover, then there are various apps ready to thrill your inner card player. Choose your favorite app and get ready to tease your brain!
See Also: 7 Crazily Scary iPhone Games To Play This Winter Vacation!