Sports Addons for Kodi often do not work as well as many other add-ons. This happens because the content is not recorded mainly from the Live Feeds. Live feeds may not work smoothly with Kodi and are usually a hit or miss. This depends on how well its respective developers maintain the addon. These add-ons are improving tremendously as the months go by. Here are some of the best Sports Addons for Kodi we have found so far.
Stream Live Sports Events Effortlessly with the Best Sports Addons for Kodi 17
The best VPN for Kodi sports addons is NordVPN.
Install Any Kodi Sports Addon Quickly Using Surfshark.
For a trustworthy VPN for Kodi sports addons, use Atlas VPN.
Securely Install The Best Kodi Sports Addons with CyberGhost.
An excellent VPN to hide your activity on the device is always recommended for maximum security. You don't want third-party trackers to be selling your information to other websites or, worse – having been tracked down by legal authorities for streaming some illegal content. If you need a cost-effective and suitable solution, try using Kodi with IPVanish, which provides multiple high-speed servers without any throttling or logs saved for a minimal fee per month or year.
See also: How to Install Specto Fork on Kodi Krypton 17 & Jarvis 16
List of Best Sports Addons for Kodi
Without further ado, here is our list of the Best Sports Addons for Kodi in 2019
Project D
Name of Location: Project D
Project D offers a variety of content. But it was mainly intended for Kodi users who are interested in gaining access to sports feeds. Since then, it has been updated several times and is still maintained by Project D.
They have been consistently streaming excellent links. Some of their content includes NHL, NCAA, Basketball, SuperCross, SuperBowl, UFC, WWE, Rugby, etc.
Amerikano Tuga
Name of Location: Dimitrology
Amerikano Tuga is a sweet option as a Live IPTV among Sports addons for Kodi with many sports feeds. It has a bunch of streams from around the world, including sports channels.
Their server was recently changed and is now hosted by the Dimitrology repository.
Visit: Amerikano Tuga
Sports World
Name of Location: Stream Army
Hailing position three on our list of sports addons for Kodi is the Sports World addon. Sports World is a kind of Kodi addon from the Stream Army repository, boasting several live sports content.
They include American Football, Football (Soccer), Rugby to NBA, Baseball, Boxing, Golf, Cricket, Wrestling, and UFC.
Visit: Sports World
Deliverance
Name of Location: Deliverance
Deliverance is a new Kodi sports addon that came out in 2017. So far, Deliverance, just like its name, has been delivering what it offers and has worked decently enough. Deliverance has sections for Football highlights as well as Deliverance Sports.
Their Sports sections have lots of streams to choose from. Most of these streams originate mainly USA and UK. Streams include but are not limited to TV shows, Video on Demand, live sports events, USA Sports, and lots more.
Rising Tides
Name of Location: Mullafabz (Rising Tides)
Rising Tides is another new live sport IPTV Video addon for Kodi released in July. It has a ton of feed from all over the globe.
Rising Tides offers streams from literally almost anything. As you would expect, they include Football and Cricket, NFL, Boxing, Golf, and, MotorSports! It is one of the rising Sports Addons for Kodi.
Visit: Rising Tides
cloud
Name of Location: Kodi, Israel (Kodil)
cCloud TV is a hit among the best live TV add-ons for Kodi. McCloud has a genuinely massive live sports section. This covers sports from countries worldwide, including France, Russia, the US, and the Middle East. Most of their streams work exceptionally well. Although you may occasionally run into problems with the American streams.
This is so because many American OTA channels and other paid sports channels usually block streams quite aggressively. When this article is published, roughly over 150 channels were under the "Sports" section for cloud TV.
Visit:  cloud
See Also: How to Install Rebirth Addon on Kodi | Updated Guide 
DC Sports
Name of Location: Ares Wizard
DC Sports is another popular Sports Addons for Kodi that you can use for watching all kinds of Sports events.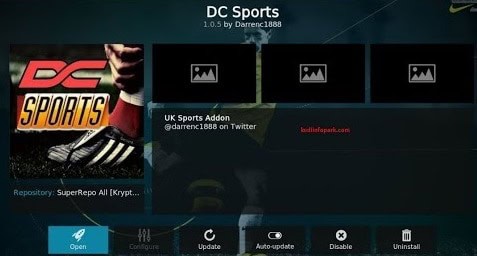 Options under DC Sports include Picks and PVV Events, World of Sports, and Celtic FC Live on Demand.
Pro Sport
Name of Location: Caz (PogGod)
Pro Sport is an addon with live streams from NHL, NFL, NBA, and MLB games. It scouts through Reddit for streams and displays them for you.
Reddit has an overwhelming number of great sub-communities that specialize in live sports streaming. Pro Sport taps into these subreddits and displays the streaming links accordingly. It's one of the good Sports Addons for Kodi.
SportsDevil
Name of Location: Ares Wizard
Some alternative URLs:
http://ares-repo.eu | http://aw.ares-project.com/ | http://repo.ares-project.com/magic/ | http://toptutorials.co.uk/kodi/repos/
SportsDevil is the most ancient working Kodi sports plugin, and the update has gone on and off over the last few years. The latest updated version is from 2017.
The interface remains the same, but now a booster pack of streaming links is available. Click here for a clear guide to using SportsDevil on Kodi.
Visit: SportsDevil
Sportie
Name of Location: Colossus Repo
Lastly, our list of best Sports Addons for Kodi pulls its links from many sources.
Some of the sources include Reddit and Acestream links. Among the two, Reddit links that have been tested are known to work well.
Visit: Sportie
See also: How to Stop Buffering on Kodi | Kodi Buffering Fix – TechWhoop
NetStreams Sport Hub
The developer of this addon recently refurbished the NetStreams Sports Hub. It is said to be a better addon for watching sports on Kodi. The new update has made watching anything sports-related in one place feasible and trouble-free. This Sports Addons for Kodi contains sports like cricket, soccer, basketball, football, and boxing.
This new update brought in more modern categories of viewing content. It has helped make this one of Kodi's most popular and demanded sports add-ons.
Atom Reborn
You will be impressed by Atom Reborn with the amount of viewing tiles accessible. Its library is enormous and vast. Other than providing you with the live video of the events. This Sports Addons for Kodi also contains the latest movie releases, documentaries, music, series, and content for kids.
This add-on was legally prohibited in a few districts before. This became a hassle for the users. But this problem was solved, and because of the new update, it now functions correctly.
See Also:
BBC iPlayer
This fantastic addon provides its customers' allowance for BBC's player sports events and others. Though they feature live sports from the UK, they also feature sports from various countries that are too high–quality.  
For example, this addon plays the Superbowl annually, along with many major US sports events; you can also find a vast library of films and series. You also can access all this if you are in the UK, but if you are not. You can always make use of VPNs.
Goodfellas 2.0
This addon, Goodfellas for sports on Kodi. It is one of the finest ones that you will come around. This addon offers numerous live sports content. They have been segregated into individual parts to ease the users. You can notice options like MLB, UFC, NHL, and NBA.
Yet this fantastic addon has a notable setback. You will face a small amount of freeing, screen hanging and buffering with a few tiles.
Film on Simple
On this platform, you can find an online or live display of many sports events and even unusual events. Many of the events you see here are unavailable and are somewhat challenging to find on other sports addons on Kodi.
You can also find many extreme sports like water sports, kickboxing, MMA, etc. Funny bloopers are also available for the same if you like them.
See Also:
NBC Sports Live Extra
As we all know, NBC Sports is one of the exceptional sports TV channels in the USA. Adding this to Kodi is simple, enabling you to view and stream UK Football, Soccer, Tennis, motorsports, Golf, Horse Derby, etc.
NBC also has a true televising partnership with the EPL (English Premier League), showing all the tournaments in the USA.
See Also: The 7 Best Ccloud TV Alternatives For You To Try Now
FAQs
Are all sports addons for Kodi free to use?
Not all sports addons for Kodi are free to use. While free addons provide access to sports content, some premium or subscription-base addons may offer additional features or exclusive content for a fee. It's essential to review the details of each addon before installation to understand any associate costs.
Can I watch live sports events using sports addons on Kodi?
Yes, many sports addons for Kodi allow users to watch live sports events. These addons typically provide access to live streams of various sports events, including popular leagues and tournaments. Users can browse through available streams and select the desire event to watch within the Kodi media player.
Are sports addons for Kodi legal?
The legality of sports addons for Kodi can vary depending on the specific addon and the content it provides. While some addons offer access to legally available sports content, others may give unauthorize or pirate streams, which can infringe upon copyright laws. It's essential to use addons that comply with copyright regulations and respect content licensing agreements.
Can I customize the sports addons on Kodi?
Some sports addons for Kodi offer customization options. Users can often personalize the addon settings, such as selecting favorite sports or teams, adjusting video quality, or altering display preferences. These customization features allow users to tailor their sports-watching experience on Kodi according to their tastes and requirements.
Are there any risks associate with using sports addons on Kodi?
Using sports addons on Kodi may carry certain risks. Third-party addons can introduce security vulnerabilities or potentially malicious content. It's essential to exercise caution when installing addons from unknown or untrust sources. To mitigate risks, it's advisable to stick with reputable addons, keep Kodi and addons update, and use reliable antivirus software.
Can I use sports addons on any device with Kodi?
Sports addons for Kodi can be used on a wide range of devices that support Kodi. This includes popular platforms such as Windows, macOS, Linux, Android, iOS, and dedicated Kodi streaming devices. If you have Kodi installed on your device, you should be able to install and use sports addons accordingly.
Disclaimer
The creation of this guide on Sports Addons for Kodi is in an attempt to let its readers gain access to the content they already have the rights to. Here at Techwhoop, we do not support piracy and will bear no responsibility for whatever the users here do with the information provided. Please also remember that Techwhoop does not host, develop or produce any of the applications, add-ons, and software mentioned in the article on its page.
We are also not affiliated with Kodi or any of its additions or comprehensive software otherwise.