The extension.STL stands for Stereolithography, the standard file format used for 3D printing. The STL file format stores information about the 3D models. Most of the 3D models use this file format to print 3D objects. Its primary use is in 3D printing, radio-prototyping, and computer-aided manufacturing. Thus, you must know about the best STL File Viewer out there.
These STL viewers are a handy and efficient way to have an idea of the 3D object that you want to print. Most cost nothing and are available across different platforms, whether Windows, Mac OS, Linus, or Android. Different STL viewers have various features according to the needs of the user.
So go through the list below to determine which suits you the best. Also, click here for our updated picks for the 11 best free file viewers for Windows!
12 Best STL File Viewers to Use Today
Here, we present our hand-picked list of STEP file viewers that are free and easy to use.
GOM
GOM Inspect is a straightforward STL file viewer software with fewer attributes compatible with low-component devices. This software allows you to see STEP files and allows you to edit these files. The disadvantage of using this viewer is that you can only make some changes to the files.
GOM Inspect is free-to-use software; download it directly from the official website. It is a child's play for expert hands. This freeware allows you to make STEP Files from the very start and enable you to make triangular components.
Visit: GOM
GMSH
GMSH is an open-source STEP File viewing freeware. It comes with a preinstalled CAD engine and a post-processor. This free STL file viewer is interactive with lightning-fast and easy-to-use mesh options.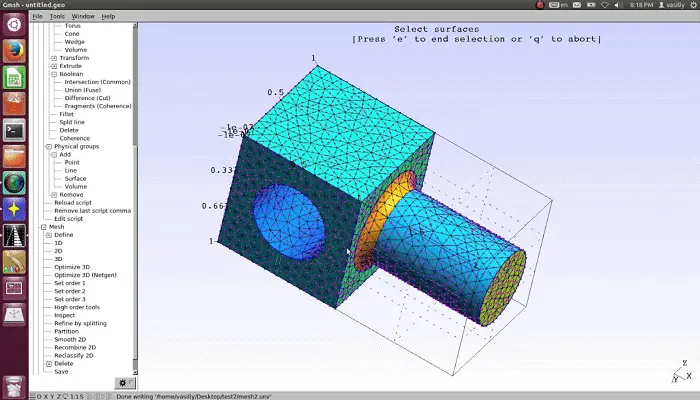 GMSH is a 3D finite object mesh generator packed with four distinct modules post-processing (due to the post-processor installed), solver, geometry, and mesh. It comes with all the significant attributes. These contribute to an easy understanding of the result. The classical interface is the eye-catcher.
Visit: GMSH
En Suite-view
En Suite-view also comes under the free category of STL File viewer. The easy-to-use freeware comes with a lot of features and tools. You can open all CAD formats, including GCR, CATIA V4, etc. The interface of the software is more user-friendly than any other software.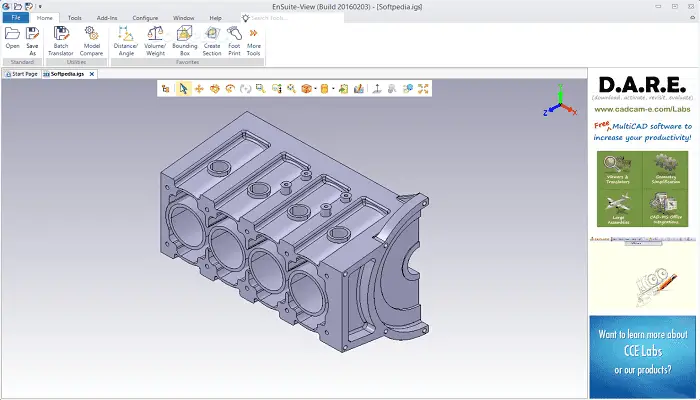 En Suite-View can perform multiple tasks like comparing parts, measuring lengths and distances, translating, etc., thus making it an easy-to-grasp software. The tools are a piece of cake for the users.
Visit: En Suite-View
GLC Player
Are you looking for an all-in-one STL file viewer? Well! Well! GLC Player is the one you should have on your PC, then. This multi-tasking freeware is utilized to Make, Edit, View, and Change STL files. GLC Player is recommended for professionals.
The user-friendly, easy tools can help you do massive projects accurately in no time. You can conceive 3D visuals from scratch in various formats like OFF, OBJ, V1.4, 3Ds, etc.
Visit: GLC Player 
STL VIEW
Have a low-hardware computer and want to run STL Viewers? Thanks to the developers of our next STL file viewer. STL view is a simple freeware for viewing step files. It is a very lightweight software. It is so light that your hardware won't even know it's out there! This is why this freeware is even available for mobile OS like Android.
The features and tools are fundamental; even amateurs can use them. For instance, you can rotate the camera and alter the material's properties like color and shape; it's that simple. This software is worth a try.
Visit: STL view 
See also: – Top 6 Free STEP File Viewer Software for Windows
Open 3D Model Viewer
Are you a game programmer or a 3D designer and want an STL File Viewer? We would highly recommend Open 3D Model Viewer for you. It is freeware that can be customized as per the user's accord. With the help of necessary tools, you can view, alter, and make STL files in various formats.
This open-source software is advantageous and well-grounded as you can enhance its function to your desire.
Visit: Open 3D Model Viewer
MiniMagics
MiniMagics comes from the 3D printing industry giant materialize. Individuals and businesses alike use this STL file viewer software to print their 3D Models.
The software platform is very user-friendly and guides us through every step of the 3D printing workflow. Apart from the essential pan, zoom, and rotate functions, you also get a cross-section viewer to inspect the interiors apart from an annotation tool. This freeware works on Windows and supports STL, MAGICS, and MGX file extensions.
Visit: MiniMagics
Pleasant3D
Pleasant3D is an open-source software available for Mac OS. Apart from its functionality as an STL File Viewer, it also allows for minor editing and viewing and changing the 3D model dimension and location, and moving the model along the three axes.
It also supports the conversion of ASCII STL into binary STL. Currently, it only supports STL and GCode, but the company hopes to add more formats later. This software works on MacOS and supports STL and GCode formats.
Visit: Pleasant3D
See also: – Top 10 GEDCOM File Viewer Software for Windows – TechWhoop
ADA3D
This STL file viewer is open-source software for visualizing STL and OBJ formats designed in packages such as 3D Studio Max, Z Brush, and MAYA, modeled in CAD systems, or generated through digitalizing physical attributes.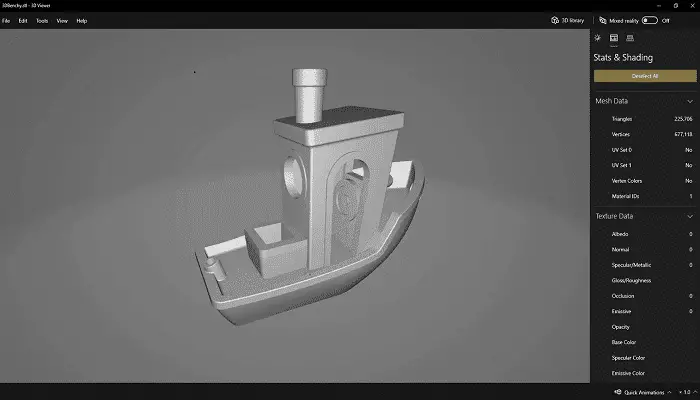 It has a straightforward user interface, fast rendering, and the ability to handle large volumes of data. It is an ideal tool for examining polygonal meshes. This software works on Windows and supports STL and OBJ file formats.
See also: – 10 Best Free Image Viewer Software to Download – TechWhoop
3D-Tool Free Viewer
The 3D-Tool Free Viewer is a free and powerful STL File Viewer made to open DDD models published with the 3D-Tool CAD viewer. It is a paid software, but you can try it free for 14 days.
Like most other STL viewer software, it has features such as cross-sectioning, pan, and zoom along the three axes. However, while using the premium interface, it is recommended to use a system with a faster processor and at least 8 GB of RAM. This open-source software works on Windows and supports STL, OBJ, CATIA, X_T, STEP, IGES, VDA, SA, and SAB file extensions.
Visit: 3D-Tool Free Viewer
MeshLab for iOS
MeshLab is a freeware designed for iOS to display complex 3D models quickly and intuitively. This STL file viewer allows accurate inspection of a 3D model through precise and straightforward navigation.
Also, the navigation of this software is relatively easy, and it opens 3D models directly from web pages, email attachments, and DropBox links. This 3D file viewer works on macOS and supports STL PLY, OFF, and OBJ file formats.
Visit: MeshLab 
See also: – 10 Best DXF File Viewer Tools for Windows – TechWhoop
STL File Viewer (free)
The last on the list is an STL file viewer for Android users. This app lets you view STL files on your Android Smartphone or Tablet. It has all the nooks and crannies of an STL viewer, like binary and ASCII file support, and pan, rotate, and zoom functionality across the three axes.
Additionally, it also has a built-in file browser, color selector, and the ability to save user settings automatically. This software works on Android and only supports STL files.
FAQs
Can I measure dimensions or distances in an STL file viewer?
Many STL file viewers provide measuring tools to determine dimensions or distances within the 3D model. These tools allow users to select specific points or edges on the model and obtain accurate measurements, aiding in assessing the scale, proportions, and size of the object represent by the STL file.
Can I rotate or manipulate the view of the 3D model in an STL file viewer?
Yes, STL file viewers typically offer options to rotate, pan, zoom, and manipulate the view of the 3D model. These controls allow users to examine the object from different angles, inspect specific areas, and comprehensively navigate the model to understand its structure and aesthetics.
Does an STL file viewer support other file formats?
While the primary function of an STL file viewer is to handle STL files, many viewers also support additional file formats commonly use in 3D modeling, such as OBJ, PLY, or STEP. This versatility enables users to open and view various types of 3D models within the same viewer software.
Can I take screenshots or capture images in an STL file viewer?
Yes, most STL file viewers include features for capturing screenshots or exporting images of the displayed 3D model. These functions allow users to capture high-quality photos of the model for documentation, presentations, or sharing purposes, preserving a visual representation of the viewed object.
Are there advanced features in STL file viewers, such as cross-sections or annotations?
Yes, some STL file viewers offer advanced features like cross-sections or annotations. Cross-section tools allow users to slice through the 3D model at specific planes, providing insights into internal structures. Annotations enable users to add text, dimensions, or notes directly onto the model, facilitating communication or documentation of specific details.
Can I use an STL file viewer for 3D printing preparation?
While STL file viewers primarily focus on visualizing and inspecting 3D models, some viewers also offer basic functionalities for 3D printing preparation. These features may include options for scaling, orienting, or optimizing the model for 3D printing, providing a convenient all-in-one solution for viewing and basic pre-processing of STL files.
Conclusion
So here you have it, folks, our descriptive list of the top 12 STL file viewers of 2023.
These are the recommended software for 3D enthusiasts or 3D designers. Moreover, if you love working with 3D, then you should try these applications.