Ubisoft is a very well-known game designer. They have made many awesome games that you can download on your PC, including my favorites, such as Assassin's Creed and Watchdogs. They have designed their game launcher software called Uplay. But often, you may have been faced with this error, "Uplay has Detected an Unrecoverable Error And Must Shut Down."
This unrecoverable error can be annoying sometimes, but how to resolve it? Here is a quick fix for this error:
Open Control panel
Choose "Windows Defender Firewall" from the menu
Toggle it "on"
Restart your PC
This might fix the issue. However, no need to worry if it doesn't work. As there are numerous fixes we have discussed in the forthcoming paragraphs.
Read this guide to know the different methods to fix "Uplay has Detected an Unrecoverable Error."
How to Solve Uplay has Detected an Unrecoverable Error And Must Shut Down
Follow these methods one after the other, and you might be able to get rid of that error prompt in one of them. Let's get started.
Change the way you connect to the Internet
This error Uplay has often detected an Unrecoverable Error, And Must Shut Down pops up due to a weak or unstable internet connection. To fix this issue, you must resort to a stable method. You can attach the Ethernet cord to your device and get rid of wireless connections to launch Uplay for the first time.
If you don't have an Ethernet cord at your house, you can buy it at the closest store. Most of the time, it's given by the service providers only. Thus, you can get rid of the wireless connection and secure your network.
Once you get the Ethernet cable, join one edge of the wire into the router and another bite into the device you are employing.
Try to operate Uplay now and verify whether the problem is resolved or not.
See Also: How to Fix Google Chrome Error NET::ERR_CERT_INVALID
Disable your Firewalls Completely
Firewalls are a kind of strategy that doesn't allow an application to connect directly to the Internet. They can access the Internet only if the user enables them and permits them.
Follow the below-mentioned steps to resolve this problem.
Look for Control Panel in your system, or you can directly press the Windows button and R to open the Run command. As it opens, write there in the search bar "Control Panel," and the desired page will appear.
Once you make your way to the Control Panel page, you are required to search for the "Windows Defender Firewall" selection. Scroll down to find this.
As you open the Windows Defender Firewall option, various applications and selections will occur on your screen. Switch the toggle from ON to OFF.
This will conserve the modifications you have brought to your device. Restart your PC again and check now whether Uplay is working or not.
See Also: How To Permanently Disable Windows Defender on Windows 10
Update to the Latest Version
If it was a minor compatibility issue with your system and uplay, a simple update should be able to fix it. To download the latest version of uplay, visit this link.
You will find the most recent available version there. It will replace most old files and replace any patches that might have gone bad after constantly running overtime.
If this admittedly predictable method did not work, you could try other methods that follow.
See Also: GStatic Virus and 5 Ways to Remove It from Windows
Clear the Cache and Restart the Game
I cannot guarantee that this will fix Uplay has Detected an Unrecoverable Error and Must Shut down the error, but it is worth a shot. Go to the directory where you have installed the game from Ubisoft. It will usually be under the uplay directory in the parent drive.
Commonly it will be the C drive>>Program files>>Ubisoft. It may vary based on the default taken by the wizard at the first launch.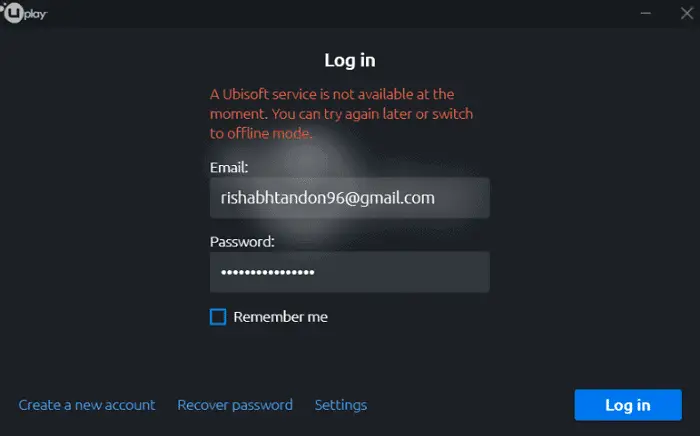 Once you find a folder that will typically be named as cache, delete it and its contents. Then, restart your game and see if the problem with Uplay has been resolved. If it has not been solved yet, restart your entire PC and then try again.
Cache memory is the one that can comfortably hold faulty data and can cause the game not to run correctly sometimes. Especially the ones which use parallel game launching software as Ubisoft does. It might work, in which case, rejoice! If it didn't, well, let us keep scrolling, shall we?
See also: How to fix "ERR_SPDY_PROTOCOL_ERROR" in Google Chrome
Terminate Uplay from Background and Restart
Use the task manager to kill all the play-related tasks from the background context. Then restart the services again using the game shortcut you have on your desktop (hopefully). Sometimes, the start-up of these program segments may not have been properly, so it would cause the game launched through Uplay not to run correctly. So restarting it after closing it down may fix the errors.
If restarting does not fix a program, in this case, the error message that prompts "Uplay has detected an unrecoverable error and must shut down," the next method will have to be done.
See Also: Surface Pro 3 Won't Turn On? Here's How to Fix It
Downgrade to the Previous Version
I don't think this is a good idea, but it is worth trying if none of the other options seem to work for Uplay has detected an Unrecoverable Error and must Shut Down issue. An older version could still be available for download at their website to eliminate this error Uplay has Detected an Unrecoverable Error And Must Shut Down. A simple google search will get you what you need. Downgrade to the immediate lower version from your current erroneous version and see if it fixes the issue.
The idea is that a company always moves to a newer version after releasing a stable version for the current version. So if the more recent version of Uplay seems to be buggy, downgrade to the older stable version of the software to solve uplay has detected an unrecoverable error and must shutdown error. Uplay will still support pretty much all the games available currently and will most likely work fine.
Stay on the lower version until you see that the internet has come up with a newer fix to the problem faced by the present version of Uplay. Then you can upgrade to it and continue using it daily, and it might resolve; Uplay has Detected an Unrecoverable Error And Must Shut Down.
Reinstall Uplay
This is the most common thing that every user face with this "Uplay has Detected an Unrecoverable Error and Must Shutdown" error would think of doing, but hesitate and come to
the internet for better, more comfortable, alternative ways to fix the issue.
Well, if you find yourself in this paragraph, I guess your luck has run out. You will have to uninstall the existing game launcher installed on your system completely. Then reinstall it from their website or from the file you have buried somewhere in your downloads folder.
While uninstalling, make sure you also delete the residue of any files left in the path where it was originally installed. This might work in fixing uplay detected an unrecoverable error and must shut down. This way, you will stop any redundant data to rewrite on the newer files while reinstalling.
You should pick some other location than the default directory to install Uplay this time around. Not that it would make all the difference, but it wouldn't hurt to try it. Who knows? A newer local disk space might be just what the gamer's doctor ordered!
See also: Fix "Unfortunately Google Search Has Stopped Working" Error
FAQs
What is the 'Uplay Has Detected An Unrecoverable Error and Must Shutdown' error?
To address the issue of data file corruption within the 'Ubisoft Game Launcher' folder. You can take the following actions: delete the folder's contents or remove the entire folder.
What is an unrecoverable error?
An unrecoverable error in computer software causes an irreversible mistake in a process or calculation, demanding the immediate termination of the process.
Is Uplay still alive?
In October 2020, Ubisoft took the initiative to merge Uplay and the Ubisoft Club into a single platform, Ubisoft Connect. This integration preserved the existing features and introduced the capacity for current and future Ubisoft games. It enables cross-saves and cross-play across different platforms.
Can you get banned from Uplay?
In the ongoing efforts by Uplay to enhance and maintain the security of player accounts. Uplay may take disciplinary action against Ubisoft accounts that engage in activities violating their Terms of Use and are linked to illegal acts such as account phishing, selling, sharing, or fraud.
Conclusion
Despite the hundreds of forums and community threads bearing the same question of "uplay has detected an unrecoverable error and must shut down" and complaints from users of the newer versions of Uplay, Ubisoft seems to be quiet about it.
Sure, they are working on an update to fix the uplay detected an unrecoverable error and must shut down. While updating, you must ensure safe browsing on Chrome as it may contain bugs that can contaminate your system. However, as their loyal customers, we have no other choice but to follow the above methods to get by the issue for as long as possible.
Then, once they have released a new, bug-free version (assuming that they will!), wUntil, happy troubleshooting this error of Uplay has Detected an Unrecoverable Error and Must Shutdown, my friends! We can continue using that during our daily gaming time.
See also: Failed To Play Test Tone.